Craftworks ENR
The Craftworks ENR is a rare beast indeed, and not just because it's only recently come into existence. It's designed in Australia. It uses a very novel suspension system. You can buy it direct from the manufacturer. And rather than being the product of a full design team, just one man is behind it all; from frame layout to suspension kinematics. That man is Hugh McLeay, and he's not employed by a big bike company, or any bike company for that matter. He's simply a very smart cookie who wanted to design a better long-travel trail bike, so in typical Australian fashion he set about doing just that. It'd been quite some years in the making but his brainchild, the Craftworks ENR, is finally here.
Birthing the ENR
Some of you may already be familiar with the Craftworks name. The Adelaide-based brand has been around for over 15 years and traditionally sold as a direct-to-market brand. Perhaps they were a bit ahead of their time; while their single pivot FRX all-mountain bike was generally very well regarded, they were still very thin on the ground.
Once McLeay had finalised his i-Track suspension (more on that later), the next step was to approach a manufacturing partner who could build the i-Track system into a bike. His fellow Adelaidians at Craftworks stood as the most logical choice. Now at that time Craftworks was more or less sold out of bikes and the guys were perhaps a bit jaded. So instead of taking on his design they asked Hugh if he wanted to design the bike himself and have it made and sold under the Craftworks logo—the rest, as they say, is history.
The ENR (short for Enduro Race) is available as a frame only or as a complete bike but it's only made in two sizes; either medium or large (425mm and 445mm reach respectively). The aluminium frame will set you back $2,499, whilst the complete bike is $4,800. There's only one build which is based around SRAM's GX group. Colour choice is non-existent; the ENR only comes in a very film-noir anodised matte black with white logos. That's fine by me as I always prefer black frames; they go with anything and don't date like some colours do. These prices are very competitive with what's available from other small manufacturers, and significantly cheaper than some, so I think all in all it represents good value for money.
The bike's lines are clean and straight—it's certainly more angular than organic. Straight tubes are the lightest and strongest tubes anyway, and they endow the ENR with a distinctly muscular look. Most tubes feature large diameters with big junctions and solid chunks of metal make up the suspension components. The welds are very clean and you'll find oversized bearings at all the pivots. Internal cable routing features throughout; it's tidily done but the entry and exit ports are small with no guides to make installation easier. You'll find a 142x12mm rear axle tying the dropouts together, so it'll fit your favourite non-Boost wheels. The ENR doesn't look like a noodle, and it doesn't feel like one either; in fact it feels incredibly solid and at no point during testing did I notice any frame flex, none whatsoever.
You can fit a water bottle inside the frame (where it belongs) but there's no option for a front derailleur; the ENR is a strictly 1X affair. It does come standard with a custom MRP chainguide and taco plate, the former is a necessity while the later is appreciated. A threaded bottom bracket will keep your creak-phobia at bay while the rear shock is the excellent and ultra-tuneable Cane Creek Double Barrel Inline.
Most of the parts are well chosen for the price and intention. The SRAM GX drivetrain might not offer the highest bling factor but it provides all the performance and reliability of its higher spec siblings at a fraction of the cost, and likewise with the Guide R brakes.
I've previously reviewed the Spank Vibrocore handlebars and they continued to impress on the ENR. The WTB saddle was comfortable for my butt while the Reverb dropper seatpost is a solid choice thanks to its proven reliability. It is worth mentioning that due to the upper pivot location you'll not be able to run the longest droppers on the market unless you have very long legs; that shouldn't be an issue for the vast majority of riders but it is worth mentioning.
About the only things I'd consider upgrading would be the tyres, and possibly the wheels. The stock Maxxis Ardents are fast rolling but for me they have a distinct lack of cornering grip; it really limits how hard you can push the ENR in corners. After a few rides with the stock setup, I swapped them for a Minion SS rear and DHF front; a setup I'm familiar with and one that really opened up the speed potential of the bike through twisted and bermed trails. The Spank wheels are very well built, with excellent spoke tension and they certainly shrugged off all manner of trail abuse, however, they're not that easy to set up tubeless. The OEM wheels may be marked as 'tubeless ready' but they're not; you need to remove the stock rim strips and apply some suitable tubeless tape. As with the Spank wheels reviewed on page 44, the complex inner rim profile makes it harder to get good tape adhesion and tyre mounting isn't the easiest. I'd also prefer a wider rim on a bike like the ENR to fully reap the traction benefits of a low pressure tubeless setup.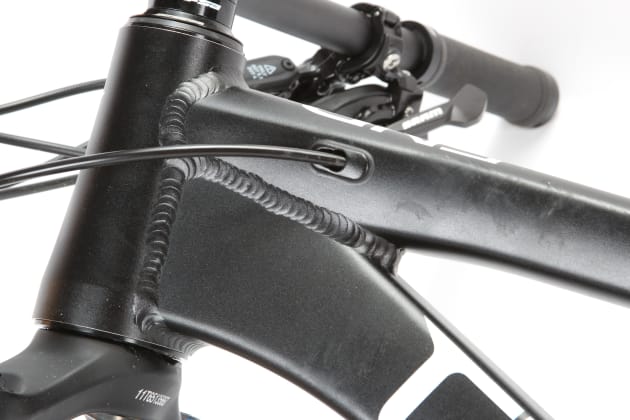 All told, our large ENR hit the scales at 13.9kg without pedals. The frame (including the shock and chain guide) makes up 4,010g of that total. That means the frame is around 500g heavier than many of its alloy competitors, so it's never going to be a lightning fast climber. Although as mentioned, it's incredibly stiff and solid; I'll happily carry a few hundred grams extra in preference to riding a lightweight noodle, and heavier riders stand to benefit even more than a flyweight like me. In any case, Enduro bikes are the quintessential definition of a winch-and-plummet machine, and going downhill that extra bit of weight only helps to maintain momentum.
The ENR's geometry has a mix of old and new schools on display. On the one hand you've got super short 418mm chainstays which give the ride a very responsive and playful feel mated to a very steep 75-degree seat tube, to keep your weight forward and the wheels tracking on seated climbs. The bottom bracket is also fairly low at 10mm below the axles.
On the flip side, the head angle is a fairly conservative 66.5-degrees, and whilst the 445mm reach on our large test bike is not the shortest around, it is nonetheless a good 20-40mm or more behind the vanguard of the long/low/slack crowd. Everything has pros and cons of course; on the tight and twisty singletrack that predominates in my area, this geometry made the ENR much easier to flick around than a longer and slacker bike. It's only when the trails open up and the speed increases that you might find yourself wishing the front wheel was positioned a bit further in front.
i-Track Tech
Now that we've got the basics out of the way, let's talk about the really interesting bit; the ENR's i-Track suspension. Apologies in advance for the tech-talk but it really is a clever design that deserves explanation.
When I asked Hugh about his motivation for designing i-Track, he said he wanted to develop a long travel suspension system that delivered excellent bump performance and downhill speed combined with high pedalling efficiency and limited pedal kickback. When he started toying with this idea, most long travel bikes saw these attributes as mutually exclusive.
In principle i-Track is not dissimilar to a dual short link design, similar to what a number of brands now use. However the devil is always in the detail when it comes to suspension design, and in this case there are two very distinct details to note; the vertical lower link and the idler pulley mounted on the upper link.
Unlike other short-link designs where the lower link is almost horizontal and barely moves at all, the lower link on the ENR goes from its near vertical resting position to almost horizontal at full compression; this results in 50mm of rearward axle movement. That's a huge amount of rearward movement as most have around 5mm of rearward movement or sometimes even a forward arching axle path.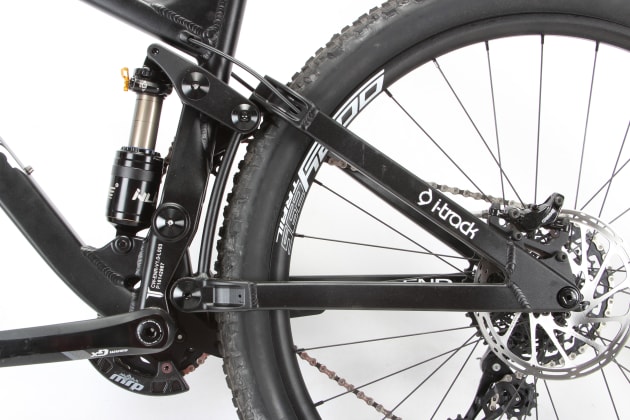 On a different design this amount of movement would cause so much feedback through the pedals that the bike would be virtually impossible to pedal over bumps. So this is where the idler pulley comes into play. By positioning the idler closer to the instant centre of rotation it mitigates the amount of anti-squat and pedal kickback. The end result is a system that has slightly higher anti-squat than a DW-Link design (for instance) but with generally much lower pedal kickback.
Because the idler is mounted to a moving link rather than fixed to the frame, it also means that the anti-squat varies throughout the travel as well as with the gear selection. Pedalling in the largest cog will result in a nearly flat anti-squat curve, but in the smallest cog the anti-squat rises significantly as the suspension compresses. When you try to accelerate by pedalling a bike, your centre of gravity shifts rearward. With i-Track the increasing anti-squat helps resist the tendency to bog down and instead transmits more of your power into forward movement. As a result, when you're descending at speed and crank out a few extra pedal strokes between turns the ENR bolts forward with more enthusiasm than any 160mm travel bike has a right to do.
So going back to that massively rearward axle path; what purpose can it possibly serve? Well, when your wheel hits a bump in the trail, the forces acting on the wheel are trying to push it both up and back. By allowing the rear wheel to follow the 'path of least resistance', it effectively gives the wheel more time to get out of the way without slowing your forward momentum. This is most noticeable on square-edged impacts, where many bikes tend to get hung up and lose a significant amount of speed. Not so with the ENR, which builds and maintains downhill speed like no other bike I've ever ridden. In fact I don't think you can really appreciate just how much your current bike is making you work for your speed until you've ridden the ENR. It's quite startling how quickly you can build speed and how easily you can maintain it, to the point that on familiar trails you'll no longer be looking for spots to pedal, but rather places to brake.
The i-Track design places a lower priority on remaining active under braking than it does on bump absorption and pedalling efficiency. It's certainly not a deal breaker by any stretch, but you will need to be a little more aware of braking in straight lines and on smoother sections of trail—an aggressive rear tyre will help here too.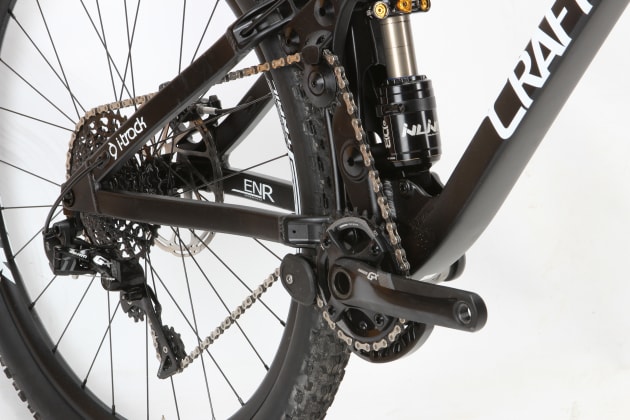 I also found the ENO to be a little noisier than many other bikes; the extra chain length combined with all that forwards/backwards movement of the rear axle means that a good chainstay protector is a necessity. It's also worth noting that the overall wheel rate is quite linear; I'd suggest that most riders will want to run a few volume reducers in the rear shock (a very easy and quick task) in order to prevent the rear suspension bottoming out too easily on bigger hits.
In terms of hitting his design brief, I think in many ways Hugh McLeay nailed it with the ENR. In particular, its ability to generate and maintain maximum downhill speed with minimal effort puts in in a class all by itself. It's also a capable, if slightly portly climber. It'll certainly get you to the top of any trail that you want to descend, and that's what this type of bike is all about. Riders at either end of the height range may be left out by the limited sizing and those who ride really fast or steep trails may desire a longer/slacker front end, but for average riders and tight trails it'll turn the gnarliest of rock-riddled descents into a smooth ribbon of sweet speed—that's a big win in my book.
Pros:
Eats square edged hits like no other
Stiff and pedals very well
Competitively priced
Cons:
Lacks high speed stability, especially for a taller rider
Limited sizing
Heavy
Specifications
Frame  6061 T6 Alloy Anodised Finish
Shock  Cane Creek DB Inline 160mm Travel
Fork     RockShox Pike 160mm Travel
Headset           FSA Orbit
Handlebars      Spank Oozy Vibrocore 31.8 760mm
Stem    Spank Oozy 50mm
Shifter SRAM GX
Front Derailleur           N/A
Rear Derailleur            SRAM GX
Cassette           SRAM GX 11-speed, 10-42
Chain   SRAM PCX1
Cranks             SRAM GX 32T
Bottom Bracket          SRAM Threaded
Pedals  N/A
Brakes             SRAM Guide R
Wheels            Spank Oozy Trail 295
Tyres   Maxxis Ardent 2.4
Saddle             WTB Silverado Pro
Seatpost          RockShox Reverb 30.9, 125mm drop
Weight            13.9kg without pedals (Large Frame 4,010g)
Wheel Size      27.5
Available Sizes            M and L (tested)
Price    $4,800 (frame kit $2,499)
Craftworks - www.craftworkscycles.com