GT Sensor Expert
GT was one of the first big names in mountain biking, and anyone who starting riding in the '90s will almost certainly remember drooling over a titanium Xizang or an aluminium Zaskar; two of the most iconic hardtails of that era. Although named after founder Gary Turner (not 'Gran Turismo' as some may think), the GT label became synonymous with racing fast and living fast—it was a boom era for mountain biking that bred quite a few superstar lifestyles. Then things slowly started to head south; Turner sold his share in the company and co-founder Richard Long was killed in a motorcycle accident. Despite their illustrious past and plenty of investment dollars from a public listing of the company, the GT name started to lose some of its gloss.
As dual suspension bikes started to dominate the market around the turn of the millennium, GT licensed a unique suspension design (patented by Jim Busby) that used a floating bottom bracket; thus the I-Drive was born. Despite being an inherently sound system, it somehow never seemed to gain traction, so to speak. GT continued to languish in the doldrums, going through a number of ownership changes before being bought by investment group Dorel in 2004.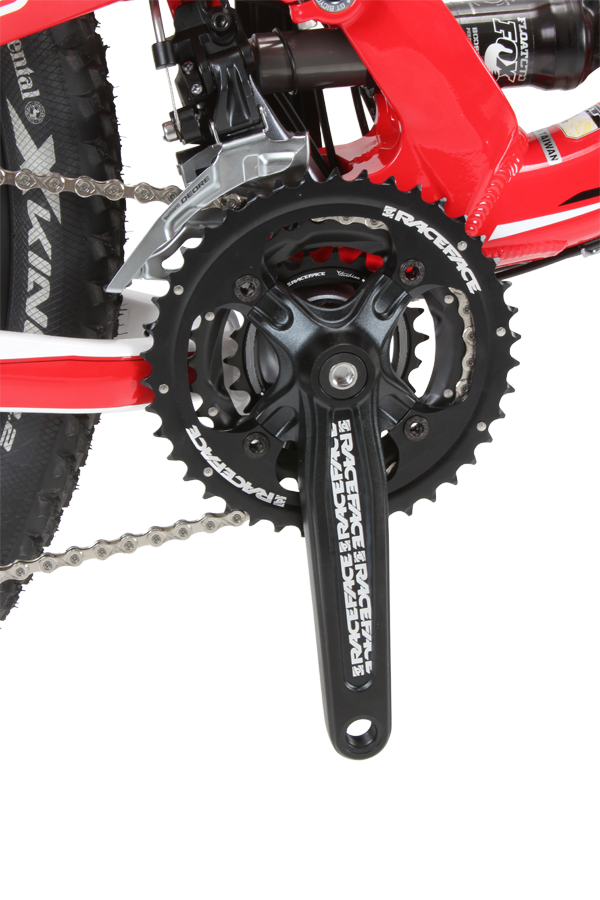 Sister brands Schwinn, Mongoose and Cannondale are also owned by Dorel—the latter is somewhat ironic as Cannondale once stood as GT's biggest competitor. GT continued making I-Drive cross-country and trail bikes up until 2013, although it needs to be said that the frame designs and geometry were far from cutting edge. Something dramatic had to be done to save the brand from fading into obscurity.
Fortunately that turnaround came with a complete re-imagining of the suspension design, now called Angle Optimised Suspension (AOS), as well as collaboration with Peter Denk. Credited with lifting Scott bicycles to the top of their game with bikes like the Genius and Spark, Denk has also done great things for Cannondale.
GT has since launched two models that show the fruits of this new collaboration; the 150mm travel all-mountain focused Force and the 130mm travel Sensor. Our Sensor Expert is one step up from the bottom of their five-bike Sensor line-up; at $3,599 it's a comparatively affordable way for any serious mountain biker to get a taste of what GT has to offer. For tighter budgets there's the Sensor Elite, whilst the three upper models feature carbon fibre frames rather than alloy. They head all the way up to the Sensor Carbon Team, with its dream build setting you back almost $9,000—you can't say GT aren't aiming to up their image!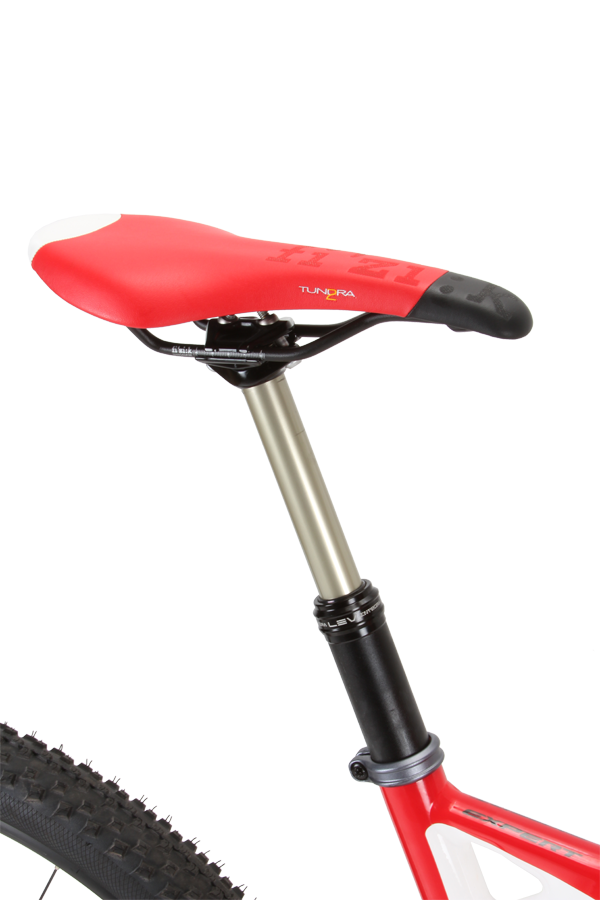 AOS Rider
Let's talk about that suspension system, as it's the biggest change to GT's bikes in a decade. In some respects AOS could perhaps be described as a linkage activated single pivot, but with the whole rear end turned upside down. As such, the main pivot is up really high and the rocker link, which drives the shock, connects at the bottom of the main frame. From there it gets more interesting as the bottom bracket is also mounted to the same forged rocker (called the Path Link); as a result the cranks move slightly fore/aft as the suspension cycles through its travel.
This independent bottom bracket movement is a key element of the design; in a more traditional configuration, such a high main pivot would result in unmanageable amounts of chain growth and pedal kickback under suspension compression. By allowing the bottom bracket to move rearward, these characteristics can be brought under control, whilst still having a very rearward axle-path thanks to the high pivot. Initially it may look complex but in reality AOS has no more pivots than any other four bar suspension design, so it's actually pretty simple; perhaps more so than the outgoing I-Drive.
In fact I'm going to go out on a limb here and say that it's not so much an evolution of the I-Drive system, but rather of the Freedrive design used by stable mate Mongoose; both are based on the same patent, but with different execution. To go further, I'd suggest the AOS is pretty much just Freedrive with the lower link extended to become the chainstay. This has little effect on how the system performs but it makes manufacturing easier, simplifies the aesthetics and it should place less load on the pivot bearings. We've always thought Freedrive was a highly underrated design and the best iteration of the floating bottom bracket, so this is a very good move in our minds.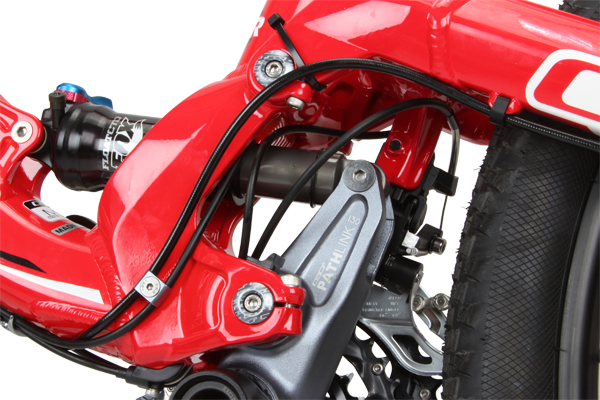 The entire AOS system sits very low and centred in the frame. This places the weight in a spot where it's less noticeable from a bike handling perspective and it also leaves space for a water bottle inside the swoopy front triangle. Standover height is very good, finish quality is great and all the usual thru-axles and direct mounts for the brake and derailleurs are present and accounted for. There's even a direct mount hanger for the Shimano Shadow rear derailleur.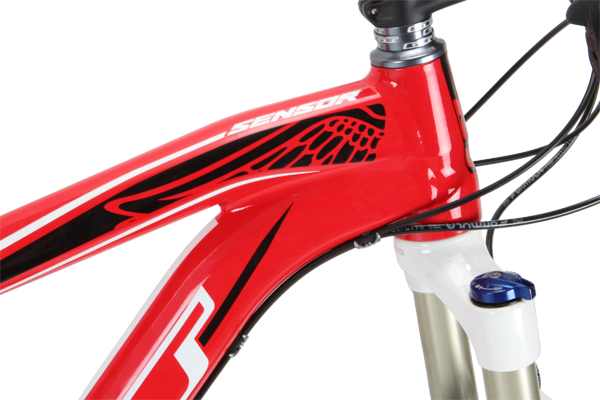 Peter Denk's touch is clearly evident in his penchant for big axles and pinch bolts at the main pivots. You'll also notice his trademark wide bearing placement and the huge swing arm (seat stays) with their big box-section brace. All of these features significantly boost stiffness without adding a lot of weight. That's not to say it is a light frame; our medium alloy Sensor came in at 3,545g which is a bit portly for a 130mm travel rig.
Those with big feet or a knees-in pedalling style might find themselves brushing against the massive swing arm, but it's a worthwhile trade off for the ensuing gain in lateral stiffness and you'll also find plenty of room for the widest tyres plus a bit of mud. Full-length outer cables serve to keep the crud out and the beautifully made cable guides even have a little rubber gripper to stop things sliding around. That said, the under down tube routing may look neat but it results in a spaghetti explosion and some horribly sharp bends around the bottom bracket; we think going for function over form and running the cables under the top tube and then into the seat stays would have been a much better idea.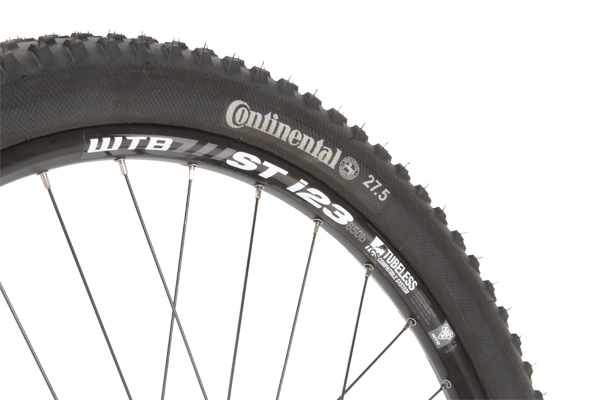 Component wise, the Sensor Expert is hard to fault. The suspension might not be top-tier but it all works perfectly well; in particular the RockShox Sector fork is a standout for its budget price tag. Some may bemoan the use of a triple crankset, but a triple can easily be converted to a double plus bash guard or a one-by setup should you desire, so it's actually a very sensible and versatile choice. As usual the SLX components worked flawlessly whilst giving away very little weight to their up-spec siblings.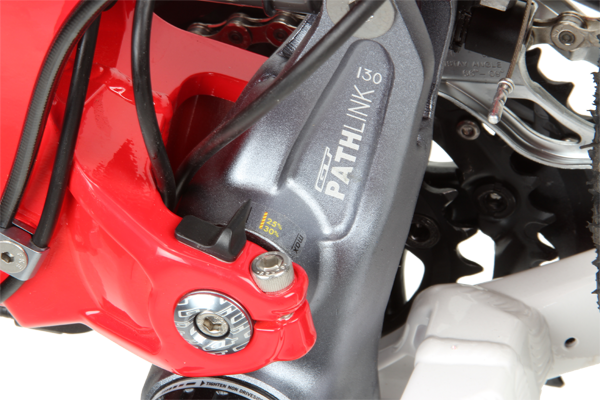 A modern trail bike absolutely needs a dropper post and the LEV Integra is about as good as they get. Whilst the 80mm stem may be a little long for some, it's easily swapped out and both it and the Kore handlebar are solid and trail worthy components.
The hubs and spokes are basic but the WTB rims are a good choice. They convert easily to tubeless and are broad enough to offer lateral support to wide tyres at low pressures. A future wheel upgrade could shed plenty of weight but at least you won't be rolling on high-pressure pizza cutters in the meantime. As it stands the Sensor Expert came in at 14.2kg without pedals.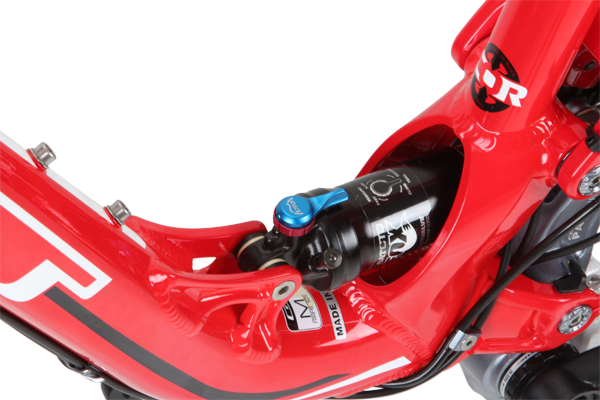 About the only component choice that's likely to polarise is the Formula RX brakes. They have tool-free reach and bite adjustment but the lever feel is unique, and the outright power and modulation seems a notch or two behind the best brakes out there. That said, once bedded in they had no problem with pulling us up from speed so they're not an impediment to performance, just something that you need to get used to. With the Sensor Expert GT has spent money where it mattered, saved where it didn't, and put together a package that is focused on performance rather than bling—less show and more go suits us just fine.
Expert Sensory Perceptions
To start off with, there's something you don't feel with the Sensor, and that's the movement of the bottom bracket. Okay, sure, if you were to focus all your attention on the bottom bracket while riding along a smooth road, running heaps of sag and stomping on the pedals you'll notice it. However, in a realistic trail riding situation there's just too many other things going on with bumps, line changes and whatnot, for the bottom bracket movement to feature at all.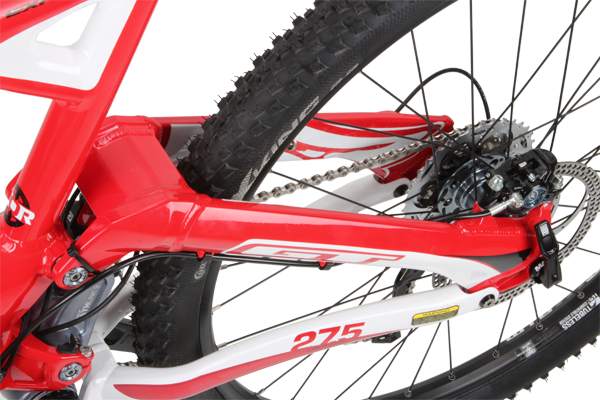 There's something else you don't feel too; square edged impacts. Rearward axle-paths move the wheel away from bumps in the most efficient manner, and the high main pivot placement allowed by the AOS suspension puts the axle-path in a different postcode to other bikes. Steps that would normally tend to hang-up the rear wheel and sap forward momentum with other designs go virtually unnoticed on the GT—the bike just keeps on motoring forward whilst simultaneously soaking up square edges like they're not there. It's kind of amusing; you lift the front wheel over a sizeable rock, waiting for the kick as the rear wheel follows, and you're still waiting for the kick when you realise you're already two metres further down the trail.
We found the Sensor's suspension overall to be quite progressive, and if you run too little sag you'll struggle to get full travel whilst also reducing sensitivity on small to medium impacts. The sag guide provided is all but useless; not only is it impossible to see when you're in the saddle, but the adjustment range displayed is too narrow to be meaningful. Go back to the old-school ruler and O-ring technique and set sag at 30%. You'll get a bike that pedals enthusiastically, sucks up the trail noise and still has enough in reserve to take a sizeable drop without harsh bottoming; it's only afterwards that you'll notice the O-ring pushed to the very end of the shock.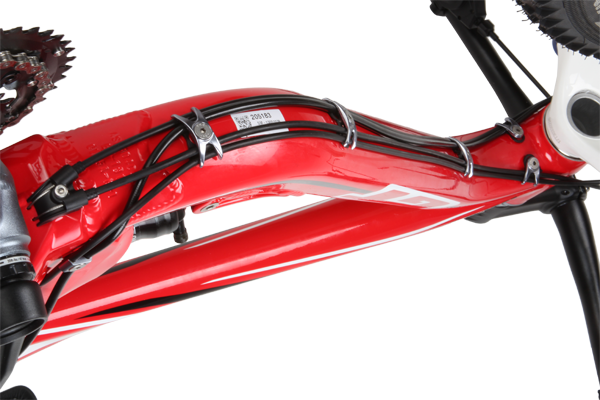 Rather than being magic carpet plush, under power the Sensor feels spritely and eager, with the taut response of a short travel cross-country bike. Despite being capable of handling impacts much bigger than the 130mm travel would suggest, there's a sense of urgency with which it transfers each pedal stroke into forward movement. We also found little need to use anything other than the open setting on the CTD rear shock, with minimal unwanted suspension movement either in or out of the saddle. The Sensor is one of those bikes which manages to feel like a cross-country bike when you're sprinting, and like an all-mountain bruiser when you're bombing—the best of both worlds without the compromises of either.
The Sensor's geometry runs with the current trends of long and low, but GT's designers have eschewed running an ultra-slack head angle in order to keep the steering sharp and the front wheel weighted for climbing. That's not to say it's disagreeably steep; at 68.5-degrees with the 27.5-inch wheels it certainly isn't pitching you over the front at the first sign of a downhill.
If you want something more descent-oriented then GT offers the Force, which uses the same suspension design but adds 20mm of travel and lops almost 1.5-degrees off the head angle. The Sensor is meant to straddle the middle ground between uphill and down, and with that in mind we think the angles are pretty spot on. That being said, it's such a capable bike that we wouldn't be surprised to see quite a few riders swapping out the stock fork for something bigger and burlier; the back end is certainly up to the task.
Despite the heavily raked appearance, the effective seat angle is also quite steep; this puts your weight over the cranks for climbing without needing to shift around too much, and once you drop the saddle it's easier to get your hips behind it too. The bottom bracket is low enough to give you the sensation of being 'in' the bike to enhance stability and speed through corners, yet it's not so low that you're constantly clipping rocks, or trying to avoid doing so.
Having the suspension and hence the bike's centre of gravity down low also helps keep the Sensor nimble when changing lines or throwing it through a series of switchbacks, and the fore-aft balance means it's easy to keep under control when both wheels are off the ground. If we've got one nit to pick we'd say that the chainstay length; at 440mm it leans more toward getting down to business and carrying speed, rather than gleefully popping and manualling along the trail. Of course this is more of a personal preference thing and certainly not a deal breaker.
As you may have guessed, we like the Sensor a lot; and whilst there's undoubtedly a bit of nostalgic desire for GT to reclaim their former glory, that alone isn't anywhere near enough to make us fall for a bike that rides like a pig. The truth is that GT has done an outstanding job with the Sensor Expert. It does everything a modern trail bike should, it does it very well, and it does it in such a way that the moment you've washed it and parked it in the shed after a ride, you'll be itching to get back on.
Thumbs Up
Impressive square-edge bump performance
Efficient pedalling
Laterally stiff
Thumbs Down
A bit on the portly side
Spaghetti explosion cable routing
Sag marker ineffective
Specifications
Frame: 6069 Hydroformed Aluminium
Shock: Fox CTD Boost Valve 130mm Travel
Fork: RockShox Sektor Gold 130mm Travel
Headset: FSA Orbit 1 1/8 - 1 1/2
Handlebars: Kore Durox alloy 740mm
Stem: Kore Cubix 80mm
Shifters: Shimano SLX
Front Derailleur: Shimano Deore
Rear Derailleur: Shimano SLX
Cassette: Shimano HG81, 11/36 10-speed
Chain: KMC X10
Cranks: RaceFace Ride 22/32/42
Bottom Bracket: RaceFace
Pedals: N/A
Brakes: Formula RX
Hubs: Alloy Sealed Bearing
Spokes: DT Industry Stainless Steel
Rims: WTB ST i23 TCS
Tyres: Continental X-King 2.4 / 2.2
Saddle: Fizik Tundra 2
Seatpost: KS LEV Integra 125mm drop
Weight: 14.2kg without pedals (Medium frame 2,545g)
Available Sizes: XS, S, M (tested), L & XL
Price: $3,599
Distributor: Monza Imports (03) 8327 8080 (as of 1st May) / www.gtbicycles.com