Norco Optic A9.1
If you keep track of the latest bike releases, it should be pretty clear that trail bike is making a comeback. For a few years we've been on a gravity-fed obsession, with bikes featuring angles and travel not far off what you'd find on a DH bike. Whilst modern suspension designs have advanced to the point where most of these bikes can be pedalled uphill with reasonable efficiency, most riders don't go fast, steep or rough enough to really see the benefits of a modern 160-170mm enduro bike.
Being over-biked, so to speak, can make moderately challenging trails feel ho-hum and the handling of these bigger bikes can be more cumbersome than quick if you're not travelling at warp speed. Whilst I love my 160mm bike on our local DH tracks, its incredible capability has made a lot of my other rides a little boring. Along with a number of other brands (like the Focus Spine on page 76), Norco have realised that there's a lot to be said for riding a bike with less travel and pushing it harder rather than ambling along on an excess of squish; enter the new Norco Optic.
Optical Options
Because trails and riders are different, the Optic is offered in 29 and 27 inch wheel sizes. It's also available in two alloy and three carbon-framed models for each wheel size. Frame sizes range from XS (27.5 only) through to XL, which should ensure that all but the tallest riders will find a good fit. The 29 inch Optics have 110mm travel at the back and 120mm up front, whilst the smaller wheeled models run 120mm/130mm respectively. Both alloy and carbon versions share the same geometry within a within a given wheel size.
Prices start at $3,499 and go up to $8,999 for a top-end carbon model complete with carbon wheels, cranks and handlebars. Our 29er alloy 9.1 will set you back $4,249 and weighs 13.6kg without pedals (3,275g for a large frame with shock). What's with the name you might ask? Well apparently Norco wants you to see the trails differently and reconsider the capabilities of a short travel bike. I just wanted to know if the Optic could return some of the spark to my everyday trail rides.
But before we get into that, let's talk a bit about the design of the Optic. There's room to fit a water bottle in the front triangle and ISCG tabs if you want the added security of a chain guide or bashguard. The external cable routing is all very neatly held in place with metal guides (the carbon models run internal cabling). There's also enough standover clearance to keep your delicates well away from the top tube and the frame tubes have a mostly square cross section, which helps keep the frame stiff and solid whilst keeping weight relatively minimal.
Geometry is of the long/low/slack variety. The reach on our large test bike is 464mm, which leaves plenty of room to stretch out even with the stock 50mm stem and the bottom bracket is a belly-scraping 332mm off the deck with the stock tyres. This results in a fair number of pedal strikes and I wish that bikes like the Optic came stock with 170mm or even 165mm cranks to minimise ground clearance issues—175mm cranks belong on bikes with a bottom bracket height of 340mm or more.
The head angle of 68.5 degrees might not be über slack but in conjunction with the big wheels, long reach and low bottom bracket, the bike feels plenty stable without entering into 'enduro' territory. Combined with a steep seat angle to keep your weight centred over the bottom bracket on the climbs, the Optic's numbers strike an excellent balance between climbing and descending—on paper at least. And that's really what a trail bike sets out to achieve; it has to do everything well aside from the absolute extremes.
For some years now Norco have used scaled chainstay lengths so that the bottom bracket remains in the same position relative to the wheels regardless of frame size. This theme carries on to the Optic and with lengths ranging from 425mm to 440mm in 5mm increments, the Optic has a seriously short back end for a 29er—this dimension actually mirrors what you'll find on the 27.5 version. Utilising the new 'boost' hub and drivetrain standard helped Norco to achieve this tight back end and it keeps the handling snappy and responsive despite the long front centre. Unfortunately this also means that any older non-boost wheels won't fit on the Optic. For clearance reasons Norco did need to omit the standard front derailleur mount, however they provide the option of running a 2X setup via a clever derailleur mount that bolts to the ISCG tabs. Still, in this age of ultra-wide range cassettes, running a 1X drivetrain shouldn't be an issue for most riders.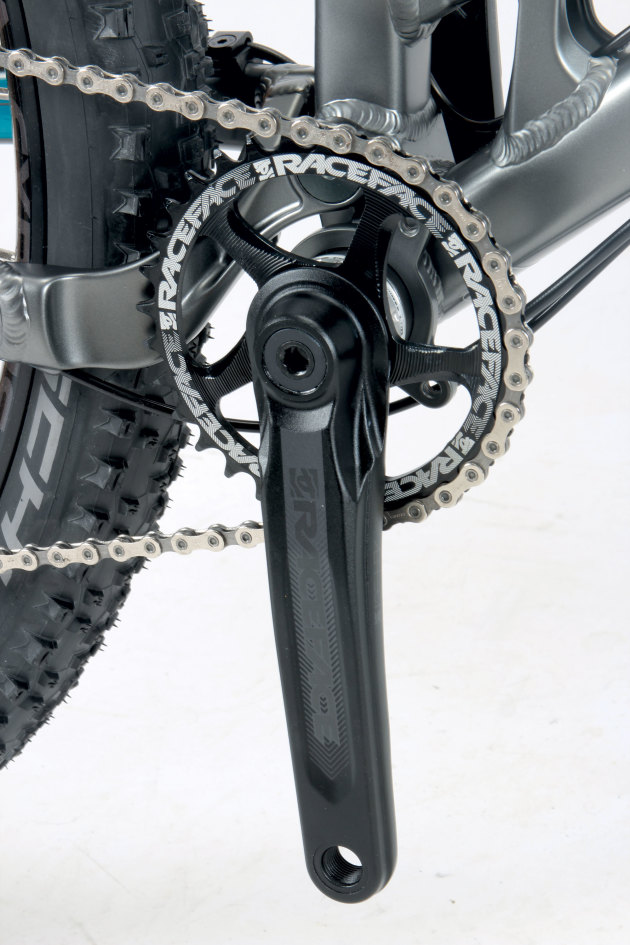 Parts to Perform
Sometimes a great frame can be let down by a parts selection that was chosen by an accountant rather than a rider; happily, that's not the case with the Optic A9.1. Instead of a light but spindly 32mm fork, it uses the much stiffer Fox 34 with the excellent FIT4 damper and a three-position compression switch. This is perfectly matched to a Fox DPS rear shock with an EVOL air can. The entry level SRAM GX 1X11 drivetrain is slightly heavier than its pricier stablemates but it still provides snappy and reliable shifting with an impressive 10-42 gear spread. This is paired to a Race Face crankset with its Cinch direct mount chainring. We found the 32 tooth chainring to be spot on but the direct mount setup means you can go as low as you want with the gearing; you can even mount a 24 tooth chainring if you've got some cliffs to climb!
I've already mentioned the nice short 50mm stem, and it's perfectly matched to a 760mm riser bar. Both units are Norco branded; they might not be the prettiest or lightest available but they work perfectly well and replacing them would be a matter of choice, not necessity. Every single bike in the Optic range comes standard with a dropper seatpost of some sort—props to Norco for this. The KS E-Ten on our test bike only has 100mm of drop and isn't the smoothest or lightest at the lever, but again it'll work perfectly well until you have spare cash to throw at a spendier unit.
Minor quibbles? The SRAM DB3 brakes offered plenty of power but I didn't enjoy the slightly wooden lever feel—they certainly lack modulation when compared to the more upmarket SRAM offerings. The rims are a little on the narrow side for my tastes, but they've so far stayed straight and true, although the 21 engagement points on the freehub is a little tardy by modern standards. My final quibble would be with the tyres; Schwalbe's Performance series tyres work fine in dry conditions where they rely on mechanical grip but they verge on treacherous in the damp, where the hard rubber compound just doesn't cut the mustard. It is good to see a grippier Nobby Nic up front and the faster Racing Ralph at the back, however if you wanted to really liven up the Optic, my first recommendation would be to fit stickier tyres followed by wider rims and better brakes. Again, these are minor annoyances rather than deal breakers and overall the component package is very well chosen.
Suspension performance is a real make-or-break factor when it comes to choosing a dually. The fork is an independent unit that works the same regardless of which frame it's attached to, so let's just say that the Fox 34 is a solid performer across the board. The three-position switch makes it simple to set up and adjust as you ride. I prefer the feel of the open setting for the vast majority of terrain, but if you're a heavier rider or spend a lot of time on very smooth trails you might prefer the middle setting to help tame brake dive and pedal bob slightly. Otherwise, it's a set and forget unit that'll be up to anything you throw its way.
Rear suspension is a much more complex beastie. The compression tune and air spring volume need to work in concert with the frame kinematics and leverage ratio to soak up hits without blowing through the travel, and at the same time keep unwanted suspension movement to a minimum whilst keeping the suspension active under braking loads. There are always compromises in this equation, but some bikes hit it better than others.
Artful Dodger
When it comes to soaking up bumps, the rear suspension on the Optic A9.1 is almost certainly the best feeling rear suspension I've come across on a mid-travel 29er. The custom tuned Fox shock works with Norco's Horst link ART suspension to give a supple, chatter swallowing initial feel, yet there's still an abundance of support in the mid-stroke to keep the Optic riding higher in its travel than you would expect. There's also plenty to push against when you pump it through rolling terrain so despite being impressively supple, it never blows aimlessly through its travel.
On moderately rough and technical high-speed descents it never used more than around 80% of its travel—it's not until you start getting airborne and landing hard that you get close to using all of the available 110mm. While I totally rate this aspect of the bikes performance, it should also be said that more cautious riders who keep their wheels grounded may never fully use all of the available travel. This is not really a problem, but what's the point of having 110mm of travel if you only ever use 90-100mm. Of course the confidence that this bike instils may soon have you riding harder and faster and launching every jump—you never know!
The bigger wheels certainly help a bit to smooth out the small stuff but every time I rode the Optic I found myself shaking my head in disbelief at how well controlled and measured the rear travel is when you start pushing hard on rough ground. Supple, smooth and seemingly endless, the Optic will take terrain you'd normally save for a 140-150mm bike in its stride. It's only on big drops and head-sized rocks where the limits of travel and wheel stiffness will start to hold you back. The paradox is that it doesn't feel wallowy, mushy or in any way unpleasant when you ride smoother trails or slower speeds. There's an immediacy to the way the travel is used that keeps the Optic feeling engaging; it's infectious and addictive whether you're pushing its limits or just out for a cruise.
Like the Revolver I reviewed a little while back, Norco has specifically configured the kinematics of their ART suspension for the Optic in such a way that it prioritises suppleness and traction slightly more than out-and-out efficiency. What this means is that there is a small amount of suspension squat under power, but for me at least it wasn't enough to feel the need to flip the shock's compression lever out of the open position.
As mentioned in the Revolver review, a bike is efficient when your leg power is transferred to the ground. A suspension design that doesn't move under power can allow the rear wheel to skip and spin out over obstacles, and this is decidedly inefficient. And that's the strong point of the Optic; regardless of what's going on under your tyres they stay thoroughly and firmly stuck to the ground whenever you're pedalling, and there's also very little kickback through the pedals to interrupt your smooth spinning pistons of power! The beauty of this approach is that if you come from an old-school XC race background and want the bike to feel firmer, you can always use the heavier compression settings on the shock. Alternately, just leave the shock alone and you'll be amazed at what you can pedal through, over and up aboard the Optic.
It sounds like I'm gushing over the Optic but I make no apologies; it's simply a superb bike for the type of riding that we all do on a day-to-day basis. Yes, you could use it for a club XC race or marathon event and yes, you'll be able to scare the enduro crew as you snap at their heels on any descent which doesn't have you wishing for a full-face helmet. But most importantly, it brought the excitement back into my everyday trails. No longer just a passenger on a big rig, the Optic encouraged me to pilot the bike, drive it and push it to come out the other side champing at the bit to do it all again.
Pros
Impressively capable for a 110mm travel bike
Traction seeking supple suspension
Above all, fun and engaging
Cons
Not quite XC race-bike efficient
Tentative riders mightn't fully utilise the travel
Tyres lack wet weather grip 
Specifications
Frame: Hydroformed Alloy
Shock: Fox Float DPS Evol 110mm Travel
Fork Fox 34 Performance 120mm Travel
Headset: Cane Creek 10 Series
Handlebars: Norco 6061 Alloy 760mm
Stem: 3D Forged Alloy 50mm
Shifter: SRAM GX1
Rear Derailleur: SRAM GX
Cassette: SRAM XG1150 10/42 11-speed
Chain: SRAM PC1130
Cranks: Race Face Affect 32T
Bottom Bracket: Race Face Threaded
Pedals: N/A
Brakes: SRAM DB3
Rims: Alex DP23 I23 tubeless ready
Hubs: SRAM MTH 716
Spokes: Black Stainless Steel
Tyres: Schwalbe Nobby Nic 29x2.25
Saddle: SDG Circuit
Seatpost: KS E-Ten Integra Stealth
Weight: 13.6kg without pedals (large frame 3,275g)
Available Sizes: S, M, L and XL
Price: $4,249
Distributor Advance: Traders 1300 361 686 / www.norco.com