Norco Revolver 9.2 FS
It's no secret that I'm a fan of everything I've ridden from Norco in the last few years. It started when I first rode the 26-inch wheeled Sight, and I've been equally impressed by the Sight 650B, and the 120mm travel Fluid, and my personal ride is a Range Carbon. Despite all this love I am not a mindless fanboy; it's just that Norco have found a winning formula and they've stuck to it.
We should also put it out there that I am in way an XC racer; my fitness varies greatly with the conflicting demands on my time, and to be honest I just don't get that much enjoyment out of masochistically flogging myself against a clock; I'm not on Strava, and I have no interest in riding as a 'competition'. I ride because I love the feeling of flow, the technical challenge of rough terrain, being out in the bush and sharing all of this with friends. So when I was sent Norco's new 100mm travel Revolver 9.2 FS (Full Suspension) to review, I'll admit to being completely unqualified to give you a racer's perspective on it. What I can offer is a rider's perspective, which may be more important, because in truth the vast majority of us are never going to bring the hurt to Nino.
There are four variants of the Revolver FS with 29-inch wheels, and two with 27.5 wheels. Norco also has two Revolver hardtails, hence the need for an FS designation. Our $5,499, 9.2 version is second from the bottom, but all four models priced from $4,299 to $9,999 share the same carbon fibre frame. And a very tidy frame it is; our large frame weighed a scant 2,178g including the shock, which puts it amongst the lightest dual suspension frames we've come across. The all-in weight of 11.4kg without pedals is more than respectable, especially given that it's running 2.25 inch rubber. There's plenty of tyre clearance in the rear triangle, and unless you're a track sprinter, you won't have any reason to question the frame stiffness either.
Like many modern bikes, there's no provision for a front derailleur. For most this shouldn't be an issue, as all of the Revolver models come equipped with 1X11 drivetrains. With an appropriately sized chainring, you should be good to go for traditional XC racing or general trail riding. Marathon races may catch you out however; 1X drivetrains still haven't matched the total spread of a double chainring setup, so it's possible to run out of top end gearing on fast open fire roads yet also need a lower gear on the steepest climbs. Fit a big enough front chainring, harden up a little and you'll be right for marathon racing too!
While it can't run a front derailleur, there is provision to run an internally routed dropper seatpost. The rear derailleur and brake lines run internally too; there's even a couple of different ways you can run the cables thanks to twin entry points on either side of the head tube (complete with neat blanking covers for the ones you don't need). The Shimano XT 11-speed drivetrain has proven itself to be as smooth and hassle-free as its predecessors, and the I-spec mounted brakes make for a very clean handlebar setup. As you'd expect from any self-respecting XC bike, there's room for a full-size water bottle inside the frame.
Our Revolver had RockShox suspension at both ends; whilst it's not from the top shelf of the pantry, it proved smooth and reliable. About the only thing missing from the frame is a metal scuff patch to protect the chainstay if you drop a chain, although with modern 1x transmissions that's not likely to happen.
It's great to see a bike of this style fitted with a wide handlebar and short stem. We've seen the technical difficulty increasing on XC race courses in recent years and bigger wheels need more leverage to overcome their enhanced gyroscopic effect. As a result, a cockpit that puts the rider's hands a bit further behind the front axle makes a lot of sense. The reach of 461mm on our large frame more than long enough to ensure that you're not left feeling cramped on the climbs. Even the medium has a 439mm reach which is roomy, so there'll be no need for an old-school fishing pole stem on the Revolver.
At 70.75 degrees, the head angle is XC steep, which keeps the Revolver's steering razor sharp. Overall, it's a very well rounded package with no obvious weak points apart from the plastic-feeling tyres; the Racing Ralphs are from Schwalbe's lower end 'Performance' series and were lacking in traction compared with their EVO cousins. Now, no-one outside of the bike community is going to tell you that $5,500 is cheap, but realistically the Revolver really is race-ready straight from the box, and you could easily spend a season or two racing club or state rounds without needing to upgrade a single thing. And it's a looker too.
Different A.R.T.
As mentioned earlier, modern XC trails have evolved with an increasing level of technical difficulty, but many XC racers remain relatively conservative, with a general reluctance to accept the benefits of dropper posts and even rear suspension in many cases. Numerous race oriented duallies play along with this, compromising the suspension performance in an effort to ride like a hardtail with a blow-off valve, but Norco chose to take a different approach with the Revolver FS.
According to designer Owen Pemberton, Norco's team racers didn't see the point in riding a dual suspension bike if it performed like a hardtail; it's just unnecessary weight to lug up every hill. Norco's other ART bikes feature a very healthy amount of anti-squat and hence pedal very efficiently; they also have a decidedly rearward axle path for excellent square-edged bump absorption and great low speed climbing, but this also means a lot of feedback through your feet when pedalling on rough ground.
So when designing the ART rear suspension for the Revolver, Norco instead prioritised minimising pedal kickback so that the bike could be pedalled smoothly over bumpy trails without bouncing the bike around or losing traction. This makes it a bit of an anomaly in the XC race scene, because if you hammer on the pedals there's significantly more up and down movement than you'll see from the pseudo-hardtails of most other brands; it's clearly not as efficient at transferring pedal input to the rear wheel.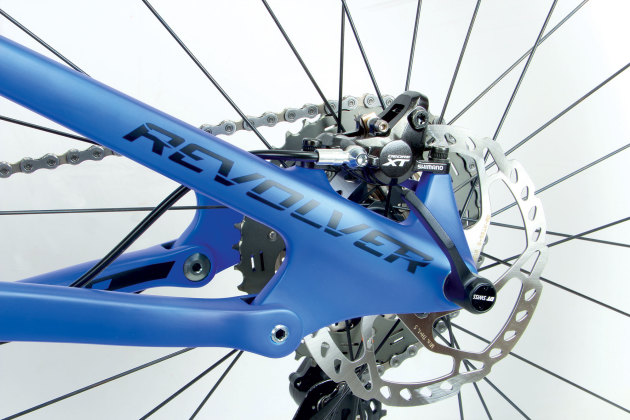 Here's the thing, though; when talking about pedalling efficiency, most people, and many in the bike industry, miss the point entirely. The role of a bicycle drivetrain isn't to transfer power to the rear wheel, it's to transfer power to the ground. A rear tyre that skips around and spins out regularly is incredibly inefficient, not to mention unsettling to the poor human engine. You work hard to apply a steady and smooth input to the cranks and don't want to waste energy through tyre spin or constant line corrections. In this sense the Revolver is highly efficient, because the rear wheel tracks the ground outstandingly well, so that whatever input gets to the rear wheel, gets to the ground and propels you forward.
And here's another anomaly with the Revolver's ART suspension; unlike the linear or even falling rate suspension of most XC race bikes, it's highly progressive. This means that you don't set it up with 10% sag and then watch it blow through all the travel over 5cm roots. With the Revolver you need to run 20-35% sag and it will still keep a little travel in reserve when you botch the 50cm step-down at the bottom of Mt Stromlo. This extra sag is one of the reasons it maintains traction so well; the rear wheel can follow each dip in the ground rather than being forced to skip over the top. The way the Revolver rides might not be the norm, but no progress was ever made by maintaining the status quo.
Of course every plus comes with a corresponding minus and the progressive nature of the Revolver's suspension mightn't suit everyone. Set up with 30% sag or more, I was able to ride very aggressively, hit jumps and drops, yet only just kiss the very end of the available suspension travel. With a more tentative and cautious rider aboard, a good portion of the travel may go unused. The Revolver needs to be ridden hard, and if you don't the ride can actually feel lumpier than on a bike that has more linear suspension.
Revolver Ride Part 1
My first few rides on the Revolver were in its natural habitat; mostly flowing XC trails but with enough embedded rocks to test the suppleness of the suspension, and enough elevation gain and loss to see how it handled being non-horizontal. To my slacked-out mindset the descents felt a little nervous as I'm just not used to having the front wheel so close, but the familiar cockpit dimensions helped markedly in taking the edge off the pucker-factor. You need to be attentive rather than careless with line choices, but overall the blue Norco descends comfortably for an XC race bike.
It's also very nimble on flat or undulating terrain. At 442mm (and even shorter on the medium and small sizes) the Revolver's chainstays are middling to short for a 29er. When combined with the steep head angle and moderate overall wheelbase length, the Revolver isn't as barge-like as some big wheeled bikes. The stiff frame responds quickly to steering input and low overall weight helps the Revolver flip quickly from one direction to another through linked turns—it's got a really nice 'swooping' feel to ride on modern, flowing trails. And that supple suspension means the wheels stay planted to the ground regardless of how lumpy it is, or how hard you pedal.
On the climbs, the Revolver continued to be a real eye opener. I'm not talking about gravel road slogs here but proper mountain bikes ascents; the sort where the trail surface is constantly fighting to unseat you and where, if you were of a gambling disposition, you'd say the odds are stacked heavily against you. The Revolver resets those odds. There are numerous technical climbs that I cleaned on this particular Norco without even really trying; these same pinches will have me cursing and swearing at my abject failure on almost any other bike. It's impossible to take human variability out of the equation, but if pressed, I'd say that the Revolver is probably one of, if not the, best climbing bikes I've ridden—at least when it comes to technical trails.
The flip-side with the active and supple suspension is that you're more likely to be reaching for the lockout lever on those mind-numbing fire road climbs. In the case of the 9.2, that means taking a hand off the handlebars and reaching between your legs. Sure, the top-end Revolver 9XX features a RockShox dual hydraulic remote lockout; one button on the bars that firms up both ends of the bike, but that's a $10K machine! With every other Revolver you'll be reaching for the lockout lever to eliminate that slightly soggy feeling when charging up featureless dirt and road climbs. This bike doesn't come alive until the climbs turn rough, knotted and root riddled—North Shore style.
Revolver Ride Part 2
Those first few rides got me thinking about the Revolver; not because it was so different to the bikes I normally ride, but rather because it was in many ways so similar. It felt fast but not jarring, and surprisingly fun and engaging to ride; not a case of business before pleasure, but more like having a blast whilst you're at work.
What followed was a little experiment. We fitted a longer compression rod – a $50 purchase – into the SID fork and bumped its travel up to 120mm. Within minutes we'd turned an XC race bike into a trail slaying speed weapon; a WRX into a Forester GT if you will. Mwaa haa haa haa haa, my creature was alive!
Before I tell you how this new beast rode, let me tell you why I wanted to create it. The XC race market is a very small pigeon hole, and as I've already mentioned it's also one of the most conservative branches of the MTB community. Because the Revolver's suspension doesn't behave like a typical XC bike, it could easily be overlooked by XC racers. Similarly, the XC race frame angles mean that it'll probably be overlooked by fast trail riders who aren't looking for a race bike. This would be a tragedy, because the Revolver is a great bike that refuses to be put in a box. In the past we've seen bikes that are trail fast but enduro capable, and similarly the Revolver blurs the lines between XC race and trail bikes; the first bike in the 'trail-race' category perhaps?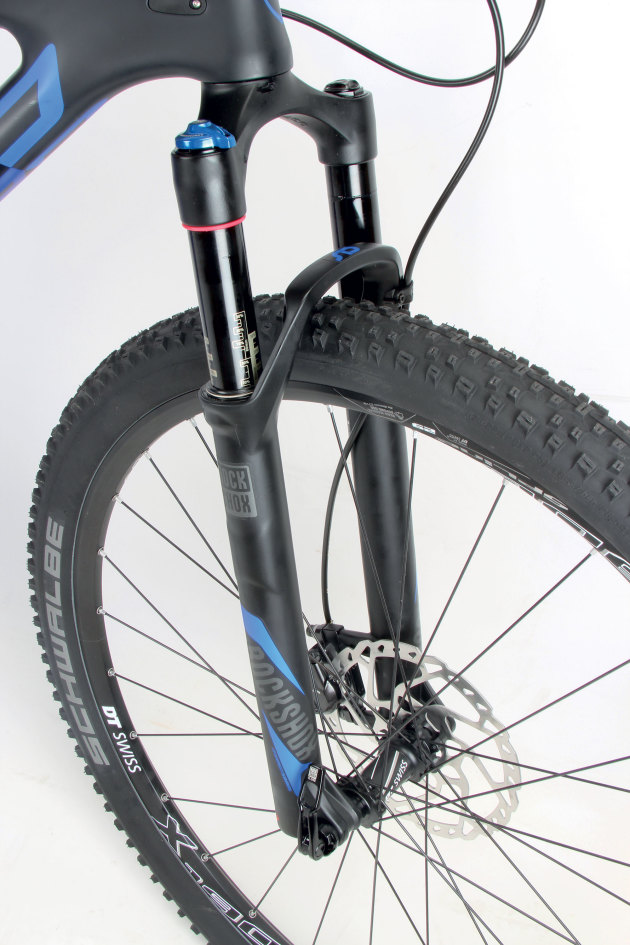 And yes, it was a hoot to ride the slacked out Revolver! It gives up little or nothing on the ups or the flats, but with 20mm more front travel and about a degree lopped off the head angle the descents were much more of a point and shoot affair. Of course the spindly fork and narrow rims mean that you can't just charge your way through a field of boulders, but it'll also dance its way back up the trail like no plough bike ever could. The 100mm of rear travel is so progressive that even though I settled on 30-35% sag, it still handled most of the trails I'd normally ride on my 160mm Range, albeit with a little more care and caution. It'll even happily get airborne or manual; things 29ers race bikes aren't renowned for. In this guise the Revolver strikes a more or less perfect balance between flick-ability, climb-ability and bomb-ability that forms the hallmark of a great trail bike.
Norco clearly took a gamble with the Revolver FS; a game of Russian roulette if you will. It doesn't fit many people's ideas of how an XC race bike should ride, and nor does it overtly scream stability and fun like a typical trail bike. And that's because it's equally capable either way. I'd warrant that under the right rider it could win XC races and then go out on the trails for a bit of a play, and you wouldn't find it lacking in either department. Depending on where and how you ride, you may not need to change the fork travel to unleash the Revolver's inner beast, but either way it'll almost undoubtedly unleash yours.
Thumbs Up
Very light full carbon frame
Supple traction enhancing suspension
Capable of handling aggressive riding
Thumbs Down
Not overly efficient on smooth climbs
Lacks a remote lockout
Won't take a 2X drivetrain 
Specifications
Frame: High Modulus Full Carbon
Shock: RockShox Monarch RL, 100mm Travel
Fork: RockShox SID RL Solo Air 100mm Travel
Headset: Sealed cartridge
Handlebars: Norco 6061 DB Alloy 740mm
Stem: Norco 3D Forged Alloy 70mm
Shifter: Shimano XT i-Spec
Front Derailleur: N/A
Rear Derailleur: Shimano XT
Cassette: Shimano XT, 11/42 11-speed
Chain: Shimano XT 11-speed
Cranks: Shimano XT 32T
Bottom Bracket: Shimano Press-Fit
Pedals: N/A
Brakes: Shimano XT
Wheels: DT Swiss X1900 Spline TR
Tyres: Schwalbe Racing Ralph 2.25
Saddle: SDG Circuit
Seatpost: Norco Alloy31.6mm
Weight: 11.4kg without pedals (large frame 2,178g)
Available Sizes: S, M, L (tested) and XL
Price: $5,499
Distributor: Advance Traders 1300 361 686 / www.norco.com