Pivot Mach 5.5 - First Look
Today we met with Daniel Limburg from Pivot Cycles to check out the all-new Mach 5.5 and take it for a spin around the trails of Stromlo Forest Park.
The Mach 5.5 is pitched at the do-it-all trail bike market and it's built around 27.5-inch wheels. You'll find a 160mm travel fork leading the charge, so it certainly has the legs for gravity enduro events, but the 66.5 degree head angle and 140mm of rear travel ensures that you're not dealing with 'too much bike' on more moderate trails—it aims to strike a nice balance that will keep many trail riders happy.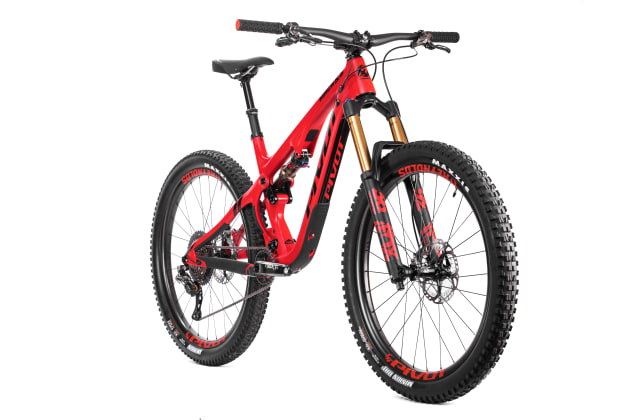 Like the recently released Firebird and Switchblade, the Mach 5.5 features very modern geometry—it represents a radical change from the Mach 6 and most earlier model Pivots.
The seat tube is very short (425mm on a medium for example) and the frame itself sits very low; this leaves tons of room for a sizable dropper post. It also features a relatively steep 73.5 seat angle which places you in a good position for seated climbing. You'll also find a rather long reach and front centre across all frame sizes (440mm on a medium and 460mm on a large for example). This affords plenty of breathing space, even when using a modern short stem/wide handlebar setup. Pivot offers the Mach 5.5 in a total of five frame sizes; from XS to XL, so just about everyone will be covered by this model.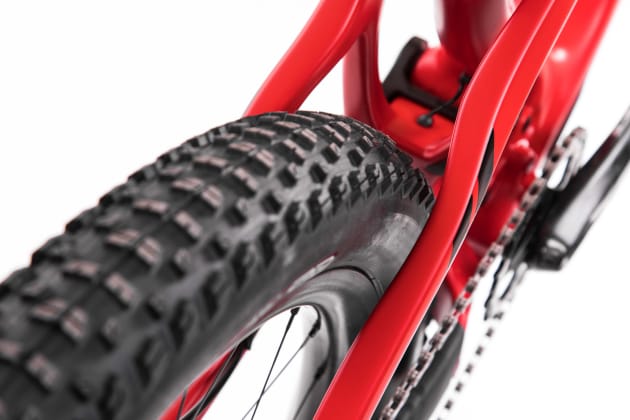 While the Mach 5.5 is not a plus tyre compatible model, it does have sufficient clearance for a big 2.6-inch tyre, and that's how Pivot is actually specing them. All of the stock build kits come with 27x2.6 Maxxis DHF and Rekon rubber.
Aside from this you'll find full internal cable routing with a hidden spot for a Di2 battery. There's room for a water bottle on the proper side of the down tube and the bike can also be run with a piggyback shock if desired.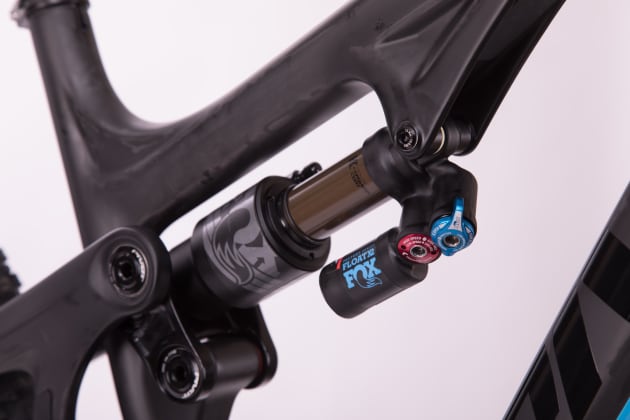 I was able to take the Mach 5.5 on a full lap of the Stromlo hillside; right to the summit on the regular climb and then down a slightly unusual descent. For those who are familiar with the trails, I took it down Roller Coaster, Skyline, Northside Express, Little Seymour and finished off on Breakout (basically stage four from the coming National Enduro Series round).
With this I got to climb over a few rock steps, take both tight and wide corners, berms and flat turns and a couple of drops and jumps along the way.
The Mach 5.5 was a lot of fun; popping off the ground with ease and holding its line well when asked to. The DW-Link suspension behaved much like the marketing description suggests; it offers a firm pedalling platform with the shock fully open but soaks up bumps well. The rear end did feel a tad harsh compared to the Fox 36 on large hits—I suspect this is a by-product of the added 20mm of suspension travel up front.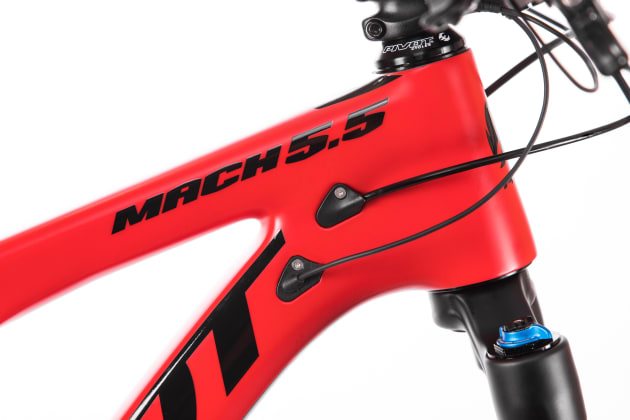 The standard build was on-point in the wheel department, with wide rims and meaty rubber—this bike is built for having a good time. In fact I think this is just about the perfect Stromlo bike; not too much travel (there isn't a lot of really rough/steep terrain at Stromlo) and an efficient pedalling feel. I was going to write that it was a fun bike rather than a fast bike, but checking in with Strava reveals a PB for that Enduro stage descent despite holding back on an unfamiliar bike—so I stand corrected, it is deceptively quick!
We'll see a range of spec options in Australia with availability expected by mid-June. The frame alone will sell for $4,799 and you'll also be able to buy it as a frame/fork and headset package for $5,999 with a Fox 36. Complete builds start at $7,599 with Shimano XT. A SRAM Eagle X01 build goes for $10,499 and the range tops out at $14,000 with XTR Di2.
For more info hit the Pivot site and you can also check the video below to get the low-down from Pivot CEO Chris Cocalis...