Ridden and rated: Pivot Switchblade Race XT
I had the opportunity to test the then-ground breaking Pivot Switchblade when it was first released in early 2016. The long, low and slack geometry, surprisingly short chainstays and its ability to run multiple wheel sizes was something of a game-changer at the time, and something most other brands have since aimed to replicate.
Pivot Cycles has long built a reputation for well engineered, great-riding race and trail machines that have been ahead of their time in one way or another. There is a downside to this industry-leading design philosophy, though; affordability-wise, a lot of people aren't able to add them in the mix when looking for a new ride. Enter the Switchblade Aluminium.
Based on the same geometry and DW Link suspension platform as its carbon sibling, the Switchblade Aluminium aims to bring cutting-edge engineering and ride quality to a lower price bracket.
In The Stand
Like the carbon Switchblade, there is a unique look to this bike straight out of the box, as is the case with most Pivots. The long top tube, the very short 428mm rear end and 157mm-spaced Super Boost rear end makes you want to have a closer look. It's not an easy to task to make a DW Link look pretty in aluminium, and with plenty of welding and exposed CNC machined hardware, it's definitely going to appeal more to those that find an industrial aesthetic more pleasing. There's no questioning the build quality, though, and Pivot's ability to completely match the geometry of their carbon bike is testament to its skill. The alloy Switchblade also uses the exact same linkage and shock hardware as its carbon fibre siblings; the only difference is the frame material, according to Pivot.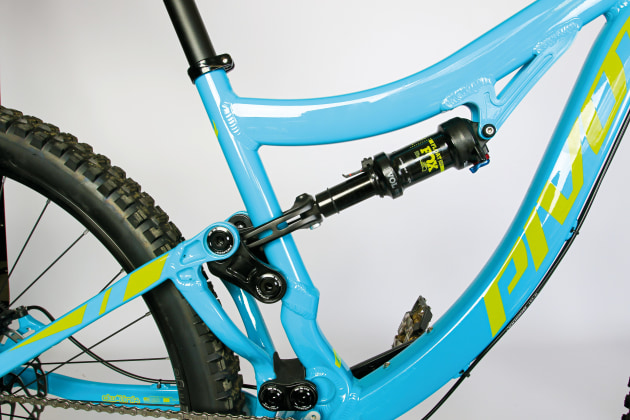 Suspension front and rear is handled by Fox, with a 150mm Performance 36 up front, mated to a Performance DPS in the rear. With 135mm of rear wheel travel and a double wishbone swingarm very similar to that on Pivot's World Cup level downhill race bike, I'm surprised not to see Fox's more trail-oriented DPX2 specced here, especially given Pivot's new 120mm 429 Trail comes with it. The new Performance DPS is a great shock, though, and I was looking forward to seeing if it could keep up with the 36 up front.
The drivetrain is mostly Shimano SLX throughout, with the addition of an XT rear derailleur and the longer-spindled Race Face Aeffect crank that's required by the Switchblade's wider rear end. Gone are the days of the need to spend big money to get a functional, durable drivetrain, and SLX is a great choice here. An SLX brakeset makes sure you don't get any looser than planned, and 180mm brake rotors front and rear are a good choice to suit most rider weights and riding styles.
A SunRingle Duroc 29er wheelset keeps everything rolling, and the rim's 30mm internal profile ensures even aggressive riders can run some decent rubber without fear of floppiness or burping. As is the case with most modern rims pushing the 30mm barriers, though, there's not a lot of vertical structure in the Durocs, and more aggressive riders may want to look into some form of rim protection, such as CushCore, to avoid friendly kisses with rocks ending in tears.
It's nice to see a quality triple-compound tyre specced on a bike at the level, and the almost unbeatable Maxxis Minion 3C Maxx Terra combo is a great choice. Tubeless set-up on the Sun Ringle rims is a piece of cake with a high-volume floor pump. The mix is rounded out by a Fox Transfer Performance dropper post and Pivot's own Phoenix brand of cockpit gear, featuring a 55mm long stem, a 750mm wide bar and surprisingly comfortable Padloc grips.
At five-foot-eleven and a little bit (180cm), I'm on the very upper edge of fit for a medium Switchblade, but with the 55mm stem and the saddle a few millimetres further back in the rails, the reach was more than acceptable for a test ride razzing. Suspension set up is simplified thanks to Fox's sag indicator attached to the rear shock, and rather than take away from the initial experience of the bike, the minimal adjustability of the Performance fork and shock actually makes for a very easy transition from stand to trail.
On The Trail
The one thing that initially grabbed me about the original Switchblade was its immediate sense of predictable playfulness, and Pivot has done a great job of transferring this ride quality into the alloy bike. The tall front end and very short stays combine well with the DW suspension system to offer a bike that feels more nimble and easier to manoeuvre than you'd expect from an enduro-capable 29er. With the rear end sagged to Pivot's recommended redline and 72psi in the fork, the assumptions I'd earlier made about imbalance were dispelled - at least initially - and a feeling of balance and capability really shone though. In five minutes, I felt like I'd been riding it all month.
If there's one thing that DW bikes are known for, it's pedalling efficiency, and the Switchblade is no exception. Even with the shock wide open, climbing is made simple by the inherently pedal-happy nature of the rear end. The long top tube allows for plenty of room out of the saddle on technical, loose climbs, and the relatively steep 74.25 degree seat angle puts you in a very good position over the rear wheel when you're required to sit and grind.
On the really steep long stuff, I did find that the front end lacked a little traction, but not so much that it wanted to wander around on its own. This is partly, I think, down to my laziness to keep my torso low over the front, but it's no doubt accentuated by the Switchblade's super short rear end.
That rear end has its advantages, though. I don't think I've ever ridden a bike with twenty-nine inch wheels that was so easy to get one or both wheels off the ground. Coming from a trials background, I've always wanted to manual through or hop over stuff rather than simply ride through it, and I've always felt like 29ers were too stuck to the ground. Things have certainly changed, though, and the Switchblade is the epitome of that. Only the slightest amount of effort is required to lift the front end, and I'd suggest if you've traditionally found it hard to loft off drops, or unweight through choppy sections, the Switchblade might help you remedy that.
Handling is similarly agile through tight, twisty corners, where the Switchblade is relaxed enough to take much less rider input than a lot of big-wheeled trail bikes, and it's more than happy to allow you to hold a little more speed and maintain a bit more traction. Acceleration is great, too, with the short rear end and DW link again working well together to limit your energy ending up anywhere but into the rear wheel. If your trails are windy, rocky and pedally, there's a very good chance you'll love the Switchblade Alloy.
Granted, unless you're spending a lot of time in the Snowies, we don't have a whole lot of big, fast and open descending in Australia. This, I think, actually works in the Switchblade's favour in our market. The geometry and suspension kinematics that make the Switchblade such an amazing bike on tight, technical terrain where the average speed is pretty low can be its Achilles heel when it comes to absolutely hauling. Once things really got moving – and I mean over 45km/h moving – that low-speed stability that was so noticeable earlier starts to fade. That super short rear end is definitely a little more affected by minute rider feedback at speed, and I certainly felt like I had to concentrate quite a bit more than I'm used to when compared to bikes with a rear end over 435mm long.
At big speeds, too, the DPS rear shock also has a pretty hard time keeping up with the bomber Performance 36 up front. The fork is great, by the way; point it at stuff you instantly regret, and it can handle it. Heavier or more aggressive riders may want to add a token to the air chamber to achieve a bit more of a progressive feel but, despite the lack of low-speed compression damping, brake dive is minimal and overall the Performance 36 is a great match for the Switchblade geometry.
No matter what I did, though, I was unable to get the DPS out the back to sing from the same hymn sheet. At lower velocities the overall set-up is very good, but at speed, when the front wheel is tracking beautifully and staying very much in contact on the even the choppiest of trails, the rear lacks that same supple feel. Maintaining rear wheel traction through rough turns definitely takes some teeth gritting, and the Minion DHR isn't really able to do its job. I feel that, for scenarios where the trail lets you really open it up, a DPX rear shock on this bike would really bring out some ride characteristics that would make the Switchblade very hard to beat. It's unlikely that that change would affect the areas that already allows the bike to shine, but it would make fitting a waterbottle harder.
Verdict
If your trails are twisty, tight and technical, you will love this thing. From that point of view, the Switchblade Aluminium XT Race is an absolute stand-out amongst similarly specced alloy bikes in the market. However, it sits at a very different price point to most of those bikes. At $6799, it's in the ballpark of similarly specced carbon fibre-framed options from big guys like Trek and Norco. Its carbon sibling with the same build kit is only $1200 more expensive, too, and you'll save a good kilo of weight overall.
Still, that's not chump change, and other than the weight, there's no compromises to be made. The Switchblade Aluminium is a playful, predictable and extremely enjoyable trail all-rounder that will serve you well in the longer term.