Yeti SB5.5c
The current MTB market is flooded with different brands, from multinational giants to small-time cottage industry builders. From this there are a handful of brands that really punch above their weight. They mightn't have a huge market-swallowing range of models and a limitless marketing budget but they stand out regardless.
There's no doubt that Yeti is of this ilk. It really is a classic and desirable brand; one that'll cause eyes to wander and heart rates to lift. The whys and wherefores of this appeal are hard to pinpoint but the brand awareness extends way beyond what it should given their relatively small size.
No doubt their involvement in the race scene plays a role. They've been around since the '80s and sponsored riders such as John Tomac, Juli Furtado, Jimmy Deaton, Marla Streb, Myles Rockwell and Missy Giove back in the day. More recently they had Aaron Gwin on-board before he went onto bigger things. Our very own Jared Graves rode with Yeti for more than a decade and Enduro World Series leader Richie Rude is their current pin-up-boy. That's a whole lot of talent for a smaller brand to possess. They just have a knack for capturing up and coming talent, and then losing them once stardom really hits and the riders move on to more lucrative contracts.
Aside from their history, they also have a talent for designing bikes that are both distinctive and extremely attractive. Sure, looks are a matter of personal preference but they always seem to get it right. The Yeti turquoise colour scheme mightn't appeal for some but there's always a more subdued alternative. Roll the great looks together with the Yeti brand appeal and you've got a very desirable package. Like most other boutique brands, this all comes at a premium and Yetis don't come cheap. For some it's almost like a badge of honour; a sign that you're totally committed to mountain biking because your bike probably cost more than your car—you know the deal!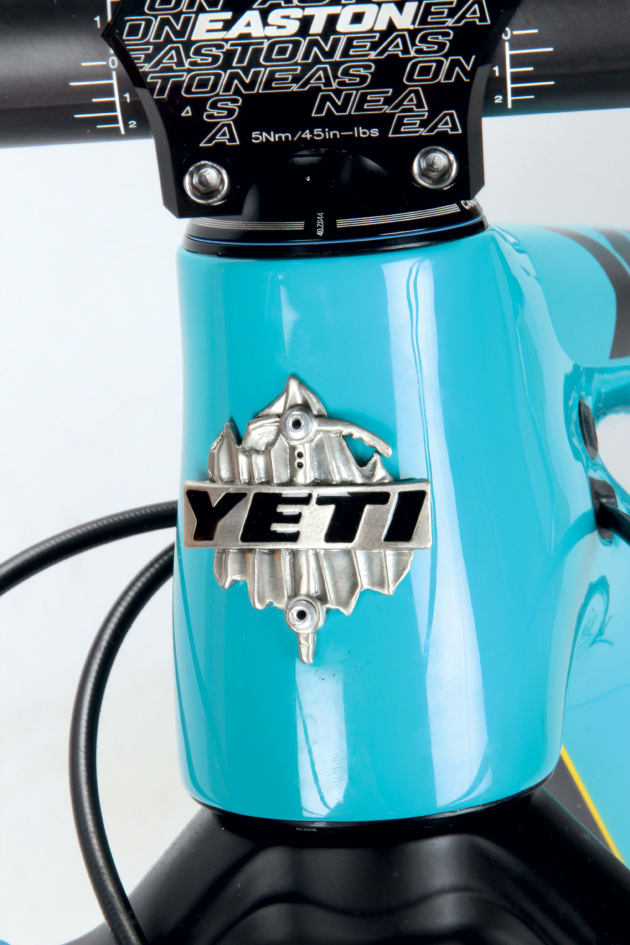 The SB5.5 displays all of the key Yeti attributes; it's expensive, looks unbelievably good and it's built to go fast. Opt for the turquoise colour scheme like our test rig and you'll be able to wear your Yeti badge with pride for all to see but it's also offered in a more subdued matte silver, a finish that seems to take on a different appearance depending on the light.
The cost of entry is $5,290 for the frame on its own and $11,690 with SRAM XX1 Eagle as reviewed. Our test bike features the top-level frame but for 2017 they'll also offer a more affordable version. The better frames will be called 'Turq' while the new option is dubbed 'Carbon'. Both feature a full carbon fibre frame (main frame and swing-arm) but using different grade carbon has allowed them to drop the pricing. This doesn't alter the strength or stiffness of the lower line frame but the weight goes up by 150-400g depending on the frame size (with a medium SB5.5 you could roughly expect a 250-300g increase). Where the Turq version will be offered as a frameset, the Carbon will only be sold with a complete build; expect the full Shimano SLX/XT bike to set you back around $7,190.
Our medium Turq frame came in at 2,875g with shock but no thru-axle. That's an impressive figure for a 29er frame that's built to handle a 160mm fork. The lower end Carbon SB5.5 frame will be over the 3kg mark, and weight wise that's more in keeping with what you'd expect of a long travel 29er frame.
All-up the test rig came in at 12.8kg but the spec certainly wasn't pitched at gram saving. The wheels feature DT Swiss XM481 alloy rims; a 1,930g wheelset with extra-wide 30mm internal rims. These are wrapped in burly Maxxis rubber; a 1,020g Minion DHF 2.5 up front and a 940g Aggressor 2.3 on the rear. The fork is a Fox 36 and you get 800mm wide Havoc Carbon 800mm DH bars with a matching 193g Easton Havoc stem. Very solid gear where it's needed most.
Of course it's also fitted out with the impressive new SRAM Eagle XX1 drivetrain. This is particularly handy on the SB5.5, as the frame doesn't accommodate a front derailleur. With Eagle, the 12-speed gear range matches the spread of a multi-ring drivetrain but does so with one chainring—click here to read the full groupset review..
Boost Benefits
Eliminating the front derailleur and adopting boost spacing on the drivetrain helps to free some space around the chainstays and bottom bracket; a beneficial move for Yeti as their Switch Infinity suspension takes up a fair bit of real estate in this area. These changes allow for compact 437mm chainstays; that's shorter than you'll find on their smaller wheeled SB5 and SB6 models—both run 442mm chainstays with 27.5 wheels.
Up front the SB5.5 runs a 66.5-degree head angle. Not long ago this would have been considered really slack for a 27.5 bike—how times have changed! The 346mm bottom bracket is low but not excessively so.
'Long, low and slack' is the current industry trend and these figures are certainly heading in that direction, but it's worth noting that their frames aren't as long as some. Many bikes now incorporate extra-long reach figures that allow for really short stems whilst ensuring that the cockpit doesn't feel cramped. Yeti keeps a lid on this however; a medium SB5.5 (445mm seat tube) has a 421mm reach while the large (483mm) measures 442mm—that's 10-20mm shorter than some of the competition (the new Specialized Enduro 29er and Trek Slash 29 for example).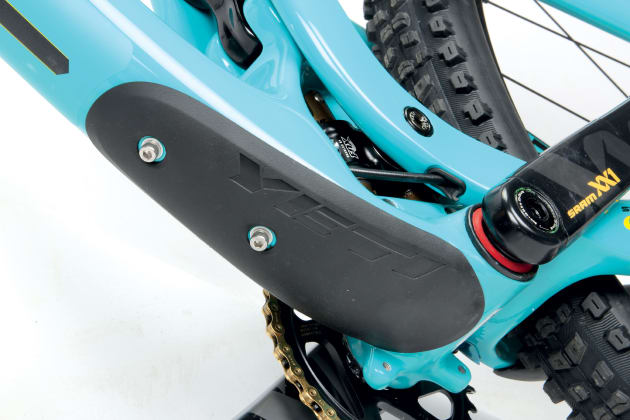 It means you may wind up running a 50mm stem rather than a super-stubby 30-40mm stem. At 176cm, I'm in the middle of the recommended size range for the medium bike that we reviewed and for me the cockpit length was spot-on with the stock 50mm stem. A long reach may offer some benefits but combine it with a slack head angle and you'll wind up with a really long wheelbase. In my experience a long and raked out front end can work well on a smaller wheeled bike but it usually makes for sleepy handling on a 29er. At 1,168mm, the wheelbase isn't overly long for a medium; to offer some perspective a comparably sized Specialized Enduro 29er is 1,179mm while the Trek Slash is 1,186mm. All of these figures play a key roll in how the SB5.5 rides but they don't tell the whole story. Of course the other vital ingredient is the suspension performance…
Infinity and Beyond
Yeti has been running their Switch Infinity system for a few seasons now and the design still causes confusion. With the Fox logo and Kashima coating on the lower pivot assembly, many assume it's a secondary damper. In reality it's nowhere near as complex as you may think; it's simply a pivot that has a small amount of vertical movement. It's not unlike a regular suspension link except it moves up and down on a vertical path rather than following an arc as you'll find with the lower link on a DW-Link, Maestro or VPP system. There's no valving or oil inside; it's just two short mini-stanchion tubes with bushes that slide to allow a small amount of vertical movement. Despite the complex appearance, there are very few moving parts and it's equipped with grease ports that make maintenance relatively easy (a quick regrease is recommended after 40 hours of riding). The carbon upper link follows more traditional lines and it pivots on sealed Enduro bearings.
Whatever the mechanics behind it, the end result it largely determined by the axle path and the leverage ratio. The axle movement is more rearward through the early part of the travel and this provides a good solid pedalling feel under power. Past the halfway mark the axle arcs back in towards the frame; this reduces chain growth and minimises feedback through the drivetrain. Suspension is always a game of compromise but most kinematic geeks would consider the Yeti to be textbook perfect in its axle path and anti-squat performance.
On a gravity-oriented bike like this, you'd generally expect a progressive leverage rate. That means more leverage over the shock early in the travel for a supple ground-hugging feel, then it will steadily ramp up as you go deeper in the travel to resist bottoming. This is where the Switch Infinity system throws us a curveball, as the leverage ratio is relatively linear all the way through the stroke. While this could cause the bike to blow through its travel too easily, Yeti has tuned the Fox Float X air shock to compensate. Straight out of the box it's fitted with a volume reducer and the end result provides just enough progressiveness to avoid harsh bottoming. Overall it's still quite linear though, and this is another piece in the puzzle that determines the ride feel and on-trail performance.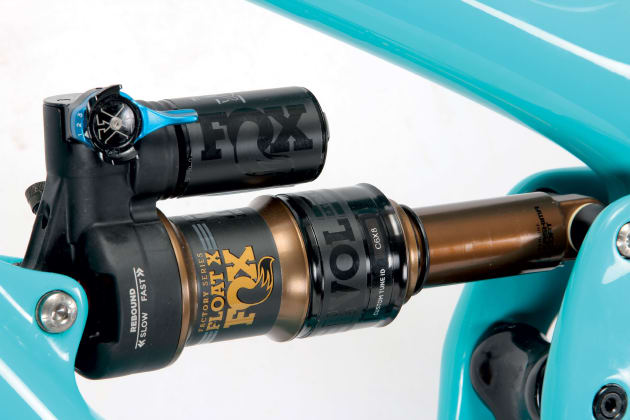 Through the Trees
With its 29er wheels and the slack 66.5-inch head angle leading the way, the SB5.5 certainly isn't lacking stability at speed. At the same time it doesn't hit the trap that befalls many longer travel 29ers. As much as the big wheels add stability, the compact chainstays and moderate wheelbase length ensures the SB remains well balanced and surprisingly manoeuvrable. If you're used to smaller wheels, you may find it takes a little more effort to tip the big wheels into a turn but the learning curve is very slight indeed and overall the SB5.5 feels extremely balanced and natural on the trail.
Up front the 160mm Float 36 ploughs beautifully without flinching for any rocks that are silly enough to get in your way. The fork and the bike as a whole is rock-solid and it can be driven as hard as you like through the turns. With slightly less travel on the rear and the relatively linear leverage rate, the back end doesn't wallow and it never feels soggy or disconnected. It delivers a taut and responsive ride that provides just enough connection with the trail.
I ran around 25-30% sag on the rear and found that mid-to-large hits regularly used every millimetre of the travel. While the travel indicator virtually lived at the end of the shock shaft, I never felt the suspension bottom out. If you were concerned with frequency that the rear travel is used, there is scope to fit an even larger volume spacer and make the suspension more progressive. Personally didn't mind this trait; at least none of the travel is going to waste!
The supportive and slightly firm initial travel provided by the linear suspension combines with the strong anti-squat qualities to make this Switch Infinity bike a brilliant pedaller. Seated climbing on smoother surfaces produces zero suspension movement, yet it remains quite active and ready to suck up tree roots with little or no feedback through the pedals. Standing climbing is also good, with less suspension mush than you'd typically expect from a 140mm travel trail bike.
From an efficiency perspective, the SB5.5 is a fantastic climber but it does require some extra attention to keep it pointed in the right direction when winching up the really steep stuff. The slack head angle leads to a bit of wander, so you may need to adjust your riding position to keep the front end planted. At 73.6-degrees the seat angle is sufficiently steep for climbing, so it isn't too hard to get your weight a little further forward. With tyres weighing a kilo each and 1,930g wheels, it's never going to feel too lively going uphill but steady paced climbing isn't a chore and the SB5.5 is more of an all-day riding all-rounder that you might expect.
Of course the fun really begins when the bike is pointed downhill. You always hear of how big travel 29ers only like to go straight, but that really wasn't the case here. With its well-considered geometry and lively suspension feel, the SB5.5 is a bike that you can really drive through the twisty stuff. It'll turn with confidence and can be flicked around on the trail as required. The big wheels may dull the acceleration slightly but the efficiency offered by the Switch suspension ensures you'll still feel like smashing the pedals on exiting each and every singletrack corner.
After spending some time on such a capable and natural feeling 29er, I started wondering whether big wheels are going to take over from the 27.5 size in the mid-to-long travel category. The introduction of boost and various other tweaks is allowing switched on manufacturers to create 29ers with dialled geometry and seemingly few compromises. But there are a few additional factors that need to be considered. First is sizing; the medium review bike is the smallest size available in the SB5.5. If you're around 170cm or less this bike is not for you.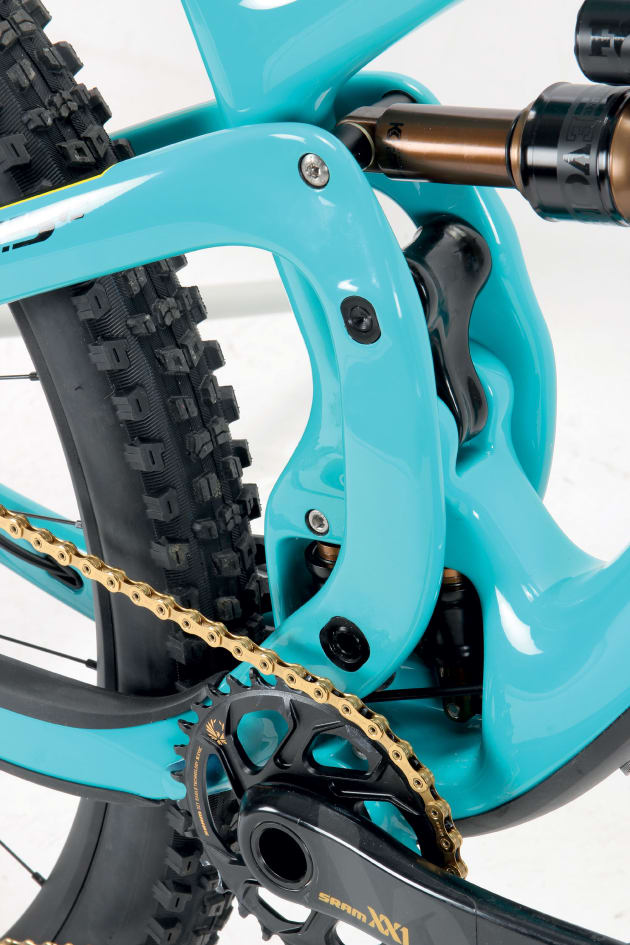 Then there's the topic of balancing weight and tyre/wheel robustness. Bikes like this can be ridden really hard through nasty terrain. Doing so puts the wheels through hell and many enduro racers are running tyres with full DH casing to avoid punctures. A regular 29er tyre may be 40-60g heavier than its 27.5 equivalent with an extra 40-50g for each wheel—the total weight hit isn't huge. Move to a thick dual ply DH casing and each tyre will be 100g or more heavier than its smaller brethren and all this weight placed further out from the hub makes the handling and acceleration even more sluggish. This and the limited options for really burly 29er tyres is a large part of why we haven't seen riders like Richie Rude racing on the SB5.5. Perhaps this too will be overcome and we'll see these top-flight enduro racers opting for bikes like the SB5.5 over the smaller wheeled SB6; it's certainly up to the task in any case.
For me the SB5.5 certainly managed to smash a few preconceptions about long travel 29ers, not just in the way it handled but also in how versatile a true gravity enduro race machine can be. It's a bike that would be total at home on the roughest EWS course – and given its lineage that's to be expected – but it's also very much at home as an all-round trail bike. If rough and challenging trails are your thing, you'd be hard pressed to find a more versatile and capable bike than the SB5.5.
Pros
A refined blend of descending prowess and all-round rideability
Ridiculously good looking
Low weight for a big travel 29er
Cons
Not as plush as you might expect
No decent spot to carry a bottle
Price 
Specifications
Frame: High Modulus Carbon
Shock: Fox Float X 140mm Travel
Fork: Fox Float 36, 160mm Travel
Headset: Cane Creek 40 Series
Handlebars: Easton Havoc 35 Carbon 800mm
Stem: Easton Havoc 35, 50mm
Shifters: SRAM Eagle XX1
Rear Derailleur: SRAM Eagle XX1
Cassette: SRAM Eagle 12-speed, 10-50
Chain: SRAM Eagle XX1
Cranks: SRAM Eagle XX1, 32T
Bottom Bracket: SRAM Press-Fit 92
Pedals: N/A
Brakes: SRAM Guide Ultimate
Rims: DT Swiss XM481
Hubs DT Swiss 350
Spokes: DT Swiss Competition
Tyres: Maxxis Minion 2.5/Aggressor 2.3
Saddle: WTB Yeti logo
Seatpost: RockShox Reverb 30.9mm
Weight: 12.8kg without pedals (medium frame 2,875g)
Available Sizes: M, L and XL
Price: $11,690 ($5,290 frame only)
Distributor: Rowney Sports 1300 938 469 / www.rowneysports.com