Merida launches special aluminium edition for eONE Sixty and eONE Forty
Merida have announced a late Christmas present for riders with Limited Editions of the eONE Sixty and eONE Forty. 
The Limited Editions are made from full aluminium and bring the complete range for each model to five, offering customers a broad choice. 
The eONE Sixty was changed to a carbon model in May 2019 but due to popular demand, Merida decided to produce an all-aluminium option. 
The eONE Sixty.
At the launch on Monday (AEDT), the German company revealed that while the Limited Edition was fundamentally the same as the original models, there were some key differences.
'The eONE-SIXTY and eONE-FORTY LIMITED EDITION share the same frame but differ a lot in terms of riding character. The difference between the two bikes is that the shock stroke on the eONE-FORTY is shorter. That reduces the rear travel to 133 mm from 150 mm which the eONE-SIXTY offers.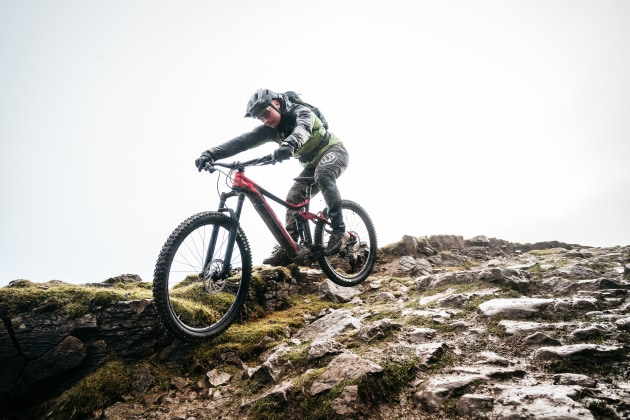 The eONE Forty.
'On top of that, the shorter 140 mm travel fork extends the reach of the eONE-FORTY in comparison to the eONE-SIXTY which is equipped with a 160 mm fork. That's the reason why the eONE-FORTY has different sizing compared to eONE-SIXTY. A frame with a 44 cm seat tube length, for example, is a size L in the eONE-FORTY, but at the eONE-SIXTY, it is a size M. We believe that a bike with less travel should be more agile and playful than one with more travel, and the reach has a significant influence on that.  
'Compared to the eONE-SIXTY, the seat angle at the eONE-FORTY is almost one degree steeper, and the front is lower because of the shorter travel fork and the shorted head tube. This puts more weight on the front of the bike and gives the eONE-FORTY better climbing performance as the front wheel rises later than at the eONE-SIXTY. Also, due to the shorter fork, the head angle is almost one degree steeper, making the bike feel less wobbly at lower speeds. Again, a positive attribute for uphills. Another big difference compared to the eONE-SIXTY is that the stand over height is lower. 
The eONE Forty.
'The reason for that is the lesser travel, lower head tube and lower bottom bracket height. Especially for beginners, the lower stand over height gives a lot of confidence. In particular, for shorter riders, the eONE-FORTY is a perfect match because there are not many brands which can offer such low clearance.' 
The eONE Sixty (5 Feb) will be available for $6,699 while the eONE Forty (14 Feb) will set you back $6,499.
| | | | |
| --- | --- | --- | --- |
| Model | Colour | ETA | RRP |
| eOne Forty Limited Edition | GLOSSY RED/MATT BLACK | 14th Feb   | $6499 |
| eOne Forty Limited Edition | GLOSSY BLACK/MATT BLACK | 14th Feb | $6499 |
| eOne Sixty Limited Edition | GLOSSY GREEN/MATT BLACK | 5th Feb | $6699 |
| eOne Sixty Limited Edition | GLOSSY BLACK/MATT BLACK  |  5th Feb | $6699 |