Launched in 2012, the Rocky Trail Fox Superflow series is based on the highly popular US and European enduro races. However, over the past seven years, event organisers Rocky Trail Entertainment have adapted the format to suit the specific characteristics of Australian conditions. The Fox Superflow events, staged across NSW and the ACT, have grown rapidly and the company is proud to have developed such a popular series.
What makes the series so special and how can you, your mates and your family get involved? Let's find out.

Rider Experience

This year's series will start at Stromlo Forest Park on 2 June after the originally scheduled season opener at Thredbo had to be cancelled due to snowstorms. At last year's Canberra event, over 400 riders hit the trails for the event, reaching Rocky Trail's capacity. In total in 2018, almost 1,000 individual riders took part across the Fox Superflow series. There's also been a huge recent spike in participants in the 15-17 and 35-45 age groups, showing that the parent-junior riding partnership has become a new and hugely popular way of being out on the bike.
Now, not only is it a fun day out, it's also a proper racing challenge, with close to 1,000 vertical metres across 30-40 kilometres of neutral riding and racing. Rocky Trail specifically picks tracks for their fast and flowy characteristics. In fact, such is the love and passion for these kinds of tracks, local club riders from the likes of the Hunter MTB Association, Central Coast Ourimbah MTB Club and the Hastings Valley MTB Riders regularly alert Rocky Trail to new and exciting trail options they think would be perfect for Superflow. This happened recently when a large group of riders from Port Macquarie, who have travelled to the events for years, started building their own specific trails with Supeflow in mind. After an initial test event in 2018, and with the support of Port Macquarie-Hastings Council, this year's mid-series Championship event will be held at their home track of Jolly Nose on Sunday, July 14th.
*NB - Season opener at Thredbo cancelled due to snowstorms

Unique Idea

The Superflow is the only enduro-style event in Australia that allows participants across all age and skill categories the chance to ride together all day. One of the event's focuses is the social aspect of the riders' experience, with the freedom of no stage cut-off times given to all. Riders can also make their way to the starts of the timed downhill sections at their own pace.
The nature of the event means that all kinds of riders can spend the whole day together. You could have a dad riding alongside their little one, they meet at the bottom with dad all the while making sure the little one is having a great time. Or you could have a junior gun who loves to race alongside his or her flagging parents. They make their way to the start in a leisurely manner and then complete the race stages at their own pace and still meet at the bottom, enjoying the inevitable sense of achievement before heading to the next start or back up to do another run. There's also the chance to have a good sticky-beak at riders cruising round on some seriously bling all-mountain bikes, but at the end of the day, the extremely social, inclusive nature of the riding means that everyone simply has a brilliant time together.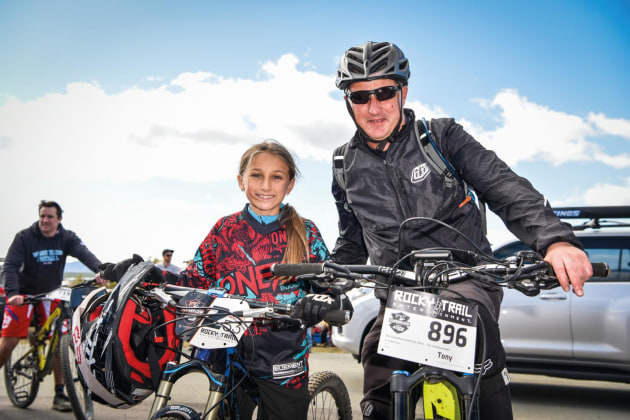 How It Works

During the events, there's 2-3 simultaneously open timed sections that are raced throughout a 4-5-hour window. At every series event, the top three riders in each category receive a series number plate displaying either (1), (2) or (3) in a large font. Valid throughout the entire series, riders wear those plates with pride, as that's what indicates their podium position throughout the series. Results for each event are also displayed on screens at the event centre, and race times are shown live online, so as soon as you cross the finish line you can check out how you and your mates did. You can imagine, all jacked up on adrenaline from your run down and with your time ready to compare with your mates/parents/kids, it's an excitement like little else! Great prizes and giveaways are also handed out at every event, with a mix of sponsor products and local specialities on offer to provide just reward for the day's efforts.
About Rocky Trail
Rocky Trail Entertainment was founded by Juliane and Martin Wisata in 2008. Originally from Austria, they've been living in Australia since 2003 and fell head over heels (thankfully not literally!) for mountain biking during a riding trip to the Blue Mountains. Both have a strong background in tourism and leisure management, as well as brand marketing and communications, and over the past decades have established a portfolio of 20 annual multi-discipline events. In 2012 when they launched Fox Superflow in partnership Stan's NoTubes, they were the first private promoter in Australia to host an enduro-style event in NSW, and it's now the most successful series of its kind in Australia.

Challenges

Hosting an event like this is never easy. The Fox Superflow is the most time and staff-intense racing format that Rocky Trail run, and the most stressful too, with multiple race tracks live at the same time. However, the fact it allows so many different types of riders the chance to spend all day out on the bike together means that for Juliane, Martin and their team, it's worth every shred of effort.
The pair have spent a lot of time and money fine-tuning, moulding and crafting the event into what riders will see this year, and the help and support of local administrative bodies has also been key, with assistance from the likes of Events ACT (Round 2, Stromlo - Sunday, 2nd June) invaluable in making Fox Superflow what it is today.
The majority of the Superflow riders are amateurs, but they're certainly serious about their mountain biking, and they love the challenge of trying to improve themselves, taking on the sometimes tough climbs and fast descents with relish. But having said that, it's important not to forget one of the key appeals of the events - riders take on the course challenges on their own terms and at their own pace. As a result, Juliane and Martin say they get plenty of elite riders enjoying the event's uniquely social, fun and professional atmosphere.
For more information on the event, pricing and to register, head to the Rocky Trail Fox Superflow website - rockytrailentertainment.com/fox-superflow-sealed-by-stans
WIN: Fox Superflow 2019 Series Entries
Want to ride the entire rest of the Fox Superflow series 2019? Well, today could be your lucky day! Head to the Fox Superflow website for your chance to win entries to the five remaining Fox Superflow events in NSW and the ACT for one of the following options, valued at over $1500:
2 x any category tickets - a couple or two mates.
1 x Parent-junior entry - one parent and one u-18.
1 x Junior entry - One U-18 with one parent riding for free as a buddy.
Enter online at: rockytrailentertainment.com/mba Competition ends 15th May.