We all have to deal with the stress and pressure of time. We've all got the same amount in a day, but there's an ever-increasing demand on it in our fast-paced world. And despite the advent of tools like email and video conferencing, work travel levels continue to climb – more than 8 million Aussies, for example, travelled overseas in 2017 for work, as opposed to just over 4 million in 2005.
Of course, work life isn't the be all and end all of our existence, but it's often a necessary evil that cuts into other aspects of our lives, like looking after family and looking after ourselves. As a frequent traveller, a life of airport lounges and hotel buffet breakfasts is doing the necessary things for our familial income, but does nothing for my waistline or my mental state. My love of mountain bikes has also suffered – in the struggle between work and family, riding loses every time. I figured there has to be a better way; I fly to these great places all the time, so why can't I take advantage of it? Well, often the trips are too short; a recent trip to Tokyo consisted of arriving at 9pm Sunday night and departing at 10pm Monday; 18 hours of flying and eight hours of coach travel, interspersed with six hours of sleep, in a 36-hour period. Exercise? Grabbing more ramen noodles from the airport lounge buffet, or walking to the other end of the terminal. But recently I managed to wrangle an extra day out of a trip to the US, and I decided to use it wisely.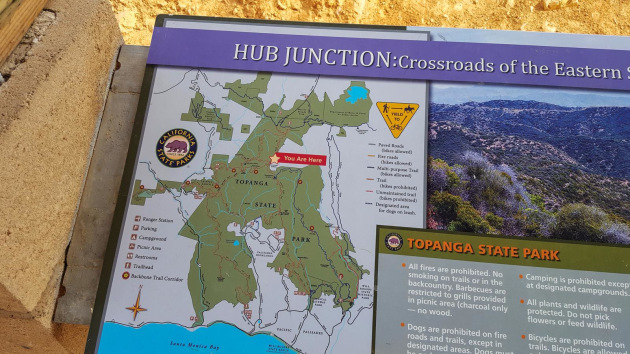 California is widely regarded as the birthplace of mountain biking, with tales of motorbike riders converting old Schwinn beach cruisers into off-road machines in the 1970s and tackling the long fire road descents scattered around the hills of the state. One of the names I've read about was a place called Topanga, which lies only 30 minutes outside of the bustling hub of downtown Los Angeles. A quick web search revealed there was a network of state parks in the region – including Topanga State Park, billed as the largest park within a city limits anywhere in the US – along with a shop called the Topanga Creek Outpost that rented bikes out.
Now usually I'd always opt for my own bike over a rental but in all honesty, the arse-ache of lugging a bike across the other side of the world for a single jaunt just wasn't going to work this time. I exchanged emails with Outpost owner Chris Kelly about renting a decent rig and exploring the surrounds, and he bounced me back a couple of options, including the chance to grab a new dual suspension carbon Salsa Redpoint from his fleet. All I needed was my kit and some pedals, and I was there. Los Angeles is as busy and gritty as you can imagine a large city to be – but Topanga, just 20 minutes from the downtown area, couldn't be more different. Nestled in the shallow hills around the town, houses are built right into the mountainsides and, almost unbelievably for the US, there are virtually no signs of commercialism.
If you're looking for a Dunkin Donuts next to a Walmart, you're in the wrong place. It's hard to equate it to a place in Australia, but if you think Sunshine Coast or Coffs Harbour, you're close. Little hippie shops line the winding Topanga Canyon Boulevard that turns off the famous Pacific Coast Highway before you hit Topanga Creek Outpost. The store itself also defies all notions of your typical bike shop. Mechanic Jay Barre has a stand set up in what's essentially a front yard, while bikes of all vintages and types are scattered around.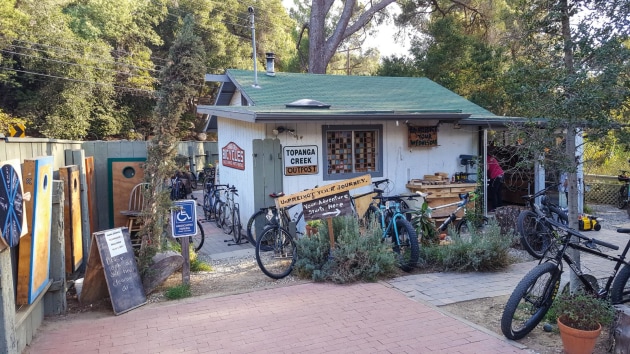 The retail store itself is based in a small cottage, with rooms rammed full of an eclectic mix of bike bits and in-house leather works. Eccentric and eclectic, it's also instantly relaxing and inviting. It's fantastic. Chris greets me with a smile and an offer of coffee. "I'll have some banana bread done by the time you get back," he smiles, gesturing to a beat-up lounge so I can fill in the paperwork to rent the Salsa. He also has a set of photocopied instructions that directs me to the Outpost Loop, a 22km sample of what the area has to offer.
One side has written directions, with photo markers on the other. It's a simple, clever idea. Chris sends me on my way with a friendly warning; "there's a bit of climbing!" California dreamin' He's not wrong… with over 500m of climbing in 22km, the Outpost Trail starts going vertical, and just keeps going up. And up. And up some more. The temperate LA autumn weather means it's not overly hot, but a complete lack of shade up here means it would be baking in the summer. It's predominantly a firetrail loop, but there are verges most of the way where riders have cut in singletrack alternatives to follow. Besides, fast sweeping fireroad descents are part and parcel of the Californian mountain bike experience.
The views, too, across Summit Valley and Westridge Canyon are immense, and a great place to actually stop and smell the roses. I'd managed to carve out a morning to myself to ride in a new place, and it feels absolutely liberating. After a few selfies, I'm back on the Salsa – an excellent rig with predictable manners and plenty of speed – for the run back.
From the top of the loop, it's possible to follow singletrack all the way down to the Pacific Ocean, but unfortunately the long climb back to the store falls outside my available time, so I opt for the steep, rutted Yedvarts trail, 2km of black diamond downhill that more than makes up for the fireroad climb. By the time I get to the bottom, my eyes – and my forearms – are bulging from pinging off huge boulders and surfing through giant ruts.
It's awesome fun. From here, it's a road roll back to the store, more coffee and the fresh banana bread. Jay's in the shop's kitchen making a fantastic looking curry for lunch and asks if I'd like to hang around, but the real world is calling me back. Handshakes all round, and I'm soon back on the fiendishly busy Pacific Coast Highway for the run back into LA. My colleagues cast curious – and slightly envious – glances as I pile back into the hotel foyer with a thin film of dirt on my legs and a massive grin on my mug, and the rest of the work trip seems to go a lot easier. We all have to work for a living, but there is always a way to get out there amongst it. With a bit of research and a 'take it as it comes' attitude, you too can find that way.