Mountain Biking at Hidden Vale
Think Spicers Retreats and you'll probably conjure up images of upmarket accommodation with fine food, usually in a rural setting; the sort of place you escape to for a luxury getaway. Endless singletrack probably isn't the first thing that comes to mind, but it should be if you're visiting the Spicers Hidden Vale Retreat at Grandchester, about an hour's drive southwest of Brisbane.
Hidden Vale has a longstanding relationship with mountain biking and much of this stems back to one man—Graham 'Skroo' Turner. One of Australia's wealthiest and most successful businessmen, Skroo is the driving force behind the Flight Centre travel agency – a multi-billion dollar business in itself – and he's also a keen mountain biker.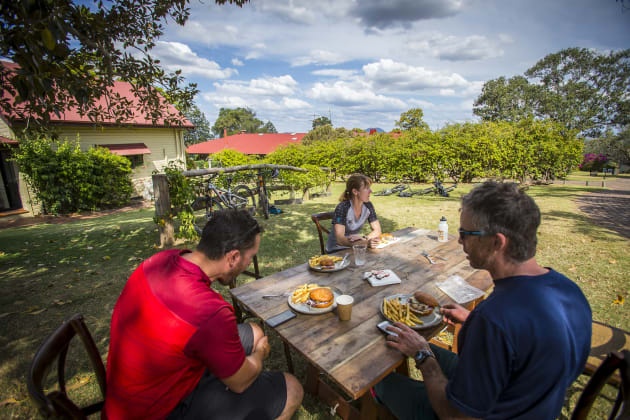 Back in 2002 he did an epic 117km ride along the Bicentennial Trail with mates and a year later they kicked off the Flight Centre Epic; a point-to-point marathon that went from Toowoomba to Grandchester. It finished on the Hidden Vale property, which is also owned by the Turner family.
The Flight Centre Epic continues as one of Australia's longest running MTB marathon events but the format has evolved from its original form. Back in 2010, severe flooding decimated the Ma Ma Creek section of the Bicentennial Trail and forced them to abandon the point-to-point format. In 2011 they based the event at Spicers Hidden Vale and ran the Epic on the property. You're probably thinking; 'a marathon event held within the confines of the property – surely you'd get dizzy!' Well this property is big; it stretches almost 15km along its widest span and covers 12,000 acres.
To begin with, the MTB trails simply followed old cattle tracks but the build efforts expanded over time, especially since the Hidden Vale property became focal point for the Flight Centre Epic. More recently, World Trail was contracted to develop a master plan and really take the trail network to another level—not just for the Epic but also to create a mountain bike park with far broader appeal. At that stage there was around 50km of singletrack on the property but the proposed master plan for the Hidden Vale Adventure Park is shooting for 104km of trail.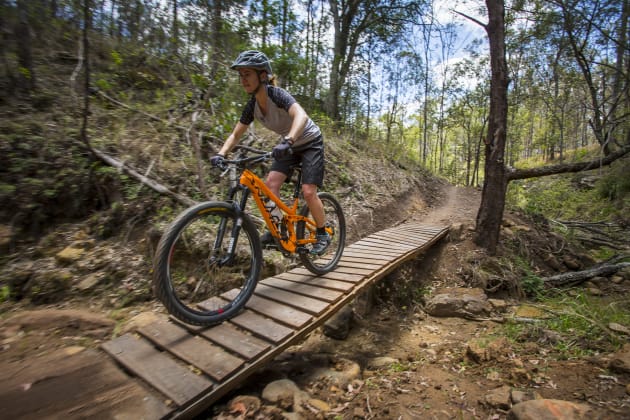 We're more accustomed to seeing World Trail building on state government funded projects and ventures that are backed by major tourism bodies. To have them building on a privately funded project shows some serious commitment, but that's how the Turner family rolls!
As it stands there's over 70km of singletrack in place with another 30-odd kilometres to be opened in the within the coming months. There's also impressive plans for infrastructure that will increase the accommodation options; everything from camping to living it up in luxury on the retreat.
The trails may be on private land but they're open for anyone to ride; you don't have to be a Spicers Retreat client or race entrant to ride there. You just need to sign on before heading out for a ride and sign off at the end—it's a safety precaution really, as they can send out a search party if you don't come back!
Trail Diversity
So now to the all-important question; what's the riding like? When World Trail was contracted, there was talk of them giving the existing trail a 'freshen up' to bring it inline with modern standards. According to Hayden Brooks, manager of the Hidden Vale Adventure Park, this option was considered but they chose to direct their efforts into building new trail. Sounds like common sense but this decision had a larger effect than you may initially think.
Every trail builder has a different style. Even within World Trail, different builders have their own touch that filters into the trail. There may be variation but the majority of these modern trails have a similar flow and they vary starkly from the trails that were forged a decade ago.  The great thing about Hidden Vale Adventure Park is that you get to ride both.
Old School Rock
The older trails are still open; Western Creek, 007, Grinder and Gully to name a few. Rock Bottom is an old school highlight; originally formed from a cow track, it offers a rugged 2km descent, although this too has evolved over time. The 2010/11 floods widened the creek, so the trail now features four bridges as well as a few modern touched with berms and jumps. Epic is another oldie; 8km of tight, technical and rocky mainly descending trail—loose, challenging and a good workout too. Where the new trails flow predictably, the original Hidden Vale trails test your technical nous and make you think.
Understandably however, most of the interest is currently directed towards the newly built trails. There are a huge number of individually named tracks on the property but they're all interlinked so you can easily ride them as an extended loop. Recommended loops range from four to 41km in length and they're designed so you can add or remove sections as required. This 'stacked loop' format means that stronger riders can add extra sections of trail while others can save their legs but everyone in the group still gets to finish together.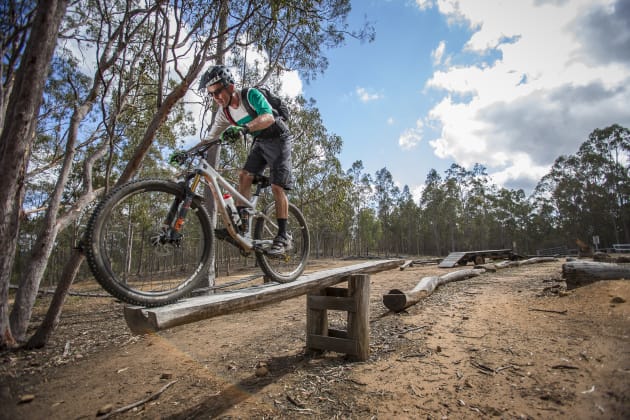 New School Flow
If you're keen to savour the newer trails, the 23km 'green loop' is a good place to start. This takes you out on a bit of old school to begin with (Western Creek), then it climbs up Dances with Dingoes and Almost There before launching into Ripple Effect. This trail delivers 4km of descending with that signature World Trail flow—it just keeps going and going with smooth grade reversals and subtle lofting jumps. The return journey back to the retreat leads you along Plane Sailing (named after the plane wreck at the start). Also built by World Trail, it's another gradual descending trail. Fast and open with a few rocky bits, it delivers you back to the Hidden Vale Retreat with a grin on your dial, ready for lunch and a beer at the licensed barn/restaurant. There's plenty of shade under the huge trees and you can play a game of pool and generally chill—certainly a nicer setting than your average dusty trailhead car park!
If you're keen for some high speed gravity fuelled action but don't mind having to work for it, Skyfall has your name on it. This trail descends from the Little Liverpool Range, dropping you from 400 metres down to 150m at the bottom—it's a 15-minute descent at breakneck speed and real highlight of the new Hidden Vale trails.
Of course you've got to earn your turns and the best bet is to follow the 36km-long red loop. Once again heading out on Western Creek, you then jump across to Dandy's; an old school track that's received a few modern features. You'll encounter some 'North Shore' style wooden bridges that lead you over large boulders with a choice of drops at the other end. There's also a 20-metre long log ride; it was originally put in as a way of avoiding potentially boggy ground but it also serves as a challenge for anyone who wants to have a crack.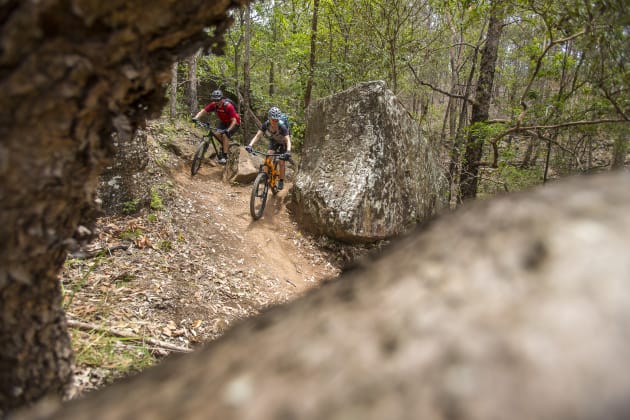 From there you can include the Yowie track or cut straight onto Remnant—fitter riders can always tack a little more trail onto any ride. Remnant is a real standout within the Hidden Vale Adventure Park. It's a relatively new World Trail built addition, but unlike the others in the network, it was scratched out by hand. It passes through an area of remnant rainforest with massive boulders and steep sided gullies. Glen Jacobs didn't want to take machinery through. Instead it took 10 people two days to create this short but challenging and picturesque section of trail. Much of it is off-camber, skirting in and around huge rocks and drops—it'll certainly keep you on your toes!
The climbing begins in earnest with Plateaued, Chinese Whispers and Scree. Near the top of Scree you'll find a seat with a view back towards Brisbane—on a clear day you'll be able to spot some of the taller buildings. Next up is Gorgeous; it's a really fun little track but not one for the nervous, as it drops off steeply into the valley on the side. Having negotiated that, you're rewarded with another great lookout before the final pinch up Legless Lizard to the top. Then it's bombs away on Skyfall; a super-fast trail with bermed corners and a mix of optional drops and some potentially huge jumps (if you're game). Skyfall leads onto Snappy Turtle and culminates with the massive berms and jumps of Trailer Thrash.
As much as I'd have liked to do another run down Skyfall, the loop is a bit of an epic that'll have most riders happy to call it quits by the end. An alternative is to push up the steep access trail that takes you directly to the top of Skyfall; it's around 30-minutes of really hard yakka but quicker than riding the full loop. Future plans include paid shuttles up the hill and Hayden is currently experimenting with a Polaris side-by-side buggy for this job.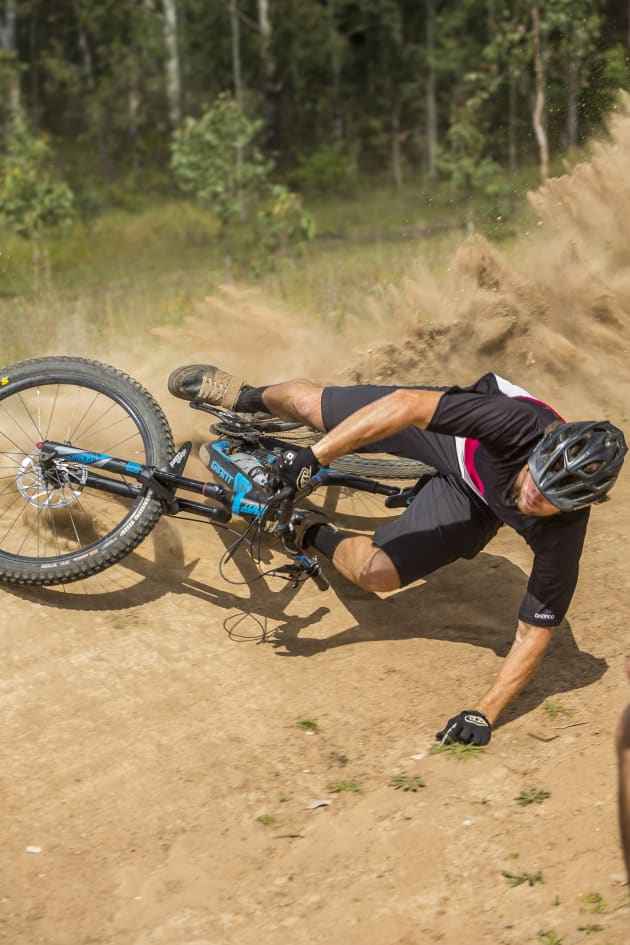 Relax & Recharge
With the volume of trail on offer, there's no shortage of options; it's enough to keep you well and truly entertained for three or more days of riding. The bonus with Hidden Vale is the opportunity to make a holiday of it. Staying at the Spicers Retreat means you can pedal yourself into a stupor, then collapse into the lap of luxury. There's a pool with an amazing view behind the main homestead, shady gardens, tennis and bocce courts as well as the Spa Anise if you're partial to a facial. Even if these activities aren't your cup of tea, they could be a draw card for your partner. You know the drill; "Let's go for an indulgent getaway at Spicers, oh and maybe I'll pack my bike too, just in case there's somewhere to ride…" Perfect!
The food at Homage restaurant is pretty special too. Here they don't just serve your standard selection of food, the menu changes constantly to take advantage of the produce that's in season. What isn't grown on the Hidden Vale property is sourced locally, not only ensuring that it's fresh, but also to serve as a reflection on what the region has to offer.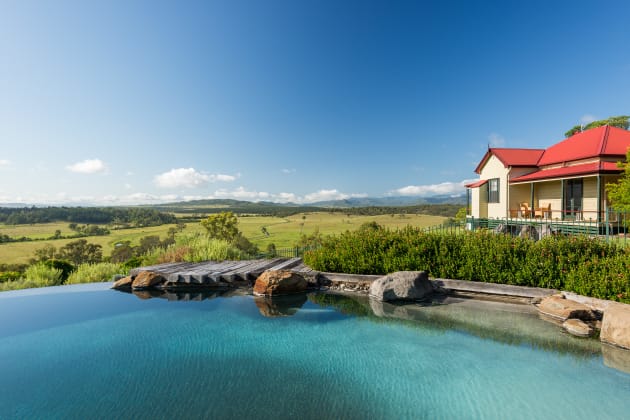 Lofty Plans
As impressive as the trail network is at this point, it's set to grow even further, not just in the number of kilometres available to ride but also in the amenities and accommodation options.
First up there will be more trail, and by the time you read this World Trail will have completed tracks that extend even further afield. These trails will lead to Bubbling Springs, a site that will serve as a new trailhead for mountain bikers. The reasons for setting up another trailhead are two-fold. First of all, the current site is often overwhelmed by rider numbers with the visitor car park sometimes full to overflowing. Having two potential starting points will spread the load somewhat.
Secondly, they want to offer alternate and more affordable accommodation options. Plans for the Bubbling Springs site include regular camp sites, camp kitchens, caravan/trailer sites and glamping tents if you're after something a little nicer. They'll be setting up a visitors' centre along with a bar/café that's modelled on the barn that currently serves as the main post-ride hydration point. Bike cleaning facilities, toilets and showers will also be included as well as bike shop for repairs and bike hire. There'll even be a beach setting built around the Bubbling Springs dam for that post-ride dip!
With two well setup trail heads, riders will be able to ride from one to the other, have lunch and then pedal back (or catch a shuttle if they prefer). With all of this investment, the park will turn to a user pay system. While pricing isn't set, early estimations are that full-day access could be around $15. They'll have a season pass for around $100 and an annual pass may be $180 (kids under 10 should be free). It's a small price to pay when you consider the proposed facilities and the security of having a 'bike patrol' that'll come to the rescue if you're injured. It's hoped that the new visitors centre will be setup by late 2017.
If that's not enough to get you excited, then how about stage three of the trail network… From the Bubbling Springs campsite, an access road will lead up to the highest peak on the Hidden Vale property. From that point you'll be able to choose between three huge descents that will return to Bubbling Springs. This 500 metre high summit offers 180 degree views and you'll be able to see the campsite way below. As the summit is 100 metres higher than the top of Skyfall, you can expect each descent to be roughly a third bigger and shuttles will be offered. To spice things up even further, each trail will be made by a different builder, so each will have its own unique style and features.
They're not doing things by halves, that's for sure! With features such as this in the works and over 100km of purpose built singletrack on the way, the Hidden Vale Adventure Park is definitely a destination to add to your 'must visit' list!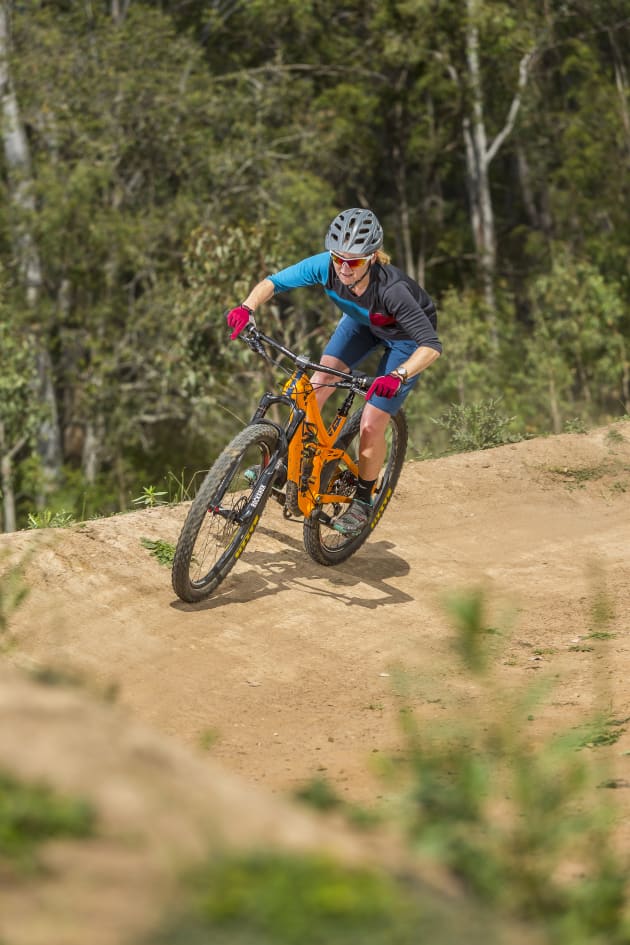 General Information
Getting There
The Hidden Vale Adventure Park is located a few kilometres outside of Grandchester in the Lockyer Valley region of South East Queensland. It's a comfortable hour and a half drive from Brisbane airport, an hour from both Brisbane and Toowoomba, and slightly longer if you're coming from the Gold Coast. Ipswich is the closest railway station, 40km away.
Accommodation
Spicers Hidden Vale has 31 rooms on the property offering luxury accommodation for around $350 per night (double twin share). Once the Bubbling Springs trailhead is complete, there will also be camping options. These will include tent sites as well as caravan and camp trailer spots and more upmarket glamping options.
When to Visit
Expect hot summers with frequent storms. While some trails ride really well in the wet (Plane Sailing for example), you should avoid any of the black soil trails (Ripple Effect). The smallest shower can make the black soil cling to your tyres and clog the frame in no time, making your bike unrideable. Winters are relatively dry, mild and great for riding, although the mornings can be brisk at Hidden Vale. Both spring and autumn are a great time to ride there too.
Further Info
www.hiddenvaleadventurepark.com.au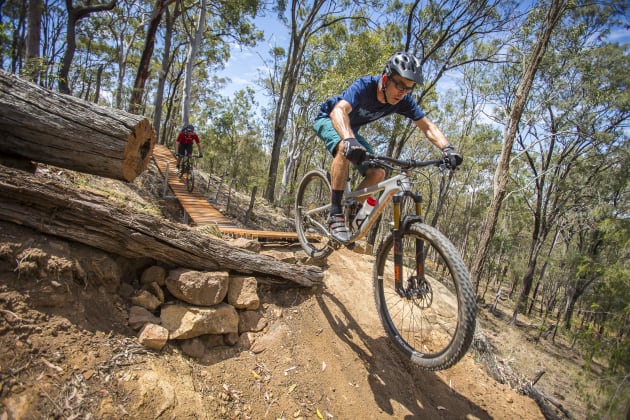 Events
Hidden Vale Adventure Park hosts a large number of MTB races throughout the year. Here's a list of the key events but keep an eye on their Facebook page for the latest news – www.facebook.com/hiddenvaleadventurepark 
-          Flight Centre Cycle Epic – MTB marathon with 4.2, 11.5, 20, 50 and 87km options. Usually held in early September.
-          Merida Hidden Vale 24 Hour – Multi-lap teams or solo 24 hour race. Also incorporates a shorter four hour option and a 24 minute kid's event.
-          Giant 3 Plus 3 – Run on two different courses over two days, this event incorporates both competitive and social rides.
-          99 Bikes Dingo – A four hour long, three-stage gravity enduro event. Also includes a family social ride the day before.