Mountain Biking in South West WA
The Aussie bush; we love to ride in it. But the south west of WA is a little different. Cut off by deserts on two sides and wild seas on the other, it has evolved to feel different to anywhere else. Out of 34 global biodiversity hotspots listed by the World Wildlife Fund (WWF), they only recognise one in Australia—the SW corner of WA.
The locals, affectionately known as 'sand gropers', have no shortage of riding options. There's around a dozen focal points scattered throughout the region, each with its own unique feel, and thanks to good trail design the sand groping is kept to a minimum.
Heading south from Perth is easy; hop on the freeway and it'll take you straight out of town. You won't hit any traffic lights until Bunbury, 180km further on—you're now in the south west (just). This is a good place to start; the Bunbury area serves as a base for the South West Mountain Bike club and after two hours in the car you're probably ready to stretch your legs and get out for a ride.
Bunbury & Collie
Take a detour up the hill to Collie; they have an active mountain bike community centred around the local bicycle shop Crank n Cycles. Drop in to get the lowdown or phone ahead if you're coming on a weekend as you may be able to hook up with their group ride. They head out from town along part of the Munda Biddi trail before diverting onto the fun Dead Cat trail and then crossing the road over to the twisty Rays Trail. Dead Cat and Rays are both intermediate level singletracks while the rest of the area consists of mellow forest trails. Expect to see a lot happening here in the future as the project has only just begun.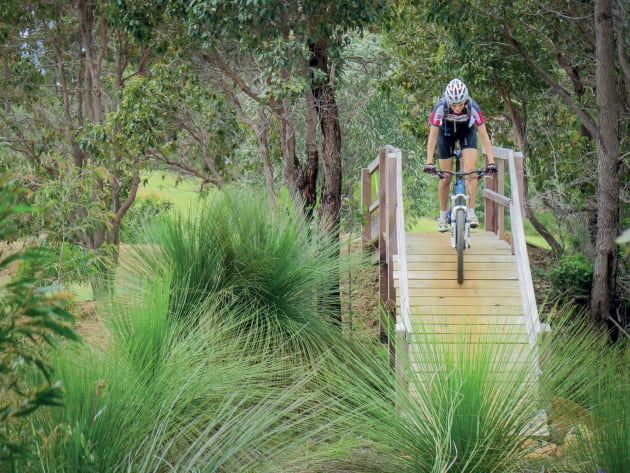 If that isn't enough, Wellington Dam National Park is just down the road and it's littered with handcrafted singletrack (it's known locally as Pile Road). Most people park next to the brewery (yes brewery) and ride up Bolands track to Wal's and then down again on Griz, making a great loop. It's all signposted and there are toilets at the bottom car park. Just around the corner is the Kambarang Eco Chalet, which is owned by a local mountain biker Barrie Thomas. They offer eco cabins, camping, have a full workshop on site and over nine kilometres of singletrack on their property! Just let him know you're coming, sign the indemnity form, sling him a couple of bucks and you're off on the trails. It's all handmade singletrack; not too technical but it has a nice flow. There's video footage on their website that gives you a good feel for what's on offer; www.cycletrek.com.au.
Also in the same area but a little closer to the coast, you'll also find a number of government approved downhill tracks at Wellington Mills. This is the local track for the Peel District MTB club and you'll find events held there all year round; from club races to national rounds. They're not steepest or most technical tracks by DH standards, so it's one to consider if you're chasing a challenge on your regular all-mountain rig. The mild elevation differential also makes pedalling back up a viable option.
So that's a lot of riding without even getting to the south west corner of the south west (so to speak).
Dunsborough
The Cape to Cape event certainly deserves some credit for putting the south west on the national mountain bike radar. Held every October, this event has grown to become the biggest multi-stage MTB race in Australia. It started a decade ago and back then there was barely any singletrack on offer. Now it showcases the singletrack beehives of Boranup (day two) Margaret River (day three) Middle Earth (day four) and Meelup (day five). But even if you've ridden the Cape to Cape, the route inevitably skips a good portion of the trails, so there's good reason to revisit and explore. Besides, it can be more enjoyable to take in the singletrack at a more leisurely pace.
Make sure you drop in on Dunsborough to ride the singletrack that makes up the final kilometres of the Cape to Cape, snaking down the side of the hill with stunning ocean views and wildflowers blooming—it's far more enjoyable when you're not in oxygen deprivation with your eyeballs hanging out of their sockets!
If you're in the neighbourhood, head over to the Dunsborough country club. A couple of bucks gives you access to over 11km of purpose built MTB trail. It's been developed in conjunction with the local mountain bike club and all funds go back into the upkeep of the trails. Rated blue on the IMBA scale, these hand-cut trails do a lot of twisting and turning around the golf greens. There is even a pump track to play on next to the tennis courts.
Locals have always ridden in the adjoining reserve; it's littered with trails including the famous Brown Street but the formalisation of this network is happening at a glacial pace. With around 6km of singletrack, Brown Street is littered with moderately technical trail features including log roll-overs and offers glimpses out to the perfect turquoise waters of Geographe Bay. The riding here is great but the pea gravel can make things pretty slippery, especially if it hasn't rained for a while. After your ride, take a detour just out of town for a swim at Meelup Beach; it's a stunning location and one of the best beaches in the region.
Margaret River
The next stop is Margaret River, which over the years has evolved from an underground network to an open community of mountain bikers. The most popular riding option is centred around Carters Road. Located just north of town on the western side of the Bussell Highway, Carters Road trails are divided into two main areas; The Pines on the northern side and the Creek Trails (AKA South Carters).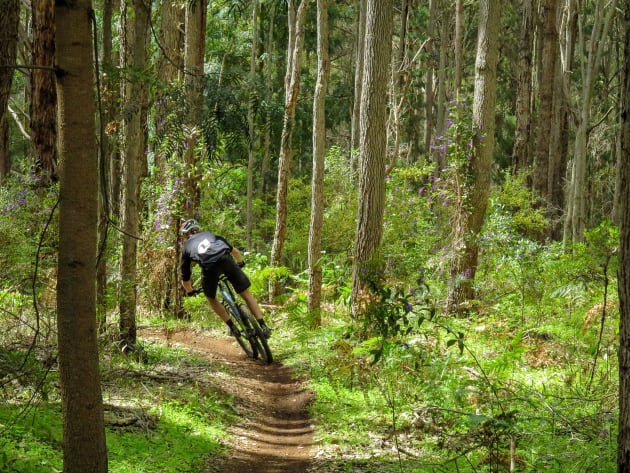 Each of these areas offers a distinctly different feel. The Pines features machine built berms and jumps with plenty of high speed flow while the southern area is hand built through native bush. Some parts of The Pines have been logged but the eastern side remains relatively untouched and it now flows more as a loop. The Creek Trail is a regional classic with some great flow but watch out if you have ridden here previously, as the jumps seem to be growing!
Recent advances have allowed the club to put up maps for both trail networks. This is a great help but it's still worth dropping in on the Hairy Marron for a little local knowledge. Run by a couple of passionate local mountain bikers, this shop is located at the trail head and offers a workshop, bike hire, all sorts of MTB gear, food and good coffee. You'll find a blackboard out front that's marked out with any upcoming group rides. There are some mellower rides for the family as well as guided tours (Dirty Detours), women's rides (Margaret RivHer) and skills clinics (Dirt Skills).
If you're chasing some mellow riding then Ten Mile Brook is a long standing favourite. It's a 15km loop that heads east from town, offering stunning views of the river; it's a great pedal for all the family.
Slightly further afield, the trail networks of Middle Earth and the Secret Whicher are also popular. Located halfway between Margaret River and Busselton, Middle Earth offers 27km of primo singletrack with log rides, rollovers and natural archways through massive hollowed out trees! The Secret Whicher is closer to Busselton; it's a flatter riding area (a good option if you've got tired legs) but the trails offer plenty of variety and interest. You'll find fast old-school tight trails that are oodles of fun with the odd flowy run tossed in. There's even log jumps and old car bodies to ride over!
Beyond the riding, the Margaret River region has lots of other options including caving, rock climbing, wineries, surfing and beer drinking. Two breweries in particular have a strong connection with riding. Colonial Brewery (just out of Margaret River) serves as the start/finish point for a couple of stages of the Cape to Cape while Bootleg Brewery has a long association with riding. Their head brewer is a local identity and passionate rider, and they even sponsor a local MTB team. Probably best to try them both out…
Pemberton
Base yourself in the Margaret River region or at Dunsborough and there's enough riding to keep you entertained for a few days at least. The question when visiting the South West is inevitable; when do you turn around? The drive from Perth to Margaret River takes over three hours and many choose to turn around at this point. However Pemberton, two hours further south, is emerging as a real MTB hotspot and in recent years they have hosted several national series cross-country rounds.
The trails are located right next to town (the trailhead is near the swimming pool) and there's around 17km of singletrack twisting through the spectacular Karri forests. It's feature packed riding too with wooden wall rides, jumps, a pump track and some pretty steep downs by Western Australian standards—this place has a more playful nature and you might even want to pack your pads. Cool Runnings has always been a crowd favourite, as it tosses you into berm after berm, snaking its way down the hill.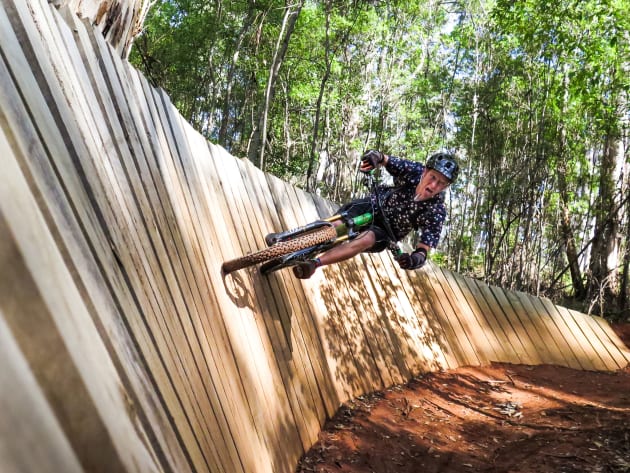 Cooling off in the communal pool on a hot summer's day is a memorable experience (it's freaking cold in there) and you haven't been to Pemberton unless you've struggled up the fire lookout tree; it's over 60 metres off the ground and not for the faint hearted. You'll also find some tight and twisty singletrack near Northcliffe at the Round Tu-It campground, along with some really friendly kangaroos. Northcliffe is a further 30 minutes south from Pemberton, so it's well over four hours' drive back to Perth—have your favourite music cued up for the return journey!
Bridgetown, Balingup & More
If your legs have anything left in them, there are a few extra places that may be worth checking out. Bridgetown has three long loops that are mostly fire trail and relatively easy through a mix of farmland and forest. Although there isn't a formal trailhead the tracks are signposted; the Elephant Trail and Cougar trails are each around 20km round trip.
Balingup has been the talk of the riding community with some stunning trails that debuted at a recent gravity enduro event. Located on a property called Linga Longa, these are closed to the public but there is talk about having open days for the general public. Check the Linga Longa Facebook page or the Margaret River Off-road Cycling Association website; if it's open you can expect to score some massive berms and huge airtime!
If these trails aren't open but you're hanging for some gravity riding, then just west of Nannup you'll find what many people regard as Western Australia's best downhill trails. The Nannup trails mightn't be the most ridden but they have a steepness not generally seen in WA.
Even if you're all ridden out, the drive north from Pemberton is an attraction in itself. The forests around this area are absolutely stunning, so slow down and marvel at the giant Karri trees—the south west really rewards the road tripper.
Top Tips
• This area rewards the road tripper (an organised one). Water isn't available at most trails so having lots with you in the car is the best bet.
• Bike shops are few and far between. Bunbury, Busselton, Collie, Dunsborough and Margaret River will be your best bet. If your bike takes non-standard spokes, bring a couple spares.
• Don't leave home without a spare derailleur hanger; some of these trails don't see much traffic and can be littered with sticks.
• The rocks aren't sharp in this part of the world and the thorns aren't normally an issue so most people can get away with reasonably light tyres, but make sure they've got some decent tread to penetrate the pea gravel. Any tyre will slide on the stuff so it's best to go with one that lets go in a predictable manner.
• Mobile phone coverage can be sparse but Telstra is still king by a long way round these parts.
• The summer months can be plagued by march flies or flies in general. A couple of face fly nets stashed in the car can be worth their weight in gold.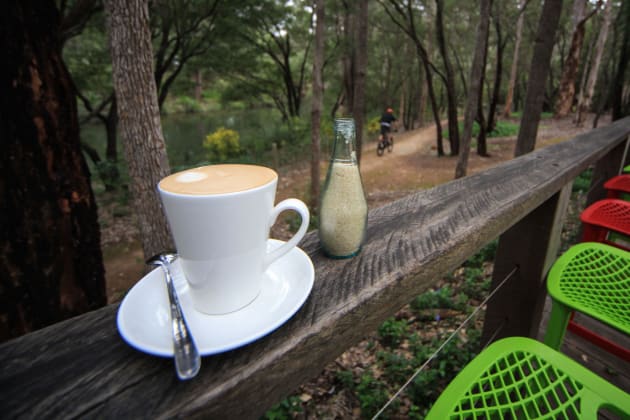 Future Plans
The West Australian state government recently launched the mountain biking master plan for the south western region. The 'South West MTB Master Plan' aims to create a cohesive series of trail networks with the goal of creating a world class MTB destination.
To start with the plan identifies Collie, Margaret River and Pemberton as priority areas with purpose-built trails destined for Parks and Wildlife managed lands. The broader plan encompasses an area stretching all the way from Bunbury to down to Pemberton.
With solid government and community level support, the scope of this development appears to be huge and they currently have 495km of trail pegged as the goal.
The trails are good now but it's only getting better!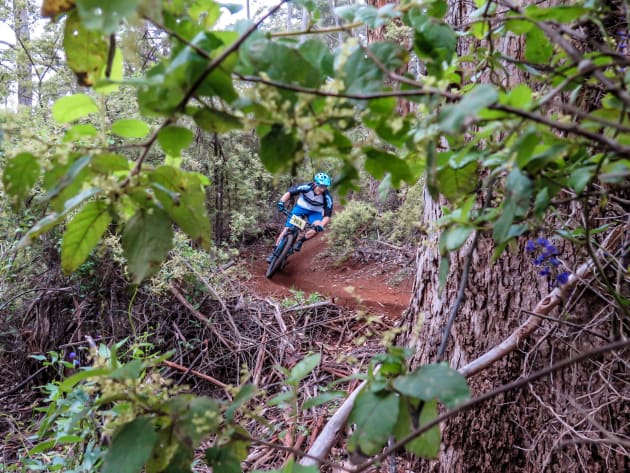 General Information

Getting There
Australia is a big country, so expect a five hour flight time from the eastern states. From the airport you'll have the full gamut of rental cars at your disposal and it's a relatively easy task to hit the freeway and head south. Some companies like Bayswater Car Rentals offer unlimited kilometre options rather than the 100km per day standard; a useful option as you will drive a lot. Although they aren't at the airport, the $20 cab ride to their office might be worthwhile. Drive times are two hours to Bunbury, three and a half to Margaret River and around four hours to Pemberton.
When to Visit
It's best to avoid summer and school holidays in general. The summer months are generally too hot and the holidays can get pretty busy. Spring is probably the best time; the Western Australian bush is vibrant with flowers and the pea gravel trails become a little easier to manage after some rain.
Further Info
WA MTB Trailguide – A handy guidebook to the region with over 50 locations covered www.mtbguidebook.com
West Australian Mountain Bike Association (trail info) - wamba.org.au
Margaret River Off-road Cycling Association (trail info) - www.mrorca.org.au 
Peel District MTB Club (trail info) - www.pdmbc.com
South West Mountain Bike Club (trail info) - www.facebook.com/SWMTBC
Kambarang Eco Chalet near Donnybrook - www.cycletrek.com.au
Crank n Cycles, Collie - www.crankncycles.com.au
Hairy Marron, Margaret River - www.thehairymarron.com
Dirty Detours (guided tours) - www.dirtydetours.com
Dirt Skills, Margaret River - www.dirtskillsmargaretriver.com