Mountain Biking in Tathra
Located on the NSW South Coast, around six hours from Sydney, Tathra is a small beachside town with a population of around 1,600. It's roughly in line with Bega and best known as a surfing, fishing and general holidaying destination. For us however, Tathra brings forth memories of swooping singletrack rollercoaster rides. We visited Tathra back in 2011 and have been itching to return ever since.
This year, when the opportunity arose for a family getaway, Tathra was at the top of our list. It's not just the trails that provide the attraction; with two young water loving kids, the appeal is even stronger. We opted to stay at Tathra Beachside caravan park. As the name suggests it's right on the main beach (literally 10 metres in from the first dune) and they've got their own waterpark, complete with slides and a huge bucket that dumps water at intervals. With the waterpark and beach only metres away, our kids were sure to be entertained, and this in turn leads to more riding opportunities for mum and dad!
If you're visiting with a non-riding partner/friend, Tathra also has coffee shops, cafes and restaurants. There's surfing, snorkelling, diving and fishing of course, as well as a museum at the wharf—it is the only remaining sea wharf on the east coast. It's not a big place, so there's fair chance that you'll be able to park the car and leave it; always a nice way to roll. If you do feel like venturing further afield, there are a number of National Parks close by with unspoilt beaches, walking tracks, lookouts and camping facilities.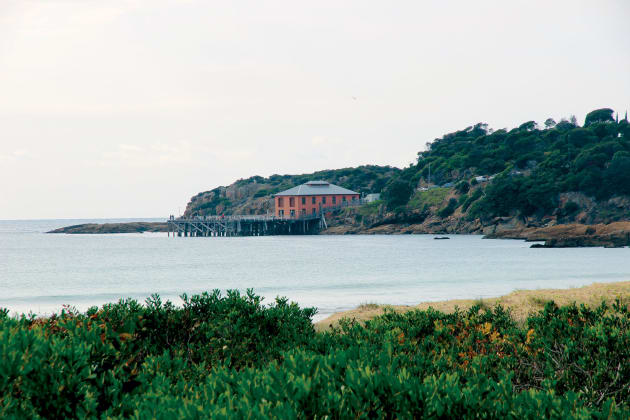 On our last visit we sampled the trails of Manna Park, Mandeni, Tathra and Bermagui to the north. Of these MTB hotspots we found Tathra's trails to be the most engaging and fun, so this time we decided to base ourselves there. The fact that the main trail head is only 800m from our beachside accommodation only served to seal the deal. Of course there's always a chance of getting bored after a full week on the same trails, but we soon discovered that things have changed since our last visit and the trail network has grown considerably.
For our first outing we took a fairly direct route up through the Bundadung trails; this is the main riding area that's located just behind the town. Those who've ridden Tathra before will be familiar with Kingy's Climb, Hatti Gaddi, Nizentite, Bridges and others—all longstanding staples of the area. We fast-tracked through this area to reach the Fire Shed network on the southern side of town.
Five or so years ago there was a 5km singletrack loop behind the fire shed. With only the afternoon available to ride, this seemed like a good place to start. It soon became apparent that there's now a whole lot more that 5km of trail! Unlike the Bundadung side, the Fire Shed trail heads out on a single long loop—it just keeps going and going. The trail is super entertaining so we barely noticed how time was getting away. Close to two hours later we emerged from the bush and returned to camp for beers and food.
Our longer than anticipated ride hadn't covered all the trails on that side of town. Take in the optional side loops and you'll find around 20km of trail behind the fire shed. Bundle that up with the Bundadung singletrack and there's now over 50km of trail in the Tathra network. To give this some perspective, there's as much singlerack here as you'll find in Derby, the much-hyped MTB destination in north eastern Tasmania. What makes this even more impressive is how the trails came about…
Underground to OAMs
Tathra didn't employ a professional trail building company or gain government funding to create their trail network. It was scratched out by a small but extremely committed band of enthusiasts over a 10-15 year period.
It all kicked off back in 2001 with Andy Johnson, an ex-police diver. While surfing and swimming are his main passions, Andy is an all-round active guy and way back then he got a taste of MTB singletrack on the nearby Bermagui trails. He was impressed and wanted some singletrack back at home. He also hated pedalling up beach hill – a steep and busy section of road – so he set about building an alternative route through the bush.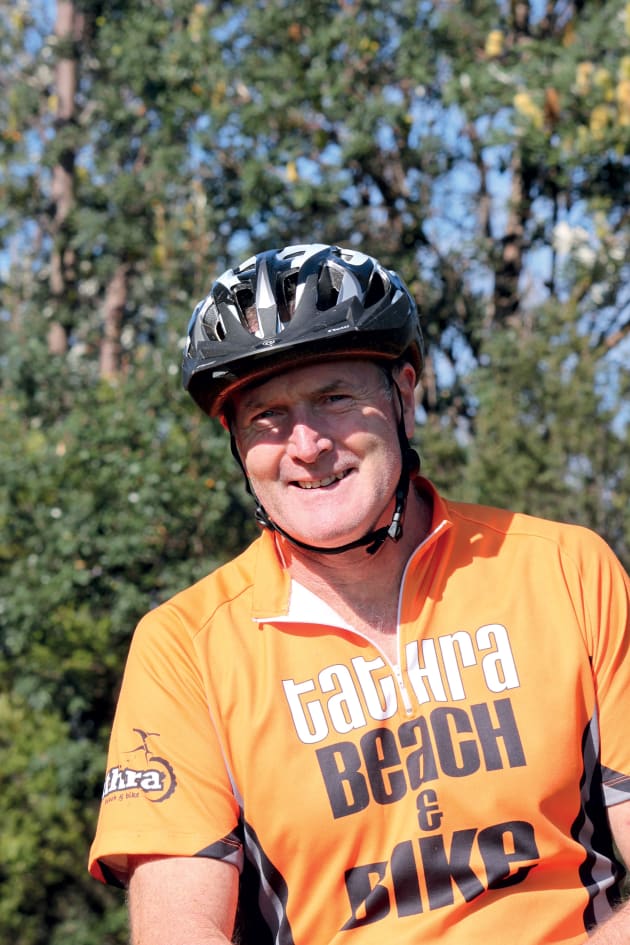 Starting behind the country club, he aimed to forge a trail up to Thompsons Road. About 100 metres into his project he bumped into Joe Caddy, a local timber getter. Andy was taking his trail straight up the hill but Joe advised him to follow the wallaby tracks instead. This turned out to be good advice, as they tend to follow the contours with plenty of turns that gives the trail a natural flow. On top of that, there was already a path partially formed which reduced the workload considerably.
After building around 2km of trail, he heard about the IMBA handbook and grabbed a copy. The techniques it described were consistent with the wallaby track theory and Andy's first trail is still there—it forms Hatti Gaddi and Nizentite in the current trail network.
Trail building became Andy's outlet whenever the surf was down. While it was a totally covert operation at this time, he did call Crown Lands to ask whether he could build a trail on their land. Over the phone he was told, "If you aren't making money out of it and it's not commercial then you can do what you like."
Over time it became clear that Andy wasn't the only Tathra resident with a penchant for trail building. He'd return to continue building and find the trail extended with other people's tools left behind. Eventually they all met up; the Todd's, the George's and Adio. A group of no more than five at that stage, but they all worked to build more track and had input on the design.
This underground project continued until there was a 7km circuit around the local water treatment plant—the Poo Pond Loop. At this stage word started to leak out that there was singletrack in the area. In 2003 Jane Corben from South East MTB (Thredbo) and Jake Iskov opened Tathra Beach and Bike; the bike and surf shop that still does a bustling trade on the main street.
From there both the trail building efforts and the popularity of mountain biking snowballed. Whilst the majority of the community remained unaware, those who liked to walk or ride in the bush appreciated the trail building efforts. The only real hurdles arose in 2009 when they had to formalise the trails for the inaugural 2010 Tathra Enduro; a MTB marathon event that was dreamt up to raise funds for the Clean Energy for Eternity (CEFE) scheme.
Initiated by Matthew Nott, another local mountain biker, the CEFE aims to halve the energy usage by 2020 as well as pushing for a 50% uptake of renewable energy. Dubbed 50/50 by 2020 you'll see the banners emblazoned across the town's water tower as well as artwork from local school kids out on the MTB trails.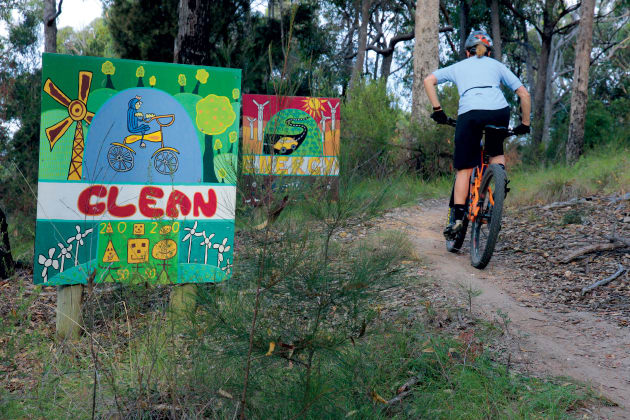 It was at this point they discovered that some of the trails were on indigenous land, so they had to liaise with the aboriginal land council. Initially the situation looked grim but with ongoing negotiations, they gave the indigenous people a role in the trail building with the goal of promoting a healthy lifestyle. Now they have a great working relationship with the Aboriginal community and many trail names bear cultural significance to them.
With the official green light given, the trail building efforts went ballistic. They cleared out all the rubbish that had been dumped in years passed and really took ownership of the area. This is also where Tom Park enters the story. The climb of Evil Tom's is named after him, as Andy explained; "It's a 1.8km long climb with so much benching it's ridiculous. We built it in a week, and when I say 'we' I mean that I roughed it out and Tom did all the bloody work!" Tom's work ethic is that 'you don't go to bed unless you're tired' and it seems that he doesn't tire much; apparently you don't need an excavator when Tom is on the case!
Of the entire Tathra trail network, 'Bridges' is the only machine built trail; the vast majority has come from tens of thousands of hours' worth of hard labour. Just this year Andy Johnson was awarded an 'Order of Australia Medal'. From rouge trail builder to collecting formal accolades for his contribution to the community; Andy certainly didn't see that coming 15 years ago when he started scratching out a path through the bush!
The Trails
If you're staying down near the beach, it's easiest to access the Bundadung trails from the main trailhead; around 800m north of Tathra Beach and Bike, just next to the sewage treatment plant (you'll even find it on Google maps marked as the Poo Ponds Mountain Bike Trailhead).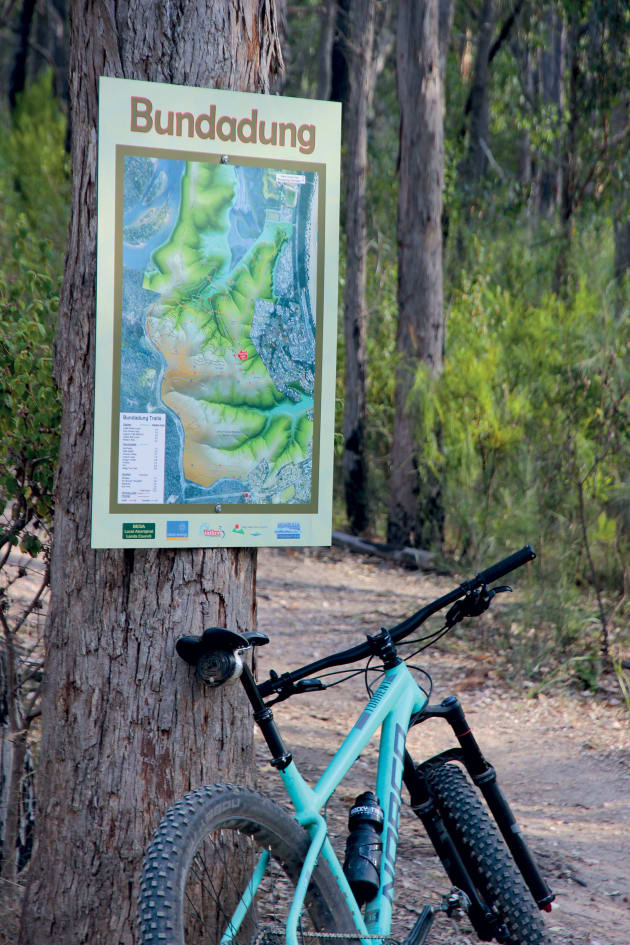 This Bundadung side of the network has excellent signage. You'll find a map at the trailhead as well as extra maps littered around the trail network. All of the tracks are graded according to difficulty and clearly marked.
Most beginner to intermediate climbing trails reflect Andy Johnson's approach of following the wallaby trails. They wind and weave between the trees whilst maintaining a reasonably moderate gradient. Mini descents offer a reprieve every now and then and make most of the climbs quite enjoyable.
If you're after a flowy and gradual climb to the top, head up Soft Sally. Kingy's Climb is one of the longest ascents (2.4km in length) but it also packs in some really fun mini-descents to break things up. If you don't mind a little pain, the infamous Evil Tom's will get you to the top without mucking around, packing in a few steep and challenging switchbacks along the way.
The trails top out at 120m above sea level, and from there the trails make the absolute most of the descent—they mightn't have huge elevation to play with but the trail design milks the most from the gravity on offer. Swooping descents with grade reversals are the order of the day, but they are quite different to the professionally built 'flow trails' that you encounter at most MTB destinations. I'd describe them as being a little raw and rough around the edges, which makes for more interesting riding in my opinion.
This rawness definitely shines through on the more challenging descents like Bridges, where the trail plunges back and forth steeply across gullies. Intermediate to experienced riders will love these trails; let go of the brakes and you can absolutely rocket down into the gully before shooting up the other side—just make sure you don't miss the narrow wooden bridge at the bottom! With nine bridges in total and numerous other gullies, Bridges is one of those trails that has really stuck in my memory since my first visit to Tathra.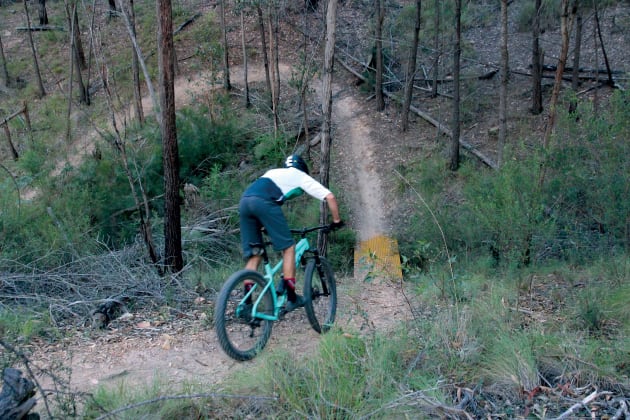 No Second Thoughts exits off the side of Kingy's Climb. Like Bridges it's also rated as a black or advanced level trail but it is harder again. The trail follows a similar theme but the gullies are shorter and steeper. The opening gulley-drop serves as a filter for the rest of the trail; it plunges vertically off an undercut rock drop and is sure to intimidate all but the most confident riders. The opposing side of each dip is equally steep with a 180-degree turn at the top that points you back down into the gully; it's not unlike riding a skate bowl of dirt!
Nizentite is the other black rated descent on the Bundadung side. I'd say it's at the easier end of the advanced scale with some rocky off-camber sections and tight corners. In a few places it also reminds you of how MTB handlebars have grown in recent years—the pinches on Nizentite will keep you on your toes and the handlebar-height scuff marks on trees bear witness to those who've failed.
Intermediate trails like Hatti Gaddi are great fun with smooth sweeping lines and easy jumps. Link the end of Hatti Gaddi with Anchors Away to continue your singletrack descent all the way back to the poo ponds. This trail skirts back close to the back side of town and offers ocean views before dropping steeply towards the end—there's an easier green option if you prefer. Beginners after a first taste of singletrack should head for the Poo Ponds trail; a cruisy green loop that won't land you in the poo…
Other fun bits include Lewy's Loop and Paula's Park. There's even a skills park with skinnies, seesaws and a rolling pump track section. If Bundadung trails were all that Tathra had, I'd still recommend it for a two to three-day visit. There's quite a bit of singletrack and some trails simply demand to be ridden a number times. Thing is, it doesn't end there. From the top of the hill, you can jump onto TNT; a flatter trail that parallels Thompson Drive and leads you towards the fire station. Cross the road and duck into the bush and you're at the start of another 20km of trails.
Beyond Bundadung
While the Fire Shed trails are divided into various sections, it feels like you're out on extended loop—each trail just flows onto the next. Once you've got your bearings, there are options to short cut the trails if required.
This side of the network passes through an area of National Parks managed land; a small portion that formed a key link in the Tathra Enduro course. Apparently the approval process for this particular section took 18 months of intensive consultation but only two days to build!
At first the Fire Shed trails are quite twisty with some tight pinches between the trees—a good filter to keep the motorbikes out. Further in the trails open up and allow you to maintain good speed, both uphill and down. One section is called Back of Bourke and at times it certainly feels that way, although a look back at the GPS trace reveals you're never that far from civilisation.
For the most part these trails are flowing and cruisy without the extended climbs that you'll find on the Bundadung side. They still manage to pack in some fun bits for intermediate level riders though. The Creek Run is an absolute blast, swooping back and forth through a creek bed that gets progressively deeper as you go and Quarry Run is good fun too.
Riders after a tough and technical rock challenge are also catered for. Bad Apples is an optional side loop that's a near continuous rock garden with steep drops into gullies and bridges to negotiate—best bring your dually for this one.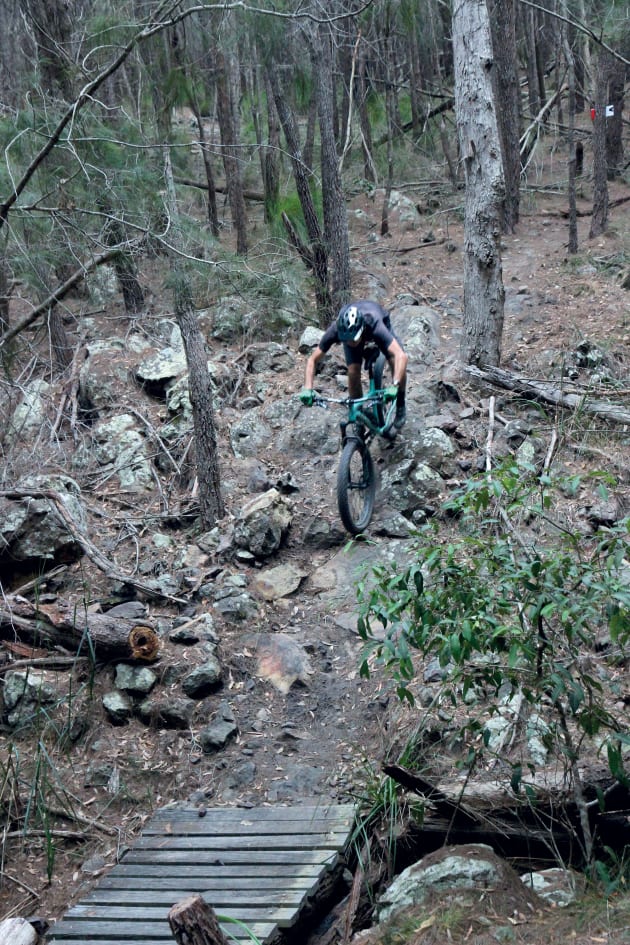 Tathra MTB Club uses the Fire Shed trails for their club races, so it's really well maintained; they'll even get out there with the rake and leaf blower at times. That said, it lacks the official looking signage of the Bundadung area. It's not even shown on the regular trail map, so many visitors miss out on the Fire Shed trails. While the trail marking consists of hand drawn signs, we found it easy enough to get around—just be prepared for a reasonably long (and fun) singletrack loop.
The NSW South Coast has no shortage of pretty beachside towns that are perfect for a quiet getaway. Tathra certainly appeals on this front but it's the goldmine of singletrack that lies beyond the surf that really sets this town apart. It's the sort of thing that would never have come about if Andy Johnson had sat back and waited, or submitted the idea to council and gone through the official channels. What he did back in 2001 wasn't necessarily right but he did a first rate job at it. Fifty-plus kilometres of professionally designed singletrack would probably cost a few million dollars to create but in this case, the hard work put in by a handful of mountain bikers has produced an asset that Tathra can be proud of.