Mountain Biking in Yackandandah
Yackandandah or 'Yack' as it's known by locals is a quiet little place with a real community atmosphere. It may rely heavily on tourism these days but there's no facade on this town. The people are genuinely friendly and the town itself appears to be straight out of the history books. Nobody's in a hurry and the colonial architecture really makes it feel like you've stepped back in time.
While I'd heard that Yack was worth a look for its historical value, their folk festival and homemade jams, it was the whisper of mountain bike trails that eventually drew me here. The town is an easy half-hour drive south-east of Albury and it's not far from a number of other MTB hotspots, both Bright and Mt Beauty are around 50 minutes away, Beechworth is just 20 minutes to the west and Albury/Wodonga has its own network of trails too. Whether you want to shift around or stay in the one spot, there's certainly a tonne of riding options in this part of Victoria.
Yack isn't a big place; it has a population of just 700 (1,800 in the broader area), so it certainly has that small-town feel. Old ladies will randomly strike up a conversation with you on the main street and everyone seems to know everyone. As a mountain biker, it's the sort of place where you might expect to stand out like a sore thumb; like the classic western scene where the out-of-towner walks into a bar and the place falls silent. Well that's simply not the case in Yack.
We rolled into town late on a Friday afternoon and headed straight for our accommodation at the Yackandandah Motor Inn. The owners Rob and Chris run a pretty tight ship; the place is squeaky clean and one of the tidiest motels that we've stayed in. Not wanting to make a mess of the room, our first concern was safe bike storage as it was set to be a damp and muddy weekend. We got an understanding nod and Rob directed us towards the garage; it was already loaded with bikes—yep, Rob and Chris are mountain bikers too. We were off to a good start!
Next priority was getting a good feed, so we headed across the road to the Rusty Bike café and bar. It was here that we met Barry Bodsworth; one of Yackandandah's biggest personalities. Barry was sitting down with a beer, chatting and grinning like a Cheshire cat; you'd assume he was a patron but he turned out to be the proprietor! His easy going and bubbly personality makes the Rusty Bike a cool place to hang out, but dig a little deeper and you find that Barry is actually a gun cyclist and athlete. Back in the '90s he was a pro-level roadie, riding the Herald Sun Tour and Commonwealth Bank Cycle Classic. He's also a top-level triathlete and dabbles in mountain biking too. Aside from pulling a mean brew at the café, he's also a sparky and a bit of an inventor—back in 2007 he won the people's choice award for his 'Laddersmart' on the ABC's New Inventors show.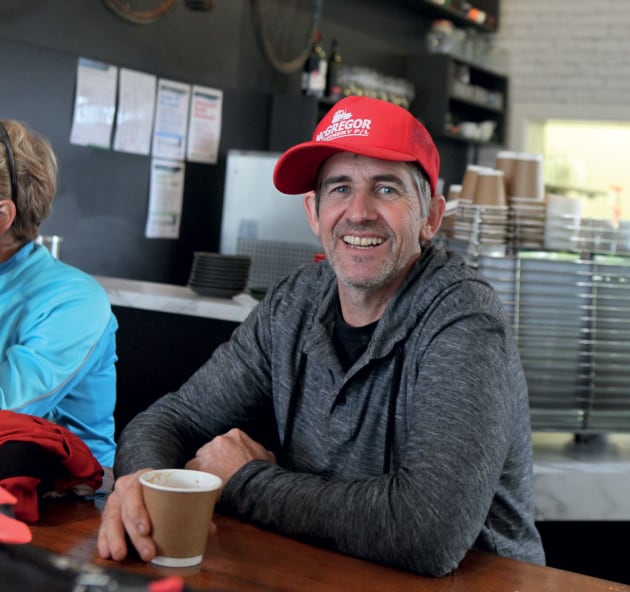 The more you dig, the more you discover that cycling, and mountain biking in particular, is deeply engrained in the community. Drop into the newsagents and you'll bump into James Lacey; keen mountain biker and one of the main men behind Yack Tracks—the local trail advocacy group. Every weekend the cafes have bikes stacked out front as riders get themselves caffeinated. Even the local doctor is a mountain biker, so you'll feel right at home when you visit Yack with your MTB in tow.
Dirty Little Secrets
Over some Rusty Bike wood fire pizzas, I met with Yack Tracks aficionados James and Brett McClellan to get an insight into the trails. As is the case in many places around Australia, the trails started informally with a few locals building singletracks to bypass the steep fire roads and to spice up their riding options.
Construction started in earnest in 2008 and they soon found that trails could be formed with relative ease by following the water races. These channels were created by miners over 150 years ago and they contour around the hillsides on a constant and very gradual gradient. It was a simple case of raking a path along the watercourse and riding it repeatedly to compact the ground and form a more solid, fast rolling wheel track.
Eight years and thousands of work hours later, there was around 30km of singletrack winding through the DELWP owned land just south of town—that's the Department of Environment Lands Water and Planning by the way. By this stage, word was getting out and people were turning up from nearby towns to ride at Yack. It was all becoming a bit obvious and they needed some help to keep motorbikes off the trails, so in mid-2013 the trail fairies approached DELWP.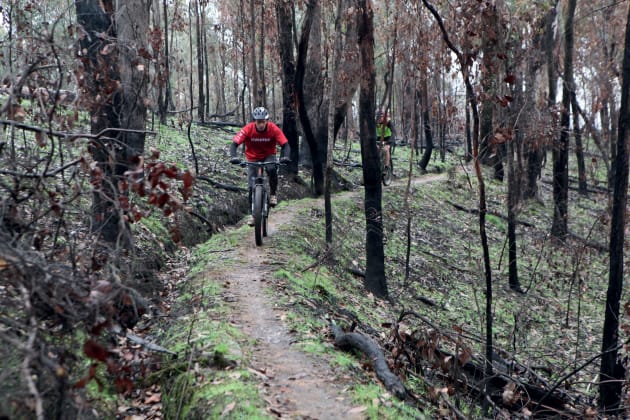 Out of the Closet
At the first meeting the guy from DELWP kicked off by saying, "I know what Strava is and I know what's out there. Let's start from that point and don't try to tell me that there's nothing going on. We just need to work out how to deal with this."
James explained, "They were pretty good about the situation and quite supportive overall. To begin with DELWP had to assess their environmental impact of the existing trails and check that we hadn't breached native title. We got through that process, so the tracks passed the first hurdle but DELWP wouldn't make a judgment on whether the tracks were safe or appropriate.
"To assess this we had to pay a professional MTB trail building company for a trail audit, so we got Dirt Art to look over the trails. From this we were given a list of half a dozen things to fix – rerouting parts that went too close to old mine shafts and so on – it really wasn't much overall. Beyond that we needed to form a club with MTBA for insurance purposes, not for racing but simply to ensure we were covered during trail maintenance activities, which was all part of the deal."
So Yack Tracks Incorporated was formed and the committee members work with DELWP to ensure the trails are well looked after. This new arrangement certainly complicates things; ad-hock trail building is now frowned upon and new track need DELWP approval beforehand but the reward comes with security and ownership of the trails. Formal signage now makes the area broadly accessible, whilst also informing motorbike and horse riders that the trails are MTB-only. There's also a trail map with clearly marked out loops to make navigation easy.
With a few final link trails now in place, there's around 50km of singletrack in the forest. That's a huge effort from a handful of key trail builders; guys like Dave Pinder, Martin Rigg, Phil Edwardes, Chris Rootsey, James Lacey and Brett McClellan.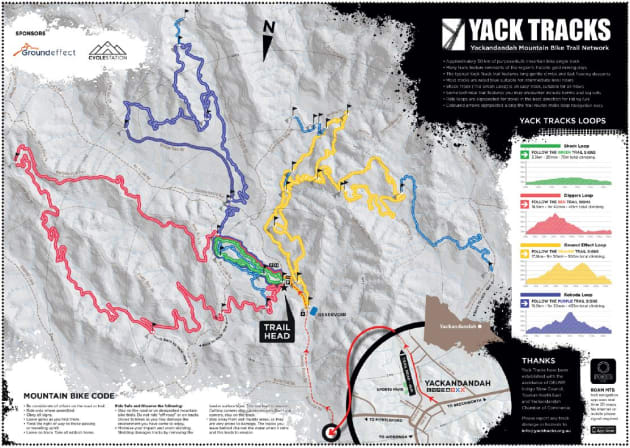 Trail Time
The main trailhead is 4km out of town; you just head out on Bells Flat Road. It's not far so we just pedalled out to save the hassle of loading up the bikes. The road turns to dirt and the first singletrack heads off to the right at the top of the hill—this is the start of the Yellow Loop. Keep following the dirt road down the hill to reach the main trailhead parking area. This is where the Green, Red and Purple loops begin.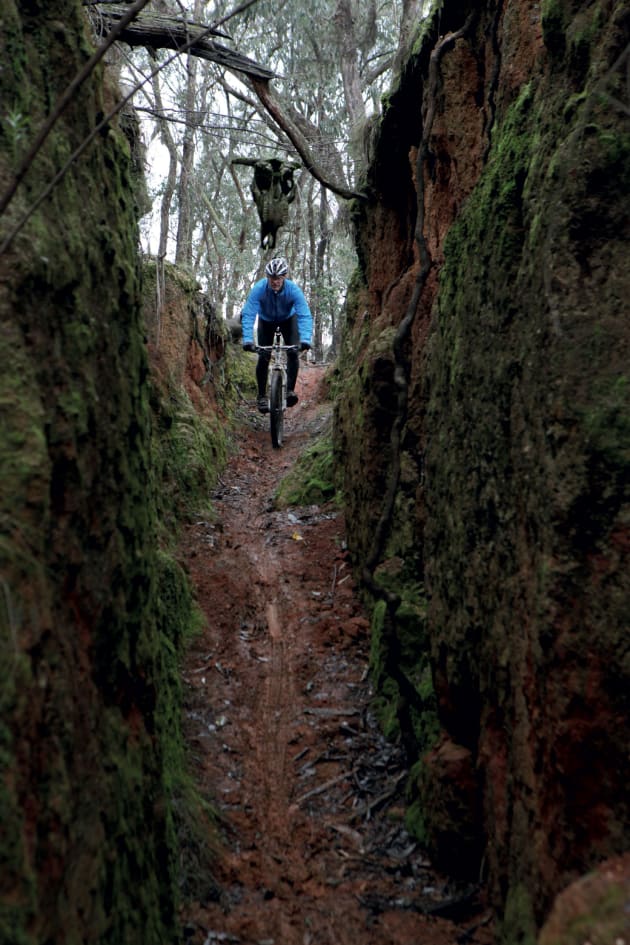 Many trail networks present you with an overwhelming number of short trails that may or may not link together into a coherent loop. As a result, you're left to link things together and sometimes spend more time navigating than pedalling. Yack locals also have names for all the different trail sections – you'll see them on Strava; Skull, Kokoda, Busy Beaver, Dr Wavy and so on – but the trail map and signage is designed to remove the guesswork. Rather than having a disjointed bitsy trail network, the Yack tracks present you with three bigger trail loops and a couple of shorter ones near the trail head.
The first of the shorter options is the 3km long Green Loop or 'Shack Track'. This is their beginners' ride and it has been designed with skills development in mind. It's not quite rail trail easy, as it climbs a bit on the way out from the main trail head carpark with a few switchbacks thrown in. A cruisy descent then takes you back to the start. Master that loop and you can repeat the climb but return by the more challenging Bogan's Run.
More experienced intermediate level riders will get a kick out of Carcass Canyon; it also leads from the top of the same Green Loop climb and is the most technically challenging trail in the Yack Tracks network. Carcass includes a number of little roll-ins with steep pinch climbs on the opposite sides that will keep you on your toes. There's sharply off-camber sections next to red dirt cliffs and a bizarre handlebar-width chute that leads you down a five-metre deep cutting in the ground, complete with a sheep's skull suspended ominously above the trail!
This creatively built trail and many others in the Yack network lead you through remnants of the gold mining era. Alluvial mining was the preferred method of extraction, which involved blasting the hills with high-pressure water to remove the topsoil and wash out the gold. It was a pretty destructive process and the deep gullies that you ride through remain as the open wounds from that era.
These shorter rides can form a nice warm-up but the three longer loops are the main attraction. The Red Loop (Diggers) and Purple Loop (Kokoda) both lead from the main trailhead (as does the Green beginners loop), while the Yellow Loop (Ground Effect) starts at the top of the climb a little closer to town.
All of the loops are similar in length; Red is 18.5km, Purple is 15.5km and Yellow is 17km. Estimated ride time for each loop is around 1:30 to 1:40 but this obviously depends on how much time you spend chatting. Difficulty wise they're all classed as 'blue' or intermediate. Carcass Canyon is as tough as it gets and the main loops aren't as challenging technically. It's mainly flowing cross-country singletrack and there's nothing overly steep to worry about.
All three loops also follow a similar format. You spend approximately half the ride climbing before cresting the ridge and letting off the anchors for the descent. For me this ride format is more engaging than the maze that you encounter in a typical trail network; the Yack loops are more like an old school trail ride. Each loop takes you on a journey; you pedal steadily away and pay your dues on the climb, reach the goal at the top and enjoy the ride back down.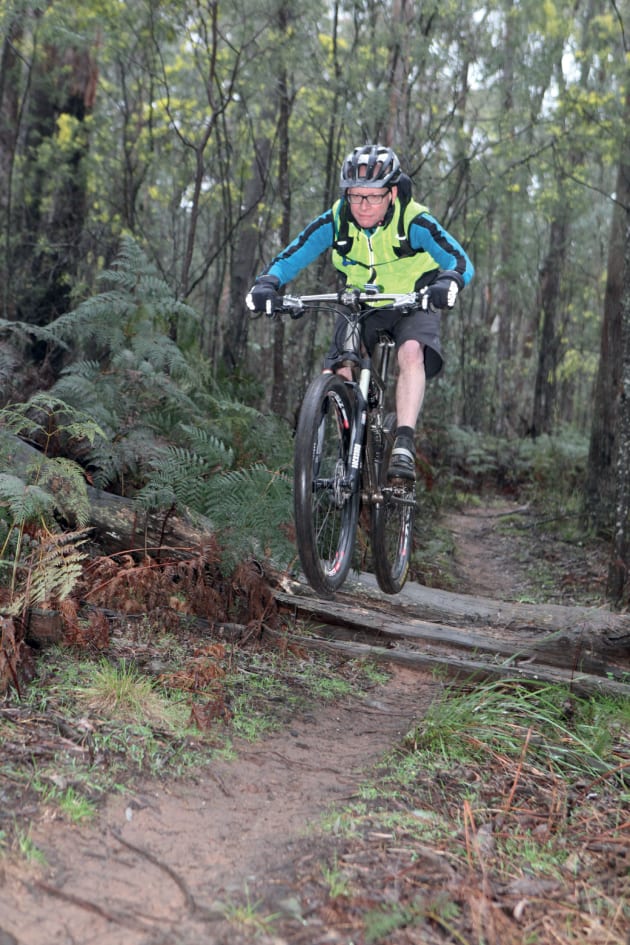 You gain a reasonable amount of elevation from the trailhead to the highpoint on each loop—roughly around 200 vertical metres. That may have some of you thinking, 'this is gunna hurt' but you'll be pleasantly surprised. Yack Tracks has made good use of the old water races that were built by the gold miners and they climb at a very gradual rate. The Highway to Hill section on the Red Loop is a great example of this, sticking at a steady 2-3% gradient for some distance. Of course there are still pinches, like where the track bridges up from one water race to the next, a little further up the hill, but overall the climbing isn't too imposing.
While you won't find any excessively technical bits, some sections still demand full attention. Like the climb on the Yellow Loop; here the singletrack sidles across some reasonably steep hillsides and it's narrow too; steer off the low-side and you'll be facing long tumble to the bottom!
When it comes time to descend, the trails are best described as old-school. You may encounter a random jump or berm but they're the exception not the norm. As a result, descending at speed requires a little bit of good-old-fashioned skill—not a terrible thing when it comes down to it. Some of the funnest descents include Busy Beaver, Dr Wavey (both on the Yellow Loop) and Kokoda is an absolute highlight on the Purple Loop—it's a flat-out high-speed blast through the trees. With all of the loops finishing with a descent, it ensures that you'll roll back into town with a grin.
We rode both days over the weekend and didn't double up on any of the trails—there's a good few days' worth of riding in Yack with loads of extra options nearby. It was wet and cold when we visited but most trails held up really well. It made us appreciate the hot shower back at motor inn, that's for sure. And afterwards, when we were heading out to dinner, we bumped into Rob—he was busily washing our muddy bikes for us. At first I suspected this was favourable treatment, as he knew we were in town to write a story, but the following morning I found his partner Chris washing the windows on another guest's car. All part of the service in Yackandandah it seems!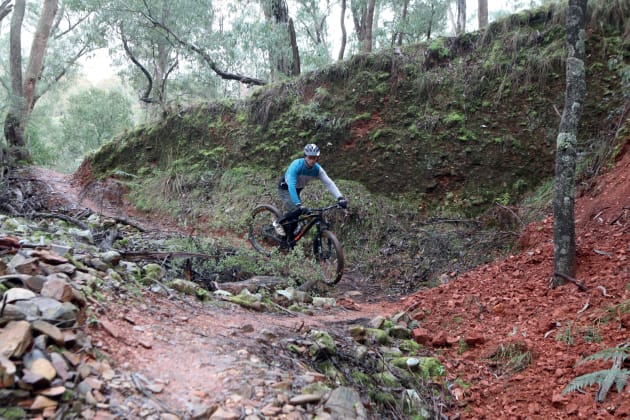 General Information
Getting There
Yackandandah is a little over three hours from Melbourne, six hours from Sydney and four hours from Canberra. Albury is the closest major regional centre, half an hour (30km) to the north. www.exploreyackandandah.com.au
Accommodation
As a popular little tourist town, there's a good number of accommodation options; from B&Bs and motels to holiday homes and a caravan park.
Yackandandah Motor Inn - www.yackandandahmotorinn.com.au
Top of the Town Motor Inn - www.topofthetownyackandandah.com
Yackandandah Holiday Park – www.yhp.com.au 
Bike Shops
Albury has three bike shops:
Cycle Station Albury - www.cyclestationalbury.com.au
Bike Culture - www.bikeculture.com.au
The Full Cycle of Albury - www.fullcycle.com.au
Riding with YOBBOS
What better way to ride the Yack Tracks than to meet up with the locals!
Rides with the YOBBOS (Yackandandah Old Blokes Biking On Sundays) leave from the southern end of the main street near the Star Hotel. There's usually a couple of groups heading out every Sunday; touch base with James at the newsagents or Rob and Chris at the Motor Inn and they'll be able to hook you up.
The Yack Track trail network will host its first official event on the 9th October 2016.
It will be a community participation ride that will be run by the local school. Join in if you're around at that time.