South Island NZ - Doing it the Haka Way
A doctor from Switzerland, a nutritionist from Japan, a counter terrorism expert from Cairns, a town planner from Copenhagen, a corporate lawyer from Belgium, a dog kennel operator from Oregon, a builder, a boilermaker and a candlestick maker…
Okay, I made that last one up. Such a diverse bunch but all linked by one common interest; a desire to ride some of the best trails the South Island of New Zealand could serve up. And to do so, all had signed up with NZ based operator Haka Tours on their seven-day South Island Dirt Seeker—a trip that would take us from Christchurch to Queenstown. The previous year I'd flogged myself in the inaugural Pioneer seven-day stage race; an event that travelled between the same two spots. Now it was time to smell the roses and cherry pick the trails in good company on a gloriously sunny week.
I met the group at the Haka Lodge in Christchurch to find some had already completed a week in the North Island and were full of tales of Rotorua, Taupo and more. The original plan was to hit up the trails of the new Christchurch Adventure Park, which had only opened earlier in the summer. However our tour started just after the devastating bushfire that ripped through the Port Hills and the Adventure Park. Christchurch has suffered too much in recent years and it just seems so horribly unfair that a key new investment for the city was damaged and temporarily closed.
Bikes were loaded onto the trailer and bodies onto the bus as our guides Jason and Morgs had an alternative plan—we headed over to Godley Head to get amongst it on some fine trails that offered great views over the Pacific and down into Lyttleton Harbour. The welcome that New Zealand offers mountain bikers was reinforced by trail signage announcing, 'Walkers and runners please keep clear of cyclists'. How often is it the other way around?
A run down to lunch on Sumner beach via the rocky Greenwood and Captain Thomas tracks offered plenty of challenge and self-selected our group of eleven. Klaus, our Danish town planner celebrated our arrival at sea level with a skinny dip that entertained the locals on the beach.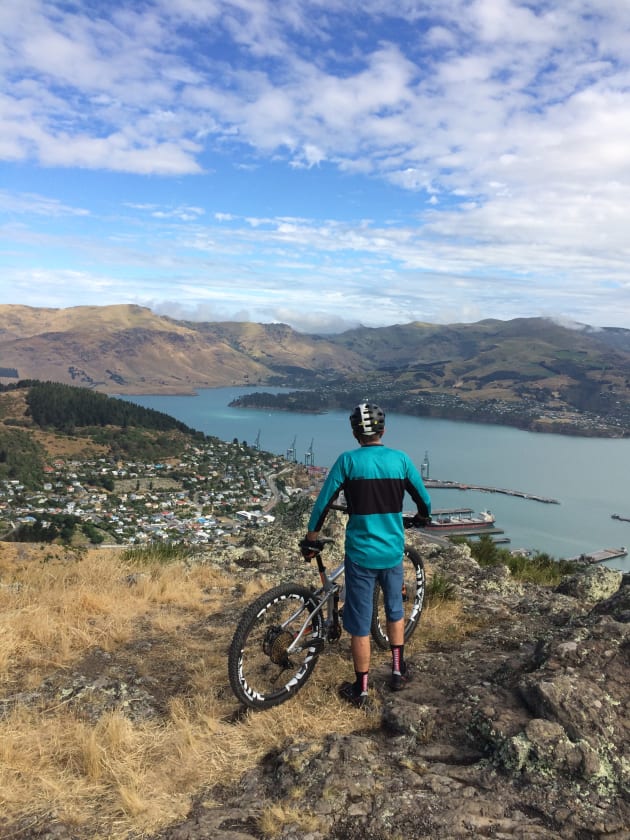 In any riding group that comes together randomly, a variety of skills and fitness appear. There are those who love to go down, those who love to go up, those for whom having both wheels off the ground is a badge of honour and those for whom having both wheels and often one foot on the ground is a necessity. Therein lies the challenge for any guide; to keep everyone happy. It's never easy but invariably everyone supports everyone else and the group gels. And indeed that was the case for us. Chai, Justin and Rob wanted to go down as fast as they could. Linda, Carl and Ayumi got down almost everything. Everyone else spread out behind that.
All aboard, we headed west into the mountains for a night at Springfield with not a Simpson in sight. Jason was cut straight from the mould of tour bus drivers with witticisms and commentary throughout our time on the road. The difference was he was slight in stature, in Haka Tours tee not white collar shirt and a bloody good mountain biker. Morgs, a relatively recent arrival from the UK, played a quieter foil to Jason's endless banter but matched him in bike skill and had taught himself a surprising amount of local knowledge and history given his short time in the country.
Squealing on the Edge
The second day saw us ride the exposed sweet trails up at Craigieburn. The sweetness began in the car park where Jason showed us trees blackened not by fire but by a lichen upon which tiny insects made a nectar. The long opening fire trail climb was loved by few except Klaus, our town planning Dane, who relished anything that went up and up. A lesson on how to stop and which way to fall on steep, exposed traversing trails was well heeded as we picked our way along the narrow and aptly named Edge Trail that cut through scree slopes and beech forest—thoughtful riding indeed.
We'd gone up, we'd gone across and now it was time to go 400 metres down on The Luge; a fast, rooty downhill that induced smiles and, for Ayumi Kamiya, squeals. 'Are you me, come here' was how this Japanese nutritionist had told me to pronounce her name. I asked her how she'd come to be on the tour, 'I learn a little English from a New Zealand man in Japan. He told me to do a MTB tour here to improve my English'. On any downhill run you knew when Ayumi was coming by the squealing—not from her brakes but from her mouth.
A long drive that afternoon took us to the very comfortable and spectacularly located Ohau Lodge deep in the Southern Alps. Kaffir lime and kumera soup, panna cotta with poached rhubarb and other delights satisfied discerning mountain biker appetites. Generally the accommodation on the tour was basic but comfortable, something that obviously keeps the cost down which might appeal to many riders.
For the Europeans and Alison the American, most had found Haka Tours by googling mountain bike tours in New Zealand. Most were on tightly scheduled two or three week holidays except for Nils who was on a whistle-stop world tour. For the four Aussies on the tour, all from Queensland, they'd booked on the tour to get a taste of Kiwi riding, trusting in the tour company to feed them rather than cooking up a tour themselves.
Whilst Jason took the ever enthusiastic Swiss doctor Linda for a pre-breakfast ride up the Alps2Ocean trail, the rest of us stood on the veranda of the lodge and watched the sunrise across a long cloud hanging low over Lake Ohau and light up the snowy summit of Mount Cook, New Zealand's highest.
Herbie Rides Again
Who remembers Herbie? Our third day took us into the dry, schist hills around Alexandra in Central Otago to ride some very natural trails in Flat Rock Reserve. Thyme grew everywhere and its aroma accompanied our singletrack climb onto a plateau that was dotted with wild rock tors and formations. We picked a route through and sometimes over before a long descent back to the bus for the drive onto Wanaka. I skipped the night ride at the famed Deans Bank trails that evening.
Myself, Jason and Chai, a builder from the Sunshine Coast, woke to another perfect blue sky day and headed for an early ride on the tight hand built Sticky Forest trails. Five to 10 minute climbs on such trails as the aptly named Chairlift were followed by fast, fun, snaking descents. Up and down we went for an hour and a half, at times squealing like Ayumi had taught us, until we were buggered.
Skyline & Skippers
And thence to Queenstown, that mad, hectic, adrenaline junkie's paradise, beautifully located on the edge of Lake Wakatipu and not far from the remote Fiordland region. In keeping with the place, we drove straight to the Skyline Gondola. For decades this gondola had been taking tourists high above town onto the flanks of Bob's Peak. Then in 2011 it began lifting mountain bikes to access a new network of flow and downhill tracks back to its base. Now the regular tourists alternate in the gondolas with mountain bike tourists looking for easy access gravity.
The up and down was a real contrast to our morning in Sticky Forest and even more from our ride the day before at Flat Rock. Everyone, particularly those with dropper seatposts, became downhill heroes on the long, fast, hugely bermed descents through the forest, picking trail grades to suit. With the Haka Lodge right in the centre of town, it was an easy stroll to dinner and a grand celebration of Morgs' 30th with the birthday song voiced in at least five languages.
Had we saved the best until last? That's hard to say after a week that included so much good riding but my final day with the group was pretty special. We drove up to Coronet Peak ski resort and parked at the base station. Rain threatened on a very windy morning as we climbed and walked 400 metres to the very top of the peak on a steep access road. With spectacular views all the way, we began to descend 1,100 vertical metres of singletrack. Down the Coronet Trail to the base station and then beyond to pick up the start of Rude Rock, perhaps one of New Zealand's most iconic trails. Rude Rock picks its way down a narrow ridge and Chai got air off a tabletop, only to find a wind gust blowing him sideways in mid-air and depositing him in the welcome embrace of soft tussock grass some metres off to the side.
We then peeled off Rude Rock onto 'Pack, Track & Sack' and on we descended to the head of Skippers Canyon. Then, as if our smiles weren't broad enough and fixed into place by the wind, we still had the 4km long Zoot Track to do—an unbelievable trail that picks its way down Skippers Canyon amongst the most impressive rock architecture. We eventually popped out onto the Skippers Canyon road just as Queenstown MTB Shuttles were pulling up to lift us back to our bus. Even the uphill shuttle was impressive, travelling along the precipitous Skippers Canyon road which was built during the 1860s gold rush.
Way to Go?
Yes it's pretty easy to cross the ditch with your bike in the aircraft hold and yes New Zealand, more than any country on earth, is set up to serve tourism on a plate, including so many MTB delights. Large numbers of Aussies go it alone; picking up a car and planning their own road trip—for many, researching the destination and the riding is all part of the fun. But how good is it to have it all laid on for you? And the way Haka Tours bundles it up makes it great value for money; spots on the seven-day South Island Dirt Seeker tour go for $1,999. Sure there's always the risk that the group won't be as good as ours was but hey, it's not often that a bunch of people with a common passion don't get on.
Despite having a network of their own lodges in NZ and a long history in running winter and summer adventure tours, Haka Tours are only recent entrants to the MTB tour market—last summer was their second season. But they've learned a lot in that time and offer an excellent product to taste the trails in that mountain biker's paradise that is New Zealand.
Haka Tours - www.hakatours.com
Going Uphill – Fast!
The South Island Dirt Seeker tour also provides opportunities and time for other add-on activities in a way only New Zealand can. Some went skydiving, others jet boating or throwing themselves off bridges. In keeping with my job, I stuck to the bike and took up an offer from Greg at Fat Tyre Adventures to go heli-biking in the Remarkables near Queenstown. Generally my preference is to earn my turns and my beer but how could I say no?
Along with Auckland based rider Nigel, Tom from Sale in Victoria and Steffen from Germany, I met our guide Leigh at Queenstown Airport. Leigh went deep into conversation with our pilot Scott as strong winds were blowing up in the Remarkables. The decision was made to head up, but to a different location than originally planned.
After a safety briefing, bikes were loaded onto the skids and up we went. I don't think anyone can fail to be impressed by a flight in a helicopter and its ability to land on any piece of reasonably flat land. We were buffeted by the wind as Scott took us over a ridgeline over 1,500 metres above the airport altitude. He put the bird down on a rocky, grey knoll that had an old 4WD trail snaking down the ridge. But after waiting a minute or two Scott decided it was too windy for us to get out and flew lower down the ridge. Like MTB commandos we ran away from the helicopter and waited for our weapons to be delivered to us.
Then he was away into the air and us away down the trail; a long, fast, rocky run deep in the mountains. We stopped regularly to take it all in and to shoot photos. At one point, after 40 minutes or so of descending, I stopped to do exactly that just 200 metres from where the helicopter was waiting for us. I hadn't realised that Tom had caught up to me and was right on my tail. As I stopped Tom took evasive action, dropping the bike at speed to find himself running, sprinting even, down the trail. He was almost at the helicopter before he was enough in control to pull himself up. A lucky escape although we were in good hands as Leigh told us she had given up the certain rewards of being a doctor for the more uncertain lifestyle of a mountain bike guide.
Back up we went again to land on Mount Rosa and another sparkling descent, this time all the way down to the Gibbston Valley to finish with a fine Central Otago Pinot Noir where we came to a halt at Mount Rosa Wines—exhilarating!
Fat Tyre Adventures heli-bike trips range in price from $385-$699. We did the Double Descent costing $620.
All details www.fat-tyre.co.nz