Bike test: Scott Genius 740

Designed in Switzerland and with a reputation for producing some of the lightest bikes on the planet, Scott garners a lot of press for its uber high-end carbon fibre creations. They're certainly cool to look at and while many may scoff at the weight weenie obsessiveness, who wouldn't like their bike to be a kilo or two lighter if it still retained the same level functionality and fun?
Scott's latest take on the Genius trail bike is a great example. It's an impressive rig in its own right; at 2,249g for the bare frame and shock, this full-carbon creation is a good kilo lighter than many competitors. Back this up with a 290g one-piece carbon bar and stem combo and a bunch of other lightweight gear, and you've got a 150mm travel trail bike that weighs 12.1kg without pedals!
All this sounds impressive, but the Genius Tuned sells for $8,999; totally acceptable given the technology behind it, but it's still well out of reach for most. With this in mind we decided to check out a Genius that many average mountain bikers could afford; the all-alloy Genius 740.
 In the Stand
Retailing for $4,299, the Genius 740 is the second up from the basement. Instead of featherweight carbon, you get a really nicely finished alloy frame that's fitted out with the extremely capable SRAM GX Eagle 1X12 drivetrain. Brakes come from Shimano; they're only Deore level (MT500) but they work great. From there it's fitted out with basic in-house Syncros-branded parts and entry-level Evolution series suspension from Fox.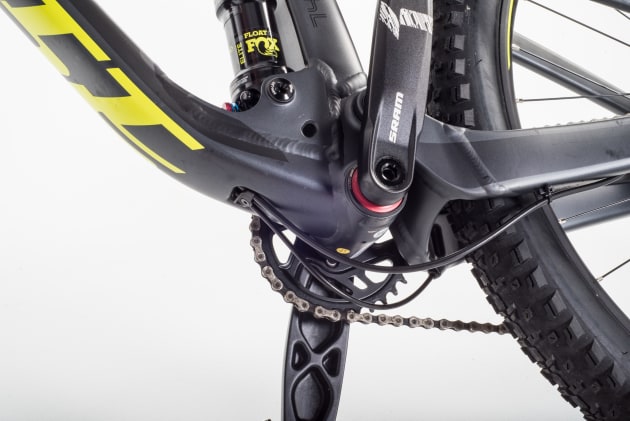 The build also includes a Syncros dropper—it worked great but only offered 106mm of travel (it's meant to be 125mm on the medium size).
As you'd expect, this all impacts on the overall weight of the bike, and our medium Genius 740 tips the scales at 14.3kg excluding pedals; a little over 2kg heavier than the fancy Tuned model but your wallet will be $4,700 healthier - it's less than half the price!
For many, though, Scott bikes are all about featherweight carbon. As nice as the frame looks on our test bike, it's neither carbon nor is it superlight. Selling for $5,399, the Genius 720 may give you the carbon fix you desire. It has a carbon front triangle (albeit a more affordable 'HMX' blend) combined with an alloy rear end. At 13.2kg (claimed weight), it's lighter than our 740 test rig but not dramatically. You really need to sell some body organs and lash out on the Tuned or Ultimate models if you're chasing the full Scott weight weenie fix.
Of course there's more going on with the 720 than the carbon front end; it incorporates more of the proprietary Scott design features that you'll find on the higher models. For example, it employs the Fox manufactured, dual-travel Nude shock that can reduce travel from 150mm to 100mm and even lock out completely; something that our test bike misses out on.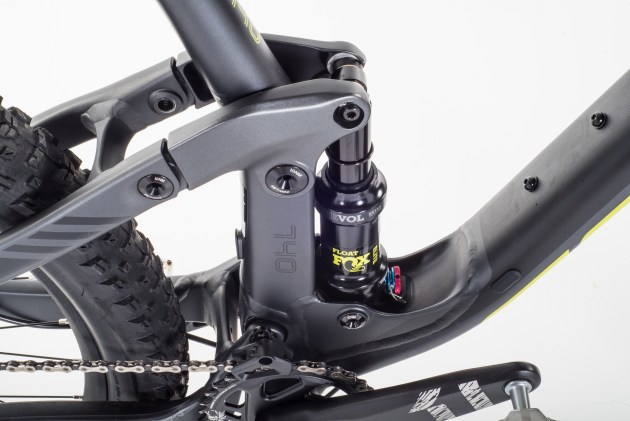 Our 740 still runs the same bar mounted Twinloc remote lever, but the Performance-level rear shock lacks the air volume adjustment to change the travel. As a result, the middle mode of three still has the same spring rate with 150mm of travel, just with firmer damping to reduce pedalling bob.
On the Trail
So the 740 doesn't offer the minimalist weight nor the carbon construction of its higher-end brethren, and it even misses out on the unique on-the-fly travel adjustable Nude shock. You could well ask; is it truly a Genius, or did it cheat during its IQ test?
Well there's a lot more going on with the new platform, and much of it revolves around the updated frame geometry, radically different suspension kinematics and the adaptability to take different wheel sizes—three areas where the 740 doesn't miss out, and areas I'd argue that are by far the most important on the trail.
The new Genius will take both 27.5 inch wheels with tyres up to 2.8 inches wide, or 29-inch wheels with tyres up to 2.6. All that's required to make the conversion is a reversal of the offset top shock mount—it's dead simple and takes a couple of minutes with a Torx tool. This adjustment changes the bottom bracket height by 10mm and neatly compensates for the difference between the two wheel size options.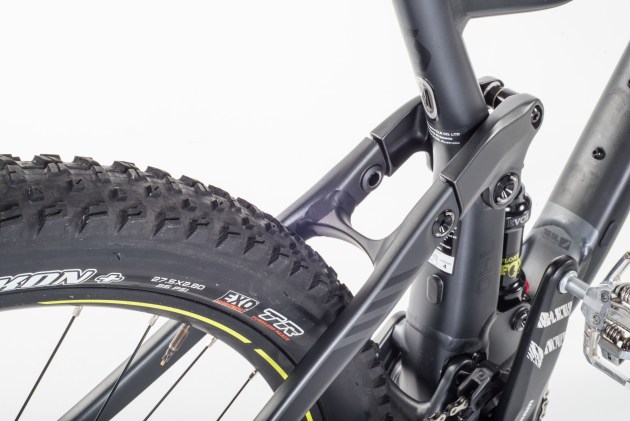 As with most new-generation bikes, longer, lower and slacker is the style of the times. Where the outgoing Genius had a 68-degree head angle, the new version comes in at 66 degrees in 27.5 set-up or 65.5 degrees in the 29er setting. The bottom bracket height has dropped a little, going from 346mm in the lowest setting to 338-340mm.
More than anything, the new bike is longer up front. The reach on a medium frame ranges from 439 to 445mm (29er and 27.5 set-ups) where the old bike was 427-431mm. This, combined with the slacker head angle, pushes the wheelbase out from 1,155mm to almost 1,200mm in the medium size. All of this added length is at the front as well; the chainstays are actually shorter on the new model, dropping from 440mm to 436mm.
The final piece in the puzzle is the suspension. Scott has gone from using a single pivot system with a seat-stay mounted pivot to a Horst-link design with the rearmost pivot on the chainstay. The shock now sits vertically against the seat tube rather than being under the top tube—this directs the forces into the already robust bottom bracket area. These changes don't mean a lot in isolation, but what really matters is the end result; the suspension kinematic. This, along with the revised geometry, really makes the Genius.
The old bike had very low anti-squat, which made the rear end sink into its travel when pushing hard on the pedals. Now the anti-squat level is much higher and it actually pedals pretty well in the full-open 150mm travel setting. There's enough anti-squat to allow bob-free seated pedalling, but not too much, so you're unlikely to notice any kickback through the drivetrain.
The redesigned rocker link now delivers a consistently progressive leverage rate; a set-up that makes the early part of the travel stroke reasonably supple, steadily ramping up to offer more support as you go deeper into the travel.
I feel the Genius offers a balanced suspension feel for a general duties trail bike. It's compliant in the early part of its travel, but it's not DH-bike supple like some enduro race rigs. The suspension ramps up enough to handle jumps and drops but it's not so progressive that you won't be able to use the available travel.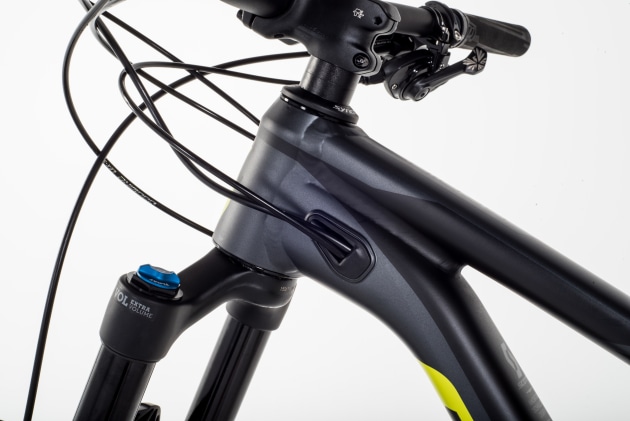 With such a long wheelbase (1,200mm is huge for a medium-sized trail bike), I expected the Genius to be a bit like a semi-trailer down the singletrack. On the contrary, the Genius feels extremely agile and manoeuvrable just about anywhere, both uphill and down. This was a real surprise, and it goes to show why to shouldn't judge a bike by its geometry chart—you've got to get out there and ride it.
The steep 75-degree seat angle keeps the front end weighted for seated climbing and it makes it around switchback corners way better than a bike of this length should. Point it down, and this agility makes the Genius super playful and a whole lot of fun if you like to throw the bike around. Launch into steeper, faster or more challenging terrain, though, and this agility can actually work against the 740; like an excitable puppy, I found it to be a bit of a handful at times.
As it's so easy to swap between wheel sizes, I decided to swap to 29-inch wheels to see how the Genius went in 920 format. With the upper mount flipped, the bottom bracket height was pretty much unchanged but the head angle was half a degree slacker (65.7 degrees by my measurements). In big-wheeled format, the bike is a tad more stable and seems to remain a little more settled over rough and root infested sections of trail. To me, the ride seems smoother, and smoother tends to be faster. It also loses very little traction-wise when running 29x2.5 rubber on wide (30mm internal) rims.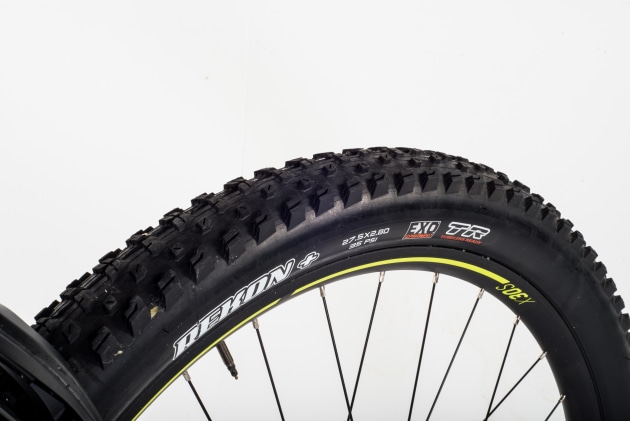 This bike makes it very easy to swap and change wheel sizes, but it's obviously easiest if you make the right call to begin with—buying new wheels is never going to be a cheap prospect. Running smaller but slightly fatter wheels delivers great agility with a great level of predictability traction-wise; it still slides around when pushed hard, but it's quite manageable when you're on the limit. The 29er version is smoother and a little easier to manage at speed or when trying to push yourself on rough trails.
Verdict
Review it by numbers and you'd conclude the Genius is yet another big, long and slack enduro bike; a bike that only comes on-song in the steepest and gnarliest terrain, but that's not how it plays out. The supportive suspension makes it feel like the bike has a little bit less than 150mm of travel on its side, and that's not a bad thing when you view the Genius as a regular trail bike.
It has a playful nature that still allows you feel the terrain, encourages you to boost off jumps and drift through turns. If you are chasing a more capable bike, consider the 29er variant or just wait until Scott revamps their Genius LT.
One thing's for sure; this modernised Genius is a clear step in the right direction. Everything from the geometry to the suspension design is on-point and it makes for a fantastic all-rounder.
 Score
In the stand – 6/10
On the trail – 8/10
Overall – 7/10
PLUSES
Dialled suspension
Subdued but sassy looks
Fits a full-size drink bottle
MINUSES
Too many levers and cables for some
Lacks the suspension options offered on the upper-end version
She aint no featherweight
Judge's Notes
NAME John Hardwick
AGE 46
WEIGHT 65kg
RIDING STYLE - Likes to play around
HOME TRAIL – Wollongong; anything steep, raw and tech
SIZE TESTED – Medium
SUSPENSION SETTINGS:
Front - 70PSI (Stock as delivered from Scott with the rebound dialled to taste)
Rear - 140PSI (As above – the stock setup was perfect!)
TYRE PRESSURE: Not a lot! 19psi/20psi (F/R)
Specifications
Frame   Alloy SL 6011
Shock    Fox Float EVOL Performance 150mm Travel
Fork       Fox 34 Performance 150mm Travel
Headset                 Syncros Pro
Handlebars         Syncros FL2.0 Alloy 760mm
Stem       Syncros FL2.0 Alloy 50mm
Shifter   SRAM GX Eagle
Rear Derailleur                   SRAM GX Eagle
Cassette                 SRAM GX Eagle 12-speed, 10-50
Chain     SRAM GX Eagle
Cranks                    SRAM GX Eagle
Bottom Bracket                 SRAM Press-fit
Brakes                    Shimano MT500
Wheels                   Syncros X-30S
Tyres    Maxxis Rekon 2.8
Saddle   Syncros XM2.0
Seatpost                Syncros 2.0 Dropper
Weight                    14.3kg without pedals
Wheel Size            27.5 or 29
Available Sizes  S, M (tested), L & XL
Price      $4,299
www.scott-sports.com