GÜP Co2 sealant
Trolling the wilds of the internet a couple of months ago for a puncture-fixing solution, I happened upon this new product that was, happily, just about to be released locally. Called GÜP (pronounced Goop) and developed in the US, the premise is a simple one; a 125ml can of pressurised CO2 is mixed with an ammonia-free latex sealant, while a bespoke rubber cap is added to aid its progress from the can into your tyre.

Size-wise, the can is similar in dimensions and girth to a small energy drink can, if a bit shorter. It's a bit big to be neatly stashed under a seat, but by buying an optional Velcro strap and block – which is exactly the same shape as the one Zefal used to supply with its frame pumps back in the days before the internets, incidentally – you'll be able to find a spot on your frame pretty easily.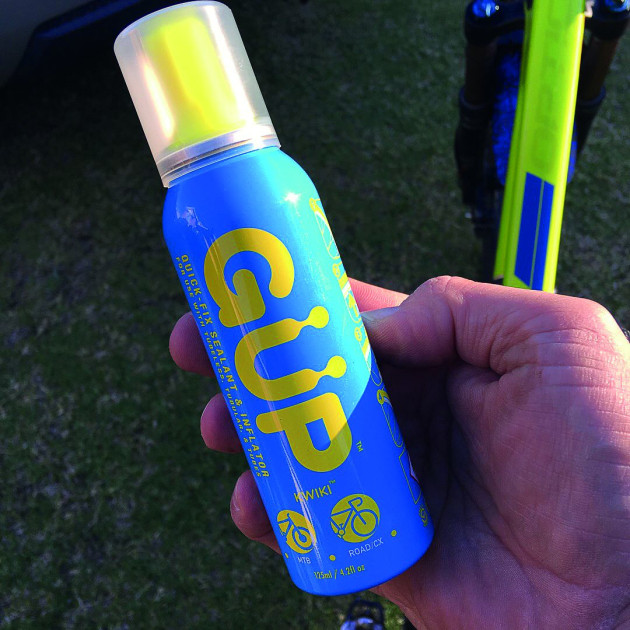 Having ridden around puncture-free for some months now (dang, that's a dumb thing to say…) there was only one way to try out the GÜP in a field test… and that was to induce a large thorn-sized hole in the face of our test victim tyre, a Maxxis Aggressor EXO pumped up to 30psi and filled with six-month-old sealant (hey, it wasn't my bike!).

There are precious few instructions on the can, but it's simply a matter of removing the clear plastic cap, loosening the valve stem and rotating it to the top of the tyre, and pushing the canister on. The yellow top is rubberised, and can be used on both Presta (skinny) and Schrader (car) valves, too.

Hitch one; the canister is quite bulky, and I found it a bit tricky to locate it on our 27.5 x 2.3-inch diameter rear tyre. The can initially wanted to foul on the cassette until it was manoeuvred into place – and all the while, precious air is hissing out of the tyre and into the atmosphere.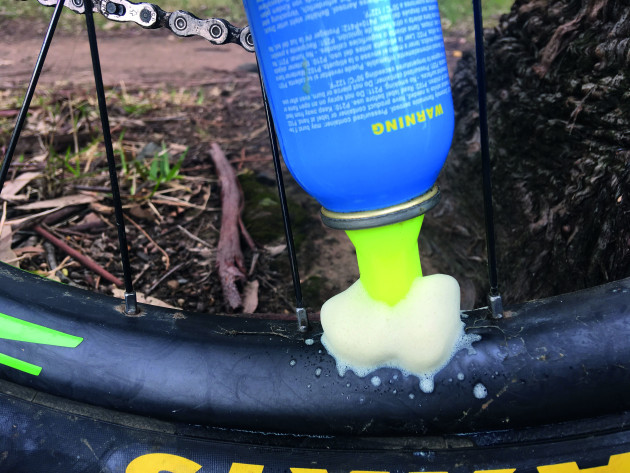 Pushing the canister in engages the valve head, and an audible hiss of sealant and CO2 can be heard rushing into the tyre. Mousse-like sealant seeps from around the valve, and it takes a good few seconds to add its contents to the tyre. Removing the canister results in more mess… and my hole is still hissing merrily away. A quick spin of the wheel yields no change in status, so I take the bike for a quick ride to circulate the latex. After a couple of minutes, the leak had stopped, and the tyre is holding 24psi. Four hours later, it had dropped to 22psi, and that's where it stayed until the following morning. I added another eight psi and hacked around the local trial for an hour or so with no unpleasant surprises, and as of a week later, the tyre is still holding steady at 28psi.

Sealing from scratch
Where the GÜP really works well, though, is inflating a tubeless tyre from scratch. I grabbed a second can, along with a brand new Maxxis DHR 29 x 2.3-inch tyre and a carbon-rimmed wheel, and within a minute of pushing the can onto the valve, I had solid bead pops, 30psi of pressure and just a little bit of mess to clean up. Result! As a racing dad, I will definitely be adding a couple of these to our travelling tool kit; it'll make last-minute tyre changes a LOT less of a hassle.
Speaking of travel, though, this is possibly GÜP's only flaw; at 125ml in size, it exceeds federal aviation rules when it comes to travelling with CO2 canisters in your luggage. It ought to be pointed out that you are allowed to carry four 50g canisters, but not a single 125g version. Hmm. It just means that if you want to travel to an event by plane and rely on a GÜP as your backup, you'll need to think ahead a bit.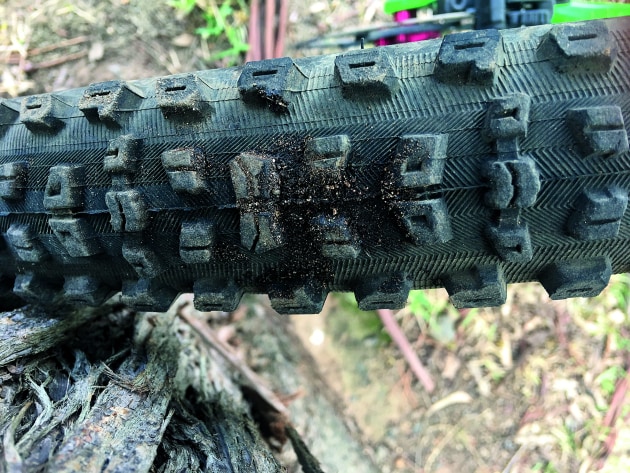 The company reckons you can strap on a can and forgo your pump and spare tube… but I'm not sure that's entirely wise. Sure, it'll fix one puncture, but it won't fix a second. And if you muck it up, or the hole is too big to seal properly, then you run the risk of having to walk out.

MBA Says
GÜP is a perfect puncture kit for bikes that don't stray too far from civilization, where a phone, small tool and a can of sealant gets you out of most pickles, as well as for remote tyre installs. Think long and hard before relying on it wholly and solely, though, especially on big trips.