Lezyne Mega GPS XL – first look
Lezyne's range of GPS cycle computers has been improving by leaps and bounds in recent years, offering a viable and affordable alternative to the omnipresent Garmins that adorn handlebars the world over.
The Mega GPS range is Lezyne's latest attempt to crack the GPS computer market. The range includes the smaller C model and the larger XL model, with functionality including:
• a high contrast black and white screen (240x400 pixels for the XL)
• online and offline mapping capabilities
• sync capabilities with TrainingPeaks, Today's Plan and Strava, including custom workouts and Live Segments
• phone notifications
• live tracking
• Bluetooth LE and ANT+ connectivity for accessories such as cadence sensors, heart rate monitors, power meters and Di2.
The XL is going head to head with units like the Wahoo Elemnt and the Garmin Edge 820, and the the big kicker is the battery life. Lezyne claims a battery life of 48 hours for the Mega GPS XL. In addition, the Lezyne is more than $200 cheaper than the Wahoo or Garmin units.
We have a Lezyne Mega GPS XL on test right now: how does it match up?
Unboxing and setup
The Mega GPS XL packaging is pretty tidy, but not over-packaged.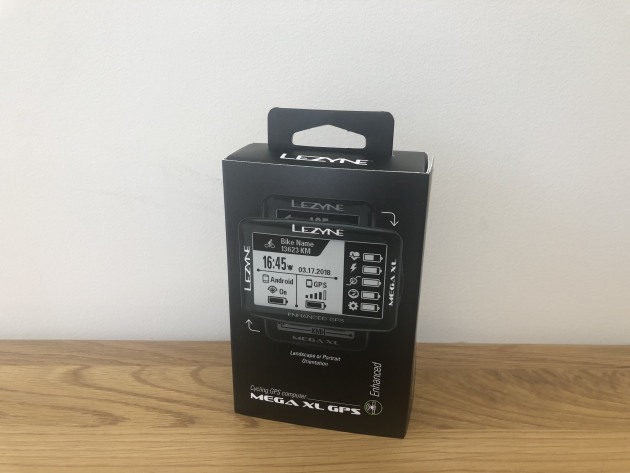 The standard pack comes equipped with the unit itself, a stem/bar mount with two sizes of o-rings and a micro USB charge/data cable.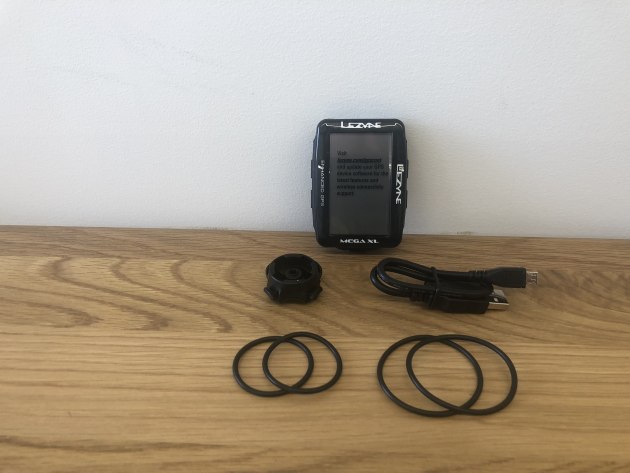 The unit itself is pretty robust and reasonably light. The high contrast black and white screen is easy to read, and much better than previous generation of Lezyne GPS units, which required you to ramp up the contrast to max to be able to read the screen on sunny days.
You can set everything up without pairing with a smartphone, but you do need to pair it with a smartphone to use advanced features like mapping and online syncing. It's also much easier to set up using the smartphone app – especially if you find yourself technically challenged (you could also get the bike shop to set it up for you, or sling some pocket money to a teenage relative…)
First up, you do need to ensure the firmware is up to date by plugging the Mega GPS XL into a computer and downloading the latest firmware from the Lezyne GPS Root website. This will be a familiar process to anyone who's updated a Garmin, but it's not as user friendly as Wahoo's wireless smartphone-based update. 
Next, download the GPS Ally app (v2) from the Android or Apple app stores. You'll need to navigate to the 'phone' menu item on the GPS unit, and select the option that will let you pair the phone up. Once that's done the phone and head unit are paired and you can customise screens, bike profiles etc to your heart's content. 
The Mega GPS allows you to create multiple bike profiles with different screen setups for each. This is a practice that's been largely abandoned by Garmin, but I like it: it does take more time to set up but is useful if you use the same computer for mountain and road bikes. One slightly irritating thing is that the bike profiles require a wheel size to be selected, but there's no information on what measurements equate to common wheel sizes. It's probably not necessary unless you're using an old-style speed sensor that requires a magnet, but it would be nice to have a conversion chart to save a fair bit of Googling. 
Setting up navigation and syncing to Strava. Today's Plan and/or TrainingPeaks is super easy via the smartphone app.
Pairing sensors is also painless: the Mega GPS XL will connect via Bluetooth LE and ANT+. It connected with very little fuss to speed, cadence and heart rate sensors from both Wahoo and Garmin, although you will need to pair these for each bike profile. I also paired the Lezyne to a power meter on my road bike without a hassle.
First impressions

First impressions are that the Lezyne is on par with a Garmin for ease of setup, but both lag behind Wahoo and its intuitive (albeit smartphone-based) setup process. 
Recording, pausing and stopping will be familiar to anyone who's used a Garmin, with a similar button layout. I do like the fact that you can orient the Mega GPS XL in both portrait and landscape mode for added flexibility. The Lezyne's also a nicely built unit that looks like it should be able to stand up to some punishment (heh heh heh...) - very important when things go sideways on a trail ride! 
I'm looking forward to getting out on the trail (and, whisper it, on the road) with the Mega GPS XL - I'll file some more early impressions once I've got a few rides in, and I'll be posting ride reports on the Mountain Biking Australia Strava Club.