Maxxis High Roller II Tyre
High volume, tubeless ready, lightweight multi-compound rubber seems to be the order of the day for trail riders and Maxxis has combined all these ingredients in the High Roller II.
It's a new version of an old favourite cross-country, all-mountain and gravity tyre. The High Roller II hasn't replaced the original High Roller; they're still on sale in sizes ranging from 1.9 to 2.7 inches to cover most riding disciplines. However, the HR IIs have taken many of the original's versatile qualities and morphed them into a range of tyres suitable for modern trail, downhill and dare we say it, enduro bikes.
Maxxis offers them to suit all three wheel sizes and we tested the 'TR 3C Maxx Terra 2.3' version in the less fashionable but still brutally effective 26-inch wheel size. HR IIs are available in a slightly bewildering array of compound and tube/tubeless ready combinations, casings for gravity and a wider 2.4-inch size—you're better off reviewing spec table on the Maxxis website to get the full picture of what's available.
Airing up the tubeless ready tyres was no harder than seating the Maxxis UST tyres I've used in the past, and they've held air as well as most other tyres when used with a couple of scoops of latex sealant. Seated on my narrower-than-currently-trendy 21mm inner width rims, the HR IIs measure 55mm across the casing and 58mm at the tread—clearly not as broad as some high volume trail/all-mountain tyres but somewhat bigger than the original HR 2.35s which were pretty skinny.
My HR IIs weighed in at 880g, which is at the upper end of the weight scale for a 2.3-inch trail tyre—especially seeing these are tubeless ready and are lacking the extra material found in a UST tubeless tyre. They're also a bit heavier than Maxxis' 840g claimed weight.
But as they say in the classics, the proof is in the riding. The original High Roller was known to cope with a wide range of terrain, and that's exactly what these tyres have been ridden on since they were first inflated.
On familiar trails with a surfaces consisting mainly of loose over hardpack, straight hardpack and good old-fashioned Sydney sandstone, the HR IIs showed a high level of grip compared to some other popular tyres in this category. In these conditions you have to be trying hard to get them to budge, and when they do break traction they provide a balanced, predictable slide that is easy control. Once familiar with their behaviour I was able to hit sections of trail faster than I had many times before and their easily controlled slides brought out the inner hoon in me, making me regularly laugh out aloud.
While I don't claim to have scientific proof of the HR II's rolling resistance, they feel like they sit in middle ground in this regard. The chances are that if outright rolling resistance is a big factor in your purchase you'll be looking to buy different tyres anyway, but the HR IIs were fine to pedal on in between the descents and their grip on technical ascents helped bump up overall efficiency. Unlike a few tyres out there, the HR IIs can cope with high-ish (30psi) pressures without riding harshly, dramatically lowering grip levels or bouncing off line.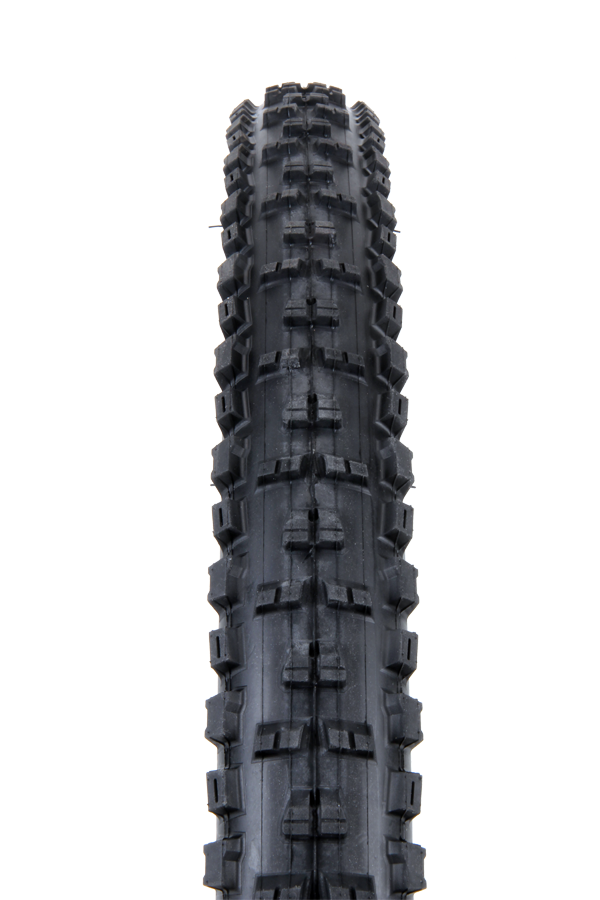 Roll Anywhere
An interstate trip showed me that the HR IIs weren't just one-trick treads destined for life on Sydney's Northern Beaches. The abrasive surfaces of the You Yangs in Victoria had the HR IIs doing their best impression of downhill tyres and helped boost confidence on trails unfamiliar to me. A pedal around the misty peak of Lake Mountain, with its slippery rocks and techy slow speed sections, showed that these tyres are more than happy to slog out some cross-country kilometres in such conditions. They coped fine everywhere else that I've taken them and the only thing we didn't get to test is their mud clearing ability, but we'd expect their relatively open tread design to do just fine.
Constantly riding hard on the side-knobs makes for a bloody good time, but quite often means the tyres won't be here for a long time; in this regard I'd describe the multi-durometer 'Max Terra' tread compound as a fair trade-off. There are plenty of longer lasting tyres on the market but they won't grip as well or be as much fun to ride. The compound also did a good job of resisting damage, even in rocky terrain that's capable of flicking off side-knobs like a kid picking at vegetables—they were noticeably more durable in this regard than some other popular all-mountain tyres I've used.
In practice it's hard to fault the HR IIs. There were no big holes in their performance and they are a confidence inspiring tyre. For people looking for on-paper performance indicators, the HR IIs possibly won't excite—they're not the lightest in category or the fastest rolling, nor do they provide the biggest volume for their size. But for riders looking for tyres that will let them ride their trail bike on the edge of their handling limits, in a wide range of conditions, while providing durability and adequate tread life, the Maxxis HR IIs will work out well.
Bikecorp www.bicorp.com.au