NEW GEAR: Ergon Saddle
Often overlooked, the humble saddle is an important part of your bike's comfort and control. Too often I think that the wrong saddle is under many riders, who are unaware about how a good saddle should feel. German brand Ergon is heavily focused on providing ergonomically designed products, probably most famous for their shaped grips but also offering gloves, seat posts and saddles. It's an example of the latter that I've been reviewing for a while now.

Weighing in at around 270g in the 'Comp' spec here, offered in two widths and three different specification levels the SM Saddle is towards the lighter end of MTB saddles. I've been on lightweight saddles before and often found they were either too thin or just flat out uncomfortable. Not so here. Replacing my normal WTB saddle for a few laps with the kids in tow I forgot I was even using a different saddle at all until I stopped! That's a good sign it was comfortable right away.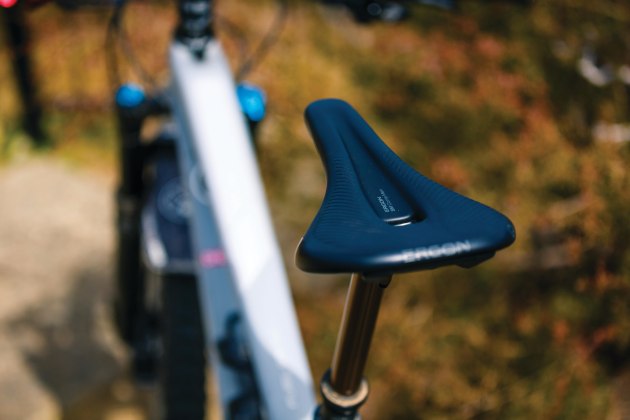 The specification levels begin with the SM Sport, weighing in at around 300g or 325g depending on the width and with Cr-Mo rails plus comfort foam, then the Comp reviewed here at 270g / 280g with extra 'OrthoCell' pads and TiNox rails, ranging up to the SM Pro model at 235g/245g also with TINox rails and AirCell foam padding.

There's plenty of adjustment available with the rails and plenty of space to mount far forward or backward depending on your preference. I set it around the middle but a little closer to the front and angled it up until it felt right at my dropper's full extension.

On more aggressive terrain the shape of the saddle is great, there's no sharp edges or strange shapes waiting to catch out the fabric of your shorts when getting active moving around the saddle. For longer rides, the comfort factor is good, while it's not a super plush gel saddle, for the weight it has a respectable amount of comfort and is shaped well with a fairly deep groove down the middle to keep things comfortable with a minimum of pinching and chafing.

To split hairs a little it would be nicer to have a slightly more angled rear. For those riders who do prefer a more scooped saddle style there's also an e-bike version of this same saddle that has a more defined scoop and higher rear end. I just set the angle a little lower towards the front to raise the rear until it felt right for me, as after breaking the sit bone in my pelvis a few years ago I get pretty sensitive about these things.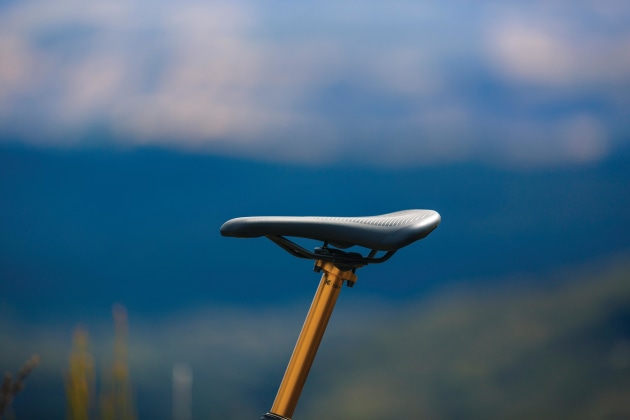 The design is simple and understated, not looking out of place on a modern Trail / XC or Enduro bike. Light grooves on the top help with some extra grip and texture and it doesn't feel slippery at all, even when powering up some steep climbs while seated.

There's an included Topeak Quick Adaptor to connect up a compatible saddle bag if that's your thing as well.

While it's not the cheapest option out there at $149 RRP, for the combination of comfort, weight and design it's a solid option for your next saddle purchase.
Ratings
Performance: 8/10
Value: 7/10
Overall: 8/10