Nextie Carbon Rim Review
While many remain sceptical about the use of carbon rims in mountain biking, they are definitely gaining popularity and becoming less of a trailside oddity. And despite what the naysayers believe, you don't see an abundance of exploded carbon rims littering the trailside.
With most modern carbon wheels, the goal isn't pure weight savings and it's not hard to find alloy wheels in the same weight range. Our experience suggests that they're generally a lot stiffer than their alloy counterparts but whether that's a true benefit is debatable. A wheelset that lacks stiffness is a bad thing but once they're 'stiff enough', any additional stiffness is pointless. In fact, some wheels actually offer a degree of designed-in lateral deflection to improve your control when bouncing through rock gardens.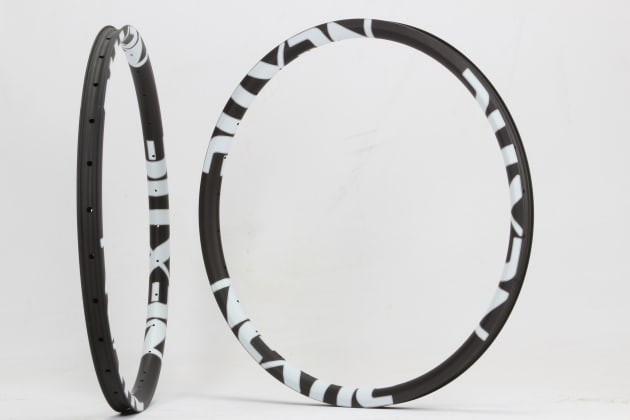 The way I see it, the main drawcard with carbon is that you can get wider rims without suffering a sizable weight penalty. Making a wide alloy rim requires a fair bit of additional material, which can make them pretty heavy. Trimming back the wall thickness will bring the weight down and the stiffness usually remains reasonable, but then they tend to become quite dent-prone. Get a good carbon rim and they'll give you the added width whilst retaining enough material; this can make them be tougher and less damage prone than their alloy counterparts.
If you've been living under a rock, you mightn't have heard of the benefits that wider rims offer. Wide rims aren't just for super fat tyres; they offer better sidewall support for regular MTB tyres, allowing you to run lower pressures without encountering tyre squirm or burping. The main pitfall with wide carbon wheels is that you usually need to sell a kidney to buy them.
Nextie is one of the more affordable carbon rim brands—one that you'd typically jump online and order direct from China, but does that mean they are no good? Well most carbon products are manufactured in China these days, even the really high-end stuff that carries a boutique brand name. Of course that doesn't mean that all Chinese carbon is great; there are both really good and really bad products out there; the trick is knowing which ones are well engineered and which are not. Buying a carbon rim straight out of China is a gamble. Get a good one and you'll be cheering, buy a dud and you'll have no recourse if it fails, not to mention the risk of injury if said item fails catastrophically.
Word of mouth is something to go by and Nextie (along with Light Bicycle) is one of the more popular options amongst those who take the gamble and choose to buy direct. Sure there are reports of failures but on the whole the brand seems to fare okay. More recently the game has changed a little for Nextie, as they now have an Australian based distributor. Premium MTB in Queensland sells the rims and offers custom wheel builds as well as serving as an agent to handle any warranty issues for Nextie—something that should provide reassurance for Aussie customers.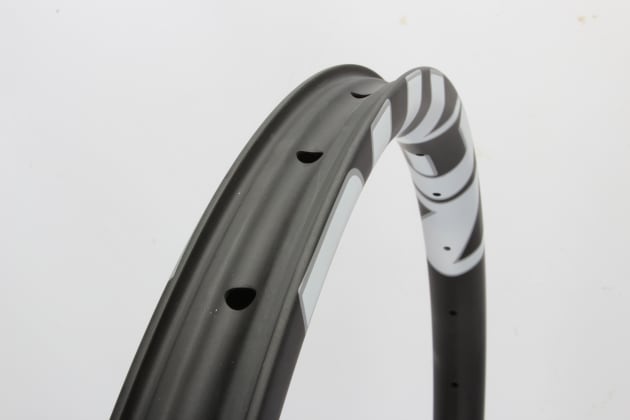 Pricing through Premium MTB is consistent with what you'd be looking at when buying direct and they also offer free shipping. Regular MTB rims range from $450 to $680 a pair and complete builds go from around the $1,000 and up depending on the rim, spoke and hub combination you choose.
For our review we opted for their 'Premium' level carbon rim in a 36mm width. These sell for $340 each, which is $60 more than their regular rims. The Premium offering is said to feature better quality T700 carbon, a more elaborate layup with a stronger spoke bed and tighter manufacturing tolerances. We built them with lightweight 28 hole Tune hubs, DT Comp Race spokes and brass nipples. The rims themselves were 460g each and end result was a 1,618g 29er wheelset—not bad when you consider the 29mm inner rim width and long lasting brass nipples (using alloy would cut this figure to 1,570g).
The wheels built up with minimal fuss and I had no problems getting them perfectly true with plenty of spoke tension. Leaning on the wheels and stressing them revealed very little flex, even with the 28-hole build and skinny 2.0/1.6 spokes. Once taped they inflated easily and the beads snap up onto the shoulders with some authority—we ran a range of tubeless ready tyres and never had any issues. While the 29mm internal measurement doesn't rank as being super wide these days, it certainly offers good support for tyres up to 2.4 inches wide, even at 18-20psi.
Running at low pressures is great for traction but it also puts the rims in the line of fire when riding in rocky terrain. Over a four month period and in this time they were ridden pretty hard; on a number of occasions I've hit rocks hard enough to puncture both sides of the tyre casing and so far the rims have survived. They've collected their fair share of scuff marks (which are particularly noticeable on the big white stickers) but structurally they remain intact. I haven't touched them with a spoke key in this time and the rear wheel has only gone out of true by 0.6mm laterally while both wheels remains perfectly round.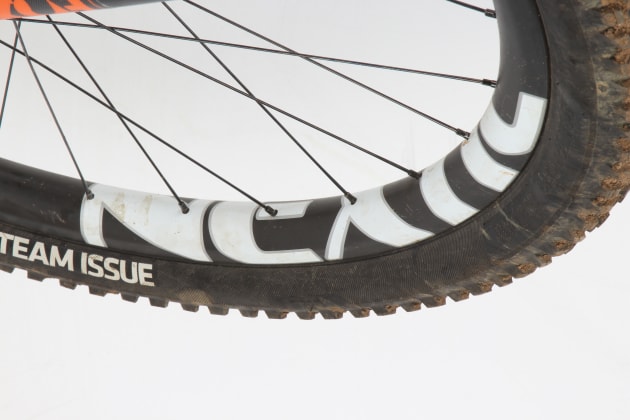 The 3.5mm thick bead retaining lips on the Premium rims certainly appear to be robust, but no rim is indestructible. One of my riding buddies managed to damage the 3mm wide bead hook on a non-Premium 38mm Nextie rim and I know of people who've damaged 'big name' carbon rims too. Carbon rims really can cop a hiding and the good ones will shrug off the sort of hits that dent most alloy rims. However if they do fail, they'll crack rather than dent; it just takes a really big hit to do this. Failure due to rock strikes is not a warranty issue but Nextie will conditionally cover their rims against this sort of damage (this applies during the regular warranty period, which is two years on their regular rims and three years on their Premium models). No rim is indestructible but this rock strike coverage offers some solid reassurance.
I've been totally happy with the quality and performance of the Nextie Premium rims. They're still going strong and I'd certainly consider them for future wheel builds.
Premium MTB - www.premiummtb.com.au