Santa Cruz launches Bronson V3 and 5010 for 2019

One of Santa Cruz's biggest selling bikes here in Australia is the brand's longish travel Bronson, which has been reworked into what the company is calling a V3 version.
Based around a 150mm travel rear end, the updated Bronson now features a low-slung shock mount that was lifted from the V10 downhill rig and is shared by the longer travel Nomad.
Santa Cruz reckons the low linkage helps with mid-stroke support on longer travel bikes, with the first half of travel kept soft before ramping it up harder towards end of the shock stroke.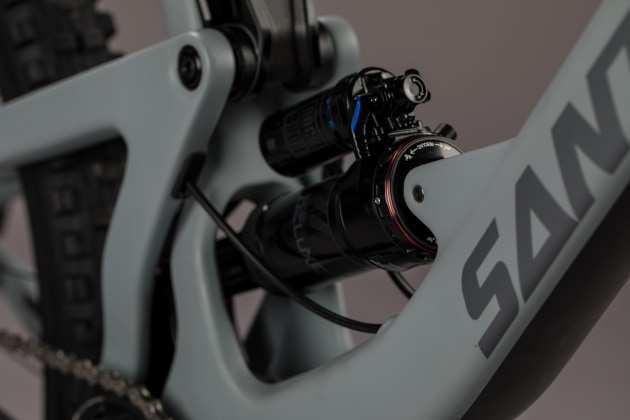 Frames are still laid up in regular C and lighter, fancier CC carbon grades. If you want a frame only, it's CC or nothing.
As well, the new Bronson can be specced with 27 Plus tyres up to 2.8 inches, thanks in part to fork manufacturers upping their respective games on their 27.5in models.
Geometry wise, the Bronson is 13mm longer in reach across all models, while standover height is 10mm lower. There's also a more vertical seat tube angle of 75 degrees. This can be steepened to 75.3 degrees by flipping a chip on the shock's rearward end, which is designed to help manage geometry between both wheel sizes.
There's a mudguard on the rear end to look after the shock, a frame guard under the downtube and a threaded 73mm bottom bracket, while the new shock arrangement still allows for the addition of a full-sized bottle.
 Kits have been updated, too, with M9100 XTR now an option. The R kit gains an Eagle NX cassette and DUB cranks, while Santa Cruz has dropped the XE grade build kit.
 The all-day 5010 - much loved by one Danny Macaskill -  has also been tweaked with a steeper seat angle, along with the addition of a metric-length shock and the ability to run a 27.5 x 2.8in tyre. No 29er option for the 5010, though.
Santa Cruz importer Lusty Industries says that while the 5010 is available in alloy - just like the original - but it's a special order item.
Meanwhile, the just-released 100mm Blur has scored a TR build option, scoring a bespoke 110mm Fox Step-Cast 34 fork, a Rock Shox Reverb 125mm dropper and more aggressive Maxxis Rekon rubber. A 180mm front brake rotor has also been added, and a SRAM Twistlock is used to activate the front and rear suspension lockout functions.