SRAM NX Drivetrain
Unless you've been under a rock somewhere, you'll be well aware that SRAM has been on a big push to make the front derailleur obsolete. This mission has gone hand-in-hand with a campaign to make you feel inadequate if you don't have 11-cogs on your rear cassette.
As is customary, this process began with the ultra-light and similarly wallet lightening XX1 groupset. The concept has since trickled down through to X01, then X1 and then to GX. Each step has seen a slight gain in weight, but a comparatively large decrease in price whilst maintaining essentially the same performance and technology as the flagship product.
And now we've got SRAM NX; an 11-speed drivetrain for the masses with a very wallet friendly price of around $575 for the lot; cranks, chain, cassette, derailleur and shifter. Of course there's also another increase in weight but NX also differs from its siblings in one key area; instead of a 10-42T spread on the cassette, the highest gear runs an 11-tooth cog. This takes around 10 percent, or close to a full gear, out of your gear range. But there's a sweetener in the deal; the NX cassette is compatible with a standard freehub body, so you no longer need to buy a dedicated XD driver body (if in fact your hub will accept one) in order to go 11-speed.
Does this finally mean that the future will see all mountain bikes with running a single chainring; all the way from the bottom up? Have SRAM cut too much from their drivetrain to make it a worthwhile investment? Will cold fusion become a reality in the next five years? To answer these questions (okay, perhaps not the last one), I've been running the NX group on my trusty steel horse for just over three months—here's the lowdown as I see it.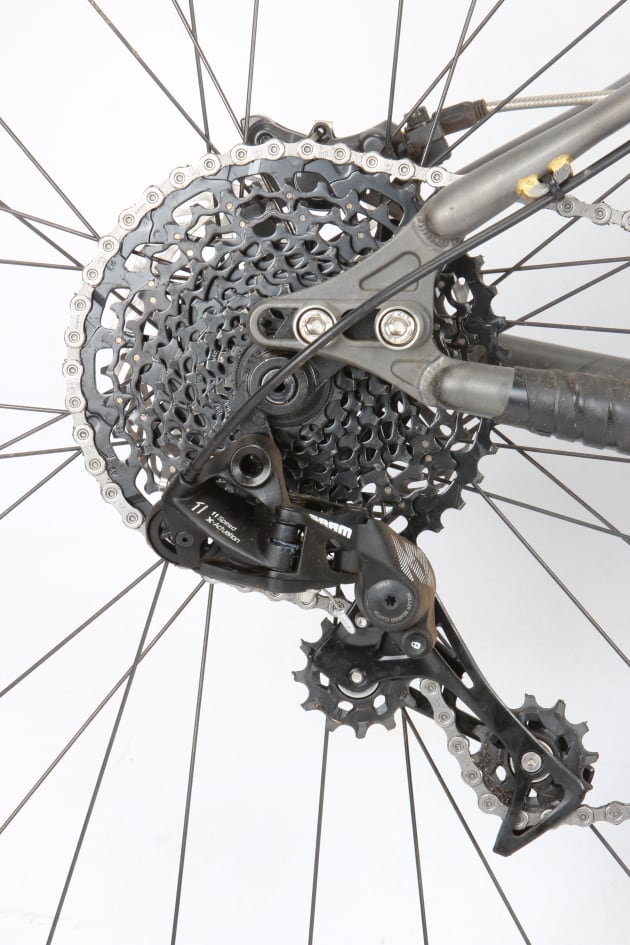 Cassette
Let's start with the bad stuff; your brother may not be heavy, but the NX cassette surely is! At around 527g it's near enough to twice the weight of an X01 cassette and 36g heavier than the new Shimano SLX 11-42 cassette. It's also made from separate steel cogs all pinned together, so you can expect it to dig into your alloy freehub body like any other non-spider equipped cassette will do. This rarely affects the function but it can make cassette removal and installation more of a pain.
And now onto the good; the shifting performance is perfectly smooth and in a blind test I'd challenge anyone to differentiate it from SRAM's lighter and more expensive offerings. And the price is excellent; at around $125 it's less than one third the cost of a top-tier SRAM cassette—it's barely more than you'll pay for an aftermarket 42T extender cog for a 10-speed drivetrain.
Given the all steel construction you can also expect a decent lifespan from it, unlike alloy crawler cogs. The gear range of 381% might be a little more restrictive than that of all the other SRAM cassettes (420% range), but it's still as good as you'll get from Shimano unless you go to their new 11-46 XT cassette, which is 110g lighter than NX but costs around $200.
Is the 11-42 gear range enough? Well that's really a matter of where you ride and your leg strength; I suspect that for the vast majority of riders, especially those riding purpose-built trails where gradients are kept modest, it'll be absolutely fine. If you're running a 30-32T chainring you're unlikely to spin out the top gear unless you're on the road, and that's no place for a mountain bike anyway—give me a low climbing gear over a flatland commuting gear any day of the week!
Chain
The NX level chain will set you back around $25 and does its job as intended. It comes with a joining link and is compatible with all SRAM 11-speed drivetrains. If you're feeling flush you could always get one of the fancier and lighter hollow-pin jobbies from up the range, but the PC1110 will certainly get the job done.
Derailleur
The task of moving that chain up and down the 11 cogs is handled by the new NX rear mech. At 327g it's about 85g heavier than the benchmark XX1, but it's still a smidgeon lighter than Shimano's new SLX derailleur. The $120 asking price is very palatable, especially for an item that's easily damaged by a stray stick or rock strike. As with all SRAM derailleurs, the NX unit protrudes further than Shimano's 'Shadow' derailleurs. It's certainly not a deal-breaker though, and we've good long-term success with SRAM derailleurs despite the slightly wider profile.
It has the same familiar look of the rest of the SRAM family. It shares the same X-Actuation horizontal parallelogram linkage, narrow/wide jockey wheels and cage lock. The NX derailleur also sports the newest version of SRAM's chain-retaining clutch mechanism. Creatively named 'Type 3', it was introduced on 12-speed Eagle earlier this year but NX is the first of SRAM's 11-speed drivetrains to gain this tweak—the others are expected to transition to it as an in-line production change. It provides more clutch force than the outgoing Type 2.1 and hence better chain retention without the noticeably clunky feel of earlier Type 2 derailleurs; pay less but get more—that's definitely the way we like it!
Shifter
Whilst the NX shifter is cross-compatible with all SRAM 11-speed setups, it does differ a little in that it has a moulded-in mounting band. This means it can't be connected to SRAM brakes via the neat Matchmaker system, and it also means that you need to remove your grips in order to set it up. Again these are not deal breaker issues and a cheaper groupset has to cut corners somewhere, but it is worth a mention.
Although it functions perfectly well, it does feel a little more plasticky than more upmarket units—X1 and above do feel noticeably nicer. There's also no provision to fine-tune the lower paddle position like you can on the higher spec shifters. Still, it's only $50 at full tote odds, so it'd be a bit stingy to criticise it too much, especially as it works perfectly well and has the familiar clickety-click that SRAM shifters are known for.
Cranks
The NX cranks use the exact same forging as the non-removable spider GX series, but instead of the premium 7075 aluminium alloy, they use a less expensive 6000-series alloy. Whilst this in theory will reduce the fatigue life and add a little more flex, in practice I've never heard of people breaking alloy SRAM cranks due to fatigue failure, so it's really not a worry.
As for flex, well I guess my 70kg and quarter horsepower output isn't enough to detect any; I'm far more likely to notice deformation of the tyre carcass or frame and wheel flex than any movement in seriously solid pieces of aluminium. They're available in 155/165/170/175mm lengths; oddly SRAM seems to skip the 160mm length across the board.
Chainrings can be had in two-tooth increments from 30-38, but because the spider is not removable there's no option to use a direct-mount chainring. Our test set came with a fairly standard 32T X-Sync chainring; the narrow/wide profile has proven itself to be very capable in terms of chain retention, and wear is what you'd expect from a single ring drivetrain; less durable than a 2X setup but still perfectly acceptable.
The weight is also pretty much the same as both X01 alloy and Shimano SLX cranks; around 725g without a bottom bracket and approximately 100g more with the bearings. As you might expect in this day and age, you can get them to fit BB30/PF30, PF92 and good-old threaded bottom brackets—there's even a fatbike version on offer if you like things chubby. Given the price of $200 (not including your flavour of bottom bracket) there's really not much you can bitch about here.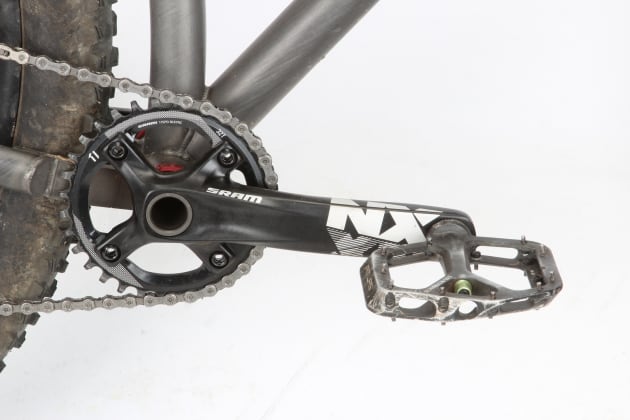 1x11 for NiX
It's more than likely that SRAM developed the NX group primarily to feed their OEM customers an option for budget-oriented bikes. Manufacturing costs compound as you go up through the distribution chain, so a few dollars saved at the factory can add up to hundreds by the time a bike hits the retail floor. The MTB market has never been more competitive or price conscious, so every little bit counts.
With the NX group, SRAM has put together a budget solution that will feed the ever-growing demand for 1X drivetrains. It's been said before that one of the highest compliments you can pay to a drivetrain (and many other components) is that you simply don't notice it. Whilst I'm intimately familiar with SRAM's high-end drivetrains, and in that context there are a few differences in shifter feel, cockpit setup and gear range, it's fair to say that there was never a time when I felt SRAM's budget group was ruining my ride. If you buy a bike that comes supplied with NX, just ride the crap out of it for as long as you can; there really isn't a need to upgrade anything until the parts start to wear out.
On the other hand, I can see another market for NX. Those running 10-speed drivetrain but wanting a wider gear range would usually look towards a range extending cog as a budget hop-up. As I mentioned earlier, most hop-up cogs will cost you around $100 and you'll end up with some large jumps at different points in the cassette—they not only feel awkward but often shift poorly.
The alternative is this; wait until your current cassette wears out and for around $300 you can buy a dedicated 11-speed cassette, clutch derailleur and matching shifter. The NX gear will work with your existing freehub, won't have weird steps in it, offers a decent gear range, shifts precisely and should last longer with the steel 42 tooth cog. Once you factor in the cost of replacing your old cassette, moving to NX really seems like the most logical choice.
Whilst it's not going to woo those who want the lighter weight, a larger gear range and higher badge value of SRAM's other 1X drivetrains, I think the NX group will open up a whole new market who previously thought it 1x11 was out of reach. There's plenty to gain and NiX to lose.