Yes, the future is here - the long-anticipated and much-hyped wireless SRAM EAGLE AXS (pronounced "access") 12-speed drivetrain is now available. It comes with rear derailleur, cassette, crankset, chain, shifter, remote, companion app, and there's also the option of the wireless RockShox Reverb dropper too. 
The evolution of bike technology has been mind-blowing since the 1990s. The introduction of disc brakes, dropper posts and suspension forks to name but a few have transformed the way bikes perform, and now with the electronic wireless EAGLE AXS drivetrain, things have gone to another level.
SRAM have been developing AXS since way back in 2014, when unbeknownst to many, Czech rider Jaroslav Kulhavy raced with it. Work then continued during the following years, and in 2018, Nino Schurter won the UCI Men's Elite XC World Championships using the system.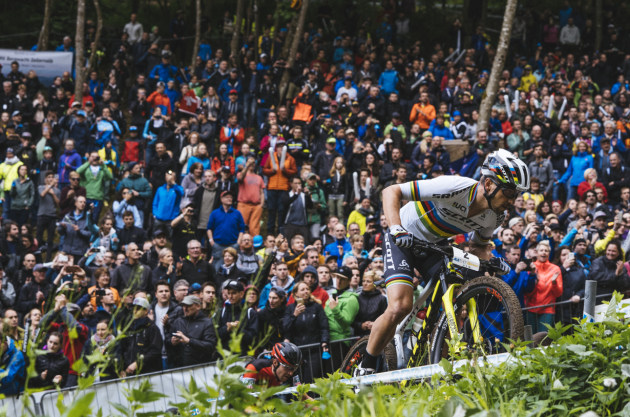 Long time in the pipeline, so what can it do...?
Well, a fair amount as it turns out! The rear derailleur is motor driven, not cable actuated, and this results in near-silent gear changing. The drivetrain is also 'smart', self-adjusting the chain as you ride to allow for the smoothest of rides. The remote shifter allows gear changes to take place wirelessly, and the app even allows the rider to customise which part of the shifter they touch to affect the gear change. It's also waterproof, so whatever the weather, winter or summer, the AXS can take the strain. Plus, with all the cables kept to bare minimum, the handlebar setup is refreshingly clean, simple and uber user-friendly. 
Dropper too?
SRAM have partnered with the RockShox Reverb to create arguably the simplest and smoothest dropper post system on the market. With the wireless technology, the drop and rise is actuated at even the lightest touch of the button, with no fiddly wires to worry about during installation/maintenance. 
Tough cookie!
The AXS is also tough as nails too, incorporating an impact protection system that disengages the Overload Clutch when hit. It then returns back into position and shifts back into gear. This, combined with a derailleur cage that offers 10mm more ground clearance, means the drivetrain is even more protected from damaging lumps and bumps on the trail.
The vitals...
The AXS comes in two ensemble models - the Enduro-focussed X01 coming in at $1,900 RRP, and the cross-country XX1, which will be priced at $2,000 RRP. And for the more price-conscious riders out there, down the line SRAM say it will be possible to upgrade 1x12 systems using just the AXS derailleur and shifters.
Visit SRAM's website for more details.