TRP G-Spec Brakes
Think of the Tektro brand and you may well picture the V-brakes or cable discs that came on you're very first MTB. That's what Tektro is best known for; producing brakes that serve as a budget priced alternative to the 'big brands' and they're certainly a popular choice for entry-level bikes.
While that's where we're used to seeing the Tektro name, they also offer more upmarket brakes and have done so for some time; they fall under the TRP badge, which stands for Tektro Racing Products. For some time they've offered a range of high-end models, brakes with carbon lever blades, four piston callipers forged alloy master cylinders and other quality features. While models like the Slate and Quadiem certainly look the goods, they've flown largely under the radar.
That all changed when they signed Aaron Gwin to use their brakes. While it's true that Gwin could ride and win on just about anything (including a bike with no chain), it certainly thrust the TRP name into the limelight. It's also true that if their brakes can withstand the demands of World Cup DH racing, they'll cope with just about anything.
The new TRP G-Spec is the upshot of this partnership. It's largely based on the Quadiem – a model that's been in the TRP lineup for around four years – but it has been tweaked at the request of the man himself. First up, the lever profile was changed with holes and dimples added for extra finger traction. TRP also moved to hybrid steel/ceramic pistons and added indexed detents to the tool-free reach adjuster.
This is definitely a top-end brake; both the lever and calliper feature forged construction with CNC machining to finish off. There are neat looking cooling fins on the calliper and the rotors feature two-piece construction with an alloy inner carrier that aims to stiffen the structure without adding weight.
Speaking of weight, the lever, calliper and hose averaged 320g (310g front and 330g rear) with an extra 160g for a 180mm rotor. That's approximately 50g per end heavier than the four-piston SRAM Guide RSC brakes and a similar weight to the latest SRAM Code downhill brakes. It's a pretty acceptable figure for what is a DH oriented brake, and it means there's no reason why you wouldn't consider fitting them to a long travel trail or gravity enduro bike.
I mounted them to a 160mm travel 29er – a bike that demands loads of stopping power – and the fitting process proved to be relatively hassle free. With some care I was able to pass the hose through my internal frame routing and reconnect it at the lever without a desperate need to bleed them; I had a few rides on them before I bothered to hook up the bleed kit and the lever feel remained consistent. There's enough pad clearance for rub-free running, the well-executed split clamp ensures the levers are quick to fit and the system runs on easy to deal with mineral oil (a-la-Shimano).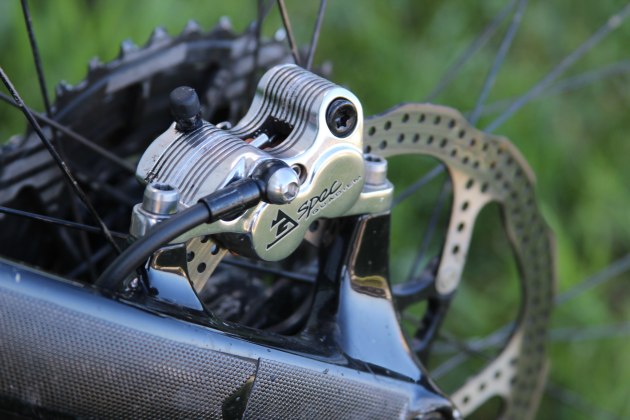 On the downside, the levers are left and right specific (ambidextrous levers can make the setup process easier) and the TRP bleed kit is pretty crap. It's a generic kit with two syringes, a few lengths of hose and some threaded connectors that fitted to the lever but not the calliper. At the calliper end you need to push the hose directly onto the bleed nipple and hope it stays there, which it didn't most of the time. I sprayed fluid over the workshop a couple of times before I learnt my lesson—at least it's only mineral oil and not toxic DOT fluid. I'd much prefer to have a bleed hose with a secure threaded connector for the calliper end of the bleed kit.
In the end I borrowed some hose from another brand bleed kit to get a tighter fit on the calliper nipple. The actual bleed process was simple enough and not dissimilar to most other brake brands. With that sorted, the brakes delivered a solid and positive lever feel with a moderate amount of free-stroke in the lever (this aspect is not adjustable).
Hitting the G-Stop
In stock form the G-Spec brakes come fitted with red-backed organic pads. You normally expect organic pads to have a quick bed-in period but the Quadiem took a couple of rides for them to reach full power.
With all of the Gwin related hype that surrounds these brakes, I somehow expected to be flinging myself over the bars with the slightest dab at the lever—the sort of abrupt and aggressive feel that you get from a set of Shimano Saint brakes with 200mm rotors. This simply wasn't the case, and in many ways that was a good thing. The G-Spec brakes have a solid lever feel at the initial contact point and they come on in a relatively subdued manner. Apply a little more effort and the power ramps up appreciably. There was always enough power on tap – even on the steepest tracks – but the power delivery won't catch you out. While they mightn't shock and impress you on the initial ride, they afford great control and allow you to finesses the braking.
TRP also provided a set of metallic pads for this review, so after a month with the stock pads I made the swap. With some wear on the rotors, the bed-in process was faster but it still took a full ride for them to come on song. The metallic pads gave the G-Spec brakes a stronger initial bite with less lever effort overall. While they still weren't as grabby as a set of Saints, they delivered more of the eye-popping power that I'd initially expected. The G-Spec brakes remained consistent on long descents, regardless of the pad compound, but the metallic pads would be my choice for steeper and more demanding trails—there's definitely more 'oomph' on tap.
One of the best features was the general silence when braking and they were especially quiet when running the organic pads—no warbles, twitters or howls. The more powerful metallic pads did make some noise; I noticed a high-pitch twitter on lighter braking and some chirping with low-speed manoeuvres.
It's also worth noting that the G-Spec callipers will also accept Shimano Saint brake pads—a handy thing as you should find Shimano pads in a wide range of bike shops.
The G-Spec has only just been released and the Aussie pricing wasn't finalised at the time of writing. They're expected to sell for around $300 per end plus an additional $70 per rotor. That's slightly cheaper than the equivalent SRAM or Shimano brakes, which isn't bad given the quality of finish on the TRP product. Will they make you fast like Aaron Gwin? Not a chance but they'll definitely help you stop smoothly, silently and consistently.