Tubeless Tyre Sealants
Not that long ago sealant based tubeless setups used to be hit-and-miss backyard conversions. Now many regular MTB tyres are pitched as being 'tubeless ready' and a decent number of tyre brands have sealants that bear their name.
With so many new products on the market, we decided to see what they had to offer. After assembling 14 different tubeless sealants we tested their ability to fix punctures, compared longevity and took notes on their differing qualities. To put things in context, it's important to run through the test procedures.
TEST PROTOCOL
Price – Beyond listing the straight out prices, we've also provided a cost per 100ml for each product. This is close to the amount that you'll need to use per tyre. Where different quantities are offered, this pricing is calculated using the mid-sized bottle—usually 500ml. If they don't offer a 500ml bottle we simply used the next closest size.
Most manufacturers offer a recommended per tyre serve but in many cases these suggestions are on the conservative side. They may say to use 50-60ml of sealant but this is the same figure they printed eight or 10 years ago when everybody was getting around on 26- inch wheels and skinny 2.0 tyres. With 2.25 tyres now being common for XC use (and wider for general trail riding), we feel it's advisable to run 80-100ml of sealant per tyre— especially if you're using 29-inch wheels. Where a manufacture recommends more than 100ml per tyre, you may as well roll with it.
Also note that it's much cheaper to buy sealant in large quantities. Brands that only offer small bottles appear comparatively expensive however they can be a convenient option for the infrequent user.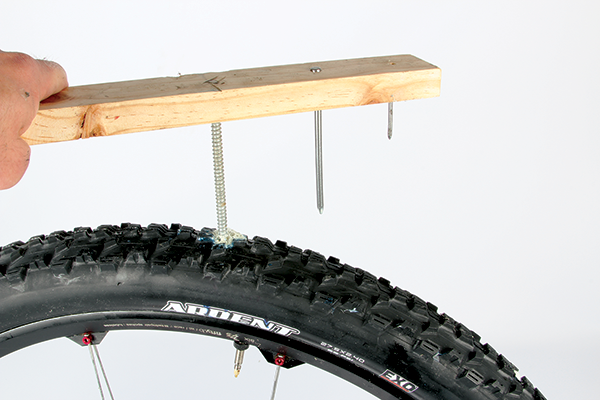 Tread Punctures – We made holes of various sizes to test the puncture repair-ability. This starts with a 2.5mm nail before moving onto a big 4.5mm nail and then a 6.5mm bugle screw. The wheel was kept upright and spinning during this test, only stopping briefly to rupture the tyre. This test was repeated numerous times to ensure that our observations were consistent.
Sidewall Punctures – Whilst the wheel was spinning, a 2mm puncture was made at the widest part of the sidewall. Again this was repeated for consistency.
Longevity – Sealants dry up and may need renewing every few months. Evaporation occurs through the tyre casing as it's slightly porous, but in the end some sealants evaporate quicker than others. To compare, we placed 60ml (60g) of each sealant in an open plastic cup and kept track of the weight to measure moisture loss over time.
Testing the longevity in an open cup speeds the process substantially. To check the relevance of this experiment, we also conducted an in-tyre test. We pitched one of the longest lasting sealants against one of the fastest drying; 100ml (100g) of each sealant was placed inside a brand new tyre and they were rotated daily to keep them flowing around the casing. After a month and a half, 9% of the longer lasting sealant had been lost while 16% of the faster evaporating sealant had gone. This reflects what we found in the open cups, although the results weren't as distinctly varied when the fluid was inside the tyre.
All of these tests were conducted using the same brand and model of tyre on the same rim, and we did our best to maintain consistency throughout. For each tests we've rated the performance on a scale of one through to 10.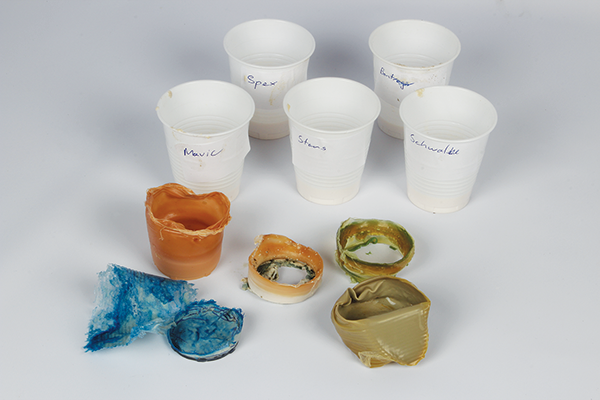 Tyre Compatibility - Our review period spanned a two-month period, so one thing we couldn't test is how these sealants affect the tyre with long-term use. Aside from the homebrew concoction, every single product is marketed as being non-hazardous, non-toxic and non-harmful to tyres and rims.
Five or so years back, many tyres would react badly to sealant products; sometimes the rubber would delaminate from the casing while other times they would simply blow off the rim.
Recent experience suggests that most current generation mountain bike tyres work quite well with sealants and tubeless setups. So combine a recognised sealant with a modern 'tubeless ready' tyre, mount them to a suitable rim and you shouldn't see any problems within the normal life of the tyre. 
Bontrager TLR 
Distributed by:  Trek Bicycles Australia  www.bontrager.com   
Price: $4.22 per 100ml  (based on 1L bottle)  59ml - $6  946ml - $40 
Smaller holes (2.5-4.5mm): 8 stars
Big 6.5mm puncture:  6 stars
Sidewall:  2 stars
Longevity:   9 stars
The TLR sealant is thin and flows easily around the tyre to get to  punctures quickly. Whilst it performed very well on small to mid-sized  punctures it fell short on the bigger 6.5mm hole. A fair quantity of  sealant was lost before the air loss slowed, and then the tyre wouldn't  hold more than 20psi.  The Bontrager product is really well priced and it's one of the longest  lasting sealants—as a result it offers really good value. Go by their  recommended 50-60ml serving size and it'll only cost $2.10 per tyre  but I'd be inclined to use a bit more. Go with 80-100ml per tyre and  there's a better chance it'll be able to plug a larger cut.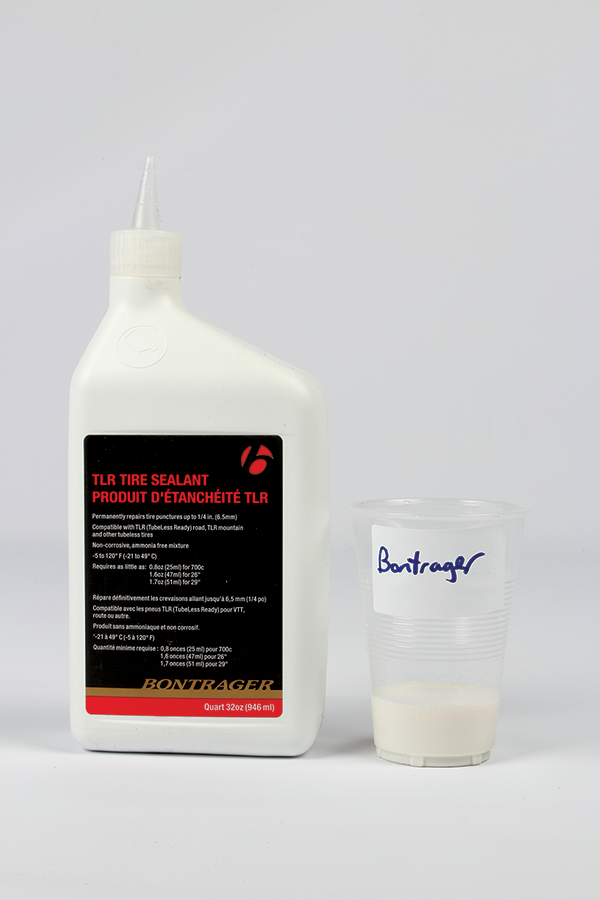 True Blue Puncture Goo
Distributed by: True Blue 1300 258 466 www.truebluegoo.net
Price: $4.40 per 100ml, 250ml - $16, 500ml - $22, 1,000ml - $44
Smaller holes (2.5-4.5mm): 7 stars
Big 6.5mm puncture: 7 stars
Sidewall: 2 stars
Longevity: 3 stars
This Aussie made sealant is quite different to most. Rather than being toxic smelling and latex based, it relies on a pulp-like material suspended in water. As long as you don't let it dry out within your tyre, it's relatively easy to clean up and won't leave your hands covered in a sticky latex mess.
It evaporated at a faster rate than most of the other products on test.
When sealed within a tyre it lost 16% of its volume over a six week period compared with the longer-lasting products which only lost 9%.
The comparatively large 125ml recommended dose means that you won't need to top-up too frequently but you'll also have more weight in your wheels and go through the product faster.
Performance wise the water based product performed very well and even plugged the larger holes without too much trouble. A good locally made option for anyone who's sick of dealing with stinky latex based sealants.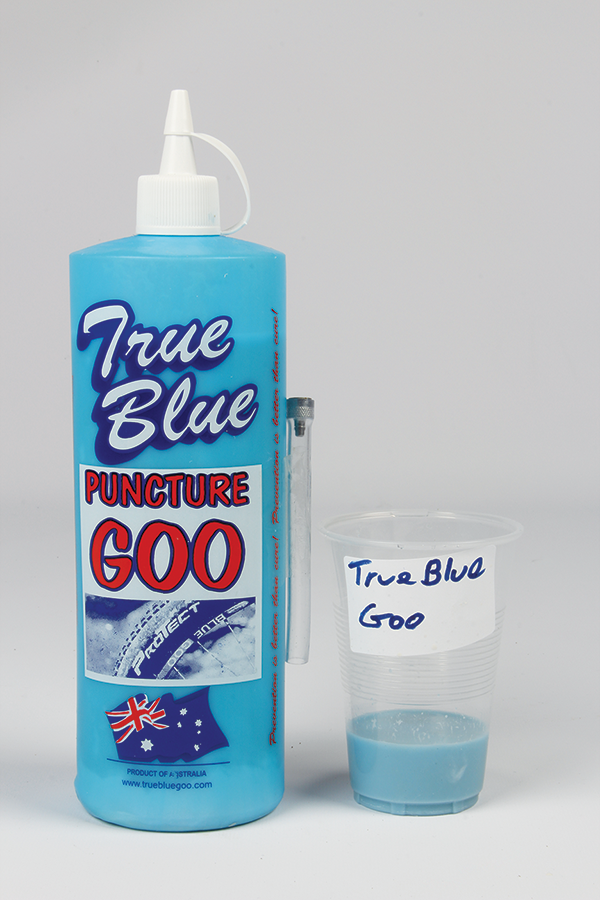 FRM
Distributed by: Carbuta Pty Ltd 0439 902 770 www.frmbike.com
Price: $5.40 per 100ml, 500ml - $27, 1,000ml - $47
Smaller holes (2.5-4.5mm): 6 stars
Big 6.5mm puncture: 2 stars«««««
Sidewall: 3 stars
Longevity: 2 stars
FRM is well known for their lightweight XC race oriented products and they've been offering their sealant for many years now. It's one of the stickiest and most pungent sealants that we've tried. It offered moderate sealing performance on smaller holes but seems to lack the floating particles required to plug larger holes. It was also the fastest drying sealant on test; run the suggested 60ml dose and it'll need regular topping up if you want to maintain puncture protection on the trail. 
The dense latex formula clings all around the tyre casing; this gives it half a chance of sealing smaller sidewall nicks. As it spreads  itself around, it forms a solid rubberised layer that makes the casing reliably airtight— even once sealant has dried it'll still hold air. And once the FRM sealant has plugged a hole, it remains sealed and doesn't open up easily like some of the lower viscosity latex sealants.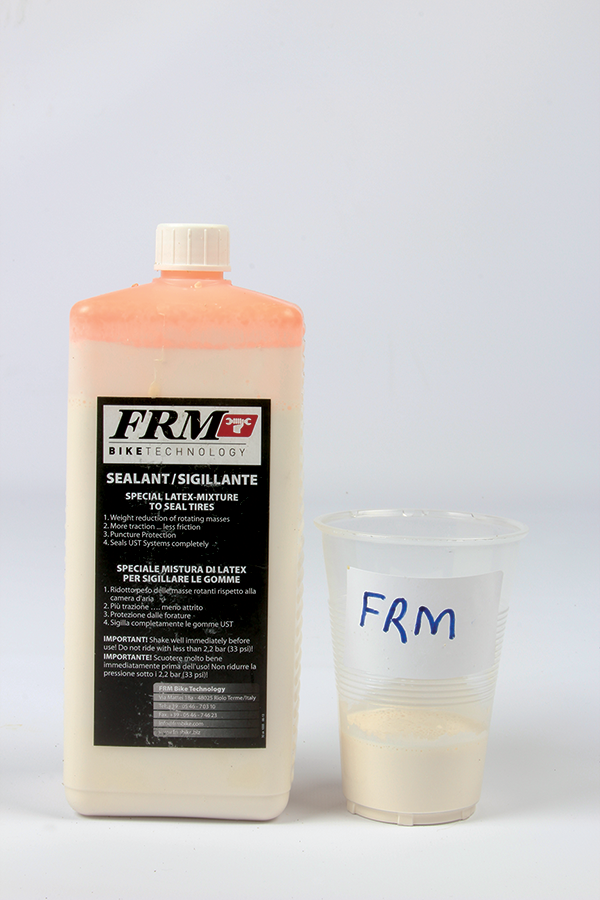 Juice
Distributed by: SCV Imports (02) 4353 2633 www.scvimports.com.au
Price: $5.80 per 100ml, 500ml - $29
Smaller holes (2.5-4.5mm): 6 stars
Big 6.5mm puncture: 5 stars
Sidewall: 3 stars
Longevity: 7 stars
UK designed Juice sealant has a slightly creamy consistency and it really clings inside the tyre. There are both good and bad traits that stem from this. It takes a while to pool in one spot which makes the job of sealing larger holes tough. On the upside, its clingy nature helps it stick to the sidewalls and it is better able to seal small holes in that area.
Juice works moderately well on smaller punctures but larger holes took some effort to seal; I had to stop the wheel and wait for the fluid to run down to the hole. While it wasn't the fastest sealing, it provided a reliably strong fix once a hole was plugged.
Juice smells all right for a latex based sealant and while it takes a while to clean up, it seems less inclined to leave dried up latex residue stuck to the inside of the tyre casing.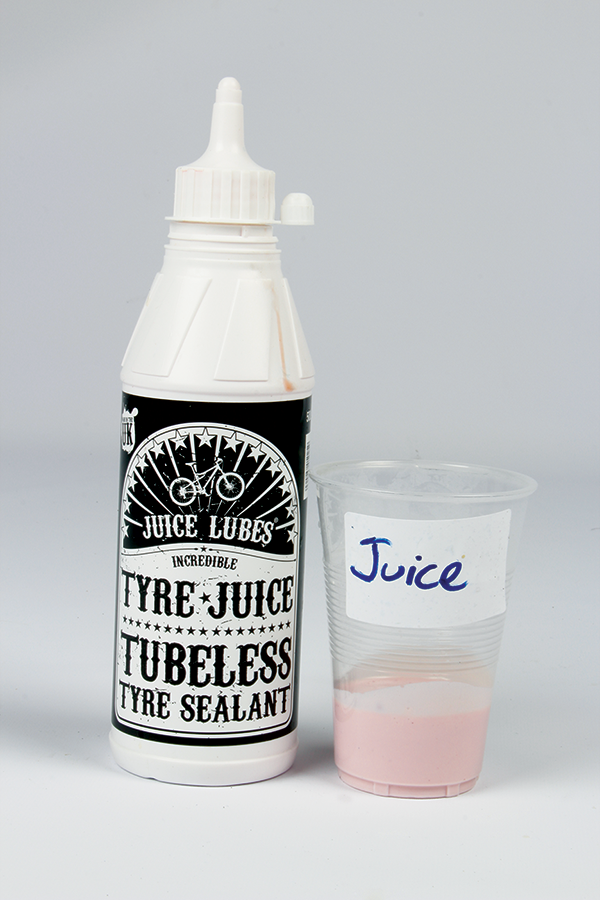 WTB
Distributed by: Dirt Works (02) 9679 8400 www.dirtworks.com.au
Price:$5.80 per 100ml, 500ml - $29
Smaller holes (2.5-4.5mm): 8 stars
Big 6.5mm puncture: 8 stars
Sidewall: 2 stars
Longevity: 4 stars
Well known for their tyres, WTB also makes a sealant. It's thin, latex based and loaded with coarse granular particles that help it seal. It works too, and was amongst the best when it came to sealing punctures within the tread area.
In addition to sealing quickly, it also formed a relatively sturdy plug within the hole. This made for a more reliable seal that was less likely to open as you rode. As for the negatives; it wasn't a long lasting sealant and evaporated fairly quickly. When it did dry, it left a hard to remove mess thanks to the particle heavy mix. We weren't fans of the bottle either; the lid doubles as a handy valve core applicator but it's not removable and the small opening kept clogging with the sealant—in the end we cut it open and transferred the sealant to a wide mouth bottle. 
e-Thirteen Plasma
Distributed by: Dirt Works (02) 9679 8400 www.dirtworks.com.au
Smaller holes (2.5-4.5mm): 9 stars
Big 6.5mm puncture: 9 stars
Sidewall: 2 stars
Longevity: 4 stars
This is a brand-new sealant that's said to use a 'uniquely compounded acrylic resin with self-cross-linking properties'. Whatever it was, the e- Thirteen product was very effective at sealing punctures.
It instantly sealed smaller punctures and the 4.5mm holes were stopped within five seconds. Even the biggest punctures were sealed in 5-10 seconds. While it was right near the top of the ladder in the puncture sealing stakes, it did evaporate relatively quickly in our testing, so you'll need to top it up a little more frequently. When purchased by the litre, Plasma is the most affordable commercially available sealant that we reviewed, so adding a little extra per tyre won't break the bank (it comes out at $2.50 per 100ml).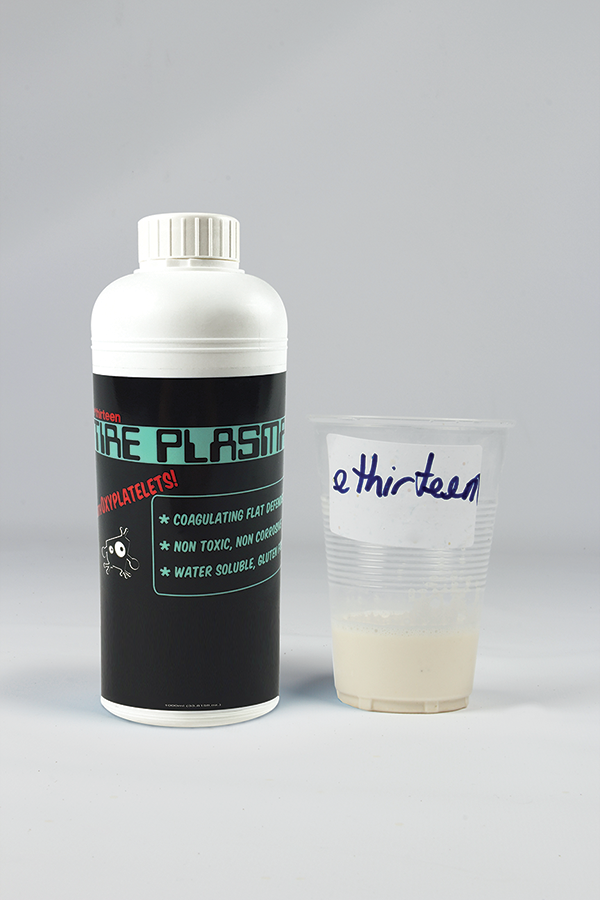 OKO Magic Milk
Distributed by: Cassons (02) 8882 1900 www.oko.com
Price: $6 per 100ml, 250ml - $15
Smaller holes (2.5-4.5mm): 6 stars
Big 6.5mm puncture: 2 stars
Sidewall: 3 stars
Longevity: 7 stars
OKO offers a broad range of sealants and the Magic Milk has been made specifically with tubeless MTB applications in mind. It's based on a synthetic latex formula and features a thicker consistency than most. It's slower running nature coats the inner casing all around and offers some resistance to small sidewall nicks.
It was moderately fast at sealing on the smaller 2.5mm holes but took 15-20 seconds to plug the 4.5mm puncture. It failed to repair the largest 6.5mm hole.
The OKO fluid was long lasting and maintained a similar slightly thick consistency for an extended period. It was also reasonably pleasant smelling for a latex based sealant and comes in a handy bottle with an extendable applicator tube.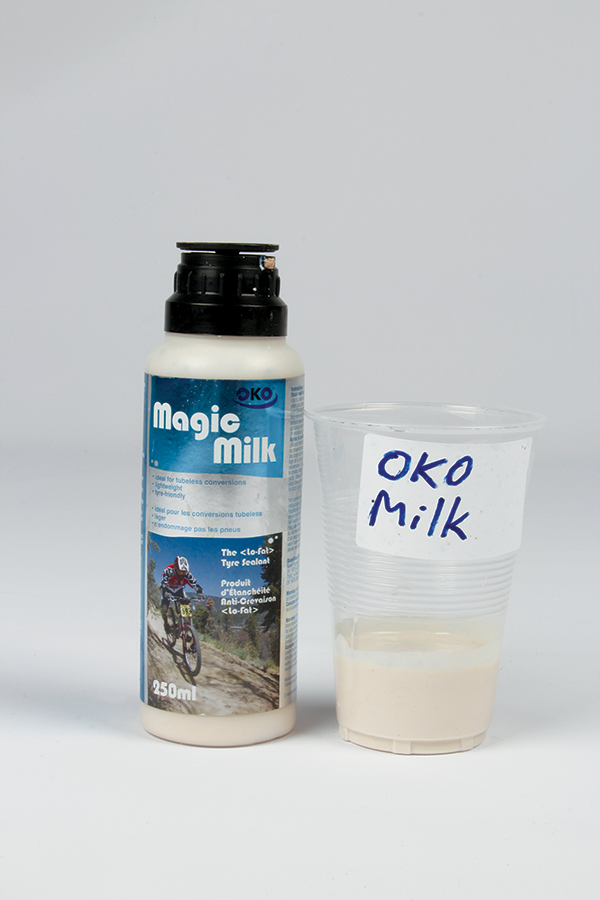 Oz Riders Spex
Distributed by: Southcotts (03) 9580 7388 www.ozriders.com.au
Price: $7 per 100ml, 500ml - $35, 1,000ml - $60, 5,000ml - $227
Smaller holes (2.5-4.5mm): 8 stars
Big 6.5mm puncture: 7 stars
Sidewall: 2 stars
Longevity: 8 stars
As the name suggests, Oz Riders is an Australian made product. It's a thin latex based fluid with suspended particles that it has a strongly pungent smell. In this respect it's not dissimilar to Stan's, Bontrager, WTB and others.
Spex was well above average when it came to fixing small to mid-sized holes and about mid-pack when sealing the largest punctures. It took 20-30 seconds to slow the air loss with the big 6.5mm hole and I needed to stop the wheel and let the sealant pool to fix the puncture entirely.
Once a large hole was sealed, it didn't take long for the particles to form a strong and reliable repair—it was generally less prone to weeping than other low viscosity, fast flowing sealants. Spex was also amongst the longest lasting sealants that we tried, although we'd suggest running more than the recommended 50ml dose for improved sealing ability.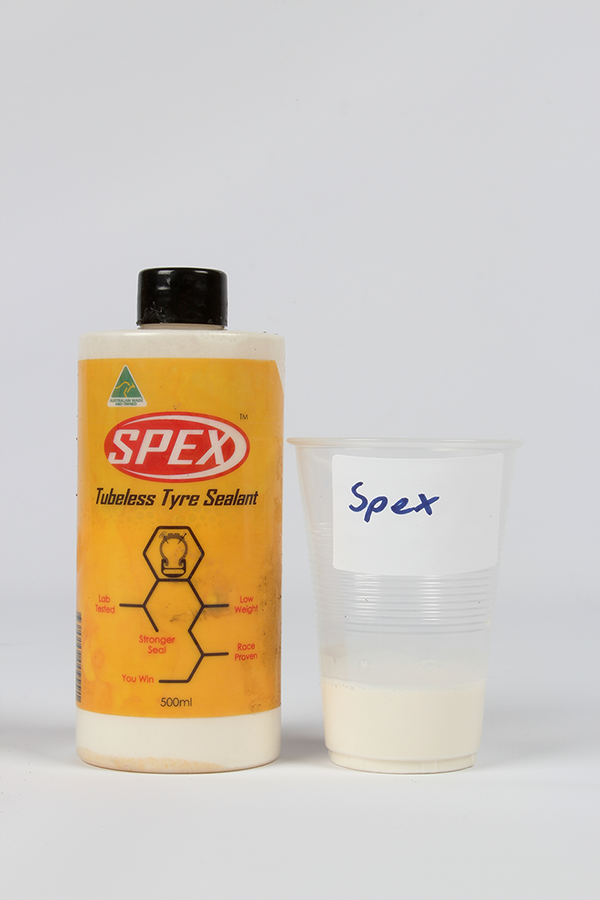 Stan's No Tubes
Distributed by: JetBlack Products (02) 4560 1200 www.jetblackproducts.com  
Price $7.40 per 100ml, 59ml - $7, 473ml - $35, 946ml - $55
Smaller holes (2.5-4.5mm): 9 stars
Big 6.5mm puncture: 9 stars
Sidewall: 2 stars
Longevity: 9 stars
Stan's NoTubes is the brand that really kicked off the sealant based tubeless tyre trend. Over the years the process has gone from a hit-andmiss conversion that was frowned upon by tyre manufacturers, to an entirely mainstream way to go tube-free.
This experience clearly counts for something, as their product was consistently the fastest acting. It sealed most punctures instantly and even the biggest hole was made airtight within 5-10 seconds. It also remained liquid for a long time, so top-ups won't be too frequent.
While large punctures were stopped in a speedy manner, they still tended to open up and weep a little when riding. Air loss was minimal though, which is the important part if you want to complete your ride. The particles that help Stan's seal so well also have a tendency to 'ball up' inside the tyre and like most sealants it's not the nicest smelling. On the whole the criticisms are pretty minor when you consider how well it performs its number one goal—quickly sealing punctures.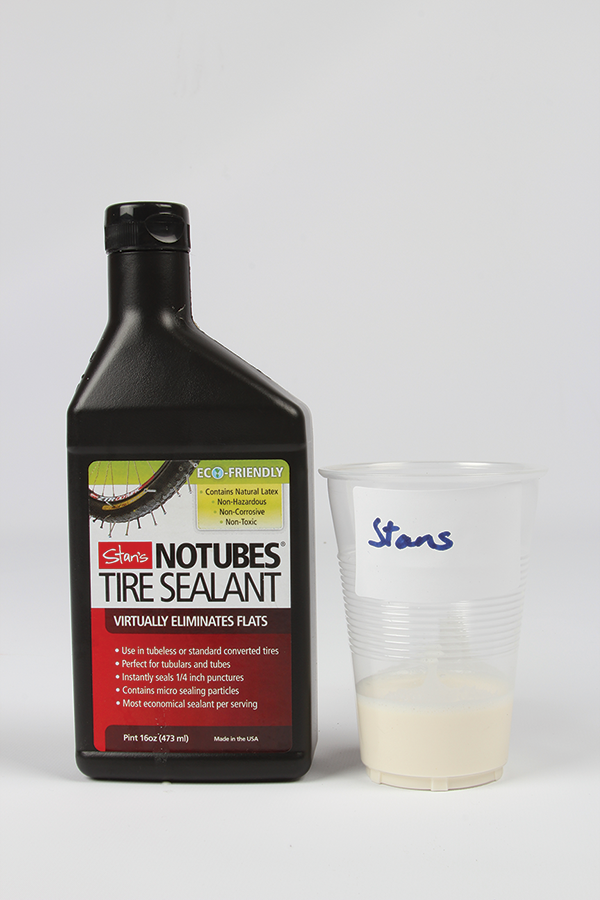 Schwalbe Doc Blue
Distributed by: BikeBox (03) 9555 5800 www.bikebox.com.au
Price: $8 per 100ml, 60ml - $20 (includes a metal presta/schrader valve remover), 500ml - $40 (with extra applicator bottle and valve remover)
Smaller holes (2.5-4.5mm): 9 stars
Big 6.5mm puncture: 9 stars
Sidewall: 2 stars
Longevity: 9 stars
Doc Blue comes in the same bottle as the No Tubes product and the fluid looks identical too, so it shouldn't come as a surprise to find 'Produced by Stan's No Tubes' in small print on the label. This isn't a bad thing as Stan's is a top performing product. There are some points of difference however. Each 500ml bottle is supplied with a 60ml applicator bottle and a presta/schrader valve remover. The valve tool is a high quality metal piece and a real keeper, while the extra bottle is handy for measuring and injecting via the valve stem. These 'extras' add $5 to the cost of a 500ml bottle when compared to the Stan's product, which seems entirely reasonable.
Performance wise, the Blue Doc was pretty much identical to Stan's. It fixed the 2.5mm punctures instantly and the 4.5mm holes were sealed within three to five seconds. The 6.5mm hole was plugged in 5-10 seconds but would open up again if you flexed the tyre casing. It should get you home without stopping but you'll need to patch or repair the tyre if you want a reliable long-term fix.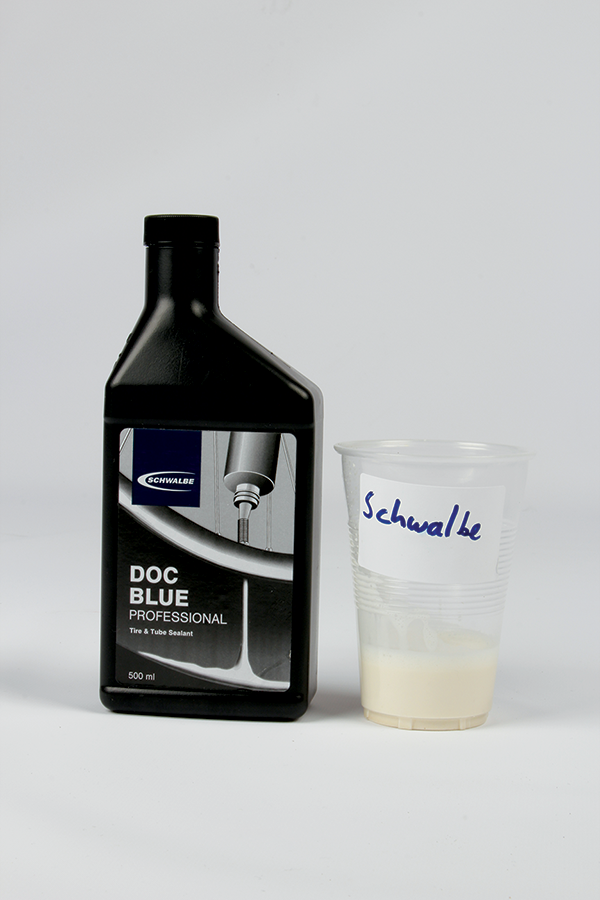 Caffelatex
Distributed by: Echelon Sports (07) 3902 1155 www.echelonsports.com.au
Price: $9.60 per 100ml, 250ml - $24, 1,000ml - $57
Smaller holes (2.5-4.5mm): 7 stars
Big 6.5mm puncture: 2 stars
Sidewall: 6 stars
Longevity: 5 stars
When we last reviewed the CaffeLatex product (2010) it really struggled to fix mid-to-larger size punctures. That has clearly changed and the newer formula does a pretty respectable job. However the standout feature is its foaming properties; once shaken it forms a frothy mist inside the tyre. It was the only product that stood a chance of sealing sidewall punctures whilst you rode. Whilst it's a solid performer on smaller holes, it still battles to fix larger punctures. That's where their 'ZOT' product comes in. It's a catalyst that solidifies the sealant; inject it into a larger hole and it'll plug it up straight way. It was very effective but you'll need to stop to apply the ZOT and hope that you've not lost all the air and sealant before you get there. Combine a bottle of ZOT with their 'Espresso Doppio' (a small $29 canister that's charged with gas and sealant) and you'll be able to perform trail-side tubeless repairs. A bottle of ZOT sells for around $25 and comes with a tiny frame mounting bracket.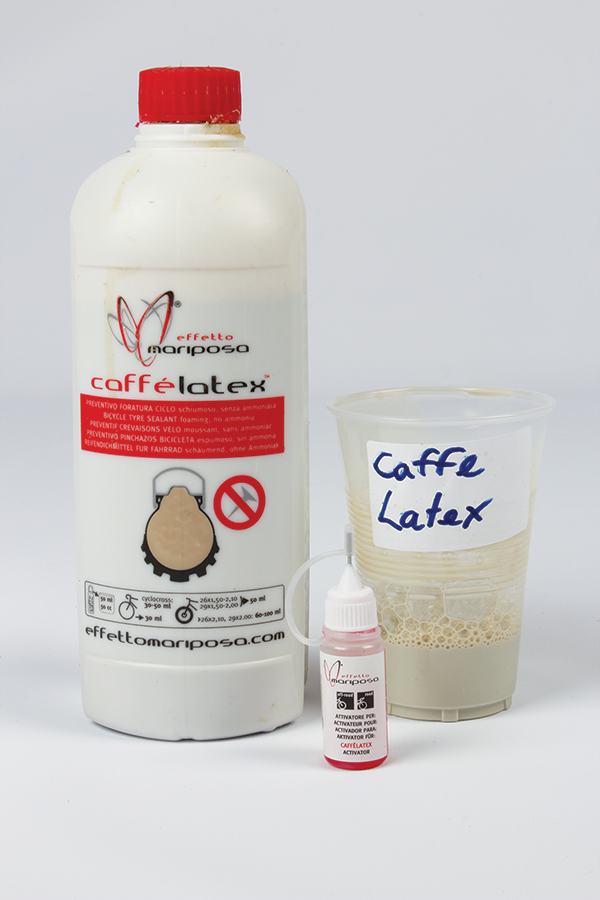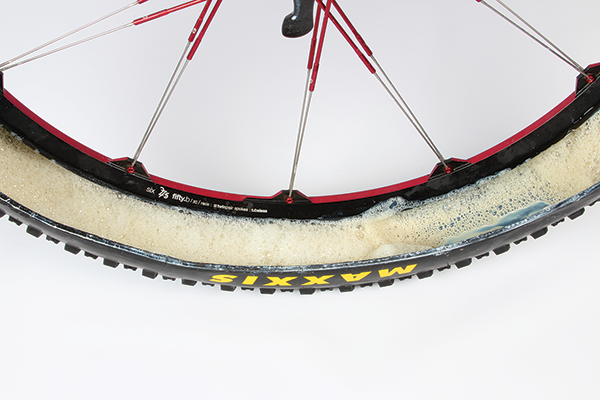 Mavic
Distributed by: Groupe Sportif (03) 8878 1000 www.groupesportif.com
Price: $16.70 per 100ml, 120ml - $20
Smaller holes (2.5-4.5mm): 8 stars
Big 6.5mm puncture: 6 stars
Sidewall: 2 stars
Longevity: 8 stars
Made to complement Mavic's new wheel and tyre systems, their sealant is only offered in a small 120ml bottle—enough to do one or two wheels depending on the serving size. While this may be a convenient, it's not an economical way to buy if you're a frequent user with regular punctures and tyre swaps. Much of the high price is due to the serving size; even the most affordable sealant that we looked at would more than double in cost if we calculated on the smallest quantity.
The Mavic product is thin and flows well around the tyre. It was near instant when sealing 2.5mm holes and plugged the 4.5mm punctures within 5-7 seconds. This out-rates Mavic's claims as they say it'll only seal holes up to 3mm. The large puncture presented a real challenge; it was able to stem the air loss but I had to stop and let the sealant pool over the hole.
The Mavic product scores well in the longevity stakes; once installed, you shouldn't need to top it up too frequently.
Hutchinson Protect Air
Distributed by: Apollo Bicycles (03) 9700 9400 www.apollobikes.com
Price $23.30 per 100ml, 120ml - $28
Smaller holes (2.5-4.5mm): 7 stars
Big 6.5mm puncture: 2 stars
Sidewall: 2 stars
Longevity: 7 stars
Like the Mavic product, Hutchinson only offers their sealant in a small 120ml serve—that's one or two tyre's worth of sealant. At $28 per bottle it's not a cheap way to buy but it's a convenient serving size if you're an infrequent user. Adding to the convenience, the poptop lid features a drip-free opening that seals around the valve stem when injecting the fluid.
Hutchinson says it'll heal 1-2mm holes but our 2.5mm punctures were sealed within six seconds. The 4.5mm hole produces a fair bit of spray but sealed in around 10 seconds. It failed to seal the large 6.5mm holes.
It was above average in its longevity but still tended to thicken a bit faster than some of the other watery latex based products. 
Homebrew
Price: $1.30 per 100ml, 4L - $52
Smaller holes (2.5-4.5mm): 6 stars
Big 6.5mm puncture: 5 stars
Sidewall: 2 stars
Longevity: 4 stars
Backyard scientists have been concocting their own sealants for many years and a quick browse of popular MTB forums will soon
have you overwhelmed with recipe options and a plethora of opinions. We mixed up a simple blend using one part latex mould builder (from a craft shop), three parts window cleaner (to keep the product runny) and a bag of glitter to add sediment for plugging punctures. Once combined with the other ingredients, the $30 one litre tub of latex was enough to make four litres of sealant for $52.
Our blend managed to provide respectable puncture protection. With an 80ml serve it sealed the smaller holes within five to 10 seconds. Bigger holes were also plugged but it took a good deal longer and continued to open up as the tyre casing flexed. It wasn't long lasting but it is cheap if you're a frequent user.
Will your homebrew mix eat your tyres and corrode your expensive wheels? Well it's a possibility. Every sealant manufacturer pitches their product as being safe and non-corrosive but who can say with a homemade blend.