Wheelworks Flite Wheels
A little while back we spoke to Tristan Thomas, the founder of Wheelworks in Wellington New Zealand. Their focus lies with building high-end custom made wheels and they ship their product right across the globe. Tristan has firm engineering based beliefs on how to create the best wheels and the product is backed by a lifetime warranty on the build; break a spoke and they'll fix it up.
Their carbon wheels are even covered against impact damage—smash a rim into a rock and they'll replace it, so long as you're using it for its intended purpose (i.e. don't use their XC wheels for DH racing). It all sounds pretty impressive so we decided to get some wheels built up and put them to the test.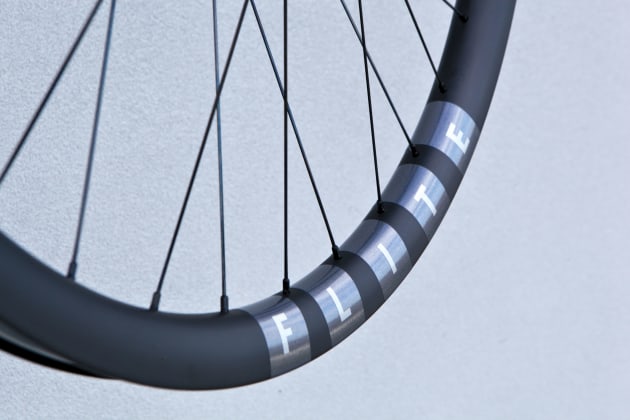 Ordering a wheelset online isn't a foreign concept these days but the process with Wheelworks certainly feels a little more personal than ordering direct from China. Go to the online store and you can browse through the build options; choose your rims, check out the colour options, select the hubs and see how this impacts the price.
Step two involves a discussion with Wheelworks themselves; they'll run through your selections and discuss your trails and riding style to ensure that the build is appropriately matched. These guys all ride and they know the product intimately, which certainly adds reassurance. They'll also work through the finer details that really personalise the wheels; like the graphics which can be had in a huge range of colour options.
You'll spend 10-20 minutes on the phone and leave feeling comfortable that the wheel builder really knows you and your expectations.
If you're a real bike nerd, you'll undoubtedly be impressed by the attention to detail employed throughout the build process. To Wheelworks building is not an art as proposed by many, it's a series of steps and processes; these guys are engineers more than artisans and I certainly appreciate their transparent, no bullshit approach.
Custom tools are employed to ensure consistency at every step in the process. Rather than relying on the stock 2mm increments between spoke lengths, Wheelworks cuts every single spoke to length, accurate to 0.1mm. That may sound like a lot of effort but it provides optimal engagement between the spoke and nipple; this in turn leads to a smoother build with more consistent spoke tension and reduced chance of seized or broken nipples in the long term.
Most impressive of all is their stress relieving machine, otherwise known as 'Grimlock'. With the rim supported on a flat bed, a pneumatic press applies force to the side of the hub. This loads the spokes on one side while allowing the opposite side to unravel. The wheel is then flipped and the spokes on the opposite side are loaded up.
After this torture test, the spoke tensioning continues and the wheel is placed in press again. The process is repeated until the wheel passes through Grimlock without losing tension or going out of true. More force is applied during the build process than you're ever likely to exert when riding, so in theory the wheel will never go out of true in normal use.
Once the wheels are built, photographs are taken and all the build details are stored on a database. If you ever have a problem, they'll quickly be able to track down any relevant information; which batch a rim came from, the spoke length and type, who built the wheels (they currently have two full-time builders on staff) and so on. All up it takes a little over a week from the initial discussion to the large brown box landing on your doorstep.
My Build
Wheelworks offers both alloy and carbon rim options. Currently they're using Race Face alloy rims which come in 30mm and 35mm internal widths; that's nice and wide for better tyre support when running low pressures. Carbon is their flagship offering and that's where they've directed most of their effort.
While they used to build with Derby rims, they recently developed their own carbon rim to bear the Flite name. Like the Derby, the Wheelworks designed Flite is really wide; the 27.5 variant measures 34mm between the bead retaining lips while the 29-inch rims are slightly narrower at 32mm (around 38mm wide externally).
Within these wide carbon moulds there are two layup options; Trail and Enduro. Trail is their regular setup that will suit the majority of riders for anything from XC use through to all-mountain and enduro applications; it's based on a 460g rim (29-inch size). The Enduro version employs a more elastic resin and more material throughout for added impact resistance.
With this each rim cops a 70g weight penalty but apparently they're a lot tougher and fully EWS capable under a really hard-charging rider. Obviously there's some overlap here, as the Trail version is tough enough for gravity enduro use. If you're a bigger rider or just ride fast and hit stuff hard, it's safest to opt for the more resilient Enduro layup.
At the opposite end of the scale, Wheelworks also offers a superlight version of the Flite with a narrower 24mm inner width; they can be built into a feathery 1,472g wheelset.
Whichever rim you opt for, Wheelworks builds their carbon wheels with lightweight semi-bladed DT Swiss Aerolite spokes. These are expensive spokes but they've found them to be the most durable option. As mentioned before, every spoke is custom cut to length for your wheels and each rim and hub is measured individually to account for any minor manufacturing variance.
The alloy rims can also be built with Aerolites (the $1,485 SL build) or with regular DT Competition butted spokes; while they don't offer the same low weight and fatigue life as the Aerolite, they add stiffness to the build. Using regular DT butted spokes also makes the wheels far more affordable; it's called their Apex build and they sell for $1,080.
Many question the need for carbon rims, assuming they're purely a weight weenie extravagance. Well they are lighter; at 572g a piece the alloy rims are between 30 and 112g heavier but the carbon rims are also stiffer. This in turn means you can run the lighter Aerolite spokes without compromise on the carbon wheels. It saves a further 150g a pair, so all up the carbon option is 370g lighter when compared to the Apex level alloy build and weight-for-weight they're said to be tougher too.
While our wheels were destined for a long travel enduro bike (the Norco Range 29er), we opted for the Trail version of the Flite. Out of the box they came pre-wrapped and tubeless ready with alloy valve stems fitted. They tipped the scales at 1,680g for the pair including tape and valves; that's light for a set of wide carbon 29er wheels but not stupidly so.
Of this total the Dial hubs made up 250g for the 148mm XD driver equipped rear hub and 135g for the boost front hub—that's only a few grams more than the DT Swiss 240 hubs but the Dial hubs have 72 engagement points (DT only goes up to 54-points if you upgrade the star ratchet).
First up we were struck by the high and even spoke tension. If you've ever built a wheel with Aerolite spokes, you'll know that they're not the easiest. Their thin and spindly cross-section is prone to winding up and it can be hard to get the tension really high—that's certainly not the case with the Flite wheels.
On the first outing there wasn't any of the usual spoke unwinding noises; they were solid and silent from the outset. We were pretty stoked with the aesthetics too; big carbon rims provide a good-sized canvas for the Wheelworks logos and the ability to pick and choose from over 30 different colour options lets you really personalise the wheels.
We opted for subtle a gunmetal grey to go with the grey on our Norco but they offer anything from Yeti turquoise to metallic and fluoro hues. And if you're wondering what the two white spokes are for, they sit next to the valve and help you to quickly locate the right spot when it comes to tyre inflation.
Initial impressions of the build quality were extremely positive but there were a couple of niggles nonetheless. The supplied rim tape was very thin and only a single wrap was applied with there was lots of air bubbles under the tape. While they inflated easily, it wasn't long before the sealant worked its way under the tape and we wound up with an air leak up front.
We applied a double wrap of eThirteen tape – one that we've had pretty good luck with – and all was well from there. To avoid any mid-ride dramas we also checked the rear wheel and found it was about to meet a similar fate. When quizzed about this, Tristan Thomas at Wheelworks said "We're still playing around with different tapes and different widths to find something we're 100% happy with." It's a minor issue really and something that they'll sort out soon enough.
The other thing that wasn't entirely to my liking was the end-cap setup on the Wheelworks Dial hubs. Rather than sliding over an inner axle or keying mechanically into the bearing like many hubs, the end-caps are held in place a V-shaped rubber seal. Past experience with similar designs (mainly end caps that are secured by O-rings) has shown that this design can be problematic — I've lost end caps from other wheels when removing and refitting them at the trailhead.
In this case, the V-shaped seal does provide a reasonably snug fit and we didn't have them drop out unexpectedly, even with the wheels bouncing around in the back of the car. The only hassle came when mounting the front wheel; the caps tended to dislodge when guiding the hub into the fork and needed realigning before the wheel would slip into place—not a huge inconvenience but something to be aware of.
Why use this design? It keeps the weight down as you only need a preload spacer between the bearings (not a full length axle). It also lets them use larger and more durable bearings without having to run a bigger hub shell. The upshot a lightweight hub that doesn't come with the usual weight weenie compromises.
Beyond that we really don't have any complaints. The rear hub uses six pawls inside and three engage at any given time. It's a solid arrangement and the 72 point uptake is fast enough for any technical riding; it's comparable with a Chris King hub and you're at looking at diminishing returns with anything faster than this.
Of course you can pick the hubs of your choice and Wheelworks list pricing options for DT Swiss (240 and 350), Hope and Chris King on their site. You can also supply them with totally different hub—like the custom graphics, it's all up to you. Our Dial hubs rolled smoothly and reliably throughout the review and they're backed up by a lifetime warranty (the DT, Hope and Chris King builds come with a one year hub warranty).
Three Month Check-Up
After three months on the trail, the spokes remained as taut as the day we received them. When you consider they don't apply any locking compound to the spoke threads, this serves as quite a telling endorsement for their unique build process. Most wheels tend to need a re-tension after a month or so, even when they're built with a locking compound (like DT Proloc nipples for example). Not only was the tension still high, they also remained perfectly true. With the tyre off and the wheel in the truing stand, I could barely see any movement in the rim—solid!
Of course no wheel is indestructible but Wheelworks will look after you if you're unlucky enough to suffer impact damage to a rim. Of late it seems people have been losing faith in carbon rims, with a few high-profile failures at EWS events. Personally I've dented and damaged plenty of alloy rims but encountered very little issues with carbon. Wheelworks have conducted impact testing to look at this issue and found that, for a given weight and width, the carbon rims are far more resilient than alloy. If you really are a rim crusher, opt for the Enduro layup and you should be pretty damn safe.
On the trail, the stiffness of the Flite wheels was noticeable—they lent the bike a very solid and direct feel that added confidence to any directional change. The wide rims also allowed me to run low tyre pressures, which helped greatly with both traction and comfort. Sure, you can get wide alloy rims too, but strong and wide alloy wheels will be up over the 2kg mark for the set, so the weight savings with the Flites are tangible.
They're light, stiff and so far they've proved to be totally reliable. The one-on-one interaction with the builder and the ability to customise the looks certainly adds a personal touch and the no-fuss warranty adds reassurance that your money isn't going to waste. This of course leads us to the obvious question of pricing…
As tested with the Flite Carbon Trail 29er rims, Dial hubs and Aerolite spokes, the wheels will set you back $2,610 and the Enduro version costs $270 more. That pricing means they're around $1,000 less than a set of Enves and approximately $1,000 more than the most affordable carbon wheels.
They're a mid-price offering as far as carbon wheels go but build quality is second to none, and any experienced wheelsmith won't hesitate to tell you that build quality is the key to truly great wheels. Take this into account and I think that Wheelworks has a very desirable offering.