Yeti joins big gun XC ranks with SB100
There's a trend in the air around the boutique bike makers at the moment, and that trend is 'adventure xc'.
Traditional cross country bikes were light and nimble, occasionally flexy and often flighty and nervous, which didn't make them great all-day companions.
However, the pendulum for travel has swung a long way the other way, causing many of us to ask whether we can have too much of a good thing.
If you're bowling around a moderately technical set of trails, chances are that 160mm of rear travel – perhaps even 140mm – is simply overgunning it. And as suspension itself becomes more refined and talented, less is sometimes more.
Yeti will join rivals Intense and Santa Cruz in marketing a 100mm dually that's significantly different from its former offering.
The new 29-inch wheeled SB100 – which replaces the much loved ASR, essentially - is being described by the company as 'a downhiller's cross country bike,' and offers 100mm of the company's unique eccentric pivot-equipped rear travel, a 120mm fork and trail bike-esque geo numbers.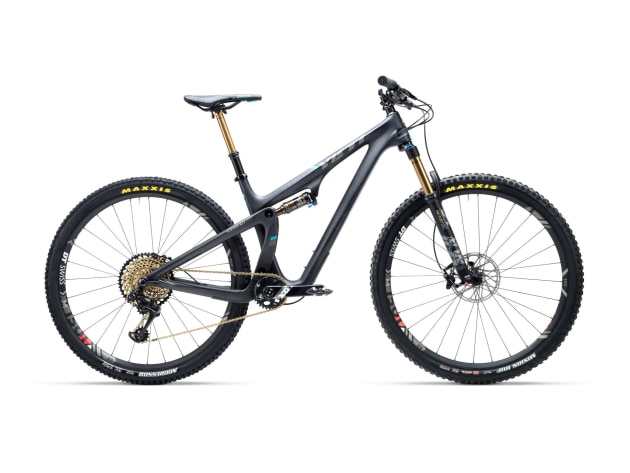 It follows current thinking around frame angles, with an upright 74-degree seat and a laid-out 67.8-degree head angle combined with a rangey top tube and reach, and lots of standover height. It'll take a big bottle in the front triangle, runs a 148 x 12mm rear end and a press-fit bottom bracket, and will come in all sizes from small through to extra large.
At a claimed 2500g for the frame (we're assuming a medium), the SB100 will be pretty easy to build into an all-day trail slayer that will nudge under 11kg… but boy howdy, it'll cost you. Frames start at a tenner under $5000, the cheapest build is the $8590 C arbon Series with GX COMP, and the cheapest complete bike in Yeti's higher Turq spec using SRAM's GX Eagle will cost $9390.
The Carbon Series framesets are built with different layups and end up a fraction heavier than the top-spec Turq stuff.
As shown above in XX1/Turq spec, it'll set you back $11,990.
Bikes are set to arrive in Australia in May, and we've put in a request to give one a bit of Lord Harry, so stay tuned. Check out the deets here.