Jared Graves
As the reigning Enduro World Series Champion, Graves is currently the man to beat—and that doesn't happen very often. Despite the sharp competition at Mt Buller, Graves won five of the six timed stages (he punctured in the sixth stage) and took a comfortable overall win.
When it comes to defending his World Series title for 2015, Graves expects to be riding the 152mm travel Yeti SB6C at most events, but for Buller he was on a SB5C. This is his off-season bike; Graves feels the 127mm platform better suits his home trails in Toowoomba, and he also felt it was the most appropriate choice for Mt Buller. With less travel than the SB6C, it's more agile and fun on tight and twisty trails.
While it's short on travel at the back, Jared chooses to run a 160mm travel Fox 36 fork up front. He started out with the stock 140mm fork but wanted a slacker head angle with a taller front end. Now with the 36 fitted, he's got a 65.8-degree head angle along with the greater steering precision from the bigger fork. Jared also says that he generally prefers a bit of extra travel up front and notes that it lengthens the wheelbase and lifts the bottom bracket a touch; "It gives me all the awesome little things that suit my style better than the stock setup."
As for running such a big fork on a lightweight trail bike (the frame itself is XC weight at just 2,310g), well the axle to crown height of the 160mm Fox 36 is actually less than a 150mm travel Fox 34, so this combination is deemed acceptable by Yeti. Apparently Jared tried this setup first on the SB5 and now all the bosses at Yeti are sporting similar setups. Overall he says it makes the bike more capable on the big stuff without really affecting its efficiency.
Jared likes to shed a few grams wherever possible, and at 12.5kg as pictured his SB is impressively light. However come race season, his mechanic Shaun Hughes has a big say. Shaun acts as his 'voice of reason' and turns him away from any potentially risky component choices. Between them they are a well-oiled team and 2015 looks set to be another big year for the talented Aussie all-rounder.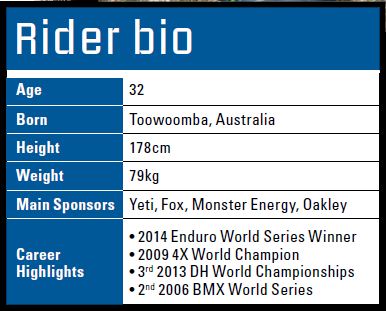 Jerome Clementz
The concept of gravity enduro is simple enough; you head out for a ride with your mates, have a chat as you pedal up the hills, then race your buddies for bragging rights on the descents—it's simple enough and many of us have been doing it for years.
What's relatively new for Aussie riders is the concept of racing this format. While we are steadily getting a handle on it, the French have been racing this format for more than a decade. And the biggest name in enduro racing is (arguably) Jerome Clementz. The diminutive Frenchman has been winning enduro-style events since 2001 and took the title in the inaugural Enduro World Series.
Over the years Jerome has dialled his bike setup for enduro events and it features a few neat custom tweaks. He's also involved in product development for a number of sponsors and his Cannondale was fitted with a number of prototype parts.
At just on 13kg his Jekyll is pretty light for a 160mm bike with a dropper post (especially when you consider he's running 1kg tyres), and this setup is reliable enough to run all year round on any course. The only tweaks come with tyre/wheel selection and chainring size.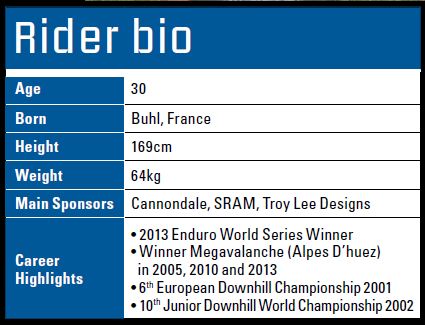 Sam Hill – Nukeproof Mega AM
In the world of mountain biking you'll struggle to find a bigger name than Sam Hill. It may be a few years since he's won a World Championship title but for a few years there he dominated the sport of downhill like no other, winning World Cups by 10 or 15 seconds when there's normally fractions of a second separating the top contenders.
After winning two World Cup events in 2014, Sam's prime focus remains on downhill but he also has plans to compete in some gravity enduro events this year. "We're doing four Enduro World Series events; the first two and the last two. They look like fun events and it'll help with fitness for downhill as well as getting some extra coverage for the team."
Sam also kicked off the year by doing a few National Series XC races. "It's not often that Western Australia gets a national round, so I wanted to go and support it. Besides, it grows old doing the same thing over and over, so it's always good to mix things up. I'm certainly keen to give enduro a good crack at the races that I do."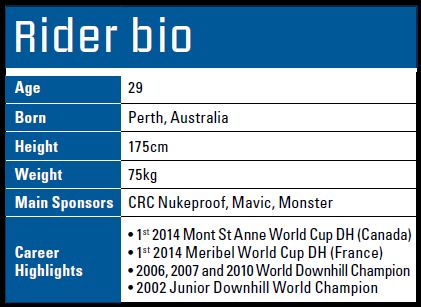 Troy Brosnan – Specialized Enduro
At just 21, Troy already has two World Championship downhill titles to his name and last year he won his first World Cup in the senior ranks—we bet it won't be his last.
This year he will be racing a couple of Enduro World Series events as they are good training for downhill. Troy also mentioned that Specialized wants the downhillers to mix with the enduro guys to help progress that side of the sport.
"I'm somewhat interested in enduro but I wouldn't consider crossing over until much later in my career, but it's good fun and good training." Enduro may just be training for Brosnan but there's no doubt he's got the talent and fitness to perform. He placed second behind Graves at Mt Buller and beat all of the other enduro specialists.