Fat Bikes vs Plus Bikes
I've long been curious about fatbikes and who hasn't really? It's almost comical when you first see a machine fitted with four or five-inch-wide rubber—you can't help but want to ride it.
My first taste of fatbikes came five years ago. I can clearly remember the amazing traction and flotation, as well as the excessive weight and poor handling when thrust into general mountain biking duties.
Fatbike fans constantly tell me that these balloon tyre beasts have evolved since then and now perform well across the board—I'm told they're no longer just for sand and snow riding. You certainly see them popping up in a wide range of situations. I know of people using them as their go-to trail bike and others who race gravity enduro on them, so there seems to be some truth to it (or maybe they're just masochists).
In the meantime we've also seen a whole new breed of mountain bike appear—the 'plus bike'. Plus tyres split the difference between fully fat and your regular MTB widths.
Proper fat bikes are generally accepted as having tyre widths from 3.8 inches and up, although 4.0 to 4.8 is the most common these days. Plus bikes on the other hand are around the 2.8 to 3.0 mark.
So all this got me thinking; which platform is more versatile? The idea of beach riding and off-track adventures seems attractive, but I can't see myself doing it enough to justify the purchase of a fatbike. Maybe a plus bike could handle the occasional beach/snow adventure whilst still offering a fun and engaging ride on the trail—this would make the N+1 purchase far easier to justify. Perhaps my fat loving mates would be right and a modern fatbike would perform so well on the trail that I'd consider using it beyond the niche applications that most people associate them with. And so the experiment began…
We rustled up two bikes that reflect modern thinking for fat and plus design, and then rode them in a wide range of situations; both where you'd expect them to perform as well as beyond their comfort zones to gauge their versatility. We'll start with a detailed rundown on the ins and outs of each platform but feel free to skip to the end if you just want a simple conclusion.
27.5 Plus - Norco Torrent 7.1
When plus wheels and components appeared on the MTB landscape, nobody seemed sure how they were going to fit in. Some manufacturers saw it as an option for the adventuring/touring market while others fitted the larger tyres to dual suspension bikes. However it seems to have gained the strongest presence on rugged hardtails; bikes like the Norco Torrent.
The geometry on the Torrent is clearly aimed at trail riding, with a bias towards confident descending—it's a common theme on many plus hardtails. Plus bikes typically run wider 'boost' spacing on the hubs/drivetrain to gain additional tyre clearance. This in turn allows for really short chainstays as the rear wheel can tuck in closer to the bottom bracket.
Norco varies the chainstay length with the frame size—a concept they call Gravity Tune. It's meant to keep the weight distribution and handling more relatively consistent across all frame sizes. Whichever size you need, the chainstays will be really short; just 425mm on our large bike and as short as 420mm on a small Torrent.
Such a short back end adds agility while the slack 67-degree head angle helps to boost descending confidence. In keeping with modern trends, the front end is quite long; our large has a 442mm reach. Short 55mm stems feature across the board.
These figures accurately reflect modern trail bike geometry and there's no compromise to fit in the wider wheels. The cleverly designed chainstays provide plenty of tyre clearance too, even with 27.5x3.0 tyres.
The frame weighs in at 2,180g; that's a 200-300g more than most alloy hardtails but they're typically designed for XC racing. With a 130mm travel RockShox Yari fork and slack trail geometry, the Torrent is clearly designed to handle far more aggressive use. The same can be said for many other plus hardtails; the Orbea Loki, Merida Big Trail, Specialized Fuse, Trek Stache and more.
Plus Stats
So what about the wheels? The Torrent is fitted out with properly wide plus bike rims. We've seen plus tyre bikes with rims as narrow as 26mm internal, so it's a pleasant surprise to see WTB rims that measure 45mm between the bead hooks. Wide rims create a more stable tyre and allow you to drop the air pressure further—a key component on any fat tyred bike. At 2,400g for the pair, there's a bit of extra heft in the wheels but not massively so when compared to regular hoops at the same quality level.
The 3.0 Schwalbe Nobby Nic tyres were a real surprise. They weighed just 835g a piece; that's lighter than the 2.4 inch wide tyres that I run on my long travel trail bike! Compared to lightweight XC tyres there's around 200-300g an extra per wheel but it's not that heavy when you consider their size.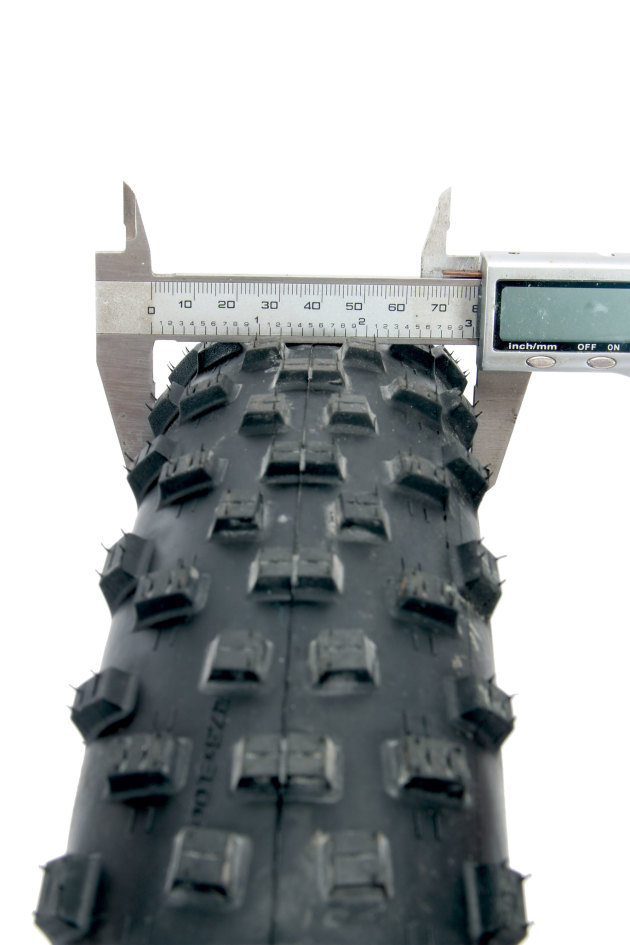 They're certainly a lot bigger than regular MTB tyres and ours measured 77mm across the casing. Most 2.2-2.35 tyres are in the 53 to 60mm range. Even my big volume 2.4 tyres measure in at 65mm when mounted to 35mm wide rims; that's about as wide as you'll get with regular MTB wheels. The plus wheels also stand very tall; the outer diameter is only 5mm less than your average 29er wheel.
All up our Torrent 7.1 weighed 13.46kg; that's straight out of the box with a dropper post and inner tubes still fitted but no pedals.
Plus Meets Dirt
With bang-on trail geometry and not a whole lot of additional rotating mass, the Torrent is a ripper of a bike on the singletrack—to be expected really, as that's what it's really designed for.
We started out running the tyres at 18psi. While that may sound low, it feels rock hard on a plus bike. Even at this pressure, the traction was pretty impressive and they certainly rolled along at speed on harder surfaces.
To unleash its potential we wanted to drop the pressures, but felt it was wise to get rid of the tubes first. This was mainly for pinch flat protection as the conversion didn't drop as much weight as you might think. The plus tubes were only 200g each, which is similar to a regular tube. With a good dose of sealant inside, the weight saving was 100g per wheel.
From there we gradually dropped the pressure until we got to 14psi. For us this was the sweet spot between traction and rolling resistance for regular trail riding. It was possible to go lower but this came with a slight loss in steering precision and pedalling became more of a slog.
While the geometry closely resembled my own trail bike, the handling still took some getting used to, primarily due to the extra traction. Where I was used to some tyre drift when entering a corner, the plus rubber just stuck to the trail like velcro. Once I was familiar with the handling traits, the bike allowed for some impressive cornering speeds. The added rotating mass didn't really hold it back when cornering in the tighter stuff, although the acceleration and agility did seem to be dulled a little when compared to a regular MTB.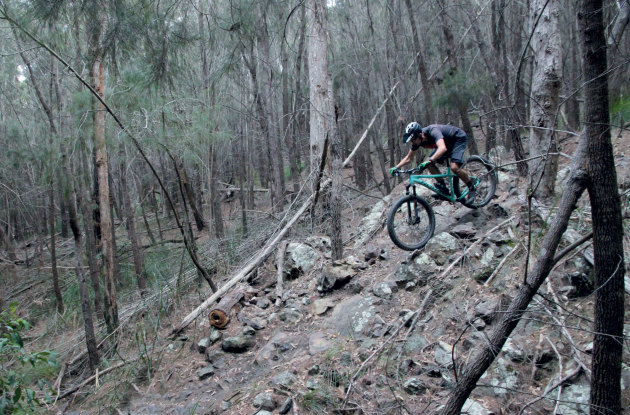 As far as hardtails go, the plus bike was pretty comfortable, but 3.0 inch rubber is no substitute for real suspension on rougher trails. That said, the Yari fork did a great job of maintaining control. With 35mm inner legs and 130mm of travel it was stiff, smoothly damped and felt a lot like a mini Pike (it's clearly more refined than the Bluto fatbike fork). On smoother trails, the added tyre squish will see you keeping up with the fully suspended crowd on the descents. Depending on the style of your local trails, a plus hardtail may be all you need and there's something to be said for the simplicity of a bike like this.
I wouldn't call the Torrent a spritely climber but it's not a sloth either. I was happy enough to pedal the bike up access trails and on the road at a steady pace. The added weight really only becomes apparent when accelerating out of uphill switchbacks. When the trail turns loose and tricky, you'll really appreciate the added traction that comes with running 3.0 tyres at 14psi. It'll clamber up nearly anything and the 28/42 low gear ensures you've got plenty of torque to pull you through.
Many of these new generation plus tyres are impressively light when you consider how wide they are. At 835g including the reinforced 'Snake Skin' sidewalls, the Nobby Nic tyres definitely fall into this camp. The tyre volume promotes confidence and a carefree riding style but they do have their limits, as we managed to puncture a few times when hitting sharp rocks. More robust casing may be needed if you ride hard in rocky terrain but the increased tyre weight will then start to impact on the ride quality. Adding a few hundred grams on any other part of the bike shouldn't be a big deal but our experience is that you can really feel it in the wheels.
Plus Party Over
So the plus tyres and excellent geometry combine to make an enjoyable and capable trail hardtail, but how does it perform if you want to head off-track and get more adventurous?
Let's cut to the chase and say that the plus bike really isn't up to proper sand groping activities. Sure it's great compared to a regular MTB on sandy trails but soft beach sand will quickly stop you in your tracks. It goes well enough on hardpack sand that's down near the water, but so does a regular MTB.
Lowering the tyre pressures to 10psi and below helped a little, but the 3.0 tyre doesn't offer much support at these pressures. It squirmed all over the place and was horrible to pedal once you returned to a harder surface.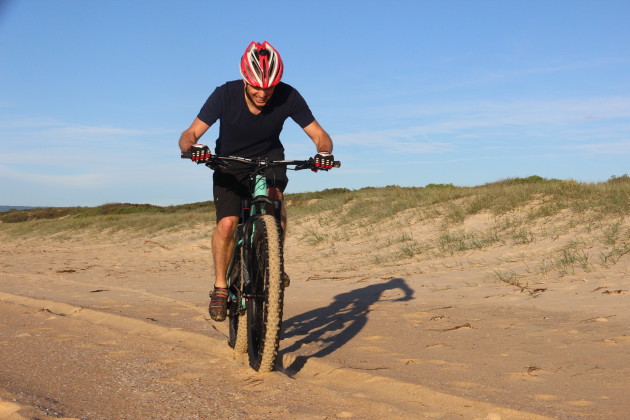 So the capability of a plus bike may end where the trail stops but its versatility extends in an entirely different direction. As the outer diameter of a 27.5 plus wheel is so close to that of a 29er, you can have two wheel sets for the one bike; run the fat rubber for technical trails and lightweight 29er hoops if you're road touring or doing a marathon race. The only thing is you'll probably need to build the spare wheels specifically to suit—don't expect your older XC wheels to fit, as they probably won't have the required 'boost' hub spacing. 
Fully Fat - Salted Popcorn Enduro
When fatbikes first emerged, they were cobbled together using existing MTB parts. You'd see all manner of oddities; offset rear triangles, rear hubs used on the front to gain wider spacing and there was certainly no such thing as a fat suspension fork. Over time the market grew and fatbike specific parts emerged. While there's no one clear cut standard for hubs, bottom brackets and cranks, we do have a few commonly accepted fatbike sizes. Most modern bikes run a 150mm wide front hub with either 177mm or 197x12 on the rear. Bottom brackets can be 100mm or 121mm wide.
These special parts have made it easier for the bike manufacturers to make a fatbike with 'normal' geometry and good tyre clearance. The Aussie designed Salted Popcorn that we rode has 450mm chainstays; not super short by current trail bike standards but not terrible either. Some modern fatbikes have chainstays as short as 440mm whilst still clearing 4.8 or 5.0 tyres (the Trek Farley and Norco Sasquatch for example).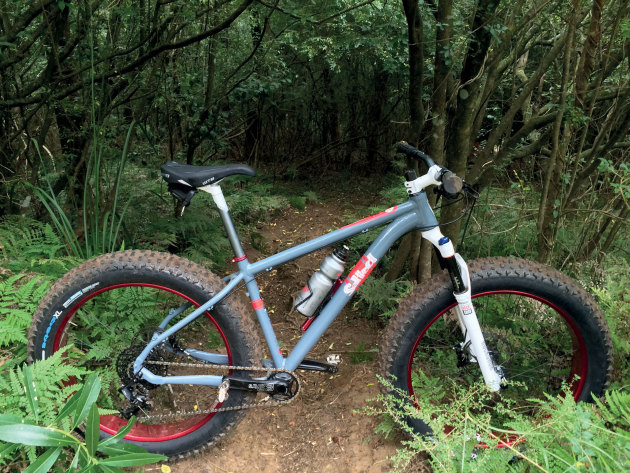 Early fatbikes ran very steep head angles to reduce steering wander at really low speed—like when trudging slowly through deep snow. It also helped to offset the slow handling that came from the really long chainstays. In this case the Popcorn has a 70-degree head angle; again this is fairly normal for a cross-country bike. Our medium frame had a 408mm reach. This isn't new-school 'enduro inspired' geometry, so the bike may feel a little cramped in the cockpit if you choose to fit a really short stem. It worked well with the supplied 70mm stem, although the 710mm wide bars did feel pretty narrow—how times have changed! Overall I'd describe the Popcorn as having middle of the road XC geometry; an impressive achievement when you consider it can run such massive tyres. The strangest thing was the wide pedal stance; the 121mm bottom bracket really pushes the cranks out. Hop straight across from your road bike and you'll think you're astride a Clydesdale, not a mountain bike. Some riders will be more sensitive to this but it's something you do grow accustomed to.
The 2,150g alloy frame is only marginally heavier than a regular XC frame and almost identical to the weight of the Norco Torrent. It's well finished and has a bunch of little extras that make it suitable for adventuring; rack and bag mounts as well as three water bottle mounting points. In stock form the Popcorn is 15.2kg with tubes but no pedals.
Of course it's the wheels where things really deviate from the norm. The Popcorn comes fitted with 26x4.8 Vee Tire Snowshoe tyres mounted to 80mm wide Dice Ollie wheels. Where the plus bike tyres measured 77mm across the casing, the fatbike tyres are 110mm wide; they're truly colossal!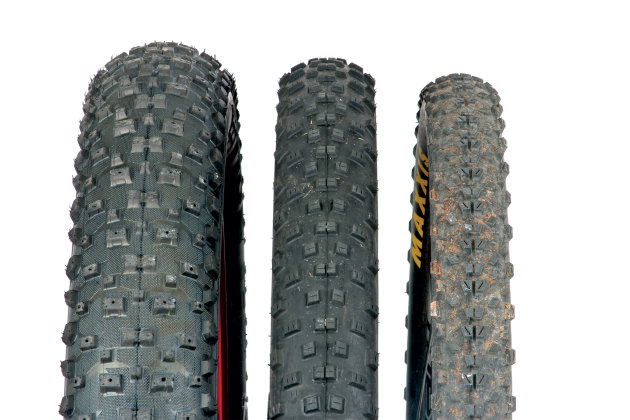 Riding Fully Fat
With its giant rubber doughnuts, the Popcorn was just begging to hit the beach, and where the plus bike floundered, the fatbike simply floated. The tyres feel surprisingly solid at single digit pressures; we started at 6psi and dropped the pressure from there. With this you could comfortably leave the damp beach sand and pedal up through the soft stuff; sand that stopped the plus bike within a few pedal strokes. Riding a fatbike really is a whole different ballgame and its capabilities extend well beyond the sand. The amazing traction will see you clambering up and over rocky headlands—it'll take you much further off track than any plus tyre bike.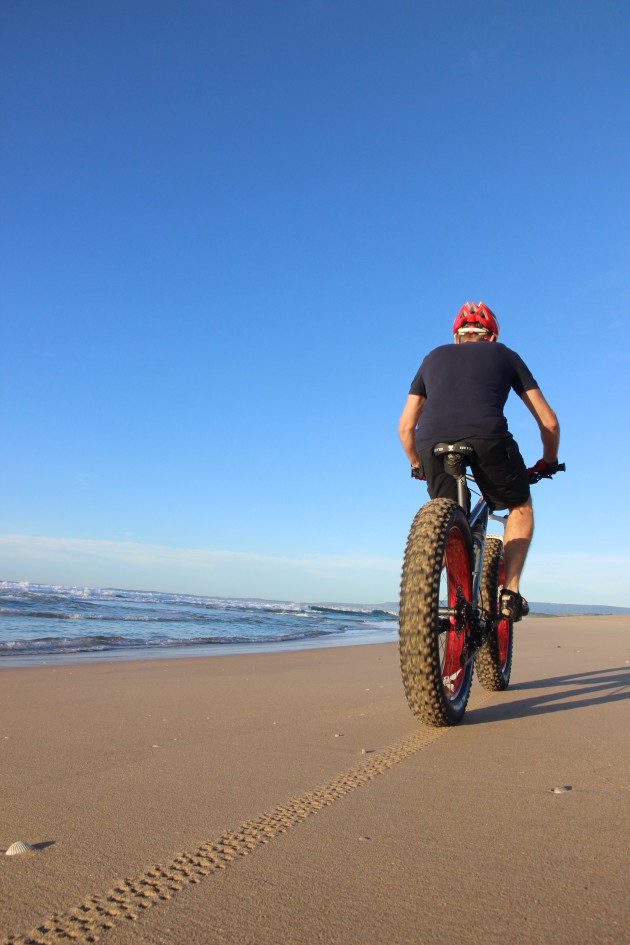 So how did it go as a regular MTB? My usual trail loop starts with a sizeable climb on a mix of dirt and blacktop. I'd increased the tyre pressure to help it roll better but the first steep section was still hard work. While 9psi makes the tyres feel rock hard, I was fighting the combination of wheel weight and rolling resistance with every pedal stroke; it felt like riding a lead bike through wet cement!
Hitting the dirt strangely reduced the rolling resistance but the weight was still extremely obvious. On the descent, the huge tyres did a good job at monster trucking along through the rocks and the straight line braking traction was impressive, but the bike was also quite a handful at times. The heavy wheels stifled any playfulness in the ride and directional change at speed was met with some resistance. Fitting wider bars helped a little and in time I grew more accustomed to the quirks but it still felt awkward to me.
In sharing my experience, I was told by various fatbike aficionados that the inner tubes had to go and I really needed to try some different rubber. As with regular mountain bikes, tyres are made to suit certain conditions and you shouldn't expect a specialist tyre to perform beyond its intended use—the name 'Snowshoe' should lend a hint here!
The stock tyres on the Popcorn are made for snow and other soft conditions like beach riding; situations where flotation and traction are key. They also feature robust casing that's less likely to see you stranded whilst on a backcountry adventure.
Where the 4.8 inch Snowshoes were 1,620g per tyre, some 4.0-inch wide fatbike tyres weigh less than a kilo. Of course the casing will be paper thin, which wouldn't play well with our rocky trails, so I opted for some 26x4.0 Schwalbe Jumbo Jim tyres with the reinforced Snakeskin sidewalls. At 1,167g a piece they lopped off almost a kilo of rotating mass. Even with the tubes still fitted, the change was dramatic. The weight loss was clearly felt but more than anything the Jumbo Jims rolled a whole lot better. Their more rounded profile also made the bike feel less cumbersome when tipping it into a turn.
Next came the swap to tubeless. The stock tubes were 600g a piece; that's as much as a regular cross-country tyre! Even with 200ml of sealant per tyre the conversion saved another 930g. This along with the faster roll of the Jumbo Jim tyres totally transformed the bike's personality on the trail. Climbing was less of a chore and the overall trail riding experience was far more enjoyable. In many ways it was kinda fun, floating down the trail on the big bouncy tyres. Upon returning to the beach, I could sense that I'd lost some flotation without the big 4.8-inch tyres but it was still far better than the plus bike.
So tyre selection can totally transform the ride of a fatbike and small changes in tyre pressure can too. At 12psi fatbike tyres will feel rock solid and roll pretty well on harder surfaces. Drop to 7psi and you'll get far better traction but a slower roll on hardpack trails. Go to 4psi and you'll float over the sand but encounter all manner of handling weirdness as you pedal back from the beach—the steering seems to have a mind of its own on the road at these pressures.
Summing it Up
Plus Bikes: When it comes to sand or snow riding, plus tyres don't offer a dramatic improvement over a regular MTB. Plus bikes are really for trail riding; the combination of super short chainstays and modern trail geometry delivers a confident and super fun ride that doesn't differ hugely from a regular MTB, it's just they provide a noticeable boost in cornering and climbing traction.
With the ability to run regular 29-inch wheels, they also offer great versatility and can transform into an XC/marathon ride for longer distances on less rugged trails. You'll find a growing number of mid-travel dual suspension plus bikes too. They typically share similar no-compromise trail geometry and really stand to elevate the fun factor on rougher trails (sure, there are fully suspended fatbikes too but they tend to be short on travel with more compromised geometry).
From a trail riding perspective, the only real glitch comes with the desire to keep the tyre weight in check. Yes, lighter tyres make the plus bike feel great but it can also make them more puncture prone, especially when ridden hard over rocky terrain—something that plus bikes love to do.


Fatbikes: These beasts are in a whole different league for both traction and flotation and will take you places that other bikes simply can't. You can use them on the trail too, but the bike setup becomes critical if you want it to be an enjoyable experience. Fit slightly narrower and faster rolling rubber (around 4.0 is a good compromise), set it up tubeless and there's no reason why you can't take to the trails on a fatbike. Compared to the plus bike, it won't be as agile in consecutive turns or as comfortable when airborne.
It's also worth noting that some novice riders will really benefit from riding a fatbike. The big tyres don't get stuck on smaller obstacles like diagonal tree roots, so they can really help to provide confidence for riders who struggle with getting the wheels off the ground (plus bikes offer this too but it's not as pronounced).
Fatbikes really excel where there is no track. That's what they were originally designed for and it remains their strength. However modern fat-specific standards have allowed bike designers to normalise their handling somewhat. Pick the right tyres and you can happily take your fatbike to the trails. It'll never be quite as agile as a plus bike when it comes to slicing and dicing singletrack at speed but that won't bother some. As with the plus bikes, tyre selection for rocky trails will always be a balancing act between minimising the weight.
As with plus bikes, an extra wheelset can further expand the versatility. Some fatbike owners choose to build a spare 27.5 plus or 29-inch wheels for regular trail riding. Both of these alternate sizes share a similar outer diameter to a 26x4.4 fatbike wheel; it's a good option if you want have one bike to do it all. Between the tyre choice, air pressures and options for alternate wheel sets, the fatbike platform offers huge versatility.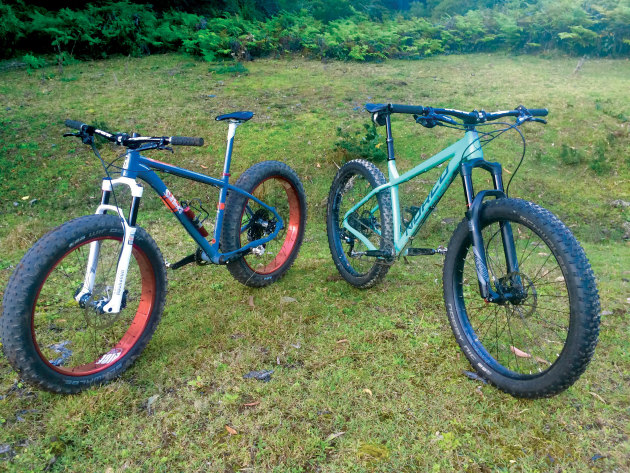 In the end each platform has its merit and they do meet in the middle, as both can perform as a general duty trail bike. If hard charging trail riding is your thing and you've got no desire to hit the beach or snow, plus bikes are a great new option; they provide a real advantage over regular bikes when it comes to traction, and do so with very little compromise.
If you're keen for adventure and don't want to be limited by trails, don't hold back; go fully fat every time. They've come a long way in a very short time and offer more versatility than you may expect.