Merida - Driven by Design
Merida may be a Taiwanese company but their design department is managed by Juergen Falke in Germany. We spoke to him about all things Merida; from new standards to suspension systems and the evolution of MTB design in general.

MBA. What is your role at Merida?
JF. My official title is 'Head of Design' and I'm CEO at the Merida Design Centre. This German based group is in charge of all Merida bike developments; everything from the bike category definitions through to frame designs, component specifications, graphics and even technical marketing advice—from the beginning to the end of the product.
MBA. When did this German design element come into the brand—didn't Merida start out making bikes for other companies?
JF. Merida Industry Company started in 1972 but they were focused on producing bicycles for other brands. It wasn't until 1988 that Merida decided to test the market by placing their own name on a bicycle. The real birth of Merida as we know today was in 2000. That is when they invested significantly in their own brand by setting up the European R&D department, and that's when I started with the company.
Initially I was on my own as a one man show handling everything from children's 16-inch bikes to high-end road and mountain bikes. Now we have 14 people on the development team with experts in each specific field; from engineering though to graphic design and product management.
MBA. Why did they establish the R&D facility on the opposite side of the globe?
JF. The Taiwanese are fantastic Designmanufacturers and they perform at a very high level in this regard. However, they tend to struggle with innovation and coming up with original ideas. Merida relied heavily on requests from the distribution network to shape their products.
With the move towards becoming an autonomous brand, they needed to establish their own identity and develop bikes that were both unique and innovative. The R&D department is based in Magstadt, Germany. It's not far from some big European automotive brands and there's no shortage of highly qualified designers and engineers in this region. Merida now relies on the R&D wing to push their designs forward and ensure they remain relevant and appealing to their key markets.
MBA. What prompted the move away from manufacturing for others?
JF. During the '80s and '90s, Merida  used to manufacture for a large number of external companies with a focus on hardtail mountain bikes—at least five of these companies were big international brands.
The problem came around the millennium when two of the larger companies hit financial struggle. At that point Merida lost 40% of their manufacturing capacity from one day to the next and it wasn't clear if they were going to be paid for a large number of bikes that had already been shipped out—it was a serious problem.
At this moment they recognised the need to become independent from these big buyers. They saw that there's actually less risk in pushing their own brand in a more intense way. That was in 2000-01 and it spurred them on to setup the R&D base in Germany. They were the experts in manufacturing but needed help from the outside for the design side of things.
MBA. Does Merida still build for other brands?
JF. They've completely changed their strategy and now they only build for companies that they have a financial relationship with. Before there had been up to 10 different buyers and at least four of them were major players, so this has been a really big shift in direction for Merida.
MBA. Do all Merida bikes come out of Taiwan or is it just the alloy models?
JF. Merida also has a Chinese manufacturing plant but all the mid-to-high end aluminium frames come out of our factory in Taiwan. Frames with smooth welding or hydroformed tubing and all of the dual suspension models are manufactured in Taiwan. As is the case with most brands, carbon manufacturing is contracted out—they are all made in mainland China by well-known leaders in carbon-manufacturing.
MBA. What do you see as the pros and cons of carbon construction on mountain bike frames?
JF. Carbon has fantastic characteristics in terms of strength, weight, stiffness and fatigue strength but it's quite sensitive to damage if dropped on a sharp edge—something that's relatively common in mountain biking.
If you don't focus on light weight, it's certainly possible to make a durable carbon frame but the resin material remains brittle and susceptible to impact damage. This sort of thing can be repaired but it requires specialist  knowledge. In the same situation aluminium may dent; it won't look nice but it doesn't impact the durability like it can with carbon.
For dual suspension bikes, especially in longer travel applications, I don't see carbon as the preferred solution.
MBA. That being the case, why did you make the new Merida One-Sixty with a carbon main triangle?
JF. Our competitors all have carbon frames in this area and our bikes wouldn't be seen as a serious option for the enduro market if we didn't make it from carbon. The decision was driven by market demand, not because we feel that carbon is a must-have for this category—at an emotional level this is what the market wants.
For 2018 we will also have a more affordable aluminium version of the One-Sixty.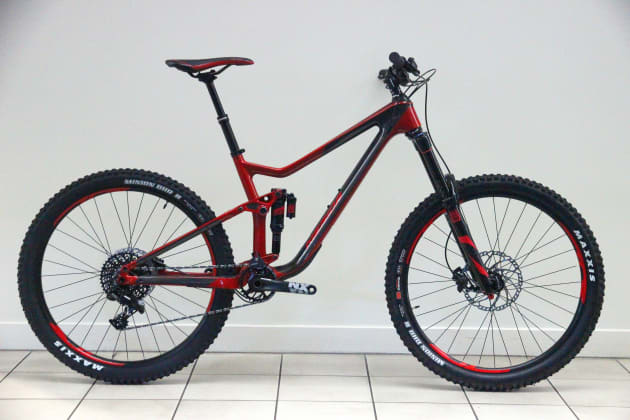 MBA. Do you see carbon becoming a more affordable option in the future?
JF. Not really. The base material is still 90% manufactured in Japan by companies like Toray, Toho and Mitsubishi Fibres. As the Japanese Yen is quite strong, the 59 raw materials are likely to remain expensive for the foreseeable future.
There's also a high demand from other industrial applications such as building aircraft and wind power stations. This demand also serves to keep the pricing high.
Finally, the manual labour is far greater on a carbon frame—this is probably the biggest factor.
At Merida they can make an aluminium frame in less than 35 minutes, that includes all the welding operations, heat treatment and alignment. By comparison a mid-level carbon frame requires at least 10 hours of manual operations.
This aspect has become an even bigger factor as the labour costs have increased in China; they're now five times higher than they were six or seven years ago. With this we we're now seeing a shift towards cost countries like Vietnam and Cambodia. I know of several big American brands that have moved significant parts of their manufacturing to Vietnam. While this doesn't always mean the end product is of lower quality, it is a risk as the process controls need to be very accurate and precise. The Chinese workers are capable of 95% consistency while working six days a week with 14-hour shifts—they are able to maintain concentration for a very long time. If you go to Bangladesh you could potentially save 50% of the labour cost but they simply aren't able to maintain the consistency that's required to manufacture a carbon frame.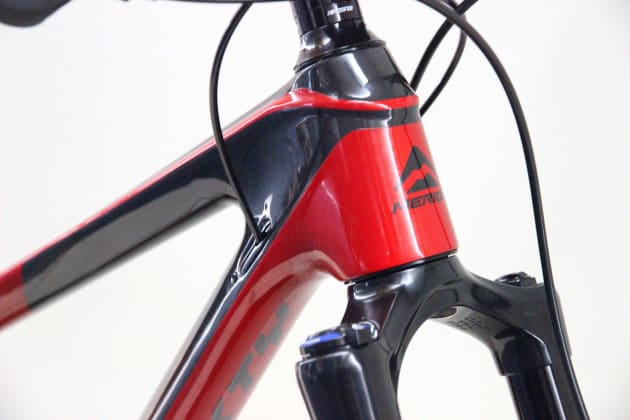 MBA. Looking at frame geometry, the new One-Sixty that gets relatively short 430mm chainstays but the other models are on the long side. The current One-Twenty is 440mm in the 27.5 version and 445mm with 29-inch wheels. The One-Forty is 445mm with 27.5 wheels. Is there reason behind this choice?
JF. If you're talking about traction when climbing and uphill performance, longer chainstays definitely help. If you're after playful handling, short stays are nice to have.
In general we opt for the shortest chainstays that permit good clearance for 2.5 inch wide tyres in muddy conditions whilst still maintaining excellent frame stiffness.
The outgoing VPK suspension system (still found on the One-Forty) was originally designed for 26-inch wheels and the sudden change to 27.5 made it difficult to obtain short chainstays with that design. Our newer Float Link allows us to have short stays where required whilst still being able to obtain the desired suspension kinematics.
We could have obtained even shorter stays by using the Horst Link suspension format but that would impinge on the close relationship that we hold with Specialized. It isn't a patent issue and legally there wouldn't have been anything preventing us using it but Taiwanese management implored that we don't use the Horst Link.
Obviously the topic of frame geometry is a complex one that extends well beyond just looking at the wheelbase and chainstay lengths. When creating the next generation of a platform like the One-Sixty, our product group starts out by buying the best performing competitors' models and rides them intensively. The goal is then to equal or better the performance.
MBA. How do you arrive upon a particular suspension platform when designing a bike?
JF. In determining the suspension kinematics, we cooperate with external companies that specialise in suspension evaluation—these are companies that do kinematic analytics the whole year round on a daily basis. In Germany we have a number of companies that specialise in this area.
As a customer we provide them with our guidelines on what we want to achieve and the key parameters that are most important to us. From this we get a 3D of the pivot positions and weld up a basic prototype. The product designers take this to Fox and RockShox to get the proper shock setup and then take it riding somewhere like Finale Ligure. If the rideable prototype performs as intended, they'll go to the real tubing and open the tooling for the production level frame.
MBA. All of your newer suspension models are moving away from the short-link VPK system, why is that—what is it that the single pivot with a floating lower shock mount does better?
JF. The biggest thing for us was gaining more tyre clearance. In the beginning we used an X-stay brace on the VPK design but this presented real tyre clearance troubles, even though the chainstays weren't super short. Later on we moved to a single sided support on the VPK swing arm to gain some added clearance but that had a negative impact on the rear frame stiffness.
The newer Float Link lets us have clearance for up to 2.5 inch wide tyres on the One-Sixty with 430mm chainstays and still provides the desired suspension kinematic.
MBA. What are your thoughts on some of the more recent wheel size developments including 27.5 plus bikes and longer travel 29ers?
JF. We have already been looking into this and we considered the development of a plus tyre dual suspension bike when we were developing the new One-Sixty. Most of the feedback on plus tyre hardtails was quite positive but this wasn't the case for dual suspension bikes with 120mm of travel or more. We feel that plus tyres are good for novice riders, as they're more forgiving of poor line selection. However more experienced riders found the additional undamped air volume of the fat tyre made them less precise and it was harder to pick a line as a result.
With 29ers that have 140mm of travel or more, it's not just a case of finding the physical space for the wheels. The problem comes with the wider and more durable tyres that people demand for aggressive riding and gravity enduro racing. These tyres are getting super heavy and in 29-inch format they're heavier again. This weight is even more noticeable on a larger diameter wheel, so this can really detract from the ride quality. We feel that 120-130mm of travel is the upper limit of where 29-inch wheels are desirable and above that we feel that 27.5 x 2.5 is a big enough tyre for bikes with 140mm of travel and up.
MBA. Do you think the new 'boost' hub standards are a good thing?
JF. Everything new from us will employ boost. It provides more tyre clearance whilst maintaining sufficient cross section down on the right hand chainstay; an area where space is really limited.
MBA. SRAM is saying that the front derailleur is dead—do you agree?
JF. It depends on the application. I have a Ninety Six which is 1x11 but I'm always finding myself a gear short at one end of the range or the other. The new 1x12 Eagle really surprised me; I think it's the first one-by system that gives you no reason to complain as it gives you everything. You get all the simplicity and more space up at the cockpit whilst having a really satisfying gear range. However I doubt they will be able to get the pricing down to a mid-range price level, which is what's required to make it truly successful on a broader scale.
MBA. Merida has long promoted itself through XC racing and making lightweight race oriented hardtails and short travel bikes. Isn't this a narrow market to sell to when compared to the broader recreational trail market?
JF. Everything is open for reconsideration on this front. Jose Hermeda is retiring from racing at the end of this year and Gunn Rita Dahle is in the last period of her career. With the current financial trouble at Volkswagen, they are reconsidering all of their sponsor investments, so this aspect of our marketing may be scaled back in the future. Our XC hardtails are certainly popular but we don't know how much this is reliant on our sponsorship of the world cup race team.
There is a push for us to get involved in the enduro racing scene but this is very specific for certain markets. Of the 88 Merida distributors around the globe, there's a maximum of five that actually have a significant enduro market.
On the dual suspension front our biggest sales are in the One Twenty series, which doesn't match with any sort of racing category. We know that our long term support of XC racing may be nearing the end, and we're aware that we need to promote our bikes to the biggest categories but it's not simple to market to people who aren't interested in any sort of racing.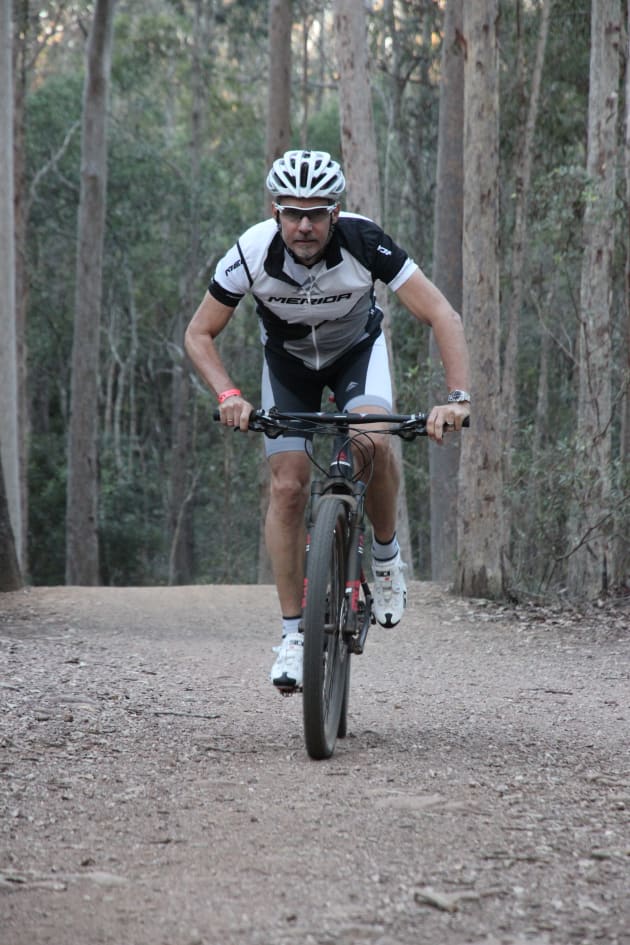 MBA. What do you ride?
JF. I'm riding a Ninety Six Team, the full carbon XC racing full suspension bike but my favourite bike at the moment is the One Twenty 29er. I've been riding a top level alloy One Twenty 9.900 with a Reverb Stealth dropper post and it's a fantastic bike.
MBA. What's your favourite riding area?
JF. I really love Lake Garda in northern Italy. It's not too far to travel – roughly 600km from home – so it's even possible to go there for a long weekend. I usually spend two or three weeks per year there so it feels a little like home to me.