The Brains Behind Norco Bikes

MBA. What does your role as senior design engineer involve?
OP. I'm the resident geometry and suspension geek and responsible for the design of the majority of Norco's full suspension mountain bike platforms.
MBA. Run us through the design steps on a new model like the Optic.
OP. The decision to move forward with a new platform, or a re-design of a current one for that matter, is always a group decision. With completely new additions to the line-up, the initial idea may come from an individual, from a clear market need or a request from one of our distributors.
In any case the idea is then pitched to our product managers and designers to determine the best use of our resources. Once the decision has been made to proceed, the scope of the job is then fully defined, and once the project scope is defined the actual design work can begin.
The design of a Norco bike always begins with the frame geometry; if it is a full suspension bike this falls under my responsibilities. Once I have the geometry figured out, I will begin the suspension kinematic design. With the geometry and suspension completed the 3D design can begin, at this point the project might be handed off to a colleague to complete but more often than not I see the project through to completion myself.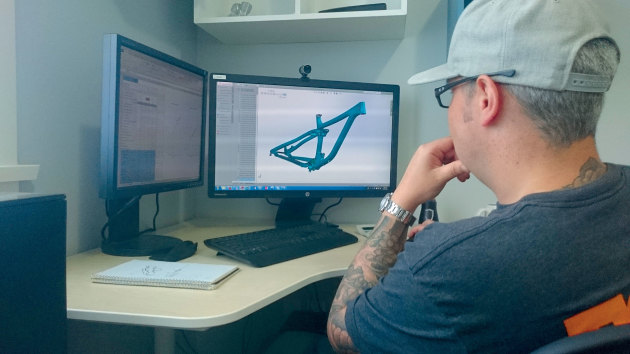 MBA. How long would this process usually take?
OP. The development of a new platform can take anywhere from 10-24 months. That's taking it from an idea to a bike on the shop floor. The actual time spent varies depending on the complexity of the project and the amount of development work that's required. In the case of the Optic, we started development process two years ago.
MBA. Your ART suspension is based on the Horst Link design, but we see quite a bit of variation on how this is executed on different models. Bikes like the Sight and Range for example, employ a distinctly rearward axle path in the early travel with lots of chain growth and high levels of anti-squat—they are very different to most other Horst Link bikes. The Revolver and Optic however are more in line with what we expect from a typical Horst Link system. Why have you changed the ART suspension on these newer models and will we see these tweaks filter through to your longer travel models in the future
OP. This is all part of the individual design process that we go through. We look at the intended use for each new model and closely consider how and where the bikes are being used.
When developing the current Sight and Range, we looked at how bikes in their travel categories were being ridden. From this we found that these bikes were generally being ridden up smoother climbs and down rougher descents—this was especially the case with the 160mm travel Range. As a result, they can handle a design with more anti-squat. This fights against the suspension movement when you've got a lot of torque going through the drivetrain, so they tend to be less active when climbing. These bikes also have a more rearward axle path, which helps the suspension performance when descending and hitting square edge bumps.
When looking at how the shorter travel bikes get ridden, the obvious difference is that they are subjected to more on-the-trail climbs; climbs that feature obstacles such as roots and rocks. We wanted the suspension on the Optic and Revolver to remain more active when climbing, so there's less anti-squat built into those suspension designs. They can get away with this because they have less travel, so there is less to control if you will.
Suspension design is all about balancing multiple attributes to produce a final package that works for each bike's intended use.
MBA. We're seeing more and more brands making their frames longer at the front and fitting shorter stems. The Sight and Range are both quite roomy at the front but the Optic is even longer. What are the pros and cons of this 'new school' geometry?
OP. If executed correctly there really are no cons, in my eyes, to the so called 'modern geometry'. It's not just about longer reaches and shorter stems though; the head tube angle, seat tube angle, front centre/rear centre balance and bottom bracket height all play a role. Getting the right combination of these is critical to ensuring the bike handles well.
MBA. Modern frame geometry, dropper posts, carbon fibre, big wheels; what would you rate as the five biggest innovations in mountain biking in recent years?
OP. The dropper post. Now that product is a true game changer for every rider on the planet!
Other than that, I think a lot of the things you mention have provided great improvements but depending on where you live, how you ride and what you ride, they may have more or less importance to you as a rider.
It's hard to pick out five true innovations. In recent years there have been lots of small, incremental improvements that mean the overall product has been improved hugely. 
MBA. Do you think the move towards wider rims is a good thing or is a 22-24mm inner rim width optimal for regular MTB tyres?
OP. I have experimented with this a bit of late and currently my preferred set-up is a 28-30mm inner rim width coupled with a 2.35-inch tyre.
MBA. What about gearboxes; any thoughts as to whether these are likely to gain traction and replace the derailleur based drivetrain?
OP. It is doubtful but we can only hope that someone, one day, will make it work.
MBA. We've already got electronically activated gear shifting but to what extent do you see electronics entering into MTB suspension?
OP. I feel the majority of current suspension designs would see some benefit from an electronically controlled suspension system. It could also allow us to design bikes that rely less on chain tension for pedal efficiency which in turn could yield an increase in suspension efficiency. 
MBA. Between all the new wheel sizes and axle sizes, we've seen a rash of new 'standards' in recent years. Do you think we're likely to see this settle down any time soon?
OP. I sure hope so. I think as an industry we could do a better job at talking to each other when these 'standards' are being developed. On the other hand though, we are all looking to design better bikes and if there is a tangible benefit to be had, then I am all for new developments. 
MBA. Are there any 'innovations' that you wished hadn't been forced upon the world of mountain biking?
OP. Yes, but I would rather refrain from saying which.
MBA. From a bike and product design perspective, do you have any predictions on the next stage in MTB evolution?
OP. I don't really want to give away any of the exciting things we are working on. But I will say bikes will get better.
MBA. With Norco, Kona, Devinci and others, we've seen a real resurgence in Canadian designed brands in recent years. Any theories on what's behind this?
OP. I'm not sure… The influence of British designers perhaps? (Ed. Owen was originally from Coventry in the UK and moved to Canada around seven years ago).
MBA. What's your favourite bike; how is your number one personal ride built up?
OP. My current go to bike is an Optic 29er with a Fox 34 up front and a Float DPS Evol out back. I'm using Canadian designed Nobl Carbon rims (30mm inner) laced to their Onyx hubs. Tyres are 2.35 Schwalbe Magic Mary up front with a 2.35 Nobby Nic on the rear. The bike is fitted out with SRAM XX1, RaceFace Next SL carbon cranks, a RaceFace cockpit and SRAM Guide RSC brakes.
It's nice and light (around 11.8kg) but with the burly rubber it can handle pretty much anything.