After 8 days of brutal stage racing, Team Shimano Aus's Brendan Johnston and Cameron Ivory finished an admirable 24th in a world-class Men's Classification, the highest position from a team involving Aussie riders since 2015.
For Brendan and Cameron, it was a big learning curve in the toughest mountain bike stage race on the planet. "You need to know how hard it actually is to know how big the climbs are and how tough the stages are so you can prepare for it. We will definitely put this one down to experience and know what you are in for next time," said Brendan.
"The first stage I said was one of the hardest marathon one day rides I have ever done. To back up for eight days in a row, such epic days, it is pretty hard. When you are lacking a bit of form in the legs like I was over here, it makes it a tough week both physically and mentally. If you are just off the pace it is pretty brutal out there," said Cameron.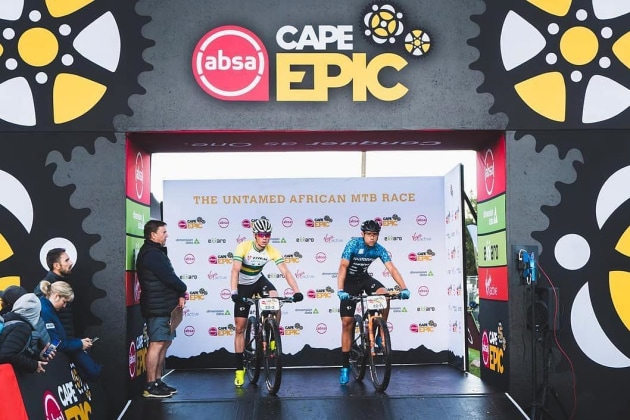 Image: @cam_ivory
In the Mixed Classification, Team Ani-Mal was made up of Anita Narula and Malcolm Lyndsay, but sadly Anita had to ride the final two days solo with Mal suffering from a stomach bug, forced to watch from the sidelines as Anita did the team proud.
"That was a great stage but doing it solo for the last two days was mentally challenging and without Mal it was very emotional. I tried to share as much as I could, to dig in deep and go as hard as I can on each stage. It is a little bitter sweet, but this is mountain bike riding and you have to take the good with the bad and with Mal having an upset tummy I just had to finish for him."
In the Masters, Linc'n'Lister's Lincoln Carolan and Peter Lister finished 16th overall. They've ridden a few big events together, including The Pioneer in New Zealand. They rode the Cape for the A21 team that raises awareness and tries to halt human trafficking and slavery and they were emotional at the finish line.
"That is awesome, that is one tough week, but we stuck in there, ground it out and made it. Team racing is the best kind, to do it with the best mate together and get through it all together is amazing," said Lincoln.
"This is the Tour de France of Mountain biking, if you get the chance you have to do it no matter how much it costs or how hard it is to get here, it is the chance of a lifetime. My wife Lara was here helping all the way and family and friends back home on facebook, they have been all over us all week on social media pumping us up, they have been amazing."
"The A21 crew in South Africa have been amazing for us, we are a long way from home, and they have helped with accommodation, food and gifts and encouragement along the way. They were strangers before this but are huge friends now. It was a great cause a great week and a great community to be doing it in."
Pointy End
At the head of the field, SCOTT-SRAM's Lars Forster and Nino Schurter comfortably won the General Classification. On the last stage from South Africa's trail mekka Stellenbosch to Val de Vie, the European champion and the world champion managed to get through the remaining 70km and 1,800m of vertical ascent without any problems. Coming in in 14th today, Forster and Schurter simply kept an eye on securing the overall, staying close to their main rivals. 

"This year's Cape Epic once again prooved to be the most brutal race in the world. I'm super proud of my entire team, including all staff members and the support crew. Without their efforts night and day during that week, it would have not been possible for us to perform at our best and to finally win it", Nino Schurter said in the finish area at the Val de Vie estate.
"I'm exhausted but really happy that I could secure my second Cape Epic title. Lars Forster was super strong this week, without him it would not have been realistic to go for the overall win. His strong efforts were crucial especially in the middle of the week when things looked not so good for us. We turned things around together with the help of our back-up team, Andri Frischknecht and Gert Heyns. Their great performance can't be rated high enough too."
Image: Shaun Roy/Cape Epic, Gustav Klotz
Team-mate Forster was equally elated. "Today was again another tough day. I suffered and had to fight hard, as I was really at my limit. I started strong at the first stages but I lost my energy towards the end. We had a fantastic week, though, and we pinned it. Despite the mechanicals we faced, the entire week felt like we rode in a flow. I believe we truly earned this victory."
Team manager Thomas Frischknecht added, "This week was anything else than just only a walk into the park. I'm super stoked on how well the two Champions Lars Forster and Nino Schurter did this past week, bringing the overall home and finally win the Cape Epic. I'm extremely proud of the entire team."
The Epic Series next rolls into Newcastle for the Port to Port from 23-26 May.