Big Wheels Destined DH Racing
Big wheels have long been popular in shorter travel applications and amongst XC riders. Over time we've seen steady advances on the longer travel front with 29-inch wheels appearing on many trail and all-mountain bikes. To begin with the frame geometry was often compromised to shoehorn the big wheels in; long chainstays were the norm and steep head angles were employed to speed the steering up.
In the last year or so, a number of brands have figured out how to shoehorn the taller wheels in without the long chainstays, no doubt helped along the way by certain new standards like 'boost'. Now we have a number of 150-160mm travel 29ers on the market with slack angles (65-66 degrees) and short 430-435mm chainstays. They are commonplace on the gravity enduro scene and bikes like the new Norco Range feel surprisingly normal despite the combination of wheel size and travel. 
With this progression, it was only a matter of time before the next step was taken; that is the leap from gravity endure to full-on downhill racing. Rumour and speculation has been building in the lead-up to the 2017 World Cup season and a little while back we saw a leak from Fox Mechanic Kolja Schmitt, showing a 29er version of the Fox 40.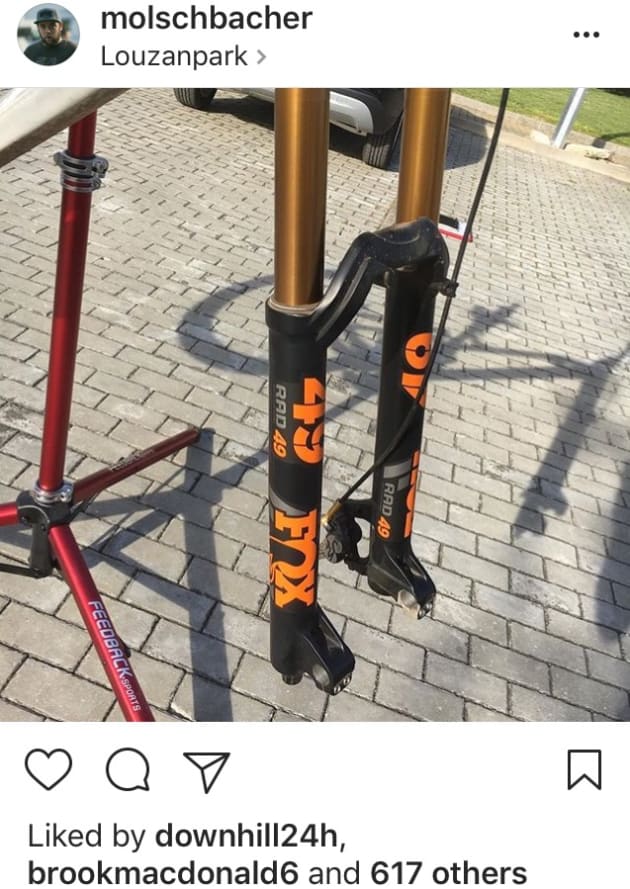 So we knew something was coming but who was building the bike to match this fork? Well Santa Cruz Bicycles is the first to formally announce their intentions, stating that their Syndicate team will be racing the opening round of the World Cup season on a modified version of their V10 DH bike. Greg Minnaar, Luca Shaw and Loris Vergier will all be riding this bike at Lourdes on April 30. These rigs will have between 190 and 210mm of travel (depending on the rider height) and be based around the current V10 carbon frame with a modified rear end and linkage. 
We also expect to see a 29er version of the Trek Session and possibly big-wheeled bikes from Mondraker and Intense too but time will tell. In the meantime, here's an insight on the move as provided by Santa Cruz Bicycles:


Santa Cruz says...
It's true. There's a 29er V10, and the Syndicate will be racing it this weekend at Lourdes. Although the move to 29-inch wheels has been riling comments sections and forums for months, the writing's on the wall. Tracks are faster, times are tighter, and eking another second out of a 4-minute track can be the difference between a World Cup win and missing the podium entirely. Keeping the Syndicate in the hunt every season takes a ton of time and energy, but downhill racing is not only the most exciting racing going, it's also where new products and technology are tested to their limit.
It comes as no surprise that Greg Minnaar was the driving force behind this project. "I raced the Hightower at the Enduro World Series in Finale Ligure, Italy, last October, and it just held so much speed," explains Greg. "That's when I knew we had to come back to the 29er V10 idea."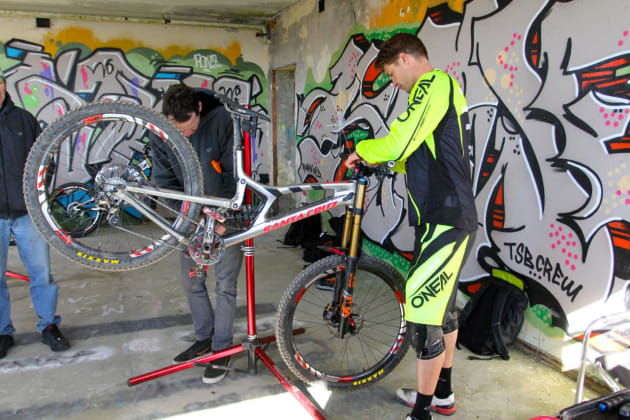 Jason Marsh, Greg's mechanic, points out that, "We'd looked at doing a 29er V10 a few years ago, but the fork options available at the time wouldn't stand up to World Cup racing. Greg's experience in Finale got the project off the shelf and back into development. FOX gave us a critical piece of the puzzle when they delivered a prototype 40 for us to test on a modified Hightower. Our first test session aboard that Hightower showed consistently faster times on the bigger wheels, we all decided we had to go for it. Then the real work began. We machined a few different sets of links, welded up three aluminum swingarms, and did more testing. As the riders got on terms with the new bikes, they got even faster. We played with linkages and shocks to achieve different angles, travel, and leverage ratios until Greg felt happy with setting everything in stone."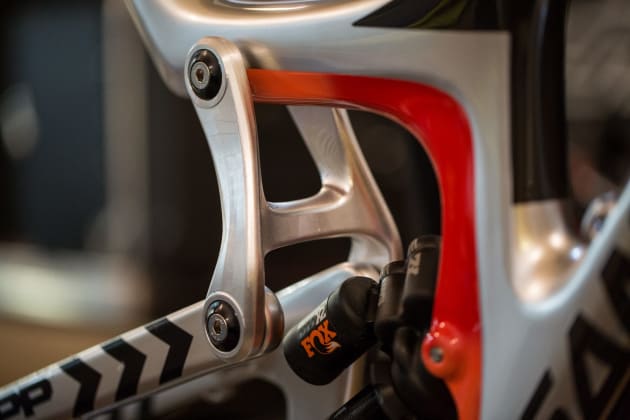 But ideas don't get set in stone around here. They get set in carbon. And in order to race a carbon bike at Lourdes, we needed to start manufacturing by mid-January. Nick Anderson, our head engineer, finished the design in early January and sent it to our carbon factory to get the tooling machined. "We're fortunate enough to co-own our own carbon manufacturing facility in China, which gives us bandwidth to indulge in this kind of project," Nick says, "I don't think it would have been possible without this kind of partnership."
"While the manufacturing was spinning up, we sat down with the Syndicate partners to make sure we could get the bits we needed by late March or early April." says Nick. "Fox had race-ready forks in the pipeline, and ENVE was on board to build some 29-inch M90s. Maxxis delivered bigger versions of the Syndicate's preferred tires, and Chris King's Buzzworks group whipped up some custom headsets to bring the geometry in line. It sounds simple enough, but the reality was anything but. The upshot is that, thanks to everyone's ability to move quickly on product development, we were able to go from frame concept to race-ready bike over just a couple months, with a few weeks left over for final testing." In one particular case, a technological leap by one manufacturer forced a quick counter by another. Fox altered the brake mount location on the 40's lowers to accommodate 'Boost' flange spacing, which meant a standard 20x110mm DH hub wouldn't work—Chris King machined a one-off design they call ISO-AB (Asymmetric Boost) to get everything in sync.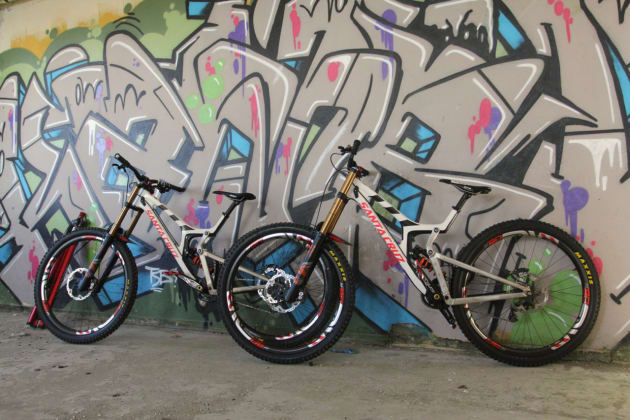 Although it seems like the new race bike is a radical departure, the intent is the same as it ever was. Every iteration of the V10 was built to be faster than the one that came before, and the results began to speak for themselves during testing, to the disbelief of one of the new recruits.
"Greg practically forced me to try the bike" reveals Loris Vergier. "I tried it once in testing, but went straight back to my original 27.5 inch bike because that's what felt fastest across the length of the test track. But Greg insisted I give the 29er another shot. So I did, and I felt like it was still slower. The clocks don't lie though, and I was consistently posting quicker times on the new bike compared to the old—and this was on my local track! That's when I realized the new bike was deceptively quick."
In contrast, Luca Shaw took straight to it. "Psychologically I think it really helped that the bike already looked refined, straight off the bat" says Luca. "The swingarm and links are custom, and they're mated to a production V10 front triangle. Loris and I are riding bikes with 190mm of travel, and Greg's got 210 because the XXL frame has more room."
While the guys were testing, Nick was working through the final pieces of the puzzle. "We needed to sit the bike into the travel to compensate for the BB height change created by the larger wheel diameter, and the guys at Chris King were able to make us a Buzzworks headset that then corrected the resulting change to the head angle" he says, "We also had to reduce the travel to maintain tire clearance at bottom out, which then meant we had to change the shock rate progression to maintain good suspension feel. The leverage curve is similar to the existing V10, but the leverage ratios have been modified slightly." Expect links and headsets to change over the course of the season as the riders keep working toward their ideal setups.