Intense switches to online sales

Renowned US brand Intense Cycles has moved its retail model online, some 18 month after setting up a direct-supply link with key Australian dealers.
Previous importers Monza relinquished distribution rights in July 2016, with the company setting up direct trading facilities with several dealers including Pushys in Canberra and ForTheRiders in Brisbane.
Even though the US site has gone live with complete bikes being offered for sale at prices that are up to 20 per cent lower than previous RRPs, Australians will have to wait until early 2018, according to Intense's Australian market manager, Andrew Threlfall.
"While the consumer side of the website will not be shipping bikes until sometime in the new year, we are striving to finalise the dealer aspect of the program ASAP so that there is complete clarity and confidence for the dealers moving forward," he told MBA.
Bikes will be stored and dispatched from Sydney, and Andrew says that all current dealers have been retained in the program.
"We are working with them to integrate the new online sales strategy into the established and successful dealers in Australia," he said.
MBA understands that online retail sales into Australia will kick off early in 2018.
Intense makes its carbon frames in China, while its alloy frame production has been moved from its Temecula, California office to Taiwan.
A search of key retailers in Australia reveals Intense 2017-spec bikes being discounted - in some cases by up to 25 per cent - across various outlets.
"Our goal with the program is to support Intense dealers with more sales through the online purchasing habits, while still offering an extremely competitive and profitable wholesale option for Intense dealers being able to facilitate customer enquiries and purchase in store," said Andrew.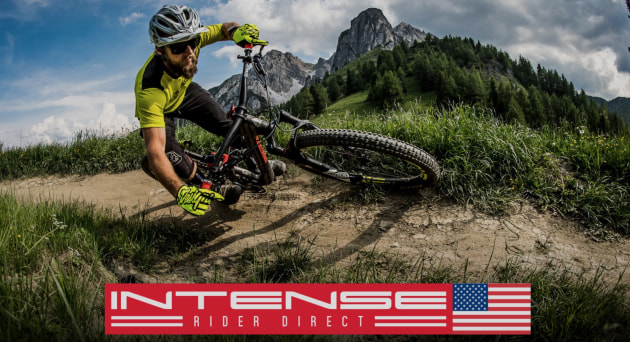 "Our bikes are the best they've ever been," said Intense founder Jeff Steber in a statement. "But the high pricing was keeping them out of reach for a large majority of riders. We felt like we needed to find a way to bring the prices down so that more riders could experience our bikes first-hand."
The brand will - eventually - sell bikes like the Carbine and Tracer through a localised version of the global website, and will sell boxed bikes to consumers in a "95 per cent finished" state. An Australian-based customer support office will also be set up to service direct sales issues.
Online-only bike brands like German brand Canyon and Indonesian company Polygon have been available in Australia for some time now, and it's possible to order boutique frames and bikes directly from smaller builders in the US and Europe. However, Intense - which competes with brands like Santa Cruz and Yeti - is the first of the more 'mainstream boutique' brands to go down the path of direct sales to consumers.
The news comes in a soft retail year for mountain bikes sales locally and in the US, where brands like Trek and Giant are dabbling with the direct sales model.
"The bike industry has changed," said Intense's US-based CEO Andrew Herrick in a statement, "and the way we shop has changed. This new program is our plan to bridge the gap that can sometimes separate great riders from great bikes, and make it easier for riders everywhere to own a world-class bike brand like Intense."