Maydena Bike Park - Plans Revealed
Late last year we announced that trail building company Dirt Art had plans to create a massive bike park in the Derwent Valley, a bit over an hour west of Hobart. Well the project has progressed and we now have a clearer picture of how Maydena Bike Park will develop.
At least initially, the focus for Maydena will be on gravity riding – and there's good reason for this. The trails will branch out the Eagles Eyrie – the building at the summit which sits up at 1,106m above sea level. From there they'll drop all the way down to 270m at the planned 'bike hub' in Old Maydena Primary School. That gives them a vertical elevation loss of over 800 metres, which is absolutely huge!
To put this in perspective, Thredbo offers 560m of elevation loss from the top of the Kosciuszko Express chairlift and even Queenstown's world renowned bike park only has 425m of vertical from top to bottom.
With a hill of this size, it only makes sense to create a gravity oriented bike park. So what will the trails be like? Dirt Art plans include descending flow trails that are around 16km long as well as 20km long all-mountain style descents. There will be 8-10km long jump trails too. For those who are a little jaded with the flow-style trails that we see so much of in modern bike parks, Maydena will also be some steep, raw and ragged trails that despatch the 800m of vertical in 6-8km.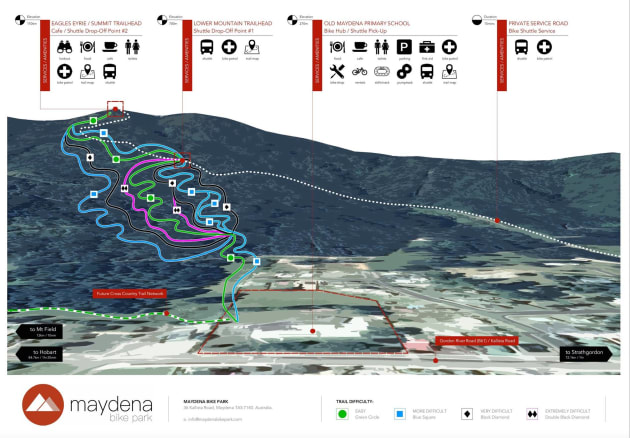 What's the dirt like? Well it really depends on the elevation and location; you'll find rocky and clay-based soils at the summit and loamy limestone-based soils down at lower elevations. Most descents are expected to take around half an hour for an experienced rider.
So how will you get to the top? There's no chair lift at Maydena, so a commercial shuttle service will be employed and you'll be able to purchase single-day or multi-day shuttle tickets (ticket pricing will be released in coming months). Due to the limitations imposed by the lease, Maydena Bike Park can't allow public access up the shuttle road. In any case, there's limited parking and turning room at the summit, so private vehicle shuttles would lead to congestion in the area.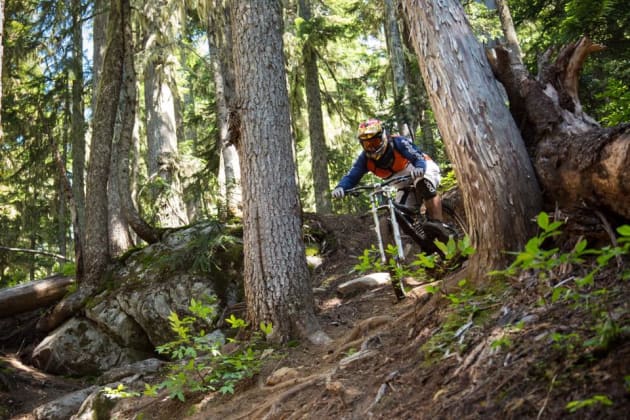 If you prefer to earn your turns, there will be a dedicated climbing trail that takes you part-way up the gravity trail network. In reality, climbing halfway up this hill will be more than enough for most, so there should be plenty on offer for those who object to paying for shuttles. Further down the track, Dirt Art also has plans for a separate large scale XC trail network in the area.
To accompany the trails, there are also plans for a range of other services; a café, beer garden, bike shop, hire services and so on. While Maydena Bike Park is very much a work in progress, Dirt Art hopes to have it open by summer 2018.
We'll certainly keep you posted about this project but you can also go to Maydena Bike Park for more information — we're more than a little bit excited!