Nino Schurter and Lars Forster win 2019 Cape Epic Openers
The Cape Epic, widely regarded as the 'Tour de France of Mountain Biking', started with a bang for Nino Schurter and Lars Forster, with the Swiss duo taking out Sunday's Prologue and Monday's Stage 1.
The Scott-SRAM MTB-Racing pair won the 111km Stage 1 of the 2019 Absa Cape Epic in the Yellow Jersey after the current World and European champions already won the Prologue on Sunday and finished Monday in a time of 04:24:04 to extend their overnight lead to 3:33 over the German-Brazilian combo of Manuel Fumic and Henrique Avancini from Cannondale Factory Racing, who finished second in Hermanus. 
Image: Gustav Klotz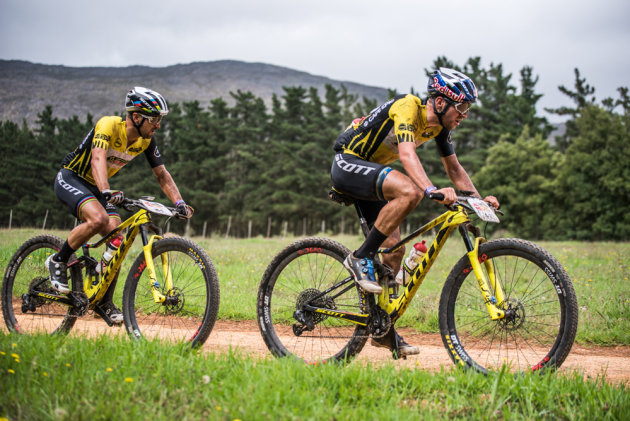 The longer Stage 1 went, the smaller the leading group became. After two thirds of racing, the Specialized team faced technical issues, so it was down to SCOTT-SRAM and the Cannondale team to fight it out for the stage win. On the final long climb, first Lars Forster then Nino Schurter attacked hard to get away. Over the last 20km they established a 3-min lead over the Cannondale team, and so the second day went to the team in the Yellow Jersey.
Image: Gustav Klotz
Speaking after the day's racing, Olympic and 7-time World Champion Schurter said, "The team again worked great! Lars Forster is the best addition to the team we could ask for. He's super strong, both physically and mentally. I'm optimistic that we can keep up the super positive vibes throughout the week and hopefully stay strong."
Team-mate Forster was also thrilled with the day's exertions. "It's my first Cape Epic experience and I'm starting to like it! It's great to have such an experienced teammate like Nino. Stage racing is obviously not the same as XC, but It's great experiencing new things and I'm super grateful to do so in a team with such good vibes."
Tuesday's Stage 2 will be a 90km ride from Hermanus High School Oak Valley Estate east of Cape Town.
Stage Results
1. Scott-SRAM MTB-Racing 4-1 Nino Schurter (Switzerland) 4-2 Lars Forster (Switzerland) 00:43,41,5
2. Cannondale Factory Racing 3-1 Manuel Fumic (Germany) 3-2 Henrique Avancini (Brazil) 00:44,22,6 +1.00,0
3. KROSS-SPUR 14-1 Sergio Mantecon Gutierrez (Spain) 14-2 Ondřej Cink (Czech Republic) 00:44,34,2 +1.00,0
4. 7C CBZ WILIER 25-1 Louis Meija (Colombia) 25-2 Johnny Cattaneo (Italy) 00:44,48,8 +1.00,0
5. SpecializedFoundationNAD 13-1 Alan Hatherly (South Africa) 13-2 Matthew Beers (South Africa) 00:45,04,0 +2.00,0
6. Canyon 5-1 Kristian Hynek (Czech Republic) 5-2 Petter Fagerhaug (Norway) 00:45,26,0 +2.00,0
7. 7C CBZ WILIER 2 32-1 Tony Longo (Italy) 32-2 Gregory Brenes (Costa Rica) 00:45,29,7 +2.00,0
8. InvestecsongoSpecialized 1-1 Jaroslav Kulhavy (Czech Republic) 1-2 Sam Gaze (New Zealand) 00:45,32,3 +2.00,0
9. CST Sandd 19-1 Sebastian Fini (Denmark) 19-2 Martins Blums (Latvia) 00:45,46,8 +2.00,0
10. Centurion Vaude 9-1 Daniel Geismayr (Austria) 9-2 Jochen Kaess (Germany) 00:45,51,3 +2.00,0
Format
The Absa Cape Epic must be completed by both members of a two-person team with only 650 teams allowed to ride the race. The route changes every year, leading aspiring amateur and professional mountain bikers from around the world through roughly 700 untamed kilometres of unspoilt scenery and 15,000m of accumulated climbing.