#OutsideisFree………….#Again
Images: Josh Firth
Social media is a group of programs that enable participation in social networking, creation or sharing of information, ideas, career interests and other forms of expression via virtual communities and networks. It has become a way to interact and communicate with our world, even a way to earn an income and make a living for some. Hash tagging in a social media sense is a type of metadata tag used on social networks. It lets users easily post and find messages with specific themes or content.
Outside is free. These three fairly simple words form one such hash tag that has, at last count, been added to 4.6 million posts on social media. 4.6 million...that is a lot of posts. For some of these posts it is more than likely that the tag 'outside is free' was chosen because a lot of other people have used this tag too. After all, 4.6 million posts can't be wrong.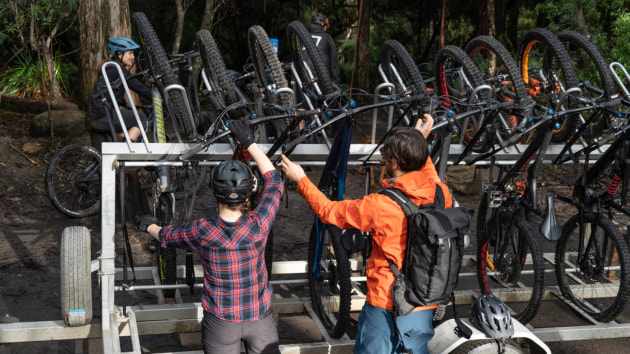 It may be that given this number the account or brand may benefit from being associated with a hash tag this popular. If you use this tag you will get more followers, improve your engagement rates and build a community around you or your brand as the marketers put it.
For some however the tag may be chosen because it is a message that portrays a message or aligns with an ideology that states how you aim to live your life. Let's consider the message, 'outside is free'. What does this mean? Does it mean go outside, everyone is welcome, walk out your front door, spend your time on experiences not things, have an adventure in whatever size it may come in?
Tassie outside (ignore the parks fees) is free. That outside comes in the form of wild untouched wilderness, spectacular world heritage national parks and what we are here to discuss, world class trails. Most Tasmanians feel our pristine wildness is part of our birth right, a free outdoor playground. Blue Derby Trail head, 85km of purpose-built mountain bike trails. Host of 2017 EWS 2017 Specialized Trail of the Year in EWS Series, Detonate, 2019 Round 2 Enduro World Series 2019 Specialized Trail of the Year in EWS Series, Kumma-Gutza. Or as I like to call it my weekend local loop. I will be honest when it is this good sometimes you take it for granted.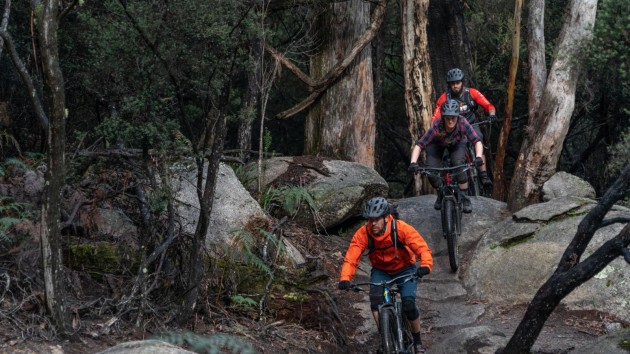 So, what happens when the outside is no longer free? Now in order for us to discuss 'free' there is 'free' in terms of and expense and, more importantly, there is 'free' in terms of your freedom of access. It seems that sometimes outside is not free when freedom to access is removed. It seems almost inconceivable that our freedom to access to the Tassie outdoors could be removed.
This removal of freedom came in the form of COVID-19. A scenario which resulted in a restriction of interaction between the general public. This took the form within our little part of the world, amongst other things, in the closure of all parks and trails to the public. I want to make it quite clear at this point of the story I am not making a comment on how appropriate the response was to COVID-19. What I am exploring is the how the removal of a freedom you took for granted affects you when it is suddenly gone and when this freedom is returned, oh when it is returned #Outsideisfree (4.6M)………#Gloriously (2.4K)………#Free (38.3M).
To be honest I saw the inevitability of the closure of our parks and trail system as the world responded to COVID-19. However I did not know this ride would be the last Sunday that Derby or any national park or reserve would be open to the public. The morning was brisk with a stunning sunrise to enjoy on the drive over. I had opted for what I coined the Super Loop, my own personal nod to the Surfing concept of the Super Bank. The loop, approximately 50 – 60km in length, is an end on end trail loop that I use to getaway. Isolating, Tassie style.
Given the one-way nature of the Derby trail head, and the way trails loop together will mean you may not see a soul during your ride from the beginning to end. This was just that sort of day. Autumn sun with the company of just my own thoughts. I had no idea this would be my last opportunity for almost three months. Shortly after, the pandemic increased the systematic closure of even the small local trails along with the advice that all excursions beyond basic exercise should cease. The social distancing was one thing that to be honest, I dealt with very well. The geographical isolation for me was something else. No trails in what I consider the prime Tassie mountain biking season.
The bikes got cleaned and then cleaned again. I won't lie there were a lot of videos watched and in moments of madness there were a few nature strip runs. The Derby trails seems so far away and a mere distant memory. But the dirt was calling and all things come to an end in time, perhaps even COVID-19. We slowly watched the number of new infections decrease in our state and waited patiently for all clear.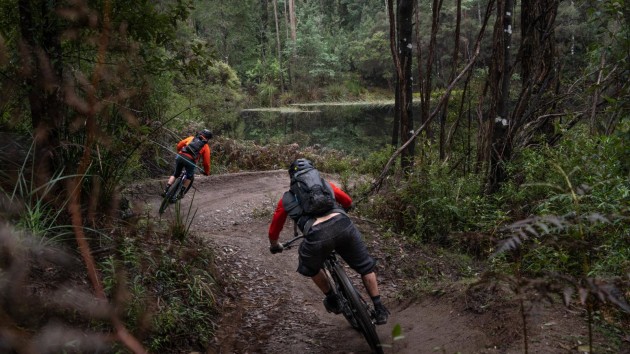 Once Stage 1 was achieved we were allowed to return to our local trails and day travel to national parks with 30km of home. Still we waited, trying to scratch the itch by multiple laps of our local loops but the itch was just getting worse. And then finally on the 5th of June we get the nod for the all clear. Stage 2 and the trails are open again. It's hard to put into words this first taste of water after a drought. That way the sip finally quenches your thirst. But you know don't you. some things just don't need words or hash tags.
#Outsideisfree (4.6M) #Again (5.4M) Tassiestyle (256K)