Superflow at Stromlo
Round three of the Fox Rollercoaster Superflow Series took racers to Stromlo Forest Park and the nations capital delivered the most beautiful autumn sunshine. Four timed race tracks had to be completed and demanded both riding skills and endurance. In the elite categories two locals took full advantage of a home track advantage, with Claire Whiteman and Dylan Cooper taking out the wins.
Rocky Trail's Fox Rollercoaster Superflow events have been growing in popularity over the last few years, so much so that more timing chips had been acquired and in last weekend's sell-out race all of them were put to action at Stromlo Forest Park, said Race Director Martin Wisata.
Almost all Superflow events require participants to ride to the start of each stage and they offer a big variety of trails. "All our trails can be as tough as you want them to be - there are always different line choices and generally, the faster and the harder you go, the more challenging they get. We specifically pick our venues to meet those requirements." Wisata said.
Junior racers mae up a third of the field with categories ranging from U13 to U19. There was also a huge influx of 30+ and 40+ riders throughout the 2017 season.
"We are proud that we developed these events to be so popular", said Wisata. "We can offer an awesome day out to a wide range of riders - from elite to amateur racers as well as families, couples and groups of friends riding together", he added. He explained that with a unique and flexible timing system, the events didn't require any start orders and riders could also pick the sequence in which to complete the timed race stages. That way, riders of different categories could still spend all day riding and racing together.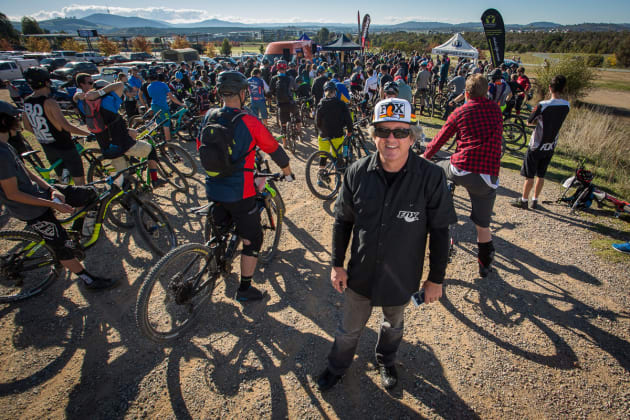 Home Runs for Cooper & Whiteman
In the elite categories, Canberra elites Dylan Cooper and Claire Whiteman dominated the day.
Dylan Cooper said that he loved the format of the event and enjoyed racing his home trails in a different way to the cross-country lap-based events. "I had a great time out there today! Such a thrill to cross the finish lines of the timed stages and be awaited by the marshals and fellow riders - something different and I loved the social aspect of it too, but there was some tough competition out there too!", he said finishing in 19:42 min in total. Cooper had been watching his runner up, Anthony Elliot, the Fox Rollercoaster Series Champion from 2016 all day. Elliot, from Wallaroo NSW, finished in second with a gap of only 5 seconds. Blake Sutcliffe came in third with 20:02 min. This years series leader, Brock Newling from the Central Coast placed in fourth in 20:18 min, but still defended his lead, "I had a bad last run that cost me valuable time - in this race everything counts!" Scott Graham from Asquith took out fifth in 20:35 min.
Claire Whiteman is a well-known name in the enduro and superflow racing scene and the trails suited her, "What a good day and so good to see so many women and juniors out there having fun!" Whiteman took out the win in 23:21 min ahead of Stephanie Jackson from Drummoyne (24:04 min) and Canberra's downhill ace, Sian A'Hern (24:07 min).
Round four of the series will take place at Ourimbah MTB Park near Wyong in NSW on 1 July - it will be Rocky Trail's and the Elite Men's series leader Brock Newling's home track and he will be sure to race hard to repeat his November 2016 victory that awarded him the Fox Rollercoaster Superflow State Championship title.
For more race information visit www.rockytrailentertainment.com