Thredbo Valley Track Extension
As reported previously, the NSW National Parks and Wildlife Service (NPWS) is extending the Thredbo Valley Trail (TVT) and the first 6km long section is set to open on April 8th.
This new lower section of the trail leads you into a fairly remote part of the Thredbo River. Unlike the Upper Thredbo Valley Track, it doesn't provide the easy exit options to the Alpine Way. As a result it's best tackled as a 12km out-and-back ride, although future plans will see it extend all the way down to Lake Jindabyne in an 18km one-way journey.
Chris Darlington from the NPWS said, "Working with contractor Dirt Art we have completed the first section just below Bullocks Flat and we are very pleased visitors can now enjoy a longer trail through the backcountry.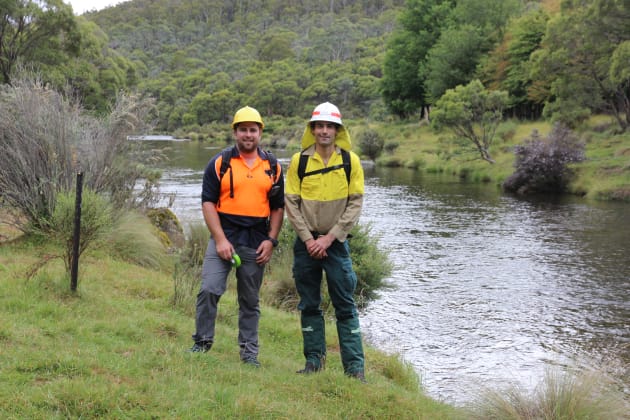 "The new section will be open for mountain biking and hiking for a few weeks, before it needs to close it over winter when the freeze-thaw cycle converts the track's surface to soft mud.
"It is exciting to see the works so far and share with visitors how the project is progressing through this beautiful and remote area of the park.
"The new section is designed to be a little tighter and more challenging than the existing track, to give visitors a different experience to the more free-flowing upper track.
"We're really pleased to be able to now show off the results of the work done so far and encourage people to come and trial this challenging new section of track," Mr Darlington said.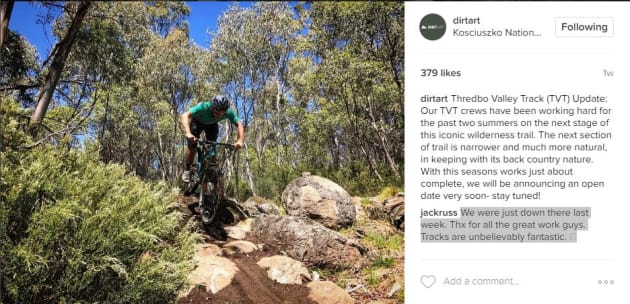 This new section is the first step towards completing the extended Thredbo Valley Track, which will eventually create an uninterrupted 50km trail between Thredbo Village and Jindabyne.
"NPWS is also working closely with the Snowy Monaro Regional Council and the NSW Department of Primary Industries to link the Thredbo Valley Track to existing off park trails.
"This will help cement the Snowy Region's reputation as a unique and attractive mountain biking destination," Mr Darlington said.
For more information on the Thredbo Valley Track visit the NPWS website.