Fix Your Fundamentals
Ask a mountain biker how they'd like to improve their riding skills and the reply is likely to be learn to bunny hop, jump or wheelie. While all these things are desirable, many need to take a few steps back and look at the core techniques that help us to control the bike.
Your stance on the bike is forms the foundation that all other skills are built around. If your foundations are out of whack, all of the more elaborate tricks and manoeuvres will be harder to execute or compromised in some way.
What follows are some of the most commonly seen hang-ups and what you should be aiming for to become a better all round mountain biker. Think about whether you're guilty here and maybe even discuss it with your riding buddies. When you're out on a social ride, stop to watch your mates ride a section of trail and look out for these bad habits. Then swap and get them to check your form.
Video can also be handy for this, as you can kick back and pick apart the footage post ride with a coldie at hand.
Fore & Aft Position
Many riders have it drummed into them from their very first excursions on the dirt; 'now get your weight back!' It's put forward as the solution for all ailments; going downhill – get behind the saddle; applying the brakes – put your weight back; see something scary – get your weight back. Sure, you need to move your weight around when riding off-road and there will be moments when your body will move towards the rear of the bike, but this should never become your normal position.
Ideally you should be centred on the bike. More specifically, your body mass should be evenly distributed between the two contact points on the trail; that's where your tyres meet the ground.
Placing your body towards the rear of the bike leaves the front tyre unweighted, and a lack of down force means it will have less bite on the trail. This leads to a lack of traction for cornering and you'll also have less directional control for picking lines and steering the bike. In this state the trail is more likely to have its way with you rather than you dictating the bike's movements.
You want to be over the bike, not behind it. When descending, your neutral position should place your hips over the cranks with the pedals level and your chin over the stem. Look straight down and your line of sight should be through the front hub.
If you have a dropper post, it's also worth lowering the saddle whenever the trail points downhill or turns technical. Dropping the saddle allows you to lower your centre of gravity, which in turn boosts stability and with better stability you'll have more control. Dropper posts shouldn't be reserved solely for the super steep stuff.
So have a think about your position; are you over the bike or sitting behind it; do you have sufficient weight on the front end? Assuming you're on a dually, a good test is to bounce up and down; both the front and rear suspension should move equally. If the rear squats more than the front, you may have your weight too far back, so bend your arms and flatten your torso to get right over the bike and regain control.
Now this doesn't mean you stay affixed to this position. You'll still need to shift your body will shift back and forth for wheel lifts, drops and bunny hops but you'll always return to a centred position as your default.
Chicken Wings Out
Bent elbows are good. Riding with straight arms won't allow the bike to move around underneath you so you'll be going 'along for the ride' over every bump in the trail—a bit like riding with your suspension locked out. But let's take this a step further, as how you bend your elbows is equally important.
We commonly see riders who drop their elbows down. While this qualifies as a bent arm, it doesn't provide much leverage to manoeuvre the bike. To illustrate, try doing a push up or a bench press with your elbows tucked in next to your torso, then repeat it with your elbows sticking out to the sides. You'll find the wide elbow position is a good deal stronger and helps to stabilise your body.
The same applies on the bike. Having your elbows out helps to shift your weight forward to help with front-end grip and also places you in a more powerful position where you're less likely to get thrown offline. It also engages bigger muscle groups, which will reduce your upper body fatigue—you'll be able to ride better for longer.
Similarly, it's better to have your knees out a little rather than tucked into the top tube. This also enhances stability and also allows the bike to move around underneath you unhindered.
Get someone to look at your position from directly in front. Your elbows should be as wide or slightly wider than your hands to deliver a strong and stable riding position.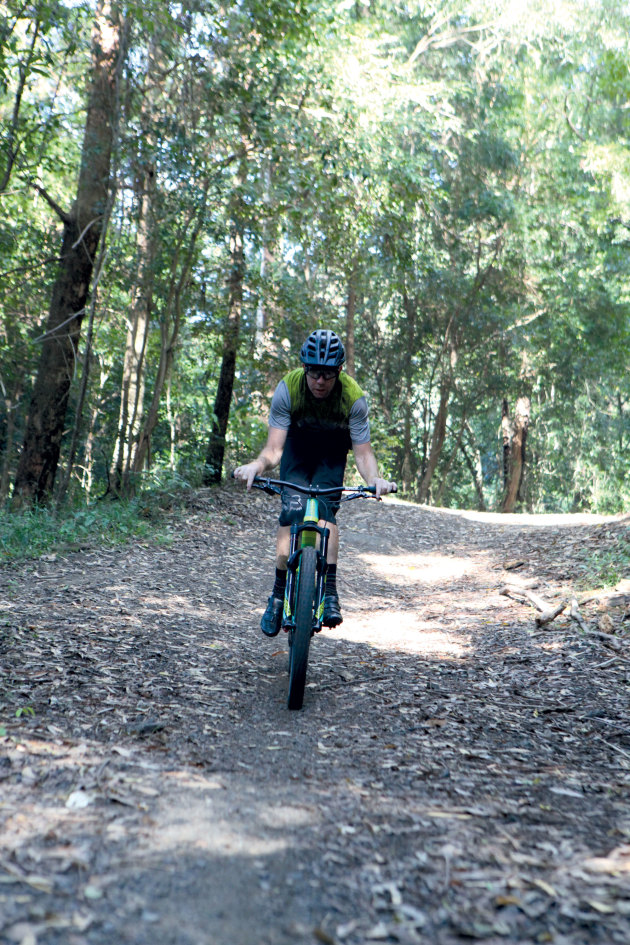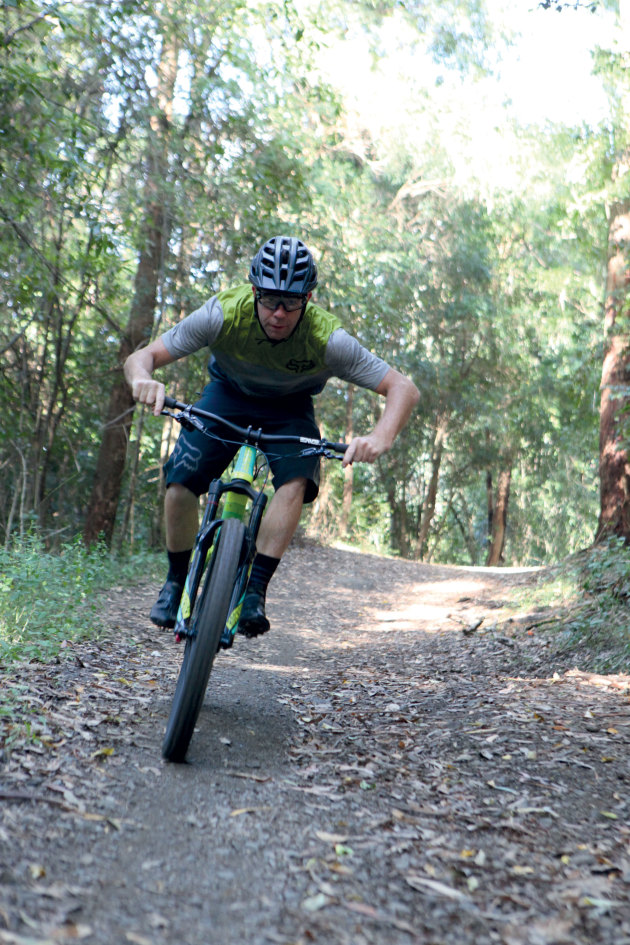 Move Yer Booty
With all this talk of assuming the right position, it's worth reiterating the point that you're not meant to stay permanently affixed in that position. To ride well you need to be dynamic on the bike and constantly moving around. All too often people are stiff on the bike and tend to go wherever it takes them; up and down through the bumps and straight down to the ground if the front tyre loses traction.
The aforementioned points on maintaining a centred body mass and bent elbows should get you moving fore and aft, but you also need to move from side-to-side. Start by leaning the bike to one side, and then the other. Lean the bike but not your body; your mass should remain on top of the bike and it'll drive the side knobs of your tyres into the trail. Really exaggerate this movement so that you are no longer above the saddle when you lean the bike; the saddle will be next to your hips, not underneath them. As you drop the bike over, the lower arm should be outstretched while the opposing elbow will be poking out chicken wing style.
What's the point of this exercise? Well to start with it's just that; simply an exercise to get you moving the bike from side-to-side. A way of forcing a disconnect and get you thinking about different ways to throw the bike around with your new and more powerful poise on the bike.
This is also the basis for a more advanced cornering technique. Drop your outside pedal and drive your weight down into it. This keeps your mass above the bike and really pushes the tyres down into the ground. It's a fundamentally different cornering style that separates mountain bikers from roadies and it lets you corner with great confidence on loose or off-camber turns.