Ridden and rated: Whyte G-170 S
Whyte may not be the first brand you think of when jotting down your dream shopping list of bikes. The English brand has been around since 1999 and was born of founder Jon Whyte's love of engineering, which showed through his involvement in Formula in the mid 1990s.
Born and bred in the UK - and made in Taiwan - the Whyte is built for the rough and tumble of all weathers, and the $4650 G-170 S represents the longest travel bike that the company has ever offered. Built in consultation with the brand's enduro racing team, the aim was to improve upon the previous generation G-160 – itself begat from the G-150 – but to add some playfulness and stability to a set of geometry numbers that are very obviously enduro-based. How does it fare in the real world?
In the stand
At first blush, the Whyte is a good-looking machine; its extra length, low-slung demeanour and oversized alloy tubing set lends it a real air of purpose. The sealed suspension pivot hardware – guaranteed for life, says Whyte – is hidden behind anodised caps, which also keep Whyte's proprietary grease in the right place. The trunion-mounted Rock Shox Deluxe R shock is a metric-sized unit and offers a huge air volume capacity to cope with that 170mm of rear travel, while the Yari RC 170mm fork up front adds more firepower than a Pike or Fox 34.
Whyte has built a symmetrical four-bar rear end for the G-170 that's been optimised for a single chainring, and that's lucky because there's no ability to add a front derailleur to the bike. There are, however, ISCG mounts for an optional chain guide, and Whyte has also installed a thick rubber chain stay protector as standard on the bike. The Boost-width rear dropouts, too, are massive, and the rear derailleur tip is replaceable.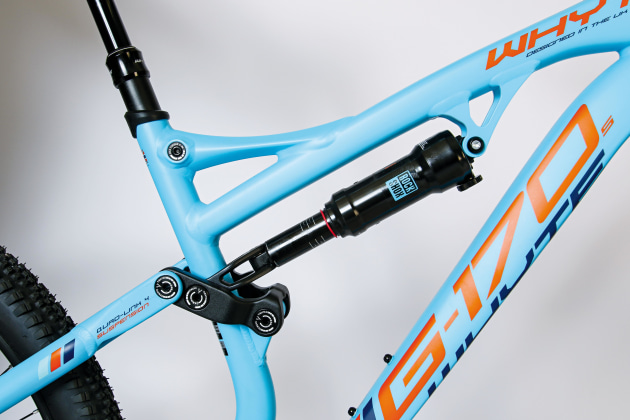 Whyte supplies the bike with a Rock Shox Maxle rear thru-axle, which does require a bit of fettling so you don't set it up with a lever in an awkward position when it's closed. The bottom bracket is a traditional 73mm wide threaded version, and Whyte equips the bike with an external bottom bracket set for the SRAM Descendant GXP cranks. Internal cable routing throughout makes for ultra-clean lines, and even the rear brake cable is internally routed, which is bit unusual. Rubber stoppers keep the cables in line, and the full-length outers run through the frame.
The paint finish is quite unusual, as well. It's a lustrous matte blue with contrasting orange, which is reminiscent of the classic Gulf Racing scheme from the 1970s, and it resists bumps and scuffs impressively well. The colourway extends through to the extra-wide WTB i29 rims, which are built onto Whyte-branded sealed bearing hubs, with WTB's 27x 2.5 mm Convict front and 2.4 mm Riddler rear tyres installed. Our test example was set up with Whyte's own tubeless solution, as well.
The gearset is interesting; Whyte has opted for a SRAM GX 11-speed based system with an NX 11-42t cassette at its heart, matching it to a 30t double-wide GXP ring on SRAM Descendant cranks up front.
Braking is taken care of via SRAM's big-boy Guide R twin piston brakes with a 200mm rotor on the front, and a 180mm unit on the rear. There are bolts for a single bottle holder, but being an aluminium bike there are no frame bumpers underneath as you might find on a carbon version. Speaking of, Whyte does offer the G-170 in carbon, but only in medium and large sizes. 
Finishing off the bike is a raft of Whyte's own kit, including a cable-operated dropper post in 150mm length; a Whyte branded saddle; a nice wide 780mm alloy bar with a 15 mm rise and a 40mm long, 35mm diameter stem.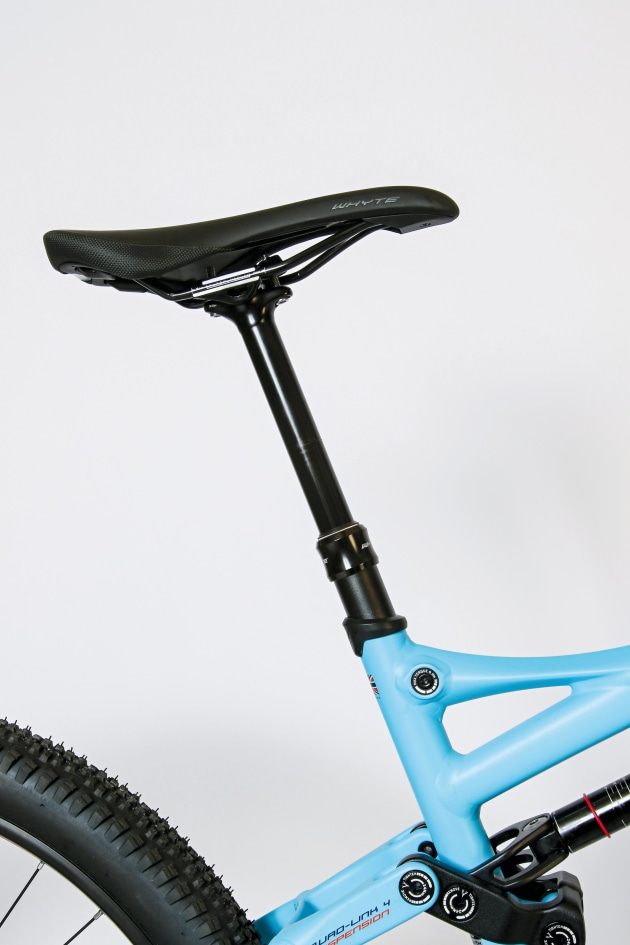 On the trail
Looking at the specs, it's pretty easy to see that pedalling uphill is never going to be the G-170's forte. The low-slung, 330mm-high bottom bracket, the slacked-out 65-degree head angle and its hefty 15kg weight figure all point to a bike that would prefer to see the back of a trailer or tailgate pad.
Out of the box, though, the bike feels surprisingly nimble and very reactive, quite unlike what would your perceptions of a 170mm travel bike might be. The cockpit on our L tester is roomy thanks to a long, generous front-centre number of 804mm and almost-470mm reach, and despite the fact that the stem is a short 40mm unit. Whyte's in-house bars are plenty wide at 780mm and have a very comfortable sweep to them. We're not convinced about Whyte's own in-house grips, which only lock at one end and ended up spinning almost instantly under load on the semi-gloss alloy bar.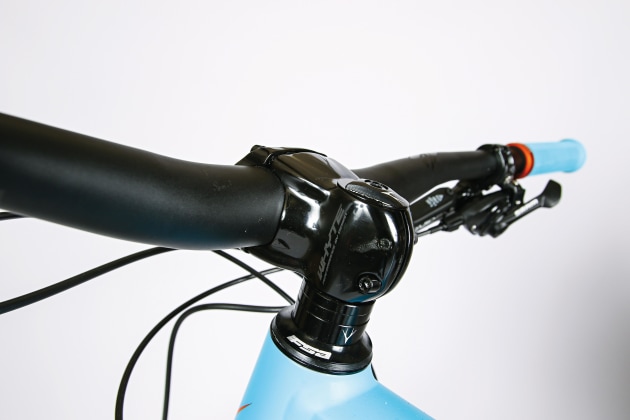 And, as I feared, the upwards part of our test loop wasn't the most fun that we've had all year. The bike isn't a nightmare climber by any means, but it is severely handicapped by that bottom bracket number, as well as a tyre spec that – to me, at least – doesn't quite marry up with the intention of the bike. There's a couple of crucial millimetres more clearance to be had, for example, by simply swapping out the rear tyre to match the front. A chunky WTB Convict 2.5 is paired with a more sedate Riddler 2.4 on the rear, but I'd be inclined to put something on which mirrors the front, at least in size. In fact, the vast clearance between the fork and the stays means you can add a tyre up to 2.8 inches in width if you really wanted to.
The gearing, too, is an odd combo for a bike with this level of downhill ability, albeit one foisted upon it by price considerations. Whyte has specced an 11-speed SRAM GX setup to put some pennies back into the frame kitty, using an 11-42t rear and a 30-tooth front, so it's really got neither the bottom end to climb easily, nor the top end to sprint quickly. Big plus for the brake combo, though, with a 200mm rotor up front and a 180 out the back, paired with SRAM's hard-hitting but good value twin-piston Guide Rs.
It's a part of the spec that really makes sense when we turn around to come back down the hill. The relative simplicity of the RockShox Yari and Deluxe R is reasonably apparent, with the fork in particular needing a little bit of careful set up in terms of sag and rebound to make sure you're in the zone with the bike. There isn't a lot of adjustment once you're out there on the trail, other than rebound and a bit of compression damping.
Our settings on o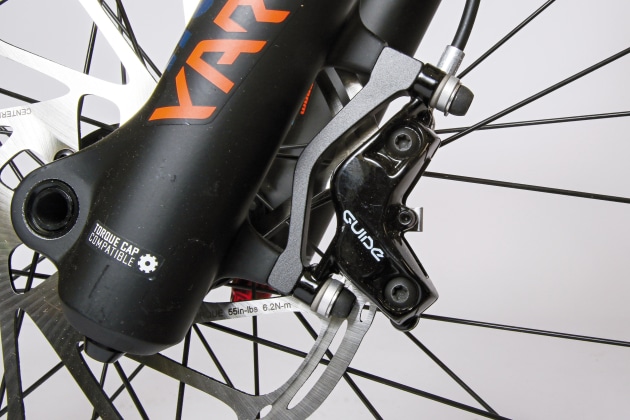 ur first couple of runs was a fraction out, which didn't give the Whyte enough grip on the front at middling speeds, and causing a few heart-stopping front-end moments. But once we dropped the front pressure - as little as 3PSI made the difference - and raised the rear shock pressure by a similar amount, the Whyte came to us very quickly. It's a stable, speedy, lively ride when given its head, thanks to – and occasionally in spite of – its 170mm of cush, and it steers far better than a 65-degree head angle-equipped rig has a right to. It's easy to stay in the centre of the bike, too, which gives an extra sense of confidence when dropping the G into a hard g-out turn. The alloy frame might be weighty, but it's robust and rigid, while the wide rims help the tyres drive into the dirt for added traction. It stays balanced in flight, with the longish wheelbase apparent in the Whyte's fundamentally neutral rear end. The front end can be lofted up over stuff when required, but it feels more planted and pacy than frisky and racy.
You could excuse it for feeling sled-like and doughier in the slower stuff, too, but the Whyte offers much more character and feel than that. The rear travel is beautifully controlled, especially through rough braking bumps, and it feels right on in terms of travel numbers. The fact that we weren't locking the rear end unduly, unlike other Guide R-equipped bikes we've ridden lately, shows that the rear end works more efficiently under brakes, too – thank those seatstay-mounted Horst links for that.
There's not a lot of anti-squat built into the rear end, and with a healthy 30 per cent of sag, I found the rear end to be well controlled, though there's not a lot left in the tuning for my 107kg weight. The simpler Deluxe shock lacks the ability to add compression damping to the circuit, so if you're a lighter rider, you may need to experiment a bit. The fork, too, took a couple of runs to break in and for us to find our happy place with it, but once we did, the stiff yet compliant Yari complemented the package perfectly, despite its relative lowly spec.
A phrase we would use to describe the Whyte is simply swift. There are no dials to turn, no switches to hit, no chips to flip. Once you've set the bike up to your liking and pointed it down the hill, you can hang it out as far as your ability – and courage – will let you.
It's definitely not a bike that you would choose for an all-day mission that included much in the way of technical climbing, though. Even over the smallest of trail intrusions, we were bottoming out our XT Trail pedals to the point of genuine frustration. We really tried to find paths that were a lot easier to climb, too, and even adjusted our pedal stroke to suit. A larger rear tyre and a slightly shorter crank than the 170mm versions that are specced on the bike would give it a little bit more of an all-day character.
Which brings us to that contrasting flip side. If you wanted to take this bike to Thredbo or to Buller or to Maydena, it would be a singularly great choice. However, you could still look at making some running changes to the spec, including a larger chainring and more aggressive rear rubber to beter match the rowdier front end. In fact, there's so much room in between the crown of the Yari and the rear dropouts of the G-170, you could easily run 27.5 plus tyres, which would again change the demeanour of the bike.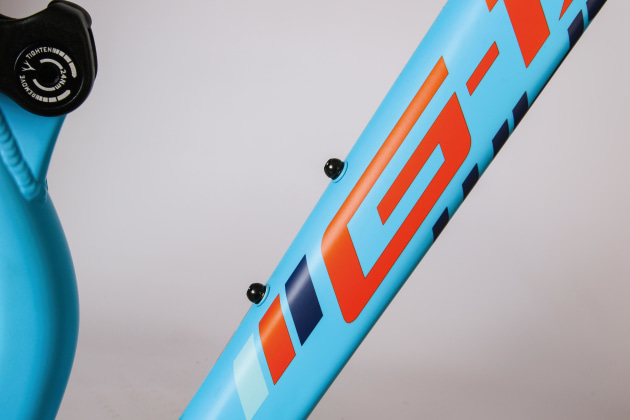 A big tick for the single bottle cage, even though you'll probably find it less useful on this bike, given that you'd be hanging off the back and wailing on the brakes more often than you'd be climbing it to the top of the trail. The clever, neat seatpost binder bolt worked well in the field, while the Whyte seatpost worked well once we charged it with a solid hit of air. Overall, though, it's a bike with a high quality, well-executed chassis, and one that makes complete sense to up-spec as parts age or break.
Verdict
The G-170 is a pure-bred gravity sled with a very reasonable price of entry, but it does pay a price for that speed on the way back up the hill. However, if shuttle days are your deal and smooth climbs abound, and you're not looking to go full DH spec, the Whyte G-170 S is a cleverly specced, well balanced, fast rig that won't bust the bank balance.