Ridden and Rated: Merida One-Twenty 9.700
Merida has been the 'quiet achiever' in the MTB world; with its success in road cycling the brand's MTB stable is sometimes unintentionally overshadowed, but the last few years have seen its knobby-tyred models hog some of the limelight.
And it's not hard to see why; the perfect example is seen here with the Merida One-Twenty 9.700, part of the brand's large One-Twenty stable, that includes alloy and carbon frames in both 27.5 and 29-inch sizes. The 9.700 is the top-spec alloy model. The One-Twenty range is aimed squarely at the burgeoning short-travel (100-130mm) trail bike segment.

It's an increasingly crowded market, but Merida has plenty of confidence in this new alloy-frame rig with the 9.700's very impressive spec list at a killer $3799 asking price. With 'boutique' MTB brands' offerings skyrocketing (especially here in Oz) in price, being able to walk out of your local bike shop with a trail bike that is, literally, ready to roll up, down and over everything, for under $4k is excellent.

Appearance-wise the One-Twenty's frame is a combo of svelte and sturdy, with a notable adherence to the middle ground when it comes to the long/slack geometry trend in today's MTB market. And don't think just because it doesn't blindly follow the latest trend that the 9.700 is in any way lacking – that unassuming but well finished black/grey frame hides some very smart component selection, with the latest in drivetrains, brakes and suspension adorning it.


In the stand
Merida's design brief is simple: produce the most effective short travel trail bike you can; one that allows riders from beginner through to intermediate and above to roll straight out of the bike shop and onto terrain ranging from smooth rolling XC to more challenging, all-mountain (can we even use that term in this 'enduro bro' age?) terrain. In short, the stuff most MTBers ride, most of the time.

The frame is one of the most nicely finished alloy frames this tester has seen for quite some time. The triple-butted 6061 alloy grants the 9.700 a light but stiff frame, with well finished welds that make it look a lot like its carbon-framed stablemates. That smooth finish is courtesy of Merida's adherence to double pass welding which, as the name suggests, signifies a second pass over the weld, enhancing the quality of the weld join. Cables run internally, and Merida utilises its own 'Smart Entry' system, which means cables, brake hoses and cable housings are all clamped under tension. This is Merida's way of dealing with the often annoying cable rattle – and it works.

The frame looks deceptively compact but has a trail-focused 67.3-degree head angle and a nice and steep 75.5-degree seat tube angle, combined with plenty of standover height across the range (the large tested here is 759.4mm). The large top tube measurement is only 614mm, but it offers a decidedly new-geo reach of 455mm – ideal for my 181cm frame. The chain stay length is 435mm, while the wheelbase for the Large is 1184.6mm.


The 2020 9.700 is very well spec'd for the price. The latest and greatest from Shimano (primarily SLX M7100/120 and some XT M8100) covers the 1x12 drivetrain and brakes – as well as the front and rear Boost hubs. It's a potent (and smart) mix, too; power is delivered via the SLX 32T crankset, while the Shimano XT shifter offers that positive shift action it is renowned for, and the XT M8100 Shadow+ derailleur keeps the SLX chain moving smoothly (and quickly) up and down that huge 10-51T SLX cassette. The standout, however, in the drivetrain department is Merida's use of the SLX Micro Spline hubs. In-house rims and double-butted stainless steel spokes are attached to these all-new hubs and, albeit slightly heavy, the combo works a treat. That rear hub, once up to speed, runs near silently – impressive stuff for a third-tier spec-level component and one that made for uber-quiet riding out on the trail. Shimano SLX M7100 four-piston brakes provide the stopping power.

Acknowledging its trail intentions, Merida has fitted the One-Twenty 9.700 with well-proven Maxxis rubber – 29x2.4" Minion DHR II on the front and a 29x2.35" Forekaster on the rear). A further nod to more 'serious' trail razzing is the suspension: a 130mm RockShox Revelation RC fork (with 42mm offset) sits up front, while a 120mm RockShox Deluxe Select+ shock (with lockout) provides damping for the rear end. Merida's in-house alloy handlebar (760mm wide with a 20mm rise) and 35mm-diameter 50mm stem front the cockpit, while Merida also offers its own dropper post – and, in L and XL, one with a welcome 170mm of travel (small frames have a 125mm; Medium a 150mm), with a Merida Expert CC saddle atop it.

On the trail
The One-Twenty 9.700 is one of those bikes that, once you've sorted your suspension sag and seat-height, you can just get on and ride; for that general trail rider (most of us), it simply works. The bike is no lightweight XC rig (it weighs in at 14.5kg) but once you get those big hoops up and rolling, it feels quick, at least – and nimble; that compact, tightly built frame and the (relatively, for this segment) short-ish wheelbase make this thing a hoot on windy, tight singletrack, with the bike more than happy to be leaned over into corners where the chunky Maxxis rubber hooks you up before spitting you out the other side or allowing you to quickly change direction without feeling like half the bike is twisting to catch up to your manoeuvre. The bars could probably be a tad wider (that is a personal preference of course, but 760mm is just a bit narrow for this tester) and a shorter chain stay might aid its 'chuckability' even more, but it still rips through the tight stuff effectively as-is.




The beefy 35mm stanchions on the Revelation RC fork make technical descents or sharp turns far less dramatic – there's minimal twisting felt through the fork or the frame, although you do have to be more focused if the descent is overly chunky – while the fork's Motion Control damper does just that, damping trail vibrations and impacts effectively. In fact, the Revelation RC is nearly too much fork for Deluxe+ shock out the back. With this bike's breadth of capability, the Deluxe+ feels a tad under-done in the gnarlier stuff, struggling slightly when things get overly rocky. It's far from a big thing, but it'd be interesting (okay, it'd be fun) to throw a piggyback shock, such as the Monarch Plus RC3 or a Fox DPX2 on the Merida – the frame is definitely up to rougher riding, as is the fork.

The fitment of Shimano's new 1x12 drivetrain, along with the Japanese giant's brakes and hubs is a boon for buyers of this bike as it matches the designers' remit perfectly. The shifting was faultless throughout testing, and the SLX brakes' performance was impressive; pulling up a heavy rider (and bike) after a long descent is no easy task, but the 4-pot units did this every time over the test period, with little indication of fade. The silence of that rear hub when at speed was great, too.
Climbing on the Merida One-Twenty 9.700 was a slightly leisurely affair. There's no getting around the weight of this thing; at 14.5kg it ain't no weight weenie, but that is the price you pay for a sturdy spec-list. And, really, who's buying this bike to race? Having said that, you could quite easily drop weight off the bike by converting to tubeless, initially, and then – maybe – swapping out the beefy wheelset for something lighter.

In terms of cornering when climbing up steep switchbacks, the front wheel would sometimes exhibit a slight tendency to wander, but only on the very steepest of occasions; the seatpost angle and not-too-slack front end help keep the rider's weight over the front of the bike in these situations quite well. The Merida dropper post performed with aplomb, too, with this tester really appreciating the speccing of a 170mm travel post – being able to get down that little bit lower made descending the steepest stuff much less pucker-worthy.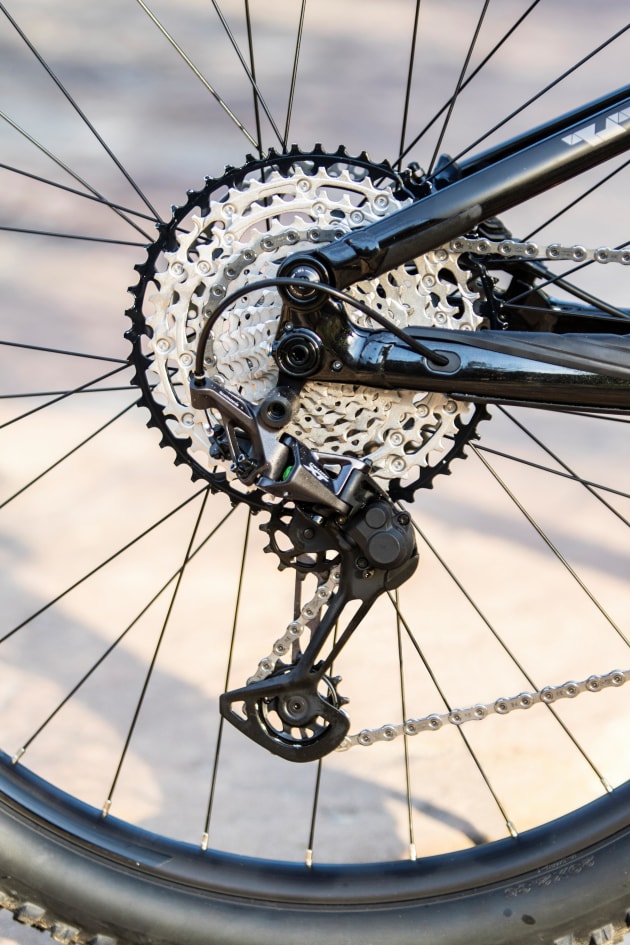 Verdict
The Merida One-Twenty 9.700 is just one bike in a very crowded segment of the MTB market. However, it stands out for a few reasons that could make a big difference to potential buyers, starting with that impressive spec list. For a bike at this price range, to have as standard fitment things like the Revelation fork and Shimano's latest freehub tech, as well as its drivetrain and brakes, it is fantastic value for money – not only at purchase but also in terms of being relatively future-proof in regards to any essential (rather than desired) upgrades.

In this day and age of $12k-plus mountain bikes the 9.700 is the perfect antidote: it still offers all the fun of razzing trails and improving your riding skills, without the heavy investment. Add in that well-finished robust frame that'll last years with its standard components while being equally able to be updated with lighter components (if/when you so desired), and the 9.700 represents incredible bang for your buck.
Ratings
In the stand – 8/10
On the trail – 8/10
Overall – 8/10