Surly Karate Monkey
Pictures by Jaime Black
My first memory of a mountain bike was back in the 90s, aboard a gleaming new Cr-Mo steel framed hardtail. Those were the days, with horribly basic front suspension, non-indexed shifting, cantilever brakes, narrow bars and 2.1-inch wide tyres that I thought were fat at the time. Despite all that it delivered plenty of fun to my teenage self, riding around the poor selection of trails we had at the time.

Fast-forward to today and despite two decades of progress in the waves of alloy bikes along with capable dual suspension and then the rise of carbon, there are still brands out there building bikes out of Cr-Mo and other steel tubing.

Surly is one such brand, using good ol' 4130 cromo steel tubing they call Natch in all the bikes they make. Founded in 1998 in Minneapolis, USA, Surly Bikes is a brand that initially focused on single speed componentry but have since progressed to produce a wide range of components plus steel frames and complete bikes. Nowadays they are known for bikes such as the Pugsley, the first fat bike with its five inch wide tyres and produce a range of frames and bikes including cyclo-cross, trail, touring, cargo, road and commuter bikes.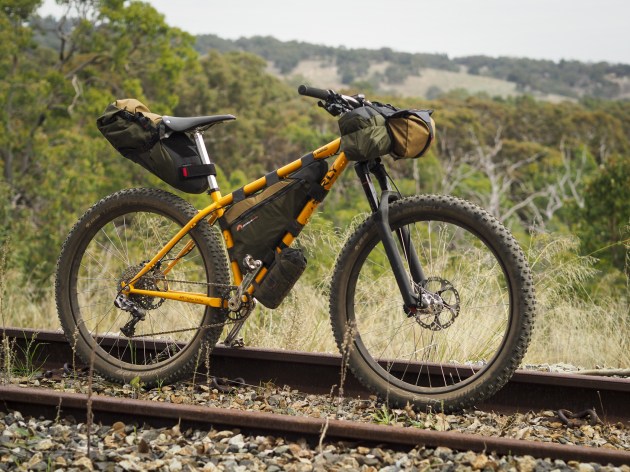 Of course they do things a little differently, opting to powder-coat their frames rather than use solvent-based paint. They also produce steel bikes as the ability to repair and recycle steel is greater than alloy or carbon and even pack their bikes inside boxes using twist ties and cardboard instead of plastic ties and foam.

The Karate Monkey is a steel bike from Surly made with that ethos, billed as an all-mountain hardtail trail bike. Capable of being built with 29" wheels and with two buildkit options including a rigid version with a suspension-corrected rigid fork plus normal seat post and the version I'm reviewing which comes with 27.5-plus wheels, Rockshox Sektor RL suspension fork up front and a TranzX dropper post.

Both versions are specced with SRAM NX shifting, 1x11 NX on the rigid with the suspension model picking up the extra gear and range of 1x12 NX Eagle, SRAM Level brakes with 180mm and 160mm rotors front and rear respectively. WTB's 40mm-wide i40 TCS rims and Surly's house brand 27.5x3.0 Dirt Wizard tubeless ready tyres.

Design

Upon building the bike you can see a fair amount of thought has gone into the finer points of the design. First thing I noticed was the huge amount of attachment points. As a trail hardtail you'd probably only end up needing one water bottle mounting point but there are two extra, ready to take on many more accessories and attachments. Pannier rack points on the rear seat-stays combine to make this a versatile bike packing or touring machine.

External cable routing is the order of the day, with the only piece of internal cable routing being where the dropper post cable slips inside the frame above the bottom bracket after being run down the lower side of the downtube. The derailleur cable, rather than being routed down the downtube comes along the lower edge of the top tube and then follows the seat stay down to the rear axle, as does the rear brake hose. It's a simple setup that lends itself to quick repairs should any cables need to be replaced, repaired or inspected.


Up front at the handlebar there's a decent amount of slack built into the cables from the factory to allow attachment of bags, accessories or other items to the handlebar such as a lightweight sleeping bag, tent or other items to use for bike packing expeditions. There are three water bottle mounts in the front triangle, one under the downtube, one seat tube and one on the upper downtube that also has three points on it.

Up the back the bike runs Surly's Gnot-Boost rear axle in its horizontal dropouts. Along with the option of running single speed cogs from the horizontal dropouts, the 145mm-wide frame spacing allows running 12x142mm hubs or the 12x148mm spaced Boost hubs that are part of the complete bike's wheelsets or even 10x135mm hubs with the appropriate washers from Surly.

Also up the back is big tire clearance, while it won't fit the massive 5" wide tyres of the Surly fat bikes, the frame is rated to take a maximum tyre size of 29x3.0". The stock 27.5x3.0" tyres clear the rear stays adequately, but take note of the axle position when you're doing it up and make sure it's tight to get the centre of the tyre lined up. I found it pretty easy to line up the middle of the tyre's treads with the bolt provided for fitting a mudguard in the chain stay yoke when fitting and re-fitting the rear tyre.

How did it ride?

Steel frame aficionados will tell you all about the ride quality of steel-framed bikes, compliant and lively with a springy feel. Depending on the type of steel used, its heat treating, butting, shape and form there can either be a heavy duty ride ready to take everything in its stride or a feel akin to one of those animals on spring play rides you'd find at a local park. Flexing under power and with a large amount of undamped feedback.

OK, I'm probably exaggerating just a little bit on that last one but thankfully there's none of that here. Instead being a great balance between compliance and ride feel. Tearing down the single track with the fat tyres and modern geometry it felt planted and stable. Down high speed fire trails filled with chundery rocks and gravel it was surprisingly capable but maintained a lively feel over water-bars and other trail features.

Bars and Base

The geometry of the bike felt comfortable for trail and longer rides. With a 450mm reach for the large size it does feel long enough for my height but not as long as some bikes are getting nowadays without it feeling like a cramped mess.

A 70mm stem with 800mm bars (smaller frames have 60mm/750mm combinations) is roughly what you'd expect given the bike's intentions of ripping single track as well as being usable on longer expeditions. Those 800mm alloy bars can always be cut down a little if you don't want them that wide. If you were looking at using it purely to ride single track then a shorter stem might sharpen up the steering at the expense of a bit of climbing and comfort on longer rides.

Wheelbase numbers around the 1120mm mark and head angle of 67.5 degrees keeps things comfortable when the track turns higher speed and steeper. While it's not going to be mistaken for a downhill bike these numbers keep the bike agile enough when you need to get your weight back behind the saddle without sacrificing too much for the climbs back out.
But where the bike shines on the trail is the balance and playfulness of a short rear triangle. At 423mm long, chainstay length might not be as short as other 29er hardtails such as the Kona Honzo but still are short for a 29er bike and make the bike easy to manual and pick up the rear wheel over obstacles.

The level brakes are SRAM's XC/Trail designed brakes and offer consistent performance with a decent amount of modulation. There was enough power on offer to suit the intentions of the bike and on some steeper single track never felt like I was reaching for more power.

Being a steel bike does mean a trade off on weight versus a carbon-fibre, alloy bike but I didn't find this to be overly so. About the only time I felt the bike being weighed down was riding sections of tarmac road with the large tyres, they don't want to roll fast on tarmac with all that width and tread, they're designed for all out traction and comfort on dirt.

I did swap the tyres over to more-regular AM-spec 27.5x2.3" wide for a quick comparison test and that did make the bike roll faster on those segments but when hitting single-track again, I found it to be far less fun that on the fat tyres! So it's a case of horses for courses here.


Saddle and Post

It's also good to see a comfortable saddle option in the specced WTB Volt. I'm a huge fan of WTB saddles and put them on all my bikes, so not having to swap it out straight away would be a plus. For longer rides it's a comfortable option but not so large as to get in the way when attacking tighter and more technical sections.

Mated with the simple and reliable TranzX SP15 Dropper post with 1x style lever mounted under the left brake lever, the saddle and post is something that should suit most riders and matches the bike's purpose well. I've run a virtually identical dropper post under a different brand's label on a previous bike and really didn't have any dramas with it. While the lever isn't the most solid feeling unit out there it's been reliable for me.

Riders over six feet tall might want to look at a longer dropper option or just run the seat post high. At my height, 120mm of drop from the post is acceptable at the cost of the occasional adjustment before switching between longer rides & shorter trail ripping sessions.

Gearset

The gearset is the SRAM's NX Eagle, compared with the higher options in the Eagle food chain there's a bit more weight and only reaches down to a 11t cog at the top end and 50t at the low end of the gears.

But one piece of good news here is that the NX Eagle runs on a standard 9/10/11 speed Shimano style free hub so you're free to refit whatever components you like on that. For example, setting it up as a single speed bike with appropriate adapter and taking advantage of the horizontal dropouts.

You can refit aftermarket 2x gearing if you want to go that way, with a direct mount front derailleur and a new 2x compatible dropper lever. But sticking with 1x12, NX Eagle shifting works well and with its large 32t x 50t maximum gearing and 11-50t rear cassette range there's great climbing ability and ratio shifts between gears are smooth so you're virtually always in a comfortable pedalling gear.


Wheels

The wheels are WTB i40 rims in 32 hole laced to Surly house brand hubs. They're a huge 40mm internal width but still with respectable weight along with newer version of WTB's Tubeless TCS system, TCS 2.0. The rim is supplied with an inner strip that covers the large internal section with a supplied red-coloured 'Tough Strip' to cover the inside of that strip. The Surly tyres are tubeless compatible so all you'll need is a pair of tubeless valves and sealant to get the setup going.

One note on the wheels, when refitting the rear tyre make doubly sure you've done up the rear axle bolt to the right torque spec. If it's not tight enough you may experience the axle moving in the dropouts from pedalling or braking forces. It's a minor point but important, as otherwise you'll chip some powder coating off the chain stays or dropouts.

Suspension

Front suspension duties are taken care of with the Rockshox Sektor RL fork. Running the Motion Control damper with adjustable compression and rebound plus an air-spring on the left hand side for its 140mm of travel. The Debonair air spring has trickled down into this model now and offers a larger negative air spring for less initial stiction.

Most of the time I left it with one click of compression and the recommended pressure and rebound clicks and it handled things without much fuss. Brake dive and pedalling out of the saddle are well controlled overall. While it only has 32mm stanchions there's not as much flex as you'd expect as the bushings and chassis feel stout. You also have the option of running bottomless tokens in the air spring for more progression at the end of the stroke.

Final thoughts

I think the capabilities of the bike really lend it towards the all-mountain/trail end of the spectrum but with the option of longer rides including bike packing expeditions. With its large collection of attachment points for pannier racks, Surly's range of accessories and small diameter tubing creating lots of space on the frame for strapping goods to the bike, the Karate Monkey can also double as a bike pack hauler. You could definitely load a lot of gear on the bike but keeping that mix-it-up attitude. I could see myself stopping in to set up camp somewhere with some great singletrack to ride, taking this bike out for a rip around some technical trails before moving on to the next destination.

Overall if you're looking to go a bit retro with a steel-framed hardtail that can handle anything from longer expeditions to single track rips, this bike is worth a look.
In the stand
7.5/10
On the trail
8/10
Overall
8/10
For full specs head to https://surlybikes.com/bikes/karate_monkey