Back to our routes
Given how long bikes have been around for and how long people have been riding them offroad it's hard to imagine that the mountain bike as we know it and the very name tag itself were not around since the dawn of the wheel. After all there weren't exactly many paved roads back then (not that I can quite remember that far back).

Messing around with Frankenstein-esque contraptions and blasting them on the local trails while hopping over brick-high and planked ramps was something most of us did as kids. Ah, those were the days and seemingly so very long before these monsters actually developed into the glorious beasts we now ride.

Back then (and in the pioneering days of the Californian clunkers) it was all about having fun, which as we all know can also get a little competitive at times.

Beef up the bikes some and put them through a long drawn out evolutionary process and we now have a whole showroom full of mountain bikes to go at. These all come pitched at us with their own distinct (and often indistinct) specialities, labelled along with their ever-increasing levels of professed greatness and price tags to match.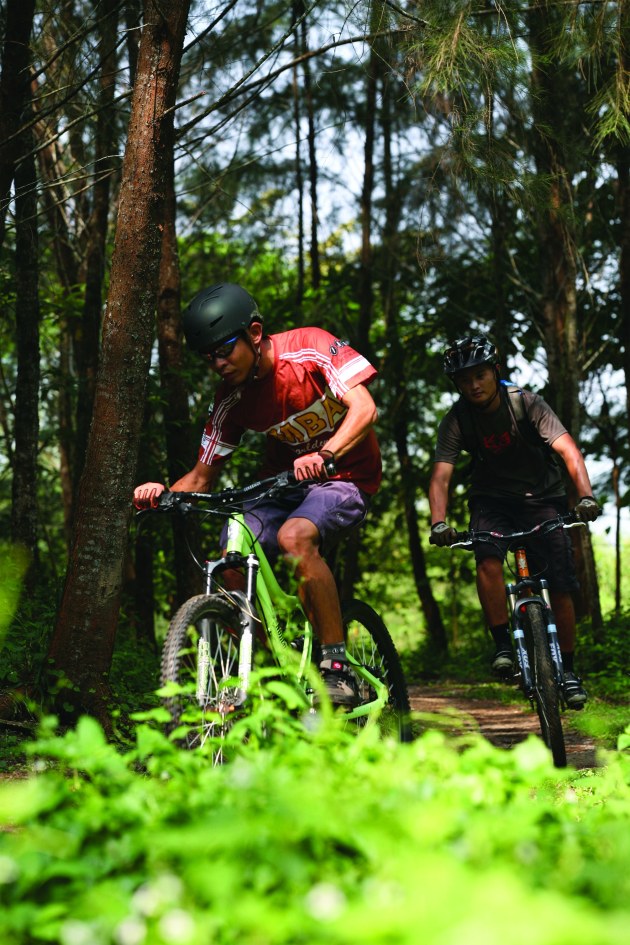 Not so long ago (in relative terms) there were very few (if any) man-made trails around, yet today riding around perfectly manicured and hand carved trail centres has pretty well become the norm for many riders. In so many ways this polarisation is a real shame – in my humble opinion that is.

I can still remember getting my first real bike – which was way before the creation of the mountain bike. To me, and I guess to many others, those two wheels represented a whole new sense of independence and freedom.

That Raleigh racing bike was to change my life, and apart from in those black dog moments I rarely look back and wonder just how different things would have been had Santa not turned up with that spanking diamond shaped and bright red gas tubing contraption.

Despite having previously been lured into a life of racing bikes around the world, those two wheels and the saddle perched between them have also always represented adventure to me. They've taken me to some of the most remote locations on the planet and led to many of the greatest experiences in my life.

That's where the conundrum comes in. I have ridden numerous trail centres and bike parks all over the world. Along the way I've ticked off a few legendary trails in the process too.

As much as following in the polished wheel-marks of thousands of others is fun (guaranteed and regulated fun), it simply does not touch the very sides of the soul that instantly drew me not only to cycling, but even more so to mountain biking.
It's not that there's anything wrong with riding trail centres – far from it. In many way's it's just like going to a well laid out ski resort but for me that is exactly what's lacking in the experience, disorganisation.

The last time I ventured onto a hand carved trail was during a passing visit to Coed y Brenin in Wales. This was perhaps the first full-scale trail centre ever to be conceived and is hosted in a remote forestry area on the southern fringes of the Snowdonia National Park. All these years on and it really does still smuggle in some of the best non-contraband singletrack you'll ever find and not have to think about.

Time was short on this particular occasion and so I elected to cut together a couple of shorter trails. Within minutes of arrival I outed my retro 26inch hardtail and rode off into the big green and along an all-promising and 'money back almost guaranteed' twisty grey line.

It had been a fair few years since I'd ridden here and within minutes I was pinned to the sidewalls and begging for more suspension. Things had moved on and the trails had seemingly been laced with steroids by the builders. Even so, one and a half hours later and I was back at base. It had been a good ride for sure; I'd had a workout and a dose of adrenaline to boot.

But it hadn't been an adventure, not by a long chalk.


Somehow I felt as though I'd let myself down and felt guilty that I'd left my sense of adventure and exploration locked behind in the car on a hot day, with the windows fully closed.

Strangely enough the four guys who were on the car park putting together their big-rigs when I left for the ride were still there when I got back, fine-tuning their trimmings. I overheard them talking about the trails as if they could ride them blind and on further investigation I found that they were in fact "trail centre riders". They'd come into mountain biking purely through the lure of these guaranteed to thrill and contained environments and had ridden nothing more than back roads to work outside of their weekend hits.

I couldn't quite get my head around this and I had a real longing to drag them out into the wilds on a misty day, with nothing more than a banana and a map to get them through the ride. Then again, maybe I'm just and tough-love kinda old git.
Hours used to be spent drooling over detailed maps of new and remote regions, plotting and planning potential routes, get out options, water pick ups, dodging bogs and estimating weather and light, and then packing what was needed for the adventure ahead.

It was all part and parcel of it, getting out into the great unknown and having an 'epic'. It didn't always need to be an eight-hour-ridge traverse (but they are the best); it could be an hour or two on new trails.

As our sport leans more and more towards the man made trails I can't help but wonder just how much of the mountain is slipping away from mountain biking. There are riders out there who've known nothing but these railed rides, and who probably wouldn't even be able to fold a map let alone read one – or even want to for that matter.

Of course, this isn't bagging the trail centres and bike parks – they have brought a whole new and welcomed influx of people to the sport, along with a good degree of safety and responsibility too. I mean; could you imagine dragging a newbie biker out through the boggy wilds for a full day – they'd never want to see a bike again.

Take them to a trail centre on the other hand and the chances are they'd find something they enjoyed and may well get hooked. Trail centres have also gone a long way towards the regeneration of jaded regions and communities (such as Derby in Tassie) and have breathed drastically needed new life into ever warming ski resorts too.

There's a lot to be said for them, and they're definitely playing a huge and healthy part in the present and future of mountain biking.


Perhaps trail centre riding appeals to a whole different sector of bikers and maybe they'd have absolutely zero interest in picking up a map and planning an adventure, and vice versa.

I guess that as much as I still lean strongly towards natural riding and adventure over the man-made stuff, there is a place for both out there. I just can't help thinking that we should all mix it up some and reconnect with the original sense of fun and adventure that was all about back in those distant days when there was only one genre of mountain bike.

Getting out there and sensing that may well change your life for the better.