Dropper posts dropping in price
There's no doubt that the dropper post has moved from the 'nice to have but expensive' to 'absolutely essential' category in a few short years, but the entry point for aftermarket posts has been, for the most part, eye-watering for the average punter.
As well, perceived - or in many cases, actual - poor reliabilty for such an expensive item has been a barrier for many.
Now, though, companies are starting to push products out to market that are breaking down the price barrier and - hopefully - answering those durability concerns.
Canadian company OneUp, for example, has released its first dropper, which it claims is the shortest long-travel post on the market today. The cable-actuated post is available in either 150mm or 170mm dropper lengths, which can be quickly and easily shortened by up to 50mm to suit your bike.
And it can be shortened to any number between those figures, too - want a 166mm dropper? Buy a 170mm and set it accordingly, without even having to take the post all the way out of the bike.
OneUp sells its 595g dropper for US$199, or around $270 locally depending on exchange rate, and it can be ordered in 30.9mm or 31.6mm seat tube diameters. It's worth noting that this price doesn't include a lever, which costs around $65 (or you can pick your own from various companies, or even convert an old front shifter).
Taiwanese company Funn has released a dropper before, but the externally cabled UpDown met with mixed reviews. Its new UpDown internal post, though, has been thoroughly worked over. Key for the new post is the addition of a new twin-walled cartridge system that, according to the company, is easy to work on and eliminates hydraulic lock that can cause a post to sag.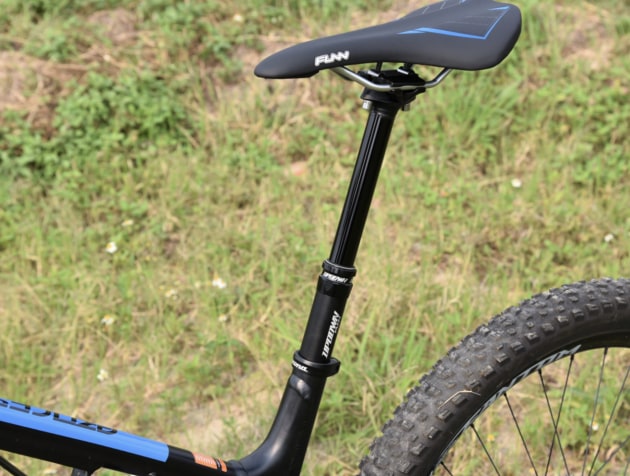 Durability testing, according to Funn, involved a 30,000-cycle test that showed zero loss of height at the end of it. It's also cable-actuated via a new four-position lever with infinite angle adjustment and a longer throw.
The 550g post will retail in Australia for $360, and comes in 125mm and 150mm drops on 30.9mm or 31.6mm seatpost diameters.
It'll be interesting to see how the two posts go in the real world, but if 'cheaper' and 'more reliable' can be used together in the same review, both companies are onto a good thing.