HEAD Trust Performance debuts The Message fork – at an eye-watering cost

There's a few of us who'll remember the early days of dual suspension design, and some of the more unusual tangents travelled in order to arrive at where we are today.
The Girvin Vector fork, for example, and AMP's linkage fork – not to mention well-meaning but ultimately under-capitalised projects like Rock Shox founder Paul Turner's Maverick fork – eventually gave way for the more conventional designs that dominate the market.
Enter Dave Weagle, the name behind a host of amazing tech, including the DW link rear suspension system favoured by the likes of Ibis. His thought process was pretty simple; he wondered why the rear end of his bikes always felt better than the front.
Queue The Message… a small volume carbon-fibre suspension fork from Trust Performance with an eye-watering price tag that promises to delay the start of your rides for all time, as people stop you in the carpark to ask 'what the hell is THAT?'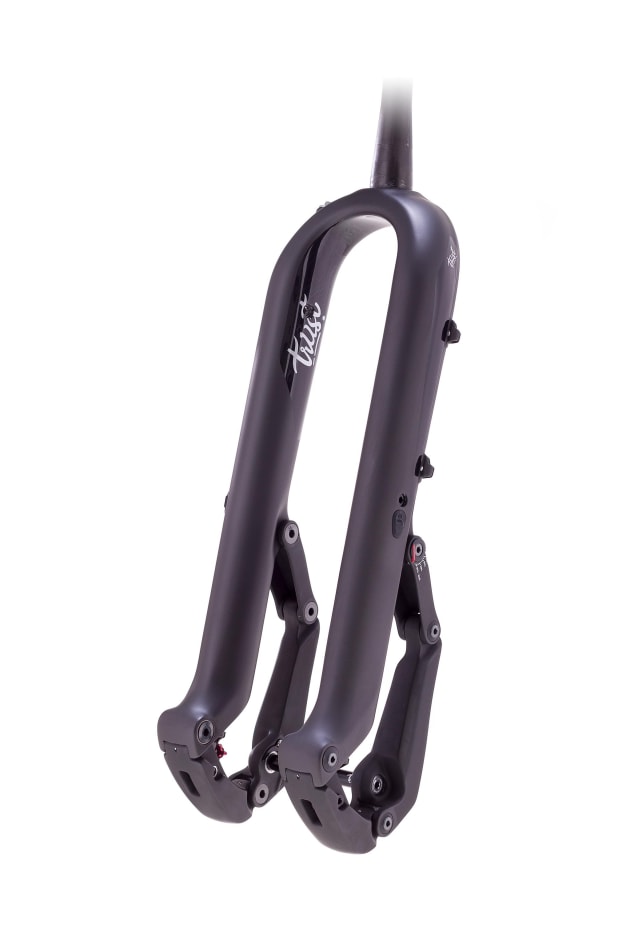 Consider The Message fork to be a DW Link suspension set-up for the front end, where the linkage removes the inherent stiction of a traditional two-tube set-up. The damping circuits and shorter stanchions are under the bottom of the long-form 'front' legs, while the four-bar linkage offers a single suspension travel figure – 130mm. Huh?
The idea, says Weagle, is that the one 130mm fork should be able to replace 110-140mm travel 29er forks and 130-150mm forks on 27.5-inch bikes, thanks to its higher levels of performance.
It weighs around 2kg, has a tapered steerer and a 110m x 15mm Boost front axle. Trust also reckons its service interval is 250 hours. For most of us, that's more than a year (and for me about a decade).
No word on who might bring the fork in yet… but don't expect a cent of change from $3,500 for this amazing looking device.