Cannondale's amazing Lefty fork reborn

You can't look at this thing just once... Cannondale has renivented its peculiar but effective single-sided fork for 2018, shedding a bunch of weight while claiming to offer new levels of bump-eating compliance for the XC crowd.
Known as the Lefty Ocho, the fork is based around a tapered steerer and single (half?) crown, with an upside-down design offering 100mm of travel in both 27.5- and 29-inch wheel sizes. Weights are down on previous generations of Lefty - Cannondale is claiming sub-1500g for a carbon version and a claimed 1735g for an alloy model - but it's still a frag heavier than both the Fox 32 Step-Cast and Rock Shox's venerable SID.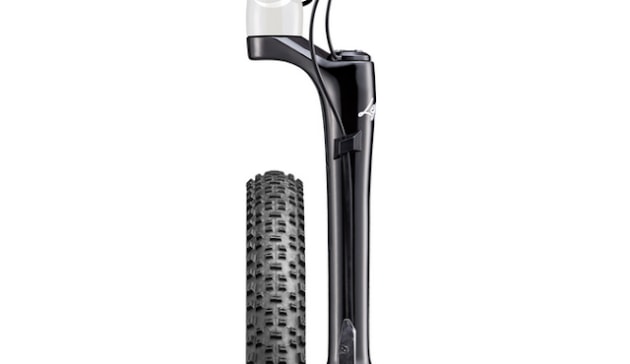 Cannondale's packed a bunch of new tech into the Ocho, and it's also tidied up a few details that will make this iteration of the fork easier to live with, including relocating the air spring valve to prevent oil spillage onto the brake rotor, along with an easier quick-release method to move the caliper out of the way for wheel changes - though repairing a tyre is loads easier when one side of the fork is missing!
The fork will feature on the front of Cannondale's tuned-up XC 29er hardtail, the F-Si, which offers a frame weight for its top spec model of just 900g. That's roadie-frame territory, but Cannondale reckons it doesn't come at the expense of durability.
It'll also offer a lower-spec version which will add about 200g to that figure.
The F-Si can handle tyres up to 2.35 inches wide, has miniscule 427mm chainstays and has a kicked-out 69-degree head angle to settle the front end, as well. It'll be drafted into action this weekend at the UCI World Cup's second round of the XC championship.