Trail Tested: MCS Gripper tyres
We got a strange cold-call email the other month, asking if we'd like to test some new tyres (or tires, as the email said). Now, we get a lot of emails asking us to try new sorts of taps, or different kinds of metal grating, but tyres/tires is surprisingly uncommon.

It's not a known brand, either – at least in English-speaking markets. It's called MCS, and it's a part of a much bigger concern that's based in Spain. The company makes everything you can imagine when it comes to pushies (including actual pushies), so branching out into tyres isn't such a strange thing.

They also claim to have been designing winning tyres for mountain bike racing for 18 years, and have taken that knowledge, invested in new moulds (not cheap) and are offering a wide variety for sale online around the world at standardised prices.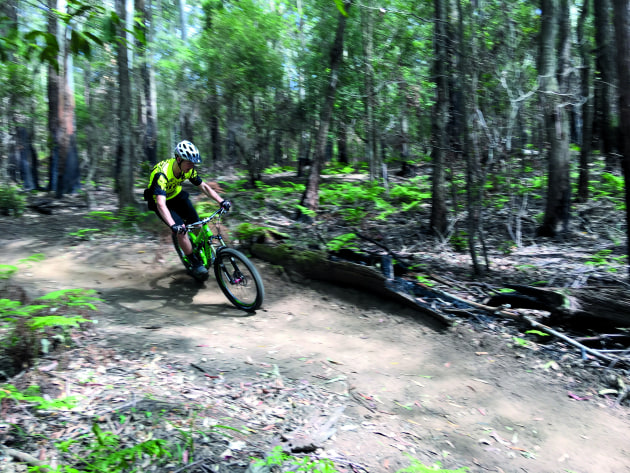 So we said yes, they promised to send some… and we promptly forgot all about it until a set of chunky 27.5-inch MCS Grippers lobbed onto our doorstep a month or so later.

MCS says the Gripper offers "big grip, predictable cornering and solid braking performance," and they certainly look as if they do. Not dissimilar to a Schwalbe Magic Mary in its basic appearance, the Grippers feature tall, broad side knobs, pronounced 'mid-lean' lugs and they're offered in a variety of compounds. Our 27.5 x 2.3 testers are known as a 2C AM Race and a 2C AM, they weigh 970g and 950g each, and there's about five bucks between the global retail price of both of them ($95 and $90 respectively).

The two tyres are virtually identical to the eye, but the Race version uses a softer durometer rubber (56A on the centre of the tread line and 50A on the sides), versus the 62A/60A non-Race versions. What's the difference? You'll get more ultimate grip out of the Race, but it won't last as long. With this in mind, we bunged the gripper Race on the front. They aired up with some sealant in a jiffy, and kept their pressure for an impressively long time, too.

When we measured them across the face after mounting to our 30mm ID carbon Zelvy wheelset, their visual bulk was played out on the calipers – almost 2.45 inches across the face! MCS says that this is pretty normal, given the age of the older ETRTO measurement standard, but it's worth keeping in mind if – like on our test bike - a bigger tyre makes for a tighter fit.
Running 25psi under an 85kg rider and tested for two months on a variety of surfaces, the Gripper's best trait is its predictability, according to its tester.

It offered lots of braking traction in a straight line, and while it could be provoked into a rear-end drift if pushed hard enough, the resulting loss of traction was telegraphed to the rider days in advance.
On more moderate lean angles, the big, stiff knobs simply barged their way into the dirt, offering a nice, rounded face to the terrain. Even though MCS said mud isn't its forte, the Grippers found purchase in the gluggy stuff, its gappy block placement ensuring the mud had a place to escape.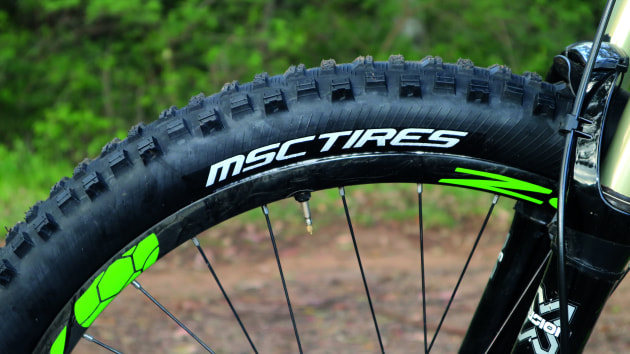 Strength and wear-wise, the Kevlar-beaded Grippers are built with MCS's Proshield casing, a fabric lining that adds puncture resistance and sidewall strength at the expense of a bit of weight. A threads-per-inch (TPI) count of 60 isn't as supple as a 120TPI road or XC style tyre, but it does improve sidewall strength. How tough are these tyres? Well, we actually broke a rim sidewall during testing, but the tyre was absolutely unmarked, and even held most of its pressure until the end of the ride.

We're lucky enough not to have to ride on the road to get to our test trails, but we know that a 50A durometer tyre isn't going to last long on the hard stuff. We're happy to report that both ends are wearing well, though. MSC says the Race is for, well, racing, and we'd suggest sticking with the slightly cheaper, lighter and longer lasting version for an everyday rig.
On balance, our young pilot would have preferred something a bit less blocky in the rear to match the almost brutal grip offered up from the front end, but a matched set of Grippers is a great way to add… err, more grip to your current ride, especially if other stuff isn't doing it for you.