BIKE REVIEW: Merida eOne-Sixty 8000
In 2017 when Merida introduced the eOne-Sixty, they were rocking up pretty late to the e-MTB party—late but fashionably so. At the time many e-mountain bikes were like teenagers; awkward in demeanour and somehow unable to fulfil their potential. Motor and battery technology wasn't the biggest issue, more often it was the dated geometry; steep head angles, short reach figures and super-long chainstays. Merida learnt from the mistakes of many early adopters and released a range of super-competent bikes that had many riders re-calibrating their opinions on power-assisted MTBs. To top it off, their e-bike models were sensibly priced, making them a popular choice amongst mountain bikers who were keen to add an e-assisted bike to their fleet.
Since 2017 the eOne-Sixty remained as a key player in their range. It's now showing its age in a few minor areas but the original design can still hold its own. Of course, the big news for 2020 is the updated version of this 150/160mm (rear/front) travel all-mountain bike. Somewhat confusingly, it's still called the eOne-Sixty but the new version addresses many of the ageing issues without stepping too far away from the original mould.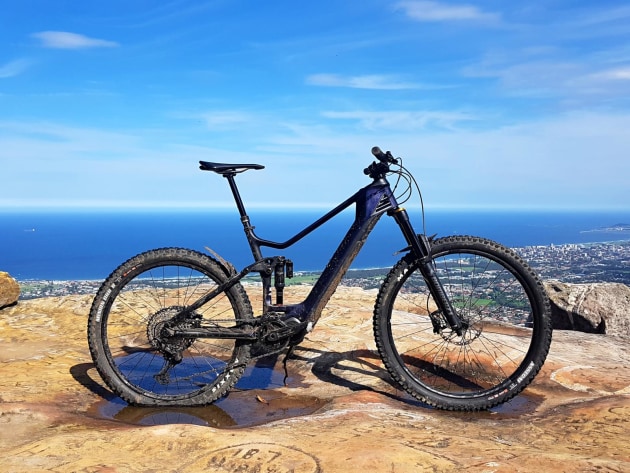 In the stand
So what has changed? Aesthetically the new bike benefits from cleaner, straighter lines and an integrated battery (the original had the battery perched above the downtube). It's a sharp looking rig and the internal battery means there's now room for a large water bottle within the main triangle.
Merida partnered with Shimano in the development of the BT-E8035 battery; a 504Wh unit that's slim enough to house within the down tube. Initially Merida said the new downtube cut-out necessitated the move to carbon frame construction to maintain stiffness, however they've since released an alloy version which is currently only offered at one spec level; the One-Sixty Limited. Merida has long stated that aluminium is their preferred material for rough-and-tumble MTB applications. The weight penalty for the aluminium frame is roughly 600g—that's a trivial amount on an e-bike, so it'll be interesting to see if they expand the alloy options for 2021.
Aside from the slim new frame profile, the next most obvious change would be the move to a mixed wheel size format; 27.5 at the back and 29er up front—a trend that's taking hold on many enduro and DH bikes. While this may appear as a major change (the original featured 2.8-inch wide 27.5 'plus' tyres at both ends), the geometry as a whole remains pretty similar; more on this later. In a show of commitment to their e-MTB line, the new eOne-Sixty is available in four sizes. The original came in three but they've now added an extra-large option (in some countries there's even an XS option).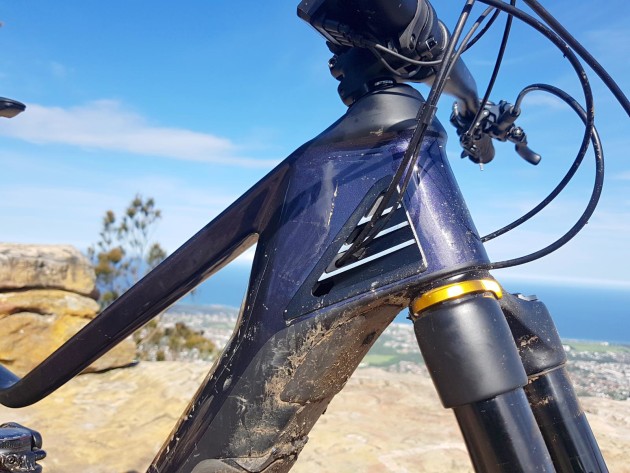 Last but not least, the newer platform features a range of smaller refinements. The bar-mounted mode control button now integrates tidily with the dropper remote and the wires slip tidily inside the handlebar—it's a slick set-up that allows you to toggle between power modes and drop the saddle with ease.
Vents up near the head tube provide a cool looking means of routing the cables into the frame, and once inside, they are locked securely in place by a cradle that prevents rattles. At the opposing end, you'll find a well-designed chainstay protector that also aims to keep the ride quiet. There's even a steering limiter on the carbon bikes that stops the fork crown impacting the oversized down tube; it's a simple arrangement with a block that clamps to the steerer tube and internal stops to limit the rotation. Between these refinements and the nice straight lines, first impressions of the new platform were very good indeed.
Dollars & sense
Pricing on the updated bike starts from $6,699. This price-point actually gives you two options; there's the carbon eOne-Sixty 5000 and the alloy eOne-Sixty Limited. Both have all the new features – mixed wheel size, integrated battery and so on – but the alloy version gets you a slightly higher parts spec for the money. The carbon eOne-Sixty 5000 has mostly Deore-level 10-speed running gear with a RockShox 35 fork and a lower-end 60nm Shimano e7000 drive unit. Opt for the alloy frame and you'll get the more powerful 70nm e8000 motor and an XT/SLX 12-speed drivetrain.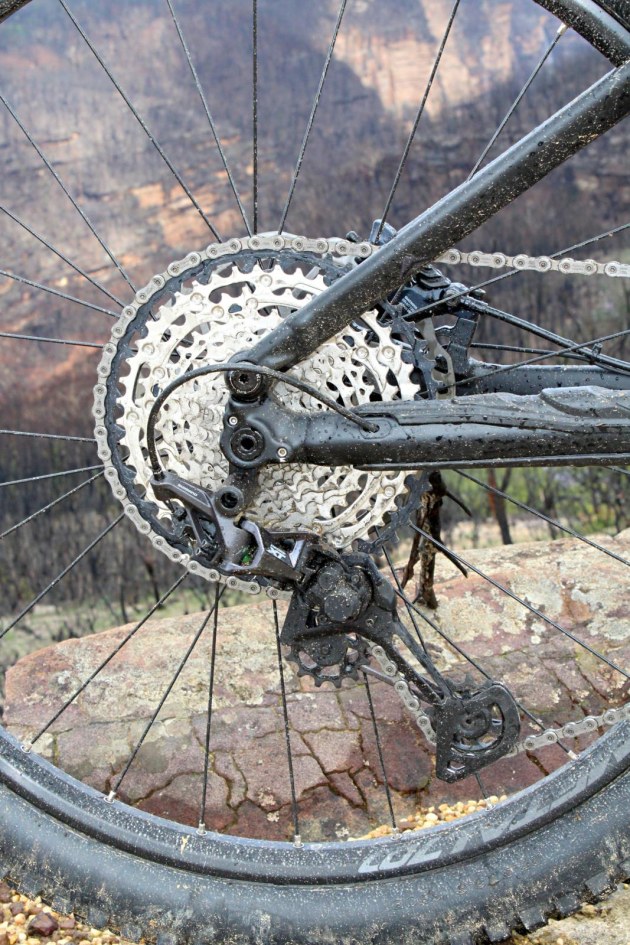 From there on up the range
is all-carbon and our test bike,
the eOne-Sixty 8000, follows
as the next model in the line.
It sells for $7,999 and features
an impressively solid spec. It relies on the top-end e8000 Shimano motor and comes with XT 12-speed gears, four piston SLX brakes, nice wide Fulcrum rims, a Marzocchi Bomber fork with a RockShox Super Deluxe rear shock.
For $1K more, the eOne-Sixty 9000 ($8,999) gets you Fox Factory suspension, Shimano XT cranks and brakes as well as DT Swiss wheels. The range then tops out with the eOne-Sixty 10K; for $11,999 you get a full XTR build and Fox Factory suspension—it even comes with an extra battery and a pack to carry it in for longer rides. It's a lot of cash
but this would only buy the entry level model from certain 'boutique' brands.
It's also worth mentioning that Merida has retained the older alloy 27.5 wheeled One-Sixty platform with the external battery. Currently it's offered at two price-points; $5,499 and $6,699 and serves as a good-value option with a very sharp parts spec for the money. For this review however, we'll focus on the attributes of the new eOne-Sixty platform...
On the trail
Choosing between mountain bikes is a complex and often confusing task, and it only gets more confusing when it comes to e-bikes. Not only do you have to consider the traditional aspects such as geometry, handling, fit, value and suspension performance, you've also got to look at the battery and drive system.
The Shimano e8000 motor is said to produce 70Nm and provide a 300% increase to your power output in 'boost mode'. By comparison the Bosch CX drive has 75Nm and offers a 340% power increase, Yamaha (used by Giant) gives you 80Nm and a 360% boost to your pedalling output and some Brose motors produce a hefty 90Nm and give a power increase of up to 410%. When ridden side-by-side with these other systems, you'll notice that you may have to put in a bit more effort to keep up. In isolation however, the e8000 drive offers plenty of grunt for the steepest of climbs—it'll be a lack of traction and your ability to balance that stops you, not a lack of power.
Capacity-wise, the 504Wh Shimano E8035 battery is a bit on the small side. Bosch offers internally mounted down tube batteries with up to 625Wh. Norco specs their Shimano powered bikes with a custom 630Wh battery and many Brose equipped Specialized models come with 700Wh batteries. The capacity is more in line with what you'll find on the Giant Reign and Trance for example, and the eOne-Sixty runs the same Shimano battery as the new Santa Cruz Heckler.
At the end of the day, it's the range on the trail that matters and there's no point carting around the weight of a massive battery if it isn't required. Of course your actual range will depend on a huge range of variables; the terrain and amount of climbing, rider weight, how much you 'soft-pedal' and rely on the motor as well as the mode used. Shimano claims a range of 50km in boost, 75km in the trail mode and 100km in the 'eco' setting. I live in at the base of a steep 500-metre high escarpment and, when faced with the sizeable climb to the top, the actual range would drop markedly.
Using the boost setting, I would burn through a full charge in 25km—that's a little over two hours of riding and 1,100 metres of vertical ascent. Opting for the trail mode would give me roughly 35km in three hours and 1,500 metres of vertical, which a pretty solid outing. Want to go for longer? Well you'd better get used to riding in 'eco' mode or factor in the cost of a spare battery—they're around $1,000 (one is included if you buy the top-end eOne-Sixty 10K). Changing batteries on the trail is a simple two-minute task, and Merida thoughtfully integrated the required 4mm allen key into the rear thru-axle lever.
Boost mightn't take you far but trail mode proved to be my go-to setting, not only for the more economical battery use, but also because it provided more manageable power delivery. Boost mode can be too punchy, causing you to lose traction and veer off-line on steeper trails. Trail mode is far easier to control and just feels more natural. Shimano also offers an app that lets you customise the power that's available and exactly how it's delivered—it's not as elaborate or intuitive as the Specialized 'Mission Control' app but handy nonetheless.
While the drive system and battery life mightn't set the world on fire – a potentially bad pun when it comes to e-bikes – it does offer certain benefits. First-up it's Shimano! Their drive systems are shared by many bike brands; from Norco to Focus, Kona, Santa Cruz, Pivot and others. It provides a safeguard of sorts, as spares, service knowledge and after sales back-up will be easier to find.
More importantly on the trail, the compact design of the Shimano motor allows for shorter chainstays. This in conjunction with the smaller 27.5-inch rear wheel has allowed Merida to spec a 439.5mm rear end—that's about as short as you'll find on an e-MTB and a major contributor to the character of the eOne-Sixty.
Back in 2017, the geometry of the original 27.5-only eOne-Sixty was pretty up to date; it had a 66.5-degree head angle and a steepish 75-degree seat angle. A large bike had a 470mm seat tube, 460mm reach and a 1,230mm wheelbase.
Now with its 29/27.5 'reverse mullet' format, the new eOne-Sixty still has a 470mm seat tube and a 460mm reach in a large size, while the wheelbase has grown ever-so-slightly to 1,238.5mm. These days you'd generally expect to find a shorter seat tube to make way for a longer dropper post and longer reach/wheelbase figures on a large-sized bike. At 65.5-degrees the head angle is a little bit slacker than before and the seat angle is a tad steeper (75.5-degrees) but overall the geometry is conservative and not vastly different to the original eOne-Sixty.
Super long reach and wheelbase figures may be on-trend but they can lead to a dull ride in less demanding terrain. The original eOne-Sixty had a reputation for providing a lively ride and the small tweaks made to the new version haven't dulled the experience. It also runs a 51mm off-set fork – not a reduced off-set version like many new bikes – and this also enhances the nimbleness. On the flip-side, the front end can feel a little light through the turns and requires a more conscious effort to weight the front tyre.
Lively and responsive it is but in no way is the bike skittish. E-bikes always carry a fair bit of weight and this adds stability—some can feel near impossible to wheelie or throw around. Our eOne-Sixty 8000 test bike tipped the scales at 23.13kg without pedals, which is pretty consistent with the competition. Despite its weight, the short stays and moderate chassis length make it possible to loft the front wheel and flick the back end around as required. It's always going to feel more 'planted' than a regular bike, but when airborne you can still tweak its trajectory. For most trail networks the Merida strikes a nice balance and it doesn't require an EWS level descent to come into its element.
The suspension performance is exceptional. Its 150mm of rear travel delivers both ground hugging suppleness and support for bigger hits. While the o-ring was regularly pushed to the end of the shock shaft, I never felt it bottom out. Up front, the beefed-up Marzocchi Z1 e-bike fork provided a good match. This burly unit runs 36mm inner legs with a Fox Grip damper that offers a few simple but effective adjustments; rebound, compression and air pressure. You can also play around with tokens to vary the spring rate but I found the stock set-up to be perfect.
All-in-all the ride quality is great and thankfully the running gear doesn't let it down once you're in the dirt. Shimano's new 12 drivetrain is super-smooth and hard to fault while the four-piston SLX brakes and 203mm rotors offer plenty of power—even with the added e-bike heft. The 170mm travel Merida dropper post was top-notch and the wide (30mm internal) Fulcrum wheels complemented the bike nicely—no complaints at all.
So what's not to like? I had troubles getting the Shimano e-Tube app to link with the bike. It didn't play well with my Android phone, and based on the online reviews, it appears that I'm not the only one (in the end I borrowed my daughter's iPhone to get it to work). While the rear thru-axle with its built-in 4/6mm allen key is a neat design, it did go missing on a trail ride; I suspect it was knocked out when I clipped a rock on the trail. Finally, the low bottom bracket may do good things for the handling, but this combined with the low-slung motor led to a few nasty rock-strikes—although most competing bikes will suffer a similar fate.
Verdict
On the whole there's not a lot to criticise with the eOne-Sixty. Sure, the battery capacity isn't huge but its compact dimensions allow the bike to retain a slim and attractive profile (slim for an e-bike anyway). At the end of the day it does what a good e-bike should. First-off, it delivers you to the top of the hill at a sprightly pace, effectively fast-tracking the boring part of the ride. Most importantly, once at the top the suspension and geometry combine to provide a fun descent that isn't majorly compromised when compared to a traditional 'analogue' MTB. Sure, there's an obvious dead-spot where it feels like you're pedalling through sticky porridge once you hit the 25kph assistance limit on a flatter trail, but if gravity is on your side, the eOne-Sixty is a barrel of fun.
I was able to crack out three solid runs on my favourite local descent after work where I'd only manage one when going under my own steam. This mightn't be news for those who are already familiar with e-bikes, but the strength of the eOne-Sixty lies in its versatility. It's both capable and manageable in steep terrain while still remaining fun and engaging to ride on flatter terrain or less demanding trails. While amount of travel could suggest otherwise, the eOne-Sixty is a true all-rounder that's efficient and enjoyable to ride wherever you take it.
Specs
Pluses
- Solid suspension and handling.
- Appealing looks.
- Sensible pricing and spec.
Minuses
- Limited battery capacity and range.
- More 'trail' than 'enduro' but that's a positive for most!
- eTube app is glitchy with some phones.
Ratings
In the stand - 8/10
On the trail - 7/10
Overall - 7.5/10